Find the Best Electric Steam Tables for Your Business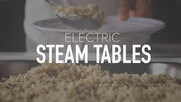 Electric steam tables are perfect for use at catered events, buffets, cafeterias, and a variety of other settings. They keep food at safe serving temperatures for long periods of time by circulating consistent steam heat below food pans. When choosing the steam table that's right for you, you'll want to take several features into account. Open well types allow you to choose moist or dry heat for your dishes, while sealed wells don't require spillage pans. Mobile units are perfect for temporary setups or catered events, while stationary tables provide stability. You can also choose from different types of bases to best meet your storage needs, as well as specific control types for customized cooking. To learn more about the differences between these products, explore the tabs above and the filters on the left side of the page.
We offer a large variety of steam tables for your kitchen, buffet, or cafeteria. Choose from tables with open bases if you want to fit equipment or storage bins underneath, and opt for tables with undershelves that will help you organize supplies. Enclosed bases provide more storage space and prevent items from falling onto the floor, too! Check out our stainless steel options or our enclosed steam tables with black bases for a more presentable look. You may also want to consider our steam table food pans, tongs, and serving spoons for all of your service needs! If you're wondering where to buy electric steam tables, we have a large selection of electric steam tables for sale at the lowest prices.