What Are Chafing Dishes?
A chafing dish is a multi-part system that keeps hot food hotter, longer, than food stored in a traditional food pan. Chafing dishes come in a variety of sizes, shapes, and styles, and they can be used in many different foodservice settings.
Chafing Dish Definition
Chafing dish comes from the French word chauffer, which means to make warm. As such, chafing dishes use gentle, indirect heat to keep their contents warm in a large and shallow pan. The heat they use can come from fuel, electricity, or induction heating, and it's used to heat a pan of water to create steam. This steam then heats the pan above that's filled with food.
What Is a Chafer Used For?
A chafing dish is used to keep food that is already cooked warm. Typically, these dishes will be arranged in a buffet line and customers will serve themselves directly from the dishes. You can find chafing dishes in many different types of foodservice settings, and they are commonly used at catered events, banquet halls, and hotels. Remember that chafing dishes are only used to keep food warm, and they cannot be used for cooking food. View our catering menu ideas article for some great ideas for how to spruce up your catering menu!
Types of Chafing Dishes
With so many different types and styles of chafing dishes to choose from, it can be difficult to find the right option for your business. We broke down the different chafing dish types and what they're used for to make the process simple. In addition to chafing dishes, make sure you have everything you need to run your catering business by checking out our catering supplies checklist.

Standard Chafing Dishes
Standard chafing dishes come in a variety of sizes and styles, but all serve the same purpose - to keep food hot. They often come with a lid that can either lift off or retract, depending on the model, and they range from economy to high-end in style.
---

Disposable Chafing Dishes
Disposable chafing dishes feature all of the warming capability of standard chafers, but they have the added benefit of being disposable, so you can save time on cleanup by throwing them away after service. These chafing dishes are ideal for outdoor parties or casual events.
---

Drop-In Chafers
Drop-in chafers are permanently installed into countertops or tabletops. They have an upscale presentation, and they're ideal for businesses like hotels that offer continental breakfast or buffets that are looking for a permanent chafing option.
---

Coffee Chafer Urns
Popular in hotels, buffets, and at catered events, coffee chafer urns are used to hold and dispense hot coffee and water for tea. These chafers are insulated to prevent heat loss, so your coffee or beverages stay hot for longer periods of time.
---

Marmite Chafers
A marmite chafer, also known as a soup chafer, is commonly used to keep soups, stews, sauces, gravies, hot cereals, and other liquids warm throughout your service.
---

Chafer Griddles
Chafer griddles are ideal for keeping already cooked food items, such as pancakes, grilled meats, Reubens, and stir fry vegetables hot while being served. This type of chafer is open, so the smells and sounds of sizzling will help entice customers.
Chafer Sizes
Chafing dishes come in a variety of sizes, and some options are designed specifically for serving appetizers, entrees, and desserts. Here are some of the standard chafing dish sizes and their capacities to help you choose which option will meet your needs.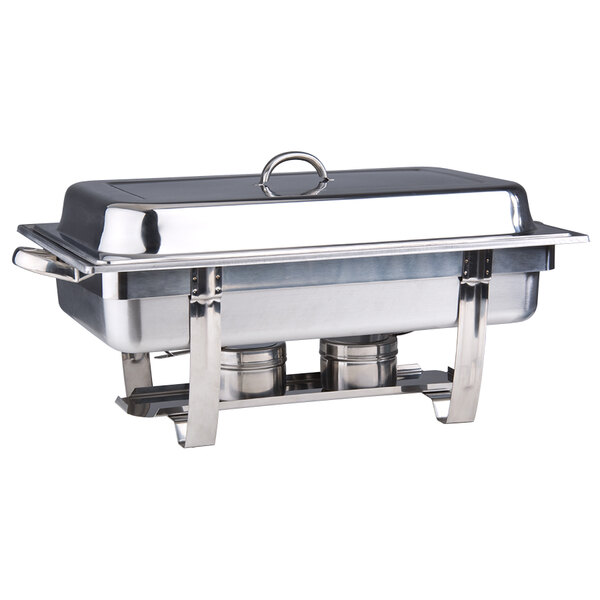 Full Size Chafing Dishes
Typically rectangular
Hold between 8 to 9 quarts of food
Use for holding and serving entrees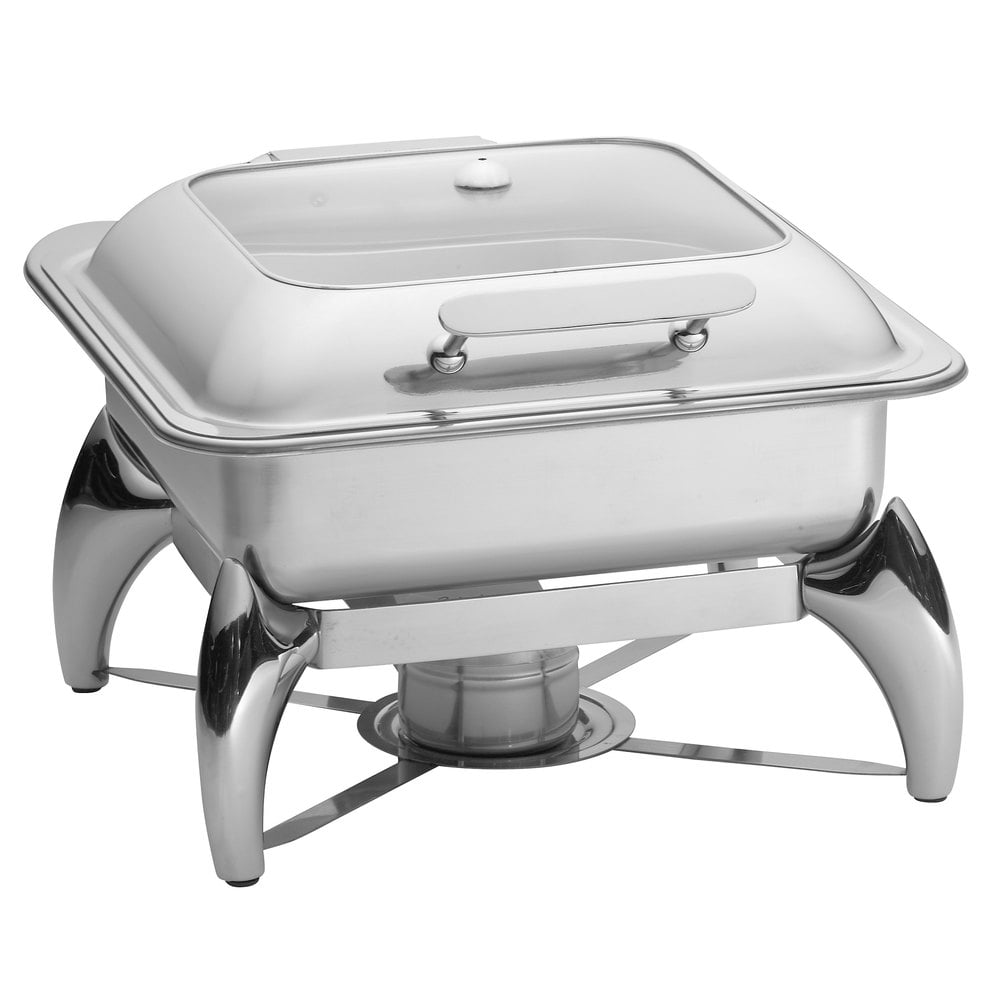 2/3 Size Chafing Dishes
Typically round or square
Hold between 5 to 6 quarts of food
Use for holding and serving entrees and sides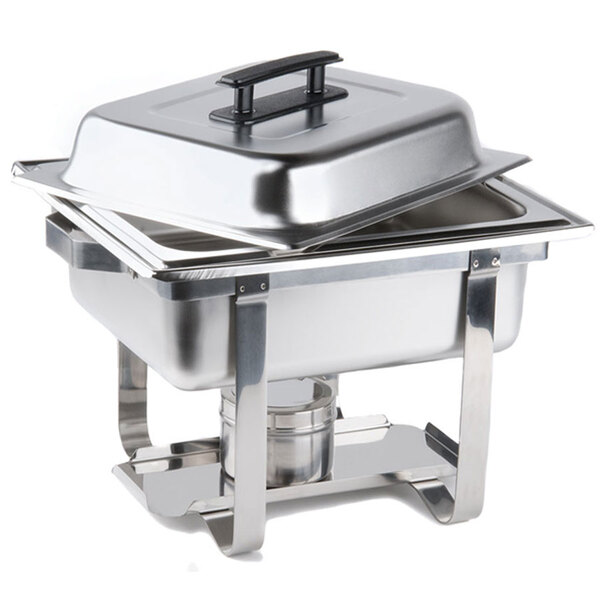 Half Size Chafing Dishes
Typically square or rectangular
Hold between 4 to 5 quarts of food
Use for holding and serving sides and desserts
Chafing Dishes Power Types
There are three ways that you can heat your chafer: with fuel, with electricity, or with induction. Each power type offers unique benefits that are ideal for different situations. We break down the different power types and their benefits below.
Fuel-Powered Chafing Dishes
Fuel chafers utilize fuel cans to keep the water in your chafer dish heated. There are several types of fuel that you can choose from:

Gel Fuel: This type boasts strong heating performance and can last through long services.
Wick Fuel: Available in traditional and stem types, wick fuel is a safe option since the fuel cannot burn without a wick.
Eco-Friendly Fuel: There are also several kinds of eco-friendly fuel that boast the same heating power as the other types, but are made from environmentally friendly materials.
Additionally, different fuel types are made with various ingredients, allowing you even greater control over what type of chafing fuel you use. You can learn more about the various types of chafing fuel in our chafing fuel buying guide.
---
Electric Chafing Dishes

Electric chafers are great for outdoor events as they are easier to use than chafing fuel in the event of windy or inclement weather. They're also ideal for indoor use when you don't want to deal with the hazards of open flames. Keep in mind that electric chafing dishes do require access to an electrical outlet, so plan accordingly when using them.
---
Induction Chafing Dishes
Induction chafers are designed for use with induction cookers or warmers to heat the unit rather than utilizing a heated water pan, like other chafing dishes. Induction cooking only heats the chafer and there is no open flame, which eliminates the hazard of burns and fires. An induction chafer also provides best-in-class heat distribution with no hot or cold spots, and they allow you to maintain a specific temperature for longer periods of time than other chafing dishes.
---
If you own a fuel-powered chafer but want to convert it to an electric chafer, you can use a universal electric chafer heater. Additionally, you can choose a full-size electric chafer warmer pan to replace your water pan and serve as a free-standing warming unit.
Chafing Dish Shapes
You can find chafers in several shapes, and the different shapes are used for serving different types of foods. Here are some of the common chafing dish shapes.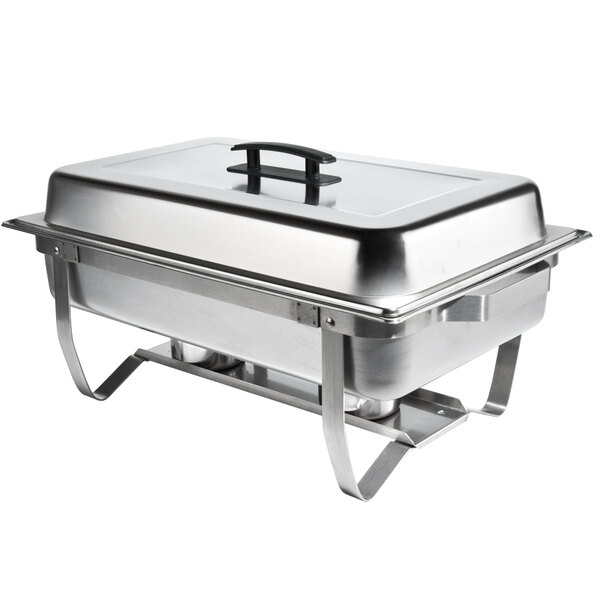 Rectangular Chafers
Commonly used for serving entrees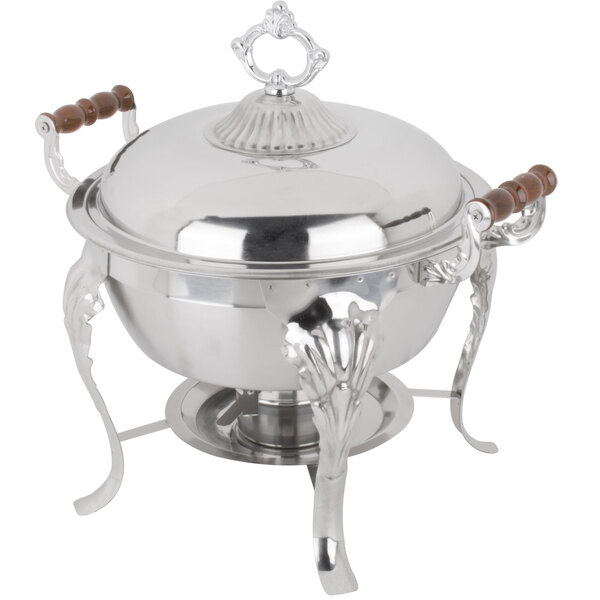 Round Chafers
Commonly used for side dishes, sauces, and desserts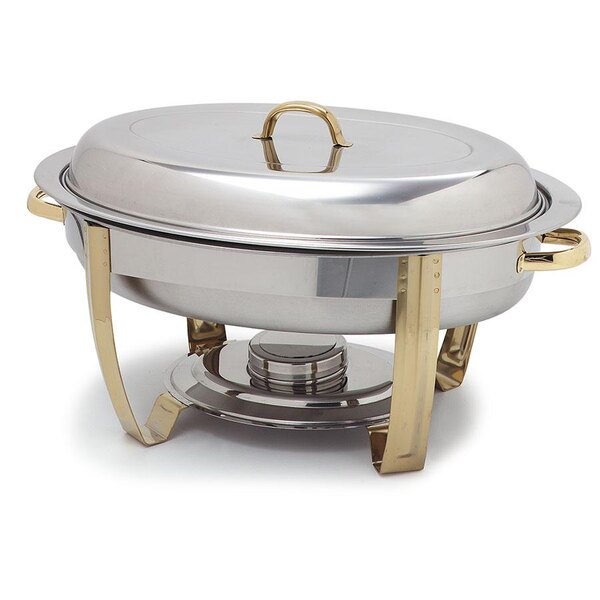 Oval Chafers
Commonly used for serving entrees with a contemporary look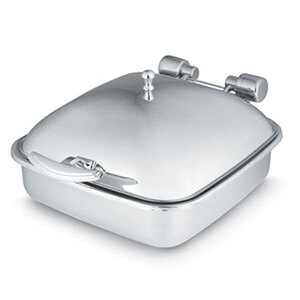 Square Chafers
Commonly used for serving appetizers and sides
Chafing Dish Covers
Chafer covers are important for keeping your food hot and moist, but it's important to keep the crowd in mind when choosing covers. Hinged, lift-off, and roll-top lids are the most popular styles, but there are several other appealing options.
Lift Off and Dome Covers

Lift off and dome covers lift off the chafer completely, and they feature a handle on top of the lid. Most types of chafers with lift-off and dome covers have a cover holder, where customers and employees can place the cover.
---
Roll Top and Retractable Covers

This type of lid is ideal for buffets because customers do not need to hold the lid or even remove it. Roll-top covers generally have front handles for easy use. For two side service, choose a model that can retract on both sides. Many retractable covers have a 90-degree and 180-degree opening for versatility. Many options also feature slide locks to keep the cover in place. Keep in mind that that roll tops that don't flip down 180 degrees are only ideal for one-sided service.
---
Hinged Covers

Hinged covers give you the look of a lift-off unit without the hassle of having to remove the lid. Many models offer a stay-open feature at 45 and 90-degree angles. Some options even double as lift-off lids for added versatility. There are also hinged covers with slow closing hinges, which close gently and quietly, which helps preserve the atmosphere of your dining area and causes less wear and tear on the unit.
---
Glass Top Covers

Glass top lids feature clear windows that allow customers to view the contents without opening the lid. This helps prevents heat loss from customers opening and closing the cover regularly to see what's inside.
---
Regardless of the cover type you prefer, look for lids with coated handles for server safety and convenience. Covered handles are often constructed or coated with nylon to stay cool to the touch. They also provide an easy grip.
Chafing Dish Finishes
From attractive mirror finishes to subdued matte options, there are many different styles of chafers that you can choose from. Here are some popular finishes and trim styles that you can find.
Mirror Polish Finish

These chafing dishes have a shiny, reflective appearance. The finish provides a superior shine for an attractive display at any event. Although, mirror polish finishes can attract fingerprints easily, so be sure to regularly clean your chafers with a microfiber cloth. Due to their opulent finish, mirror polish chafing dishes are commonly used in fine dining settings, hotels, and at catered events.
---
Satin Finish

A satin finish is smooth to the touch and not reflective. It provides an upscale appearance without the shine. These options are ideal for operators that want a visually appealing design without the hassle of constantly polishing and cleaning off fingerprints.
---
Matte Finish

A matte finish features a surface that isn't particularly shiny or reflective. If you're looking for affordable and accessible chafing options for your buffet or hotel, these are the perfect options. The matte surface doesn't distract customers and it makes your food the focal point of your buffet line.
---
Hammered Copper

This finish has a dimpled texture, with the appearance of hand-hammered copper. It provides an elegant and contemporary display that is perfect for modern weddings, receptions, anniversaries, and other catered events.
Trim Styles
Chafing dishes also come in several trim styles, which add a pop of color and visual appeal to your buffet line. When choosing a trim style, keep in mind your establishment's existing decor and choose the type that best suits your concept. Here are a few common types of chafer trim styles.
Brass Trim
Adds a sophisticated, vintage appeal to your chafer
Complement the sleek look of the silver chafing dish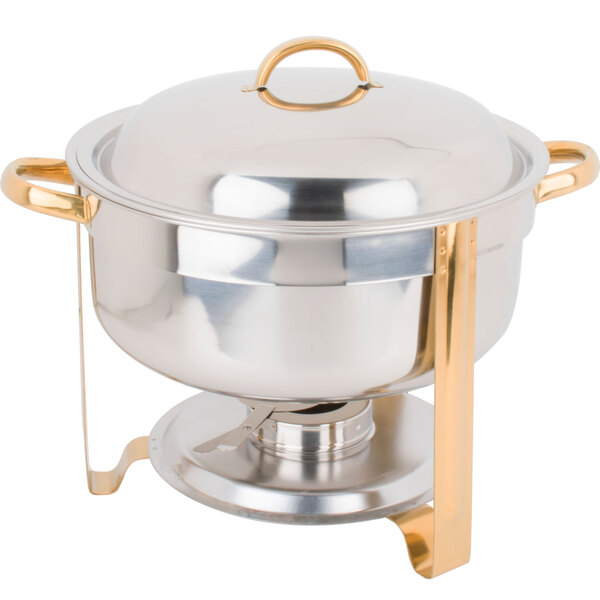 Gold Trim
Adds a sophisticated, elegant appeal to your chafer
Stands out against the silver body for a striking presentation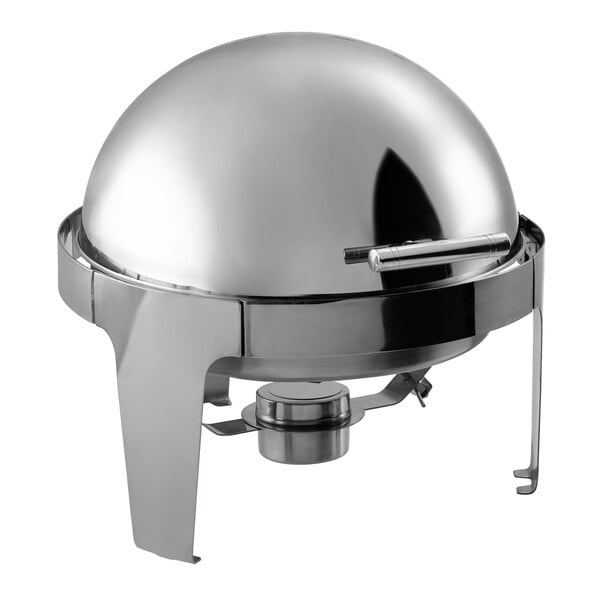 Chrome Trim
Highly polished for a contemporary look
Ideal for establishments looking for a sleek, modern presentation
Chafer Care and Tips
Because chafers are display items, it's important to protect them and keep them looking sleek and clean. Here are a few tips for storing, transporting, and cleaning your chafing dishes to keep them in peak condition.
Chafer Storage and Transportation

Protect your chafing units from bumps and dings during transport with chafing boxes. Chafing boxes are made from impact-resistant plastic, and they keep your chafing dishes safe from scratches, dings, and scuffs. Many of these boxes also feature sturdy handles so they're easy to lift and handle. Best of all, chafing boxes are stackable for convenient storage and transportation.
Chafer Cleaning and Polishing

To keep an upscale appearance, make sure to regularly clean and polish the exterior of your chafers. Microfiber cloths are gentle and won't scratch the surface of the chafer, and they'll leave your chafer looking shiny and new. Additionally, you can learn more about polishing and caring for your chafing dish in our stainless steel care guide.
Chafing Dish Alternatives

If you're looking to create a more modern, upscale presentation for your buffet line or food station, chafer alternatives are becoming an increasingly popular way to enhance the visual interest of your food presentation. Many include features like fuel cell rails to securely hold chafing dish fuel, a durable wire metal grill, and built-in wind guards for outdoor events.