Find the Best Microfiber Cloths and Mitts for Your Business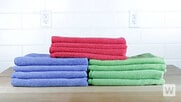 Microfiber cleaning cloths and mitts are high-quality, all-purpose textile solutions for any restaurant, bar, or hospitality business. Microfiber is a synthetic fiber made from a blend of polyester and polyamide that offers excellent absorbency. These tear-drop shaped fibers act as hooks to scrape up and hold in dust, dirt, and grime, resulting in sparkling clean surfaces. They'll even lock in pathogens, bacteria, and viruses, which means they'll help you minimize the chances of cross-contamination. Our microfiber products range from general cleaning cloths and bar towels that can be used on almost any tabletop or counter, to window wipers and fine polishing cloths that leave streak-free shine on glass surfaces. A microfiber mitt easily slips over the wearer's hand to clean hard-to-reach spaces, and a duster sleeve can be used with your compatible duster head. You can also wash and reuse them hundreds of times. To learn more about the differences between these products, explore the tabs above and the filters on the left side of the page.
Clean any part of your establishment with a microfiber cleaning cloth. Our selection is made up of a variety of different color options, so you can use a color-coded system to prevent cross-contamination by using red products in the bathroom or blue ones in the dining room. Best of all, they're machine washable with other microfiber products, allowing you to reuse them hundreds of times, reducing the amount of waste produced when using paper towels. While you're stocking up on cleaning supplies, be sure to take a look at these sanitizing pails, dusters, and bus tubs and boxes. If you're wondering where to buy microfiber cloths & mitts, we have a large selection of microfiber cloths & mitts for sale at the lowest prices.