How to Use Chafing Fuel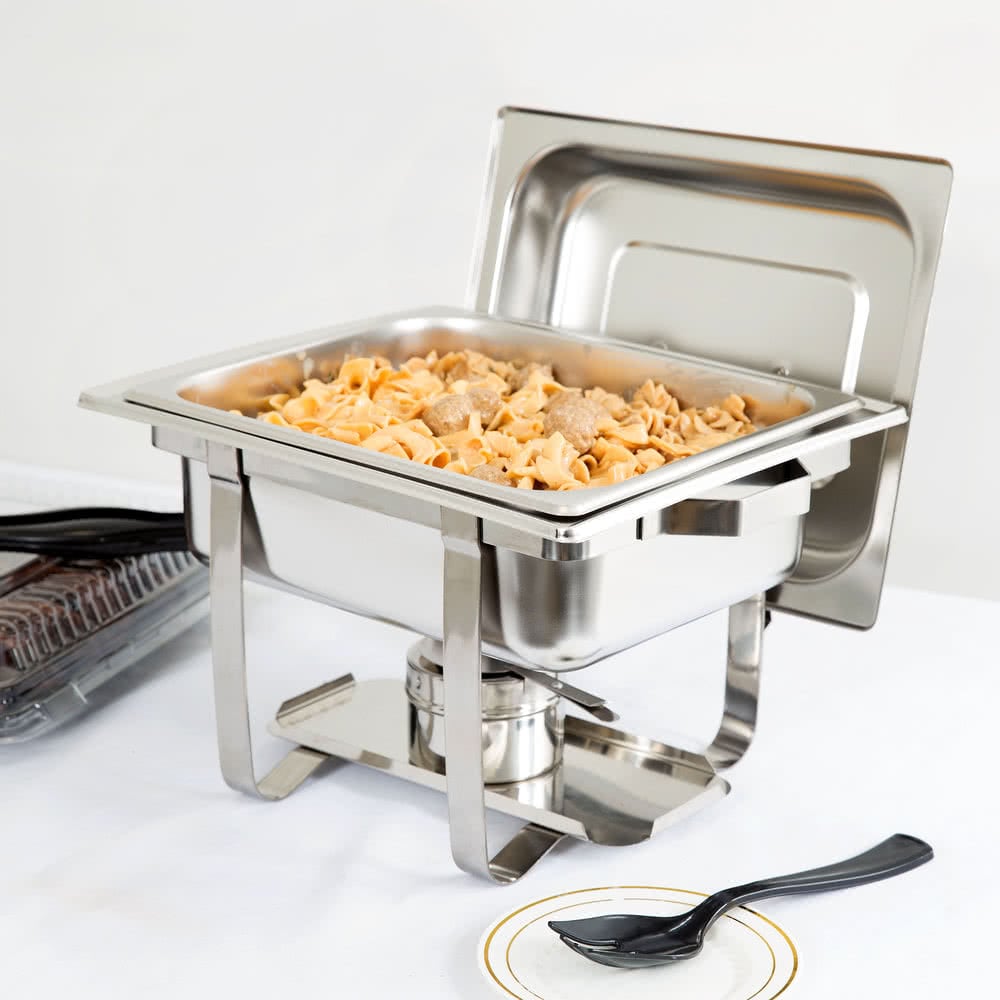 Using Chafing Fuel Cans with Chafing Dishes
Start with 2, 4, or 6 hour fuel
Open the can, keeping it away from any open flame
Carefully place it in the receptacle
Place the water pan in the frame and fill with about 1" of HOT water
- Using cold water will add to the pre-heating time
Light the chafing fuel using a long reach match or butane lighter
- For safety, always light the can when in place
Cover the water pan until it begins to steam (approximately 20 minutes)
Once steaming, place the food pan with hot, fully cooked foods into position and cover
After your event, extinguish the chafing fuel with the correct tool and dispose of the can properly, or replace the lid and store it for reuse
---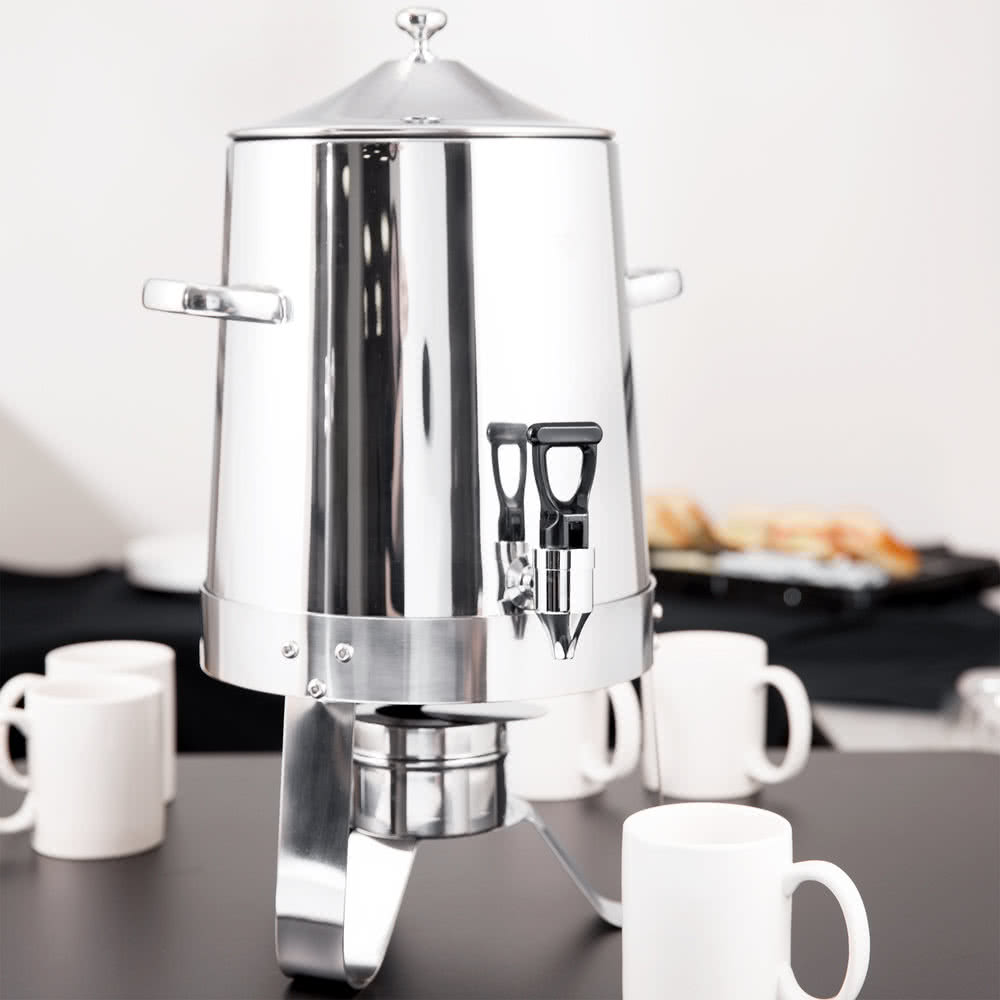 Using Chafing Fuel Cans with Beverage Urns
2 hour chafing fuel is recommended
Open the can, keeping it away from any open flame
Carefully place it in the receptacle
Light the chafing fuel using a long reach match or butane lighter
- For safety, always light the can when in place
After your event, extinguish the chafing fuel with the correct tool and dispose of the can properly
---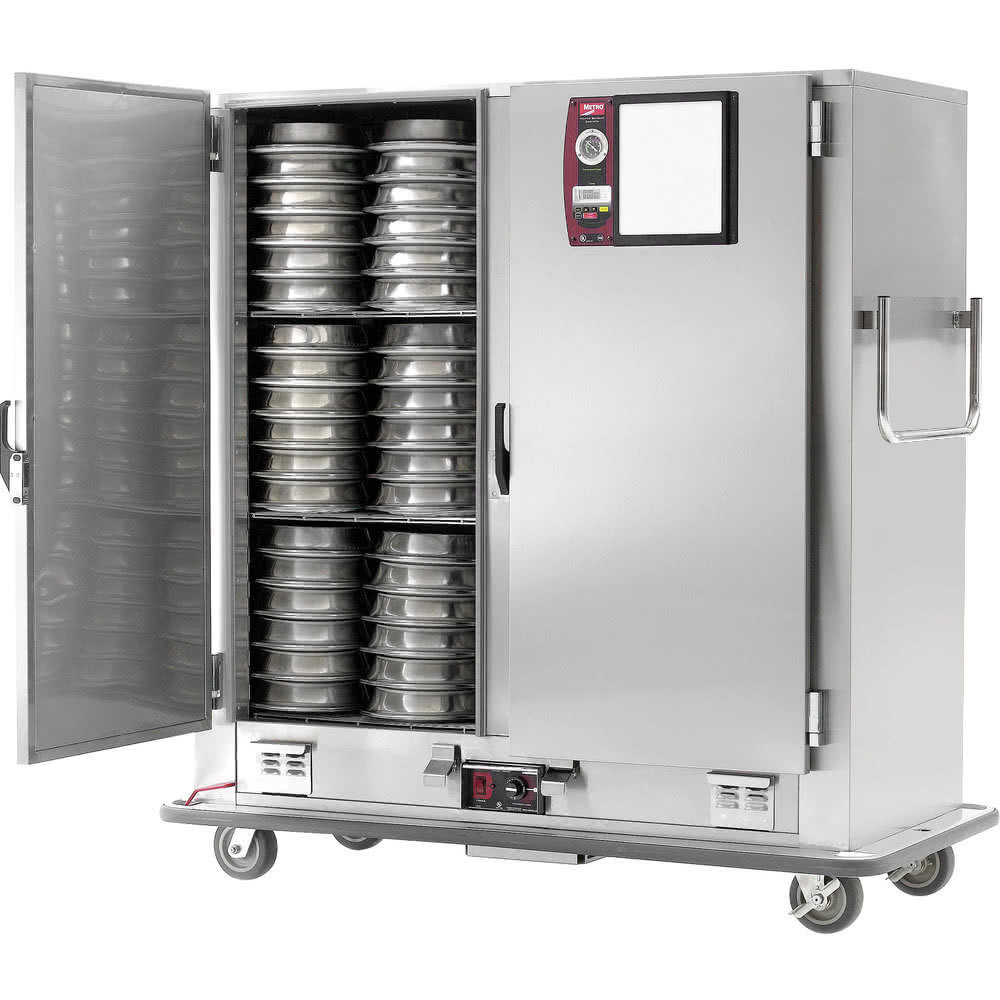 Using Chafing Fuel Cans with Banquet Carts
Open the can, keeping it away from any open flame
Carefully place it in the receptacle
Light the chafing fuel using a long reach match or butane lighter
- For safety, always light the can when in place
After the cart has reached the proper holding temperature, place hot, fully-cooked foods inside and close door. Transport with care
After your event, extinguish the chafing fuel with the correct tool and dispose of the can properly
- Always follow the Manufacturer's instructions
- Pre-heat the cart to the proper temperature before placing hot, fully-cooked foods inside
- Use only the number of cans recommended by the cart Manufacturer
General Usage and Safety Tips for Chafing Fuel
| Do's | Don'ts |
| --- | --- |
| Always select fuel with a burn time that's long enough to last the length of your event, ensuring fuel changes aren't necessary. | Never use an open flame before checking with your local code official. |
| Only use chafing fuel to maintain proper serving temperatures. | Never use chafing fuel to cook foods. |
| Always use a long-reach match or butane lighter to ignite the chafing fuel. | Never place chafing fuel near flammable table decorations or nearby items like curtains and paper products. |
| Always place chafing fuel in the desired area before lighting it. | Never light the fuel and carry or move it to the desired area. |
| Always wash your hands after working with chafing fuel as there may be some fuel residue left on your skin. | Never use other lit cans or rolled up paper to light chafing fuel. |
| Always extinguish chafing fuel at the end of events by using the proper tool (twist-off metal lid, snuffer paddle, regulator, etc.). | Never touch gel-type cans once they're lit. They can become extremely hot as the flame burns down into the can. |
| Always let spent fuel cans cool after use, then dispose of them properly. | Never blow out the flame to extinguish it. |
Do you have new employees that are being trained on the proper use of chafers and chafing fuel? Provide them with this
Sterno safety poster
or hang it in a common area so staff can be reminded of how to safely use chafing fuel.
For a more interactive training, have new employees watch the informative Sterno chafing fuel safety tips video below!
Sterno Products Chafer Fuel Safety Tips
What is used to heat chafing dishes?
You can heat chafing dishes a couple of ways. The first way is to use chafing fuel as outlined at the beginning of this guide. Chafing fuel is the quickest, most inexpensive option and is usually used for catered and outdoor events.
An alternative to using chafing fuel is to use induction chafers with induction warmers. Induction warmers are great because they heat up the food within the induction chafer, but stay cool to the touch on their flatop surfaces. This reduces accidental burns and injuries all while promoting a sleek, upscale appearance.
Another option is to use electric chafing warmers. Electric warmers heat up to warm food, but do so without an exposed flame. They're ideal for areas where open flames are restricted. If you're looking to turn your traditional chafer into an electric unit without sacrificing an upscale appearance, Vollrath electric chafer heaters may be the solution for you. They're small and fit perfectly into standard fuel cup openings.
Alternatives to Chafing Fuel
Type
Description / Benefits
Usage

Provides best-in-class heat distribution with no hot or cold spots
Allows you to maintain a constant temperature for longer periods of time than traditional chafers
Eliminates the hazard of burns, injuries, and fires

High-end buffets and catered events
Cruise ship dining stations

Great for outdoor dining areas where wind would blow out traditional chafer fuel
Allows you to monitor and ensure precise temperatures of food

Restaurants and catered events
Institutions and healthcare facilities with open flame restrictions

Allows you to convert your fuel chafer into an electric unit
Perfectly sized to fit standard fuel cup openings

Restaurants and catered events
Institutions and healthcare facilities with open flame restrictions
Cost Per Hour & Annual Savings Calculator
Although our Choice brand 2 hour gel fuel offers the lowest cost per can, the best value in terms of burn time is our Choice brand 6 hour wick fuel. Our Choice brand wick fuel offers a convenient screw on lid so you can easily reuse the fuel to get the full 6 hours of usage. This makes Choice fuel great for any event, whether short or long!
Frequently Asked Questions
What kind of fuel do you use in a chafing dish?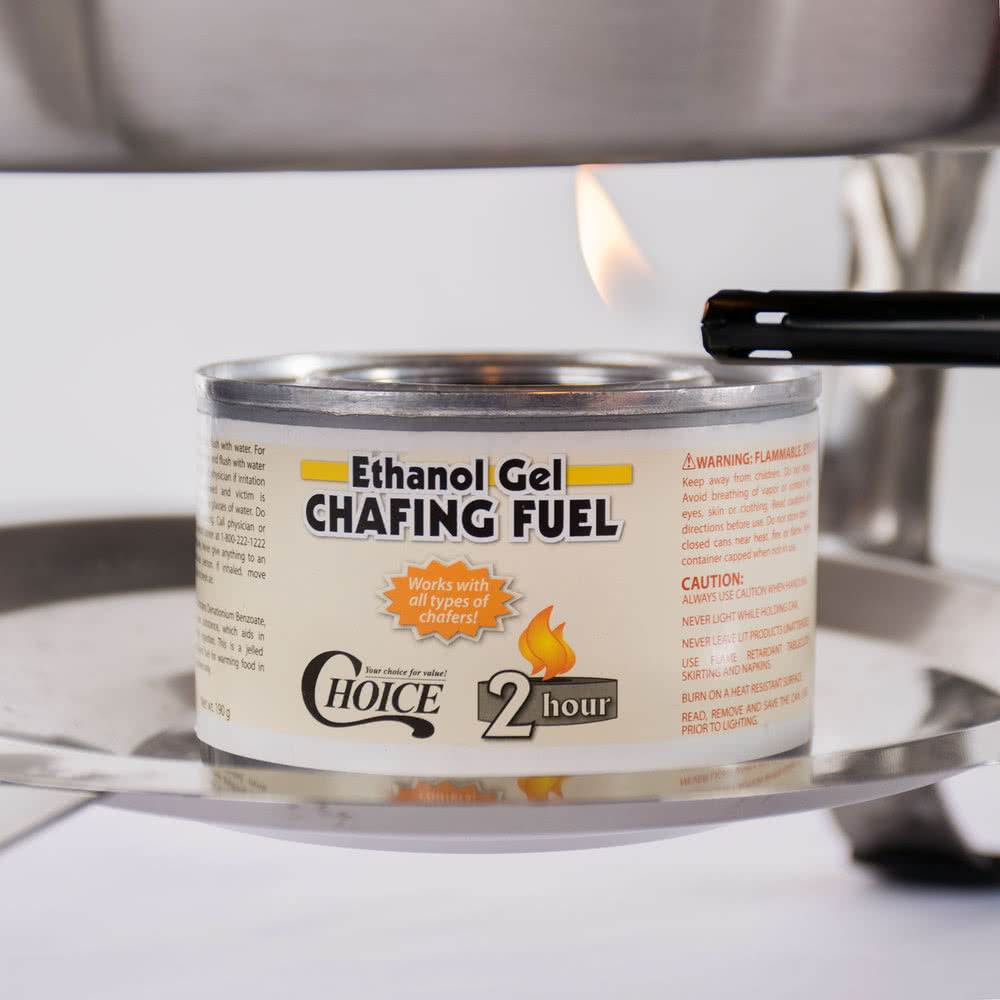 The type of fuel you use to heat your chafing dish is completely up to preference and desired burn time. If you're looking to heat food for a short period of time, we suggest using
45 minute
or
2 hour
chafing fuel. If you have an extended event, we offer
4
,
5
, and
6 hour
hour fuel options.
There are
gel fuel
and
wick fuel
options available, both of which have benefits that are outlined at the beginning of this guide. You may also choose your fuel type by its specific composition.
If you're looking for a specific brand, we feature
Choice
and
Sterno Products
chafing fuel. Choice chafer fuel offers superior burning power at an economical price that won't break your budget, and Sterno Products provides brand-name fuel products that customers know and love.
What is the difference between twist-off metal caps and stem wicks with plastic caps?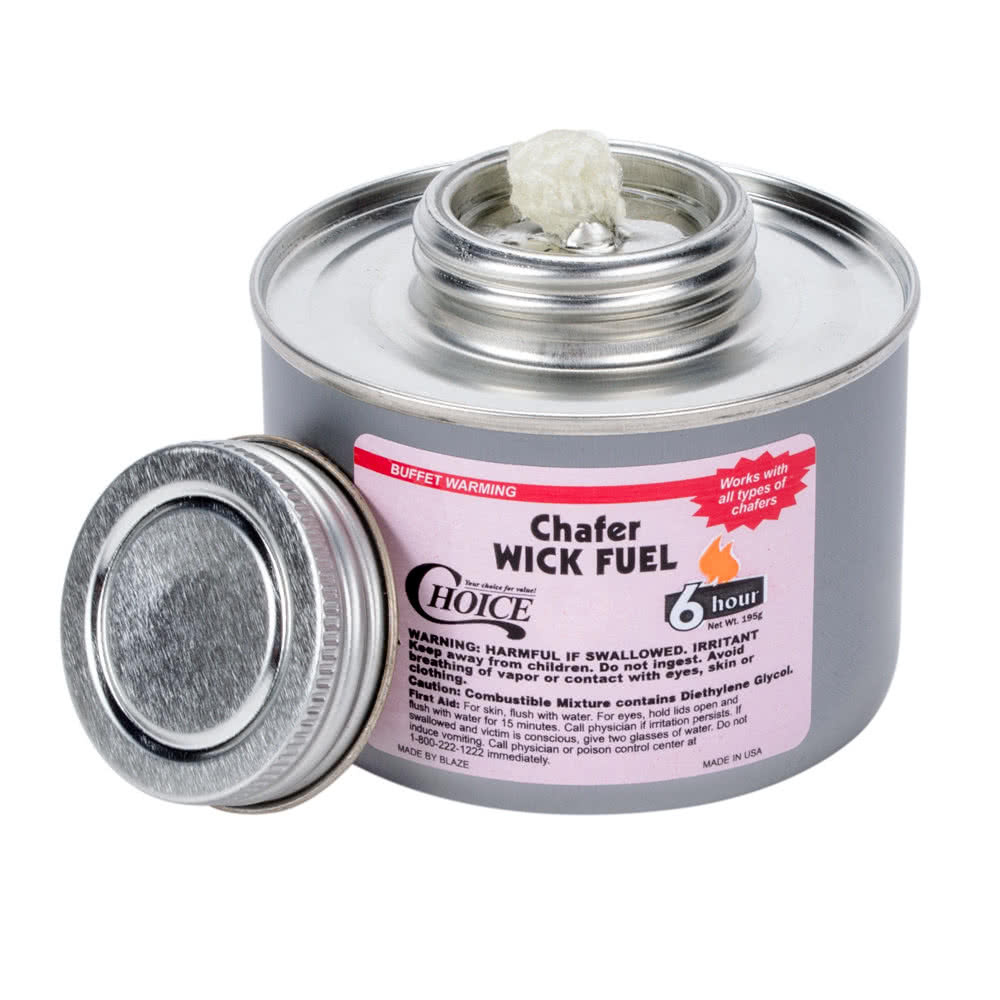 Once lit, chafer fuel cells with twist-off metal caps provide a quick, safe, and easy way to extinguish the flame at the end of events. The cap can simply be placed over the flame to snuff it out. Chafer fuel cells with stem wicks and plastic caps require a separate snuffer paddle, regulator, or saucer to extinguish the flame.

Because an additional tool is required to safely snuff out the flame when using a stem wick chafer with a plastic cap, chafer fuels with twist-off metal caps may be the better option for on-the-go catering companies. However, both styles of caps allow the cans to be resealed, providing you with a way to easily store and reuse leftover fuel.