What Is a Continental Breakfast?
Hotel guests have come to seek out and even expect food options during their stay, whether it be from an on-site restaurant, room service, or a complimentary continental breakfast. If you're looking to open your own hotel, you may be wondering what is included in a continental breakfast and how hoteliers can offer it for free. We explored the origin of this breakfast style, continental menu options, along with some other breakfast selections you may be interested in using for your hospitality business".
Continental Breakfast Definition
A continental breakfast is a light morning meal typically consisting of pastries and baked goods, fruits, toast, and coffee. It is usually served buffet-style and modeled after the European breakfast, similar to what one would enjoy in France or the Mediterranean. Continental breakfasts emphasize simplicity and focus on foods that can easily be stocked.
Continental Breakfast Menu
Here are some of the options that a continental breakfast consists of:
Baked Goods / Pastries
Fruits
Bread
Jams and Spreads
Coffee
Tea
Hot Chocolate
Juice
Optional: Breakfast cereals, eggs, meats, sliced cheese, porridge or oatmeal
Shop All Breakfast Foods
Why Is It Called a Continental Breakfast?
The term "continental breakfast" refers to the continent of Europe and the style of breakfast enjoyed in European cultures. The term first appeared in 1896 as a result of the turning of the century. Prior to the 1800s, the most common American jobs involved farm work and demanded a high-calorie breakfast to start the day.
However, as the country headed into the 1900s, the average job became more sedentary and emerging middle-class workers sought out a lighter morning option. At the same time, more and more European travelers were visiting America and staying in hotels. The hotels responded in kind by adding a light breakfast option to their menu that their European customers would appreciate.
Why Offer a Continental Breakfast?
If you're considering adding a breakfast option to your restaurant or hotel, here are some reasons why a continental breakfast may be a good fit for your establishment.
Cost-Effectiveness - Foods like pastries, cereals, and bread are inexpensive to purchase, can be ordered in bulk, and are fairly shelf-stable. They do not need to be made or purchased daily, saving your establishment time and money.
Amenity Popularity - Continental breakfasts are convenient for travelers on the go who may need to grab food very early in the morning. This makes hotels with free continental breakfasts more desirable among travelers, leading to an increase in hotel revenue and potentially a boost in hotel star rating.
Manageability - Since most of the food options of a continental breakfast do not need to be cooked, minimal staffing is required to manage the breakfast area. This also allows for breakfasts to be served in nearly any space or room, whether it be in a lobby area or conference room.
Hotel Breakfast Variations
The continental breakfast is just one hotel breakfast style you can choose from. Other variations may be better suited for your establishment and guests.
Global Breakfast Options:
Here are some breakfast styles you may encounter around the globe that differ from the European continental breakfast:
Full American Breakfast - Large portion of eggs, breakfast meats such as bacon or sausage, potatoes or hashbrowns, pancakes or waffles, toast, and coffee.
Full English Breakfast - Scrambled eggs, sausage, bacon, baked beans, black pudding or white pudding, grilled tomatoes, mushrooms, potatoes, toast, and tea.
Italian Breakfast - Cappuccino or latte, bread with butter and jam, cookies, biscuits, and pastries.
Israeli Breakfast - Eggs, cheese, herring, vegetables, fruits, and cereal.
Japanese Breakfast - Steamed rice, miso soup, cooked fish, pickled vegetables, tofu, boiled eggs, and tea.
Additional Continental Breakfast Ideas: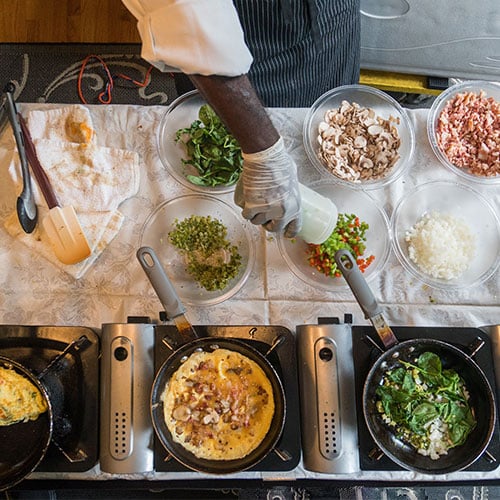 In addition to the continental breakfast, some hotels also feature some extra options for their guests to choose from:
Breakfast Stations - These stations allow guests to enjoy a fresh breakfast that is customized to their liking.

Pancake Station
Omelet Station
French Toast Station
Smoothie Station

Healthy Options - Many travelers seek out healthy options when they are on the go. Add some of these options to cater to alternative diets:

Fruit Platters
Low-Fat Yogurts
Turkey Sausage
House-Made Granola
Whole Grain Bread
Serving a continental breakfast in your hotel or bed and breakfast can be a great way to bring in new customers while staying within your budget. Be sure to explore other breakfast variations to accommodate for the needs of your customer base.

Posted in:
Management & Operation
| By Janine Jones