Is Restaurant Week Worth It?
As a growing phenomenon across the United States, restaurant week draws local foodies and tourists to community food service establishments. With options ranging from hole-in-the-wall specialty restaurants to high-end dining establishments, this event provides customers with the opportunity to find their new favorite haunt and restaurants the chance to showcase their best menu items. However, participating in restaurant week takes a lot of time and preparation, making many businesses question whether it's worth joining. To help you make a decision, here's everything you need to know about restaurant week, how it can benefit your business, and how your restaurant can get the most out of the event.
What Is Restaurant Week?
Restaurant week is an event where restaurants offer reduced or discounted menus, so customers can try different types of food that may normally be out of their price range. Prix fixe menus are also popular during restaurant week, offering full course meals for customers at fixed prices. Typically, mid- and upper-range establishments join restaurant week, but any restaurant can participate in the event. Restaurant week appeals to locals and tourists alike, and most operations that participate see increased traffic during the occasion.
The History of Restaurant Week
Restaurant week was created in New York City in 1992 by Tim Zagat, the creator of the Zagat Survey, and Joe Baum, a famous New York restaurateur. The promotional event was originally lunch-only and scheduled to coincide with the Democratic National Convention to draw visitors, reporters, and politicians attending the event to local restaurants. The first restaurant week saw huge success, and it has since spread to cities large and small all over the country.
How Does Restaurant Week Work?
Restaurant week can occur any time of year, and timing varies by location. Typically, restaurant week happens in either early winter or spring, which are periods that are usually slower for restaurants. Additionally, while the first event was only one week long, now most restaurant week events last anywhere from two weeks to a month. Many large cities will also hold multiple restaurant weeks per year. The event is typically organized by the chamber of commerce or local tourist organizations, so check out those resources to find out when your restaurant week is.
During restaurant week, many operations offer several package meals at different price points. Providing several meal options is important because it makes guests with varying budgets feel welcome in your restaurant. A common practice is to have a menu that highlights three price packages. The most expensive option may include a better cut of meat, one cocktail per person, or a bottle of wine for the table. The cheapest option may be as simple as a signature soup or salad complemented by a dessert.
How Does Restaurant Week Benefit My Business?
Restaurant week is a great way for businesses to draw new customers while keeping existing customers satisfied and interested. However, many owners question if giving out a week of deals will help their operation or if the specials will eat up any potential profits. Here are a few reasons why joining your city's or region's restaurant week is a good idea:
Although you offer your meals for reduced prices, restaurant week brings in more traffic than usual, which will make up for the lower dollar amount.
Restaurant week allows you to impress customers with your food and service, and the experience may persuade some guests to come back and become repeat customers.
Taking part in restaurant week can boost your reputation as a high-quality and fashionable restaurant in your community.
Participating in your city's restaurant week can also help improve the local economy and build your city's reputation as a foodie destination, which will improve tourism.
How to Get the Most Out of Restaurant Week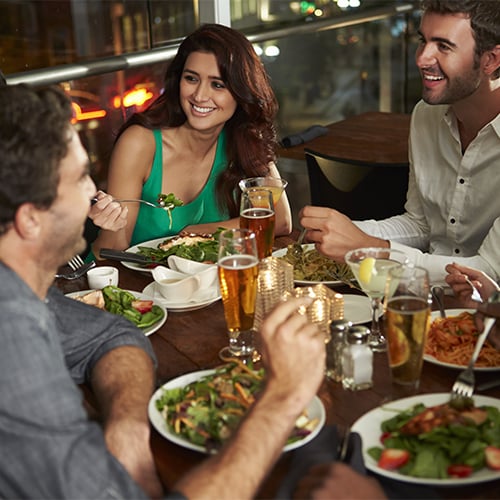 Once you've joined your city's restaurant week, you want to take advantage of the opportunity. During the week, guests visit many different restaurants, so you want to be the one everyone remembers and returns to after the event ends. Here are a few tips for taking full advantage of your city's restaurant week to benefit your establishment:
Create a menu that helps you reach your goal. If your goal is to stand out from the crowd for your creativity, use the event as an occasion to serve experimental and unique dishes. If you're looking to appeal to new audiences and bring in new diners, you can fill your menu with your most popular dishes to wow guests.
Give customers more than they expect. Make guests feel like VIPs immediately when they enter your operation. Additionally, creating an attractive table setting and having a clear menu can make the experience that much better.
Appeal to different target audiences. People of all ages, demographics, and walks of life participate in restaurant week, which allows you to appeal to a wide audience. When you are creating your menu, you should also be considerate of dietary restrictions and offer at least one vegan menu option.
Partner with a local business. Consider teaming up with a local winery, brewery, or distillery and offer a complete food and drink package. You can also use fresh produce from local farms and markets. This partnership is a great way to help another business increase its branding and shows that your restaurant is a true part of the community, which is what restaurant week is all about.
Restaurant Week Marketing Tips
Since this event offers numerous options for food lovers, it's challenging to make your restaurant stand out. Building awareness, hyping your menu, and offering incentives are crucial aspects of a successful marketing campaign that draws customers to your restaurant. Check out some of our restaurant week marketing tips that help you catch the eye of excited diners.
Use social media. Whether you prefer marketing using Instagram, sticking to Facebook, or creating great videos on TikTok, social media is the best way to promote your restaurant to a wide audience. Since restaurant week also attracts people outside your community, using a restaurant week hashtag allows you to reach tourists specifically coming for the event. Additionally, put your social media handles on your menu or place QR codes on tables so customers can follow you for more promotions.
Offer coupons and promo codes. Great for social media and email campaigns, a coupon campaign offering a free dessert with the purchase of a menu item invites price-conscious customers to try your establishment.
Take advantage of event resources. In addition to the restaurant week hashtag, the event organizers have many marketing resources used to promote the whole event. Make sure your restaurant name is in all brochures, newsletters, and web resources, and ask if there are any other ways you can utilize their marketing.
Follow up after the event ends. Participation in restaurant week aims to create a new, loyal customer base for your establishment. Create a loyalty program or post-restaurant week discount menu to continue building relationships with your new regulars.
---
Starting as a week-long event in New York City, restaurant week has grown into a nationwide phenomenon that draws millions of visitors to restaurants in cities nationwide. Restaurant week is an exciting, fun, stressful, and beneficial event all wrapped up in one. Whether you're a veteran of the tradition or this is your restaurant's first year participating in the event, there is something to gain from joining restaurant week.

Posted in:
Advertising & Marketing
|
Management & Operation
|
By Richard Traylor
The information provided on this website does not, and is not intended to, constitute legal advice. Please refer to our
Content Policy
for more details.