WebstaurantStore / Food Service Resources / Blog
How to Offer Private Cooking Classes in Your Restaurant
With so many restaurant options available to diners these days, it's important to think of ways you can set your business apart from all the rest. Private cooking lessons are one way to increase interest in your cuisine and encourage people to eat at your restaurant. Cooking classes are great for brand exposure because providing guests with a fun experience will get them talking about your business, which can go a long way for word-of-mouth advertising. So, if you think cooking lessons might be a good idea for your restaurant, but don't know where to begin, we'll help you figure out some things to consider as you get started.
A few popular restaurants that offer classes include Pierpoint, TwoChefs, and Mumford's. Each of these establishments has something unique to offer—whether it's a kid's class, locally-sourced focused, or basic knife skills. There are so many possibilities of what your cooking class can be.
So, if you think offering cooking lessons at your restaurant is something you'd like to try, here are a few things to keep in mind.
Decide on a Cooking Class Style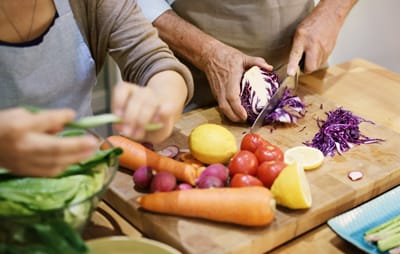 When you offer cooking classes at your restaurant, you can decide how much you want your customers to be involved. Two popular cooking class styles are:
1. Lecture-style demonstrations where your customers sit back and relax (perhaps with a glass of wine) and watch you explain step-by-step how to put together a dish that they all get to taste at the end.
2. Hands-on learning where customers roll up their sleeves, put on some aprons, and actually make dishes themselves, under your guidance.
Both lesson styles can be effective in giving your guests a great experience, so you just need to decide what you feel most comfortable with and which style best suits the setup of your kitchen.
How Frequently Should You Offer Cooking Classes at Your Restaurant?
Depending on your availability, you will have to choose how often to host lessons. You could offer a lesson once to see how popular it is, and then continue with them if you get good feedback. Some chefs offer classes that are meant to be a one-time experience, while others are designed as a series of classes for patrons who want to hear more.
How Much Should You Charge Per Class?
As for the cost of private cooking lessons, this will depend on what you plan to serve, how involved your guests become, and the type of dining experience people expect from your restaurant. Base your rates on the extra amount of supplies you need and how much technique you're sharing with students. Are you in the city or the suburbs? Do you offer casual fare or fine French cuisine? All of these factors will impact your price.
How Many People Should You Host at a Time?
Make cooking lessons open to a designated amount of people, depending on the size of your kitchen. Maybe you love the idea of twenty people in your kitchen doing small prep tasks and learning basic techniques. On the other hand, you might prefer the idea of five people in your kitchen, so there's less distraction. Whatever your maximum limit, be sure to stick to it when people ask about available openings. If people call your restaurant asking for a lesson and you don't have any room, simply thank them for their interest and tell them to try again when your next lesson comes up.
Stock Up on Separate Supplies for Students to Use
For groups that will be helping you cook, consider buying supplies that are separate from what you typically use in your kitchen. This way, you don't need to worry about a customer ruining your favorite chef's knife or piano whip. When the event is over, you can wash everything and store it in an area for cooking lesson supplies only. Aprons, mixing bowls, extra chef knives, and cutting boards are some food prep basics that can help with cooking classes in your restaurant. You can also provide recipe print-outs, so customers can take notes and remember what they helped you prepare.
Make Safety a Priority
Of course you want your guests to have the best experience possible at your cooking class, so take some steps to keep everyone safe and happy. Safety considerations are obviously most important if you choose to do a hands-on lesson because your customers will actually be touching and interacting with ingredients and equipment. Here are a few key points to keep in mind as you consider safety precautions:
Write up a liability agreement for your guests to sign. Accidents happen, so make sure your business is not put at risk. Having a written agreement ensures that everyone's on the same page and your guests understand that there is always a risk of injury when working in a kitchen.
Make sure you ask about any food allergies prior to the class.
Explain all the basic rules of kitchen safety and sanitation at the beginning of class. Hopefully, everyone will be familiar with these already, but it never hurts to review.
If your recipe requires the use of large cooking equipment, consider keeping that step as a demonstration, rather than having guests work with your commercial appliances.
At the end of your cooking lesson, share the meal you've prepared with all of your guests. Customers will love telling their friends they helped make dinner at a restaurant, and they'll encourage more people to join your cooking classes. Also be sure to advertise your private cooking lessons in your restaurant, on flyers, on social media, and on your website. It's unique to find a restaurant that will open its kitchen doors to amateurs, so you could become the trendsetter on your block.

Posted in:
Management & Operation
| By Jessica Wieser