Successfully Branding Your Restaurant
Whether you operate a fast food joint, a family-style diner, a white tablecloth restaurant, or a take-out pizzeria, it's important to develop a brand for your business. Branding requires time, patience, and effort, but when done correctly, it will influence your target market's decision making when choosing where to dine out. This article will cover the different aspects involved in restaurant marketing, and it will touch on three main topics: color theory, consistency, and brand recognition. But first, it's important to understand what a brand is.
What Is Restaurant Branding?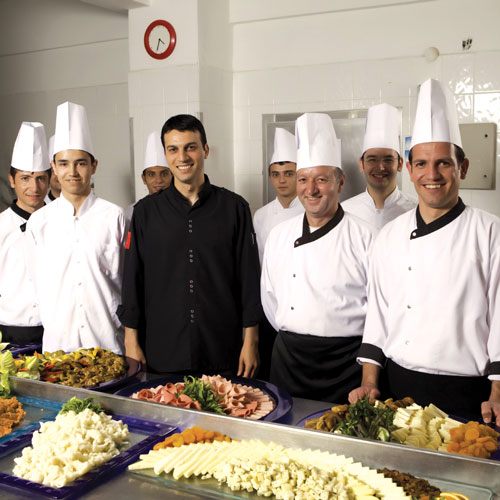 A brand communicates your restaurant's core values to your potential and returning customers. It lets them know what motivates your business. Maybe you're known for serving comfort food and have the best fried chicken recipe in the tri-state area. Or, maybe you have a staff consisting of cooks from across the globe, and their backgrounds reflect in your eclectic menu. This core value could also be a passion to provide your customers with healthy recipes made from the most sustainable ingredients.

Whatever it may be, it's important to develop a brand that reflects your value in every way possible, from interior design and marketing materials to customer service, so your restaurant can establish its own niche. When restaurant branding and design have been executed effectively, your establishment can see many of the following positive effects:
Distinction from competitors
Increased competitive edge
Name recognition through visual and emotional cues

Established personality and identity
Color Theory
After you've determined your restaurant's brand, it's important to incorporate it into all parts of your business in a creative way. Developing a logo, choosing a font style, designing images, and picking a color scheme are just a few tasks. Many graphic designers and professionals who are hired to help businesses create these visual pieces take color theory into consideration when choosing a color scheme for their customers.
What is color theory?
This theory suggests that colors can influence purchasing decisions, customer mood, and appetite. Therefore, depending on your restaurant's core value and brand, you may want to utilize certain colors in your creative design. We've listed some tips below on choosing an appropriate color scheme:
Red. Reds are thought to raise heart rate and blood pressure, ultimately increasing impulse eating. Most interior designers agree that red should only be used in fast food establishments since their goal is volume. Red will help operators get customers in and out quickly, so they can serve as many patrons as possible.
Green and brown. These soft and natural tones work best in sit-down, casual restaurants where owners want their customers to relax and stay awhile. Hopefully they'll order drinks, appetizers, and dinner, and then stay for dessert. Natural colors like these also work well for restaurants who've developed a brand around freshness and health.

Orange and yellow. Bright colors, including orange and yellow, create a sense of happiness! Operators of ice cream parlors, cafés, or dessert shops may use these colors in their designs and marketing tools to make customers feel less guilty about indulging in their favorite treats. These hues are also becoming popular in vegan and vegetarian restaurants, since they're naturally occurring colors in many vegetables, fruits, and curries.

Blue. Although blue may be used occasionally in sushi restaurants or hibachi bars, it's actually not a common color choice for restaurants. Blue evokes thirst rather than hunger, and if you think about it, there aren't that many blue-colored foods. If you want your restaurant to incorporate blue, consider using it as an accent color. You could also use blue hues in your bar area.

Color theory doesn't provide a cookie cutter solution for all your restaurant branding and design issues, but it does offer insight into how your brand may or may not influence your target market. Make sure you've thought of everything in your interior and exterior design that can be influenced by color theory:
Consistency and Recognition
Logos, colors schemes, symbols, and jingles all make up a brand. Now that you've developed your brand, your next goal is to make it familiar to your customers through proper restaurant marketing. You want to establish name recognition. If customers see your logo in a city's brochure, they'll know who that logo belongs to without having to read on. If they hear your jingle on a commercial, they'll think of your restaurant for their dinner plans that night. Maybe a red and white colored to-go box they see in the trash will remind them that they're craving your fast food for lunch that day.
In order to establish that recognition, you have to consistently apply your brand to all of your marketing and advertising techniques. If your restaurant's walls are predominantly orange, then consider making the font color on your menu orange and plant orange flowers outside, as well. If you use a certain font on your restaurant's outdoor sign, use that same font on your website. Before you set anything live or send any materials to be printed, make sure the following have consistent logo placement, slogans, font styles, and color schemes:

Straw wrappers
Business cards
Developing your restaurant's brand requires a lot of hard work. It involves heavy research of your core values, target market, budgeting, and goals. You may have to invest a large amount of money upfront to get started. However, successfully establishing your brand can save on marketing costs in the long run, allowing you to spend that time and money marketing special events, promotions, fundraisers, and more!