Mobile Marketing For Restaurants
Today's consumer is constantly on the go in search of local businesses and eateries to spend their hard earned money at. The difference in how they're doing that searching today, compared to 5 or 10 years ago, is that it's increasingly from their phones. In the modern foodservice industry, if you aren't marketing to customers on their phones or tablets, your restaurant is missing out on a great deal of potential business. If you find that you are someone who's fallen behind the eight ball, here are some tips on implementing a mobile marketing strategy for your restaurant or foodservice business.
Mobile Optimized Websites
The average person has an attention span of exactly 8 seconds, and when it comes to mobile you're lucky if you get that. According to Latitude, an international research firm, "61% of people have a better opinion of brands when they offer a good mobile experience." If you don't have a website that's been optimized for mobile with a responsive web design (RWD), you're losing out on a lot of potential customers the moment they realize they'll have to pinch and expand to read anything on your page.
Sites with RWD are designed to be viewed on all devices and browsers, and thus reduce or eliminate the need for scrolling or resizing. Using a responsive web design will improve potential customers' overall user experience by simplifying your updates and speeding up page load times over your current mobile website. Furthermore, Google considers RWD to be best practice, and gives preference to sites using RWD for their mobile configuration.
Example of Responsive Web Design: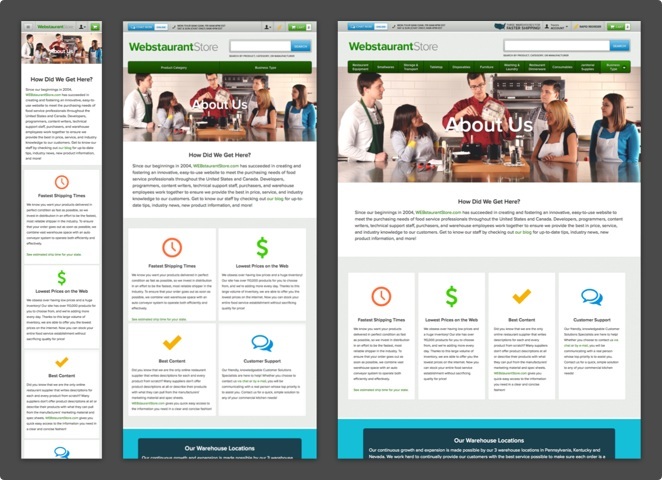 Implementing Responsive Web Design:
You can go about optimizing your website for a mobile audience in a number of ways. If you have a webmaster who handles the design and information on your website, speak with them about implementing RWD. If they're unsure of how to do this, there are a number of new tools like Webflow, Adobe Edge Reflow CC, and Macaw that allow designers to visually lay out how the mobile versions of the site will look while also generating the HTML and CSS code. You or your web designer will still need to have knowledge of HTML and CSS to use these options, however.
If you've hired someone in the past to quickly design a site for you, or you've done some amateur web design on your own, then you also have the option of outsourcing the work to a web development company, or finding a local designer or programmer with the capability of making your site compatible across multiple platforms.
SMS Marketing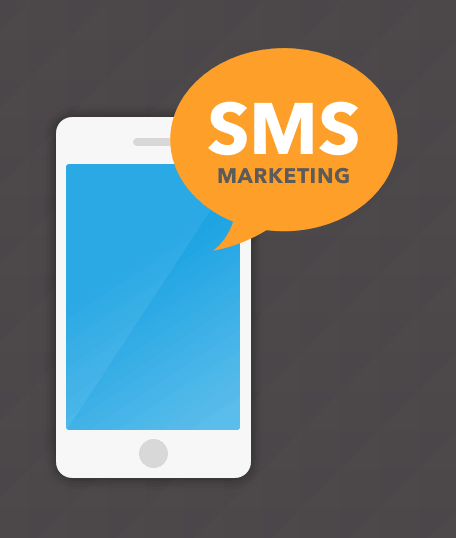 SMS marketing refers to using short text messages to directly interact with your customers. Since, on average,
81%
of cell phone owners use their phones to send or receive text messages, SMS can be an extremely effective marketing tool as long as you know how to use it properly.
The most important thing to know when it comes to SMS marketing, is that since 2013, the Federal Communications Commission (FCC) has made it illegal to "initiate" a telephone call or SMS text message to a private line without the express written consent of the person being called. According to this criteria, laid out in the Telephone Consumer Portection Act (TCPA), in order to go about an SMS marketing strategy legally, you'll need to obtain the clear, written permission of your customers. Thankfully, doing this is as easy as having your customers sign up in your restaurant, or by sending existing customers on your marketing list a re-opt-in message to obtain their consent.
When it comes to SMS marketing, less equals more. Keep your messages short and engaging. No one wants to feel like they're receiving spam. SMS text messages are limited to 160 characters, so avoid continuing into a second message. Also, remember not to inundate people with constant text messages, or they may unsubscribe from your list. Below are a few SMS strategies your company can utilize:
Compile a Customer List -

Create a customer loyalty program, or "text club", to collect a list of cell numbers for potential repeat patrons, then market to them. This will also help you avoid possible financial penalties for violating the rules of the TCPA.

Promote Events

- The most effective way to use SMS messages is to promote upcoming events. If you have a live band or popular promotion, send out a mass text to your pre-existing customer list or text club members reminding them the day before, or day of, the event.

VIP Offers

– Giving people an incentive to do something always makes the battle a little easier. Offer exclusive deals and perks to members of your text club. When members come into your restaurant, have them show the text message or tell you a code in order to redeem that offer.

Incorporate Facebook or Your Website

– SMS marketing offers you the chance to drive more people to promotions you're running online. For instance if you're running a Facebook contest or having people vote on their favorite photo with "likes", send out a SMS message. You'll increase engagement, lifetime value, and ultimately return on investment.
Google Mobile Advertising
With at least 56% of Americans claiming to own smartphones the opportunity for marketing via webpages and web-based applications is tremendous. By using Google AdWords, Google's online advertising service, you can develop and place text and image ads right in potential customers' hands.
Mobile advertising allows smartphone users with full web browsers, as well as feature phone users using a Wireless Application Protocol (WAP) browser, to view advertisements at the top and side of their browsers, similar to how you would on your home computer.
Since there have been volumes written on how to effectively use AdWords to promote your business online, we won't delve too deeply into the subject here. However, when developing your ads for mobile, it may be helpful to keep these things in mind:
Google My Business - If you haven't already, be sure to create or update a Google+ Business page for your address. Having an accurate location, contact information, images, link to your website, and brief information about your services can really give your business a boost in local search rankings and help customers find you easier.
Short Ad Copy - When writing the ad copy for text advertisements, be mindful to keep it shorter than you might normally for a web browser on a desktop. Smaller screen, smaller attention span.
Click-To-Call - Take advantage of the click-to-call feature

in AdWords

, which lets users dial you directly from your ad. This is an especially good option if you don't have a mobile website, or if your website isn't optimized for mobile viewers. In terms of restaurant application, this is ideal for customers who want to check hours or make a reservation on the fly.

Image Ads - Use image ads, like banner images, to run simple, attention-grabbing messages across the top of web pages or app screens. Appealing to potential customers' senses can be much more effective than a simple text ad.
Though we've touched on a few marketing techniques you can begin implementing right away, there is no end to the number of things you can do to increase your business's reach. Many chain restaurants and mom and pop shops alike have even developed mobile apps to help customers keep track of rewards programs, place take-out orders, browse the menu, play games, make a reservation, or receive important news updates. Knowing that there are virtually endless marketing opportunities available to suit your budget, customer base, market, and business goals is the first step in updating your foodservice establishment for the digital age.