Top 5 Mobile Marketing Strategies for Restaurants
Last updated on 8/23/2018
The majority of the population in the United States has a smartphone, which makes mobile marketing strategies very effective at reaching your intended audience. Additionally, studies have shown that many customers will research different restaurants in their area online before deciding where to go out to eat, which gives restaurant owners an excellent opportunity to reach an interested audience through mobile platforms. We'll break down five of the most effective methods for restaurant mobile marketing to help you find your customers and bring more people to your business.
What Is Mobile Marketing?
Mobile marketing is a strategy that targets customers using smartphones, tablets, and other mobile devices through the channels of email, text, social media, and other apps. Many people think that mobile marketing is synonymous with social media marketing. While social media is a major part of mobile marketing, there is much more to mobile marketing than just creating a Facebook page for your restaurant. We'll explore five restaurant mobile marketing strategies that you can use alongside your social media campaigns.
Top 5 Restaurant Mobile Marketing Strategies
There are many different tactics that your restaurant can implement to reach mobile customers, from optimizing your social media accounts to advertising on Google and other search engines. But, we compiled five of the most essential tactics that every restaurant should make part of their mobile marketing strategy.
1. Create Responsive Restaurant Websites
When a customer is considering visiting your restaurant, one of the first ways they may research your business is to Google you and look at your website. As a result, it's important for your restaurant's website and menu to stand out on mobile and make a good first impression. One of the best ways to optimize your restaurant's website for mobile is to use responsible web design (RWD).
What Is Responsive Web Design?
Sites that use responsive web design are formatted to work on all devices and browser types, which eliminates the need for scrolling and re-sizing the page. Responsive web design improves your customers' user experience by speeding up page load times and allowing them to access the information easily without having to re-size your page themselves. Additionally, Google sees responsive web design as a good practice, and gives preference in search results to websites that have it for their mobile configuration.
Example of Responsive Web Design:
Below, you can see an example of how responsive web design works. On the right, you can see how our page would be displayed on a large tablet, such as an iPad. In the middle is how that page would be displayed on a smaller tablet or large phone. And, on the left you can see how the same page would be displayed on a normal smartphone.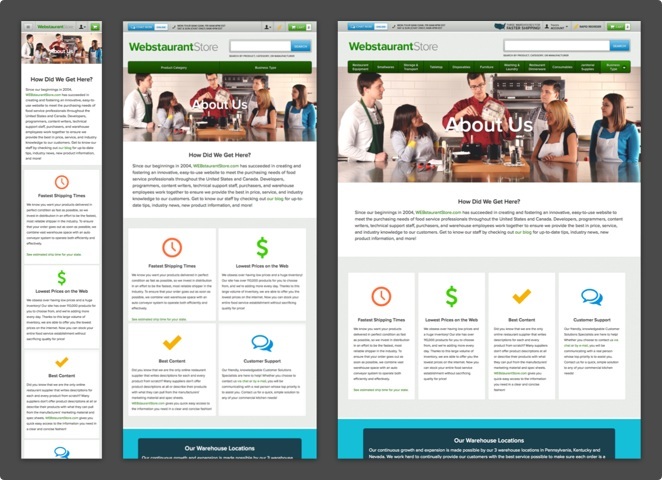 Implementing Responsive Web Design
There are multiple ways that you can make your restaurant's website mobile-friendly. If your business has a webmaster or design team that handles your website, you can ask them about implementing RWD on your site. If you manage your website yourself, you can look into tools like Webflow and Macaw that help you create and maintain responsive websites. Although, using these options will require knowledge of HTML and CSS.
2. Sign Up for Local Restaurant Listing Apps
Local restaurant listing apps, such as Yelp, TripAdvisor, and FourSquare, are essential for bringing in new business. It's especially important to sign up for these apps if you live in a tourist area or major city, as they can bring visitors to your business.
You should sign up for these apps as soon as possible so you can start accumulating reviews and customer photos. A large pool of customer reviews on apps like Yelp can help give your business credibility, and a favorable overall rating can help potential customers decide to visit your business.
3. Sign Up for Google My Business
Google My Business is a free service that Google provides that allows business owners to create a business page that will show up in Google search results. This page displays information like your hours of operation, location, website, menu, and Google reviews.

Because this page shows up in the search results, it may be the first interaction a potential customer has with your business, so you want to be sure that all of the information displayed is accurate. Additionally, having a Google My Business account will help your restaurant show up in local searches, like if someone is searching for "restaurants near me," which is a great way to reach potential customers in your area and maximize your location-based mobile marketing.
4. Use Third-Party Delivery Apps or Mobile Reservation Apps
Delivery is becoming increasingly common as many customers would rather eat in the comfort of their own home than go out to eat. Due to the increased demand, your restaurant should offer the option for takeout or delivery, but you don't necessarily need to hire your own delivery driver. Instead, you can use one of the many popular third-party delivery services, like UberEats or DoorDash.
Using third-party delivery apps helps you reach out to potential customers who want to try your restaurant's food without having to visit your establishment. Plus, many of these apps have their own fleet of drivers, so you can utilize them even if you don't have your own driver on staff.
Here are some of the major apps that your restaurant should use:
UberEats
GrubHub
DoorDash
Postmates
Seamless
5. Utilize SMS Marketing for Restaurants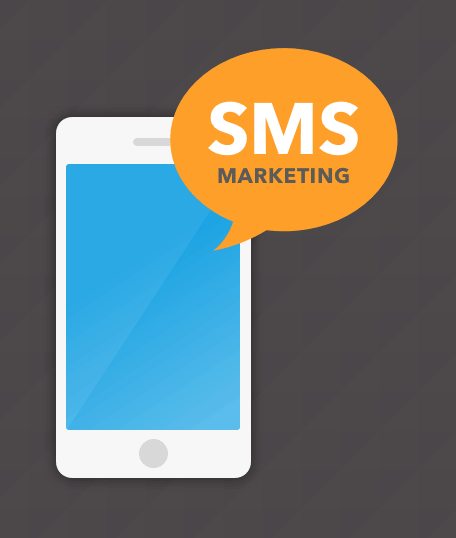 While using apps and optimizing your Google Business page can help customers find your restaurant, using SMS marketing can help you engage with your customers and encourage them to come back. SMS stands for "short message service," which is another phrase for texting. Text marketing is a service where customers opt in to receive marketing materials and texts from your business. Here are a few ways that restaurants can use SMS marketing:
Remind customers about upcoming events.
Send notifications about reservations your customers have made or alert them when their table is ready.
Notify them about limited time specials or new menu items.
Reward your customers with coupons and exclusive specials to thank them for visiting your restaurant and signing up for SMS marketing.
Update customers on the status of their delivery, such as when it's leaving the kitchen or when your driver is five minutes away.
To make your SMS marketing successful, you first need to get your customers to sign up. You can advertise your SMS marketing and list its benefits on your restaurant's website and also include a 5-digit-code that customers can text to opt in to your marketing service. Additionally, you can inform customers of the service when they checkout. If you decide to use a text marketing in your restaurant, make sure to inform all of your front-of-house staff, so they can answer any questions that your customers might have.
There are many mobile marketing strategies your restaurant can implement to help increase your customer base and brand recognition. But, the most important strategy is to make sure that your restaurant is well-represented on all of the major platforms, like Google, social media apps, review apps, and food ordering services.