Food Truck Parking
Last updated on 7/7/2021
Parking is the real estate of the mobile vending sector. Whether you're just starting your food truck business, or you've been in the industry awhile and are looking for more ways to reach customers, understanding where you can park your food truck and which spots are the most profitable is essential. Just like a brick-and-mortar restaurant must strategically choose their location based on zoning rules, costs, and availability, mobile vendors must adapt to parking restrictions.
Each cities' food truck parking rules, costs, and opportunities vary, and some cities are far more food truck friendly than others. Use this guide as a general outline of where you can park your food truck, but make sure you also check with your local authorities and align with their regulations.
Click any of the food truck parking tips below to read the section that interests you:
Can Food Trucks Park Anywhere?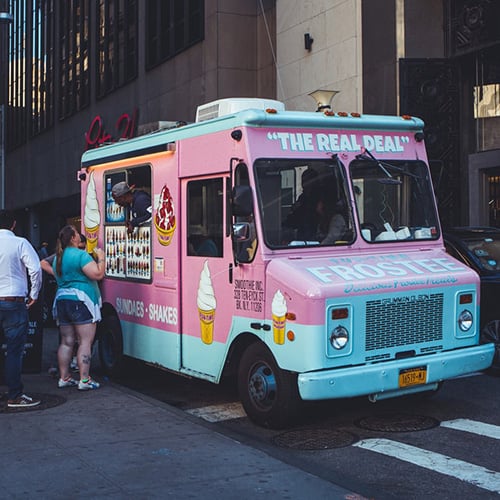 Food trucks cannot park anywhere they choose. General rules of the road such as not parking near fire hydrants, bus stops, and crosswalks apply to parking food trucks, but there are also industry specific food truck parking rules operators need to familiarize themselves with.
As a guideline, we've provided the five most common food truck parking rules and best practices below. Please refer to your local authorities to find out the specific food truck parking rules in your area.
Get a Parking Permit – You will need a parking permit to park your food truck on the street legally (make sure street parking is an option where you operate).
Park Safely – Always park your food truck with your order window facing the sidewalk. Most cities require this, and it keeps your customers safe.
Adhere to Local Proximity Rules – Park your food truck according to local proximity rules. Many cities have laws that prevent food trucks from parking within 500 to 600 feet of brick-and-mortar restaurants.
Park in Commercial Areas – Most often, you can only legally park and do business in a residential area if a property owner has invited you.
Follow Local Metered Parking Rules – Your city may have restrictions in place for food trucks using metered parking spaces or prohibit it altogether.
---
Food Truck Parking Permits
A parking permit is one of the many food truck licenses and permits you'll need. Once you determine where your target audience is, you'll need to inquire with the local country clerk about which parking permits they require.
Your parking permit will tell you where and when you can park your truck to conduct business. The parking permit will also reveal whether your truck can stay parked on the street overnight, or if you must find an alternative overnight parking location.
Gaining a food truck parking permit can be a lengthy process, so we suggest you submit your request as soon as you've purchased your food truck. Some cities don't give out any parking permits and require food trucks to remain on private property.
---
Where to Park Your Food Truck: Public Spaces
One advantage of operating a food truck is you're not fixed to a permanent location and can bring your business right to your ideal customer base. If your food truck serves a pub grub menu, parking near your local nightlife district is ideal, whereas healthful options do well near office buildings, and fanciful dessert trucks perform well in suburban areas.
If you're testing your customer base and searching for the ideal area, consider vending from one of the top five most profitable public places to park your food truck:
Outside commercial office buildings
Near sports stadiums
City parks/green spaces
Near college campuses
Beaches/lakefronts
---
Where Can Food Trucks Park? Private Property & Events
While most people picture food trucks lined up along the streets, finding street parking is a challenge. There are a lot of regulations on where and when food trucks can park on the street, and some cities prohibit it entirely. Thankfully, street parking is not your only option. Parking your food truck on private property or at an event is often more profitable than parking on the street.
Private food truck parking isn't just for weddings and catered events. Food trucks can park at an array of nonpublic locations. Taking advantage of private food truck parking puts you amid your customers and allows you to advertise your exact location well in advance.
Some food trucks become a permanent fixture at a local business, allowing them to build a reliable following and gain their host business's clientele. We break down how food trucks can partner with events and private businesses to form mutually beneficial relationships below.
Food Truck Event Parking
Food trucks do extremely well as featured vendors at cultural events and food festivals alike. Popular events receive more vendor applications than they can accommodate. We suggest applying to a variety of events and including a mix of high-traffic top picks and smaller, more attainable events.
Check city council pages and follow social media accounts that share events in your area to form your list. Many events are annual, so if you see a past event that's intriguing, note its date and set a reminder to apply. Narrow down your list by evaluating the event's date, cost of participating vs. potential sales, and the exposure it provides.
While there will be some differences in each event application, most require the same basic set of materials. Have the following items on hand so you can easily submit applications:
Your menu
Photos of your food truck
Your service capacity
Previous event experience
Links to your social media accounts/website
Make your application standout by sharing the event on your social media pages and sending a follow-up email. If you really want to take part in a particular event, show your excitement by submitting specialized menu items. For example, if you're an empanada food truck hoping to take part in a crawfish boil, reveal your ideas for a crawfish hand pie with a Latin twist.
Food Truck Brewery Parking
Breweries and food trucks are natural partnerships because most food trucks can't sell alcohol and breweries don't inherently offer food. While breweries recognize their customers stay and order more beer when they can purchase food, it's easier to get a brewer's license than restaurant/bar liquor license in most states. Breweries can focus on their beer and provide a dining option when they invite food trucks.
Breweries provide food trucks with parking on both a rotating and permanent basis. Parking your food truck at a brewery periodically allows you the freedom to visit other locations and hit more events.
If you're a permanent fixture at the brewery, you can build a loyal and consistent customer base. Being the official food truck for a brewery may even provide a free and safe place to park your food truck at night. Boost sales by using the brewery's tap list to make a signature beer batter for your fried items.
Food Truck College Campus Parking
Events are just one opportunity for food trucks to park on college campuses. As consumers are increasingly interested in fast, convenient, and unique food choices, college campuses are rethinking their dining options.
Many college campuses invite a rotating selection of food trucks so their students can enjoy meals in between classes on campus green spaces. Some universities are allowing food trucks to park permanently on their campuses and are incorporating them into their meal plans.
Food Truck Farmer's Market Parking
If your food truck offers locally sourced, organic, and healthy options, park at a farmer's market. Farmer's markets are about more than just grocery shopping; they're social events often combined with craft fairs and live music. If farmer's market patrons linger to enjoy the event, your food truck will provide them with a local food option to accompany the entertainment.
Plan your food truck menu around the market's goods to ingratiate yourself with the merchants and attract more customers. This strategy allows you to cross promote your business and truly belong to the event. For example, if watermelons are in season, offer a watermelon bruschetta toast and feature the vendor you purchased the watermelon from on your menu. You can then ask that vendor to direct their customers to your food truck.
Food Truck Park Parking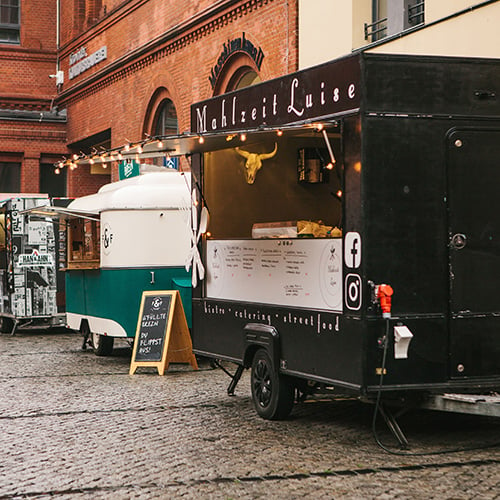 Once only found in places like Austin, L.A., and Portland, most cities now have at least one food truck park. Think of food truck parks as an ongoing food truck festival. It may seem counter-intuitive to park next to your competition, but operators often see an increase in sales when they vend from a food truck park. While not everyone driving down the road wants to stop for a meal, people come to food truck parks looking for nourishment.
Most food truck parks offer daily rates, but the most cost-effective way to rent a parking space in a food truck park is on a month-to-month basis.
Renting space in a food truck park allows you to stay within your niche, because people usually purchase and share items from multiple food trucks. If you make delicious donuts, you don't have to worry that your customers won't drive to your location just for dessert, because there are plenty of savory items for sale in the food truck park.
Food Truck Legal Residential Parking
Parking in a residential area puts your food right at the doorstep of potential customers, but food trucks cannot typically park in residential areas. However, food trucks can park in residential areas if they've received an invitation from an apartment complex or an HOA in most cities.
Many apartment complexes and HOAs will invite a rotating selection of food trucks to their premises and even ask their residents which food trucks they'd like to host. This allows them to bring dinner to their resident's front yards and foster community.
Since HOA's and apartment complexes announce their food truck schedule well in advance, their residents will probably make your truck their dinner plan. This broadens your customer base and locks in traffic for the night. If it isn't a gated community, you can promote your location on social media and draw out your previous customers who live in the area.
Food Truck Gas Station Parking
If a gas station agrees to let your food truck park on their premises, this can be an extremely lucrative location. Reach out to gas stations along major highway routes and near truck stops to attract hungry travelers and truck drivers.
While some gas stations offer food, not all do, so look for gas stations with little to no hot food options. Even if they offer hot food options, many gas stations recognize that hosting a food truck encourages drivers to choose their gas station and are happy to let food trucks park at their business.
Food Truck Medical Campus Parking
Parking your food truck at a medical campus can be an extremely profitable and mutually beneficial practice. The average US hospital employs 987 workers, most of whom work long hours in high pressure environments.
Having a regular rotation of food trucks at their workplace makes it possible for medical professionals to enjoy a gourmet meal. Patients visiting medical campuses will also appreciate having a convenient and delicious dining option on hand. Fresh, healthy food trucks are best suited for medical campuses since both patients and medical professionals need health-conscious dining options.
Back to Top
---
How to Secure a Great Parking Spot for Your Food Truck
Secure your ideal parking spot by sending a staging car ahead of your food truck. This applies both to street parking and events, since the most profitable and accessible locations go fast. Remember that you are competing with other food trucks for parking, and that competition can be brutal.
If you've discovered a lucrative area, don't announce it on Twitter right away. Instead, tell your followers that you will reveal your location soon, send your staging car to secure the spot, and then announce your location on Twitter. This tactic helps ensure other food trucks don't steal your desired parking spot before you've officially claimed it.
---
Daytime Food Truck Parking Costs
We provide the average costs of parking your food truck at various locations, but keep in mind that the cost of parking your food truck will vary depending on your city.
Food Truck Park Parking Costs – Monthly food truck park rental rates are typically between $500 - $1000 depending on the city. While food truck parks offer daily rates, they are higher than what you pay for a monthly lease.
Food Truck Event Parking Costs – Food trucks can expect to pay $75+ per event. Some events will charge food trucks a percentage of their earnings instead of a fixed rate, or a combination of the two. It's typically not a sound investment to vend at an event charging over 10% of your earnings.
Food Truck Private Property Parking Costs – How much you'll pay to park your food truck on private property completely depends on the agreement you make with the property owner. They may not charge you; they may ask for a percentage of sales, or they will establish a fixed fee.
---
Where Do Food Trucks Park at Night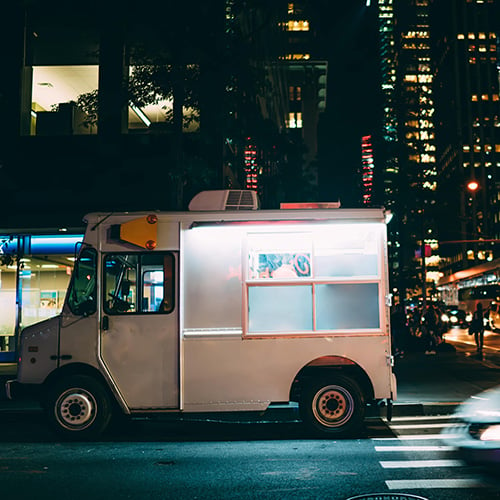 Most likely, you won't be able to leave your food truck parked in front of your home after-hours. The US restricts large vehicles (like food trucks and RVs) from parking on public roads overnight, so you'll need to find a storage facility.
Most storage facilities offer 24-hour access, but confirm this service with the facility you're considering before selecting it. Read on to discover where you can park your food truck at night.
Food Truck Commissary Parking = $250-$750 – In some states, the only legal place you can park a food truck overnight is in a commissary parking lot. Commissaries are complete commercial kitchen spaces that food trucks and other off-premise dining businesses can rent to prepare their meals. Commissaries that cater specifically to food trucks offer overnight parking spaces and are a convenient choice. While our stats above reflect the national average costs of parking at a commissary, expect to pay between $1000 and $1250 if you operate in a city like Los Angeles or Manhattan.
Food Truck Outdoor Storage Facility Parking = $30-$100 a month – There are both covered and uncovered outdoor parking facilities, both of which are cheaper than their indoor counterpart. You'll pay more for covered parking, but it will help shield your food truck from the elements. We suggest looking for an outdoor storage facility that is protected with a security gate to protect your business against theft and vandalism, which will give you a better insurance rate.
Food Truck Unheated Indoor Storage Facility Parking = $50-$125 a month – Storing your food truck in an indoor storage facility protects your truck from the elements, theft, and vandalism. If you operate in a warmer climate, you can save money by storing your food truck in an unheated facility. Most indoor facilities have alarm systems, security cameras, and security staff.
Food Truck Heated Indoor Storage Facility Parking = $100-$450 a month – Heated indoor storage facilities provide all the same benefits as unheated versions with the bonus of offering overnight temperature control. If you operate your food truck in a climate that reaches freezing temperatures for multiple months each year, it may be worth storing your food truck at a heated indoor facility. This will protect your truck's parts and save you valuable time getting on the road each day.
Back to Top
---
Finding ideal food truck parking spots builds your clientele and boosts sales. Reference our guide to get a basic understanding of the food truck parking rules and regulations you must follow and the opportunities you can embrace.
---