Food Truck Marketing
It takes more than a great recipe to run a successful foodservice business. No one can eat your food if they don't know you exist! That's where marketing steps in. A strong marketing strategy is important for every kind of business, but especially for food trucks.
Food trucks come with unique advantages and unique challenges. While owning a food truck may not be quite as big of a financial commitment as a brick and mortar restaurant, you can't rely as heavily on returning customers. In fact, most food trucks aim to bring their business to their customers, not the other way around. This means that you need to communicate more clearly and more frequently with customers than you'd have to with a regular restaurant.
Ways to Strengthen Your Food Truck's Marketing Presence
A strong marketing presence helps the public recognize (and identify with) your business. Whether it's through an eye-catching graphic, a fun jingle, or a memorable tagline, you should make sure that you are using a variety of approaches and channels to support your marketing efforts. Communication happens in a couple different ways, but marketing is a key player in ensuring your message reaches your customers effectively.
Establish a Strong Brand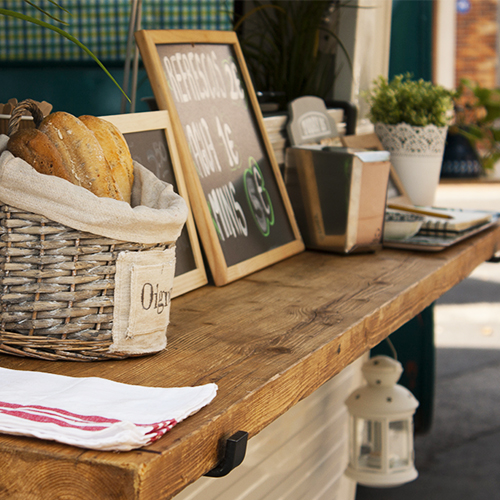 Your brand is what sets you apart from every other food truck. So creating a unique look and theme is an important part of your food truck marketing strategy. Some parts of a strong food truck brand include:
Logo: Choose a logo that's simple and easy to interpret.
Font: While using a little bit of creative font can be an effective way to support the overall mood of your business, make sure you write all the important information in a way that's legible.
Graphics: Most food trucks decorate their truck with eye-catching graphics that entice customers to buy your product. By decorating the outside of the truck, you're also advertising your business as you drive around town, and it doesn't cost any more than your tank of gas.
Copy (aka words): Names of menu items, even the cohesion of your menu selection is part of your brand. If you want to offer BBQ, Italian, Middle Eastern, or maybe even just desserts, you can create a distinct theme and mood through the words you choose. Copy also comes into play when you're making social media posts or writing about your business for print and online publications.
Set Up a Website
Your food truck website should be a place where customers can easily find your location schedule and other useful information about your business.
Get on Social Media
Not only is social media a great way to connect with your community, but you can also use it to set up event invites, promote any new features about your business, and let people know where your truck will be located. A strong social media presence is important for all kinds of businesses, but especially for foodservice businesses because it's an easy and inexpensive way to set your business apart.
You can even find specialized software designed to manage your food truck's social media accounts. One of the most popular examples is called Truckily, which makes it easy for you to set your scheduled locations and help your fans track you!
Embrace Your Unique Location
Just as location is everything in real estate, so it is with food trucks. In order for your food truck to be successful, community is key. You'll want to tap into whatever your local customer base is interested in. Make yourself known. This could mean networking with local booking agents to find out what entertainment is coming through town and then strategically parking your truck when and where you might get the most exposure. As long as you stick to whatever guidelines and restrictions are enforced by your city, you should be able to get some decent business through strategic placement. Make sure you try bringing your food truck to different parts of town so you can reach as many new customers as possible and also get a sense of what demographics are most interested in your products. Finding your niche should be a comfortable process. And once you know where you fit in, you can more easily get involved with community events where people will love your food.
Cater Events Near You
Not only is catering a great way to earn some steady income, but it's also an opportunity to reach new prospective clients and fans. Making yourself available for events, like company parties and weddings, is like jumpstarting your brand. These events give guests who may never have heard of you an opportunity to try your food, and they'll likely remember you the next time they see you around town.
Team Up with Other Food Trucks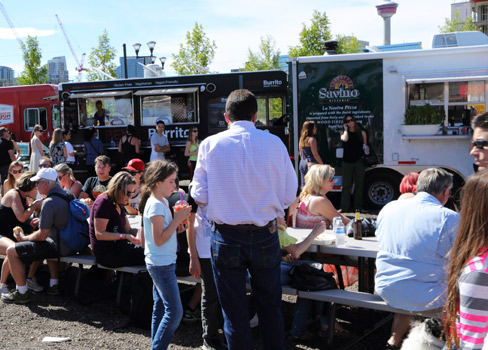 Even though other food trucks in the area are technically your competition, you all have unique things to offer. The support of other food truck owners can go a long way towards securing your success in the business. This food truck marketing tactic is especially important for large-scale block parties that may feature several kinds of street food. By establishing a rapport with your fellow food truck owners, you can call in favors if you happen to forget or run out of a certain supply. Also, if you don't have what a certain customer is looking for, being familiar with the menus of other food trucks can help you point people in the right direction to find what they need.
Sell Merch
Once you have a strong fan base, offering merchandise with your logo on it encourages your customers to spread the word about your business. Whatever items you want to offer is entirely up to you, but it makes sense to choose products that relate to your type of business. For example, if you operate a BBQ truck, you could sell cast iron trivets. Or if you have a cupcake truck, branded oven mitts might be appropriate. And of course there's always tee shirts, key chains, bumper stickers, and travel mugs—while they may seem cliche, they're inexpensive, useful items that customers can incorporate into their daily lives. Just make sure you think carefully about the cost vs. benefits of branded merch before diving in.
Ensure the success of your food truck business by establishing a strong marketing strategy. Taking simple steps like learning what other food trucks are doing can go a long way towards helping your business thrive. From a well thought out logo to strategic location stops, there are so many opportunities to strengthen the exposure and presence of your food truck.