How to Make Your Restaurant Menu Healthy
Many people nowadays are interested in healthy eating, and they're looking for restaurants that offer healthy alternatives to traditional ingredients and recipes that match their new lifestyle. While this may pose a problem for some restaurants, it's also an excellent opportunity for your business to change and appeal to a very lucrative demographic. Additionally, you can accommodate customers with alternative diets very easily. In this blog we'll cover five easy changes you can make to your menu and food preparation to make your dishes healthier.
1. Use Symbols to Show Customers Healthy Menu Options
Many restaurants offer healthier alternatives all the time without making their menu any longer than it already is.
To create a healthy restaurant menu without making it lengthier, simply add a legend, and make sure it's visible to your customers. Then, place symbols from the legend next to the appetizer, salad, entree, and side options that can be prepared in a healthier way if requested by the customer.
If you're thinking about adding a legend to your menu, then check out our sample menu key below. Each numbered image corresponds with the number in the list below the key.
Grill - A grill shows that chicken, sandwiches, patties, fish, and other foods can be grilled rather than sauteed, deep fried, or cooked in butter.
Leaf - A leaf shows that pasta dishes, sandwiches, wraps, salads, and other foods can be made vegetarian.
V - A "V" shows that vegetarian dishes can be made vegan.
Grain - A grain shows that sandwiches, subs, and wraps can be made with whole grains instead of white flour.
Zigzag - A zigzag symbol inside of an oven shows that crab cakes, seafood, meats, and poultry can be broiled rather than deep fried or sauteed in butter.
Vegetable - A vegetable shows that certain meals can be made with organic ingredients.
Sugar-Free - A sugar-free symbol shows that desserts or drinks can be made without real sugar.
2. Offer Lunch-Sized Portions for Dinner
Even if people are trying to eat healthier, they may still want to enjoy a night out with family and friends or take a cheat day. To help customers order their favorite foods without splurging on calories and cash, offer meals in smaller, lunch-size portions and at cheaper prices.
For example, you can turn a 700 calorie entree that consists of grilled salmon, a loaded baked potato, and steamed vegetables into a lower calorie, lunch-sized meal by simply cutting the serving sizes in half. Additionally, offering smaller portions not only benefits your customers, but it also helps your restaurant reduce its amount of food waste.
3. Show Calorie Counts on Your Menu and Website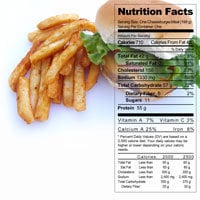 A popular way that some people try to lose weight and eat healthier is to start counting calories. Since many diet applications require users to log their caloric intake, showing these numbers right on the menu will help customers record their data more quickly.
Plus, the FDA has required that most chain restaurants and similar retail food establishments make this nutritional information publicly available to their customers. As a result, many customers may expect you to have the calorie information available.
4. Make Healthy Ingredient Substitutions
We understand that using healthier ingredient substitutions can sometimes be expensive, and these ingredients may alter the way you want your fried appetizers, savory entrees, or sweet desserts to taste. Instead, only make basic changes that won't add too much to your spending costs or alter the look and flavor of your food. Implement some of the tips below, so you can create a healthy restaurant menu:
Use higher-quality oils, like coconut oil, olive oil, and peanut oil, with your fryer when preparing french fries, tenders, onion rings, and mozzarella sticks. Try to stay away from oils with higher levels of polyunsaturated fats, like soybean oil, canola oil, and sunflower oil.
Use natural juices when making cocktails.
Use freshly-squeezed fruit juices and natural extracts in sauces, baked goods, and entrees.
Drizzle olive oil over top of your vegetables rather than soaking them in butter.
Season your woks and fry pans to form a natural non-stick cooking surface. This eliminates the need to add unnecessary fat to your meals.
Offer brown rice instead of white rice.
Use olive oil and vinegar instead of creamy, fatty dressings.
Cook with low-sodium soy sauce and don't add a lot of salt to your meals.
Use Greek yogurt instead of sour cream in your baked goods, when possible.
One thing to note when looking for healthy substitutes is that foods that label themselves as fat-free or sugar-free are not always necessarily healthy. Many food manufacturers will simply replace the fat or sugar in their product with high fructose corn syrup or chemicals, which can end up making them less healthy than they were originally. So, be sure to read the ingredients on the back before you purchase anything or use it in your recipes.
5. Offer Leaner Cuts of Meat
Although it's pretty much impossible to discourage carnivores from ordering a juicy cheeseburger, a savory rib-eye, or fried chicken legs, it is possible to offer guests a protein option that is less fattening.
By cooking with leaner cuts of meat, customers can cut out half the amount of fat and calories, allowing them to stick to their diets. When planning out your meat entrees and daily specials, be sure to consider some of the following tips:
Offer steaks with sirloin or round in the title, since these tend to have lower fat contents than rib-eyes.
Use ground beef that's at least 83% lean.
Take the skin off of chicken and fish.
Serve light meat instead of dark meat whenever possible.
Cook lean cuts of meat in a healthy way. For example, broil or grill your meat, fish, or poultry rather than sauteeing or deep frying it.
Don't add any unnecessary fats like butter and cream when preparing your lean cuts.
Offer red meat burger alternatives, like turkey, chicken, bean, and vegetable burgers.
Offering your customers healthy options on your menu and advertising that you use healthy cooking methods can appeal to younger and health-conscious customers, helping to bring in new customers and boosting your profits. By implementing some of the ideas we've gone over above, you'll be able to adapt your menu to keep the dieters and health food fanatics coming into your restaurant for breakfast, lunch, or dinner.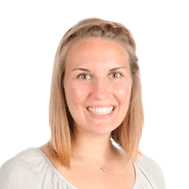 Posted in:
Kitchen & Cooking Tips
| By Ashley Kufera