Food Truck Design
Last updated on 6/01/2021
As an entrepreneur, you may have your sights set on creating a successful food truck business. Once you've researched how to buy a food truck, your next step is to figure out what food truck layout will suit your needs the best. Continue reading to learn how to design and create a layout for your food truck.
Food Truck Layout
No food truck business venture is the same, which means that no food truck design experience will be the same either. The dimensions of your food truck will vary depending on your menu, equipment, and staff. You can choose to design your food truck layout by yourself, or you can hire a professional company like Chef Units to design, customize, and manufacture your food truck. Below, we'll investigate what factors influence your food truck layout and how to successfully organize your truck.
Click any of the tips below to read the section that interests you:
---
1. Food Truck Dimensions
The length and width of your truck have a large impact on how you choose to organize it. No matter what size your truck is, you'll be presented with the challenge of fitting all the equipment you need into a limited space. Marco Novo from Chef Units says that the most common food truck sizes are 14 feet, 16 feet, and 22 feet.
If you're having trouble deciding where your equipment should go, consider using the templates below as a reference when finding the right dimensions for your food truck: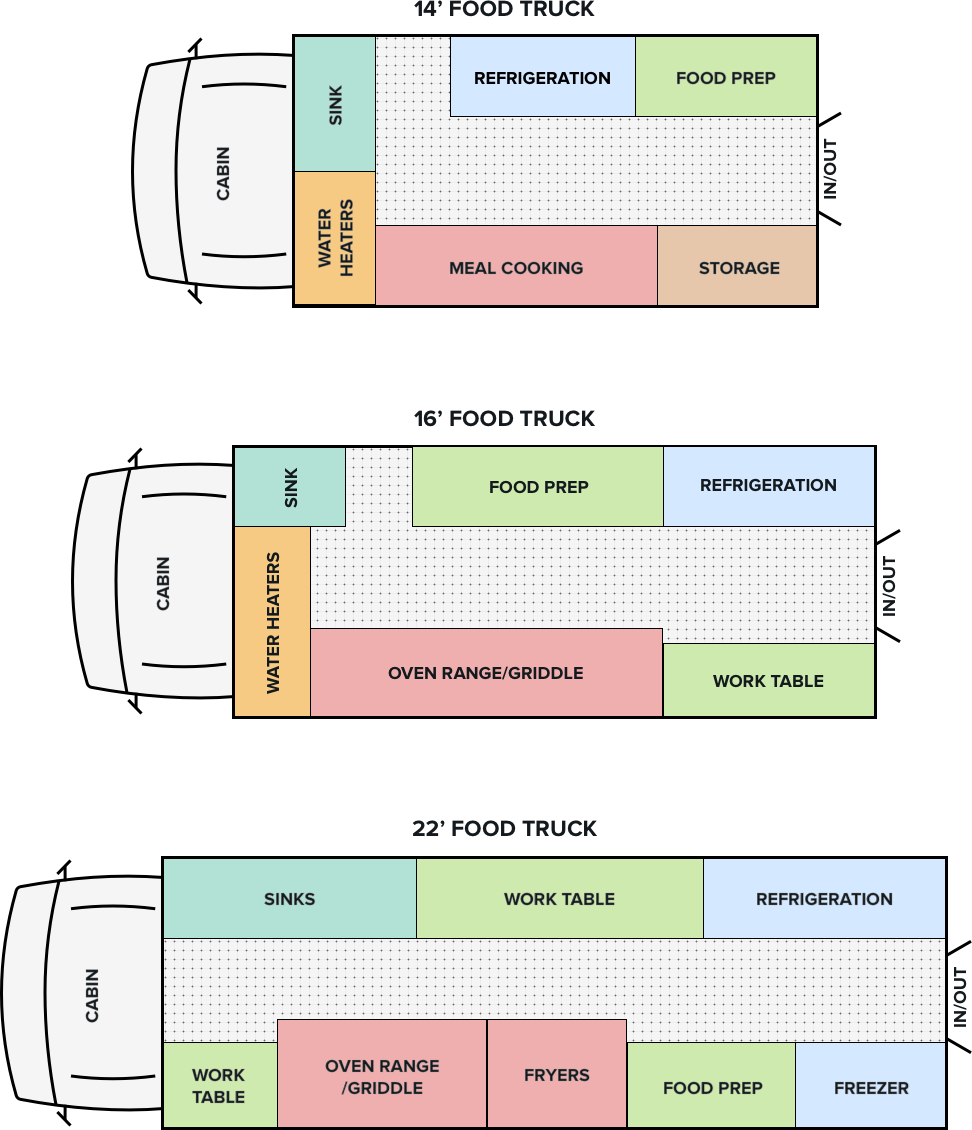 ---
2. Food Truck Interior
If you want to design a food truck floor plan by yourself, consider the food truck equipment you need to buy and the unique space you'll be working in. You can cater to the space you're working with by mapping it out and designating specific zones for equipment based on the truck's dimensions. For example, remember that you can take advantage of the vertical space of your food truck by buying combi oven, shelving, and hanging racks.
To map out your truck, physically mark the following areas inside the truck or draw their location on paper:
Refrigeration equipment: Purchasing undercounter refrigerators or undercounter freezers allows you to keep your cold food stored while conserving space. Additionally, specialized food truck refrigeration units can be installed to store larger quantities of food.
Cooking equipment: Depending on the contents of your menu, it may be beneficial to purchase countertop or portable versions of certain appliances. Some appliances may be exempt from needing to be placed under an exhaust hood, giving you additional flexibility when designing your kitchen.
Prep or work stations: Prepping your food in a commissary kitchen is an easy way to eliminate the amount of equipment required on your truck. If you don't have access to one of these kitchens, consider preparing your food at your home or before your truck departs for the day.
Sink or cleaning area: Consider investing in an underbar sink for your food truck. These sinks can be placed underneath work surfaces when needed to ensure easy access to the rest of your kitchen.
Warming and holding equipment: If you plan on preparing food before your truck heads out for the day, it's essential to make sure you have proper warming and holding equipment. This ensures that any ingredients or dishes you've prepared stay fresh for your customers.
Cabinets/storage space: For ingredients that aren't kept in a refrigerator or a holding cabinet, consider using food storage supplies such as containers and bins. It may be difficult to store ingredients in bulk due to the limited space in a truck, so be sure to carefully plan for what ingredients you'll need.
Cash register: Food truck owners with access to a tablet or smartphone can easily turn their device into a POS system with the right equipment. This allows you to eliminate bulky cash registers that may take up counter space.
Serving space: To make sure customers get their food without difficulty, take extra care to design an easily accessible serving space. Make sure that your serving window has enough serving equipment to accommodate your customers without interfering with your staff.
Ventilation: Despite not working in a traditional kitchen environment, having a proper ventilation system is critical to maintaining a safe workspace. To learn about the various code requirements and how to properly install ventilation systems in your truck, read our article on commercial kitchen hood code requirements.
---
3. Food Truck Branding
Branding is an essential aspect of any business, and when combined with the layout of your food truck, it allows you to personalize the customer experience. Branding your truck can range from something as simple as its name to something as eye-catching as how it is painted. Additionally, you can take advantage of the internet and social media platforms to further expand your truck's brand. Other examples of customization may include:
Unique graphics or wraps
Bright paint colors
A television
Undercarriage lights for nighttime
Back-lit menu signs
Handwritten menu signs
3D name signs
Awnings
Speaker systems
Enlarged logo
---
4. Food Truck Details
No matter where you are in your journey towards owning a food truck, it's important that you develop a clear understanding of everything that can influence your decisions. As you move closer to starting a food truck business, be sure to keep the following factors in mind:
Business plans: A strong business plan is the key to success when starting a business, and can act as a road map that guides you through the process. For more information on this subject, check out our article on how to write a food truck business plan.
Health and safety regulations: To guarantee that your business operates safely and legally, take extra care to adhere to your local health and safety codes. Failure to do so can result in your business being fined or even shut down.
Proper permits: Just as you'd have to apply for permits and licenses to operate a traditional restaurant, you'll have to do the same for your food truck. Touch base with your local government to ensure that you've applied for and been accepted for any permits you may need.
Truck and equipment leases: If you choose to lease a truck rather than buy one, your lease and monthly payment can have a strong impact on your goals and budget. If you're unfamiliar with the leasing process, take the time to read our article on leasing a food truck.
Water holding containers: Access to water is an essential part of any kitchen, and chances are your food truck won't be hooked up to a centralized water system. To ensure you have access to water on your truck, designate space for water distribution and storage equipment.
Cost of equipment: The amount you spend on equipment will undoubtedly vary depending on your menu and how busy you expect your business to be. Be sure to do extensive research into what equipment you might need to create an accurate equipment budget.
Staff size: The compact size of a food truck means that you won't be able to fit many employees in it at a time. Remember to take into account what your truck's business hours will be, as well as how long preparation and cleanup will last, as you decide how many employees to hire.
Areas to service: Just as you would with any other vehicle, your food truck should be regularly serviced by professionals. Doing so will make sure that your truck meets government requirements and operates properly.
Finding the right POS system: Choosing the POS system that best fits your needs can be difficult. However, the right system can drastically improve your productivity, organization, and customer satisfaction.
Marketing platforms: Since food trucks don't typically depend on returning customers, make an effort to take advantage of as many food truck marketing tactics as you can. Making the most of branding opportunities, online marketing strategies, and traditional marketing methods can help to grow awareness for your truck.
Average Cost of Starting a Food Truck
The average cost of starting a food truck can range from $130,000 for a used truck to $180,000 for a new one based on its size and quality. Having a professional design your food truck layout can sometimes reduce the cost by up to $40,000. Knowing these figures and doing research on how professionals can save you time and money is important if you need to get a business loan.
Food Truck Timeline
Creating a food truck can take more time than expected due to the availability in your personal schedule to design and renovate. If you are not designing and renovating your truck, it may take a professional one to three months to design and complete all of the work. Keep these timelines in mind when you first set out to renovate.
Back to Top
---
The amount of food truck businesses in cities and at events continues to grow. To properly serve your customers, make sure that your food truck has an efficient layout, suits you and your employees as you all work, and is customized to reflect your brand. Use this article as a guide to create your food truck business.