Food Truck Design
Last updated on 9/04/2019
As an entrepreneur, you may have your sights set on creating a successful food truck business. Once you've researched how to buy a food truck, your next step is to figure out what food truck layout will suit your needs the best. Continue reading to learn how to design and create a layout for your food truck.
Food Truck Layout
No food truck business venture is the same, which means no food truck design should be the same. You can choose to design your food truck layout by yourself, or you can hire a professional like Chef Units to design, customize, and manufacture your food truck.
1. Food Truck Dimensions
The length of your food truck will also have an impact on your layout. Marco Novo from Chef Units says that the most common food truck sizes are 14 feet, 16 feet, and 22 feet.
Use these three templates as a reference when finding the right dimensions for your food truck.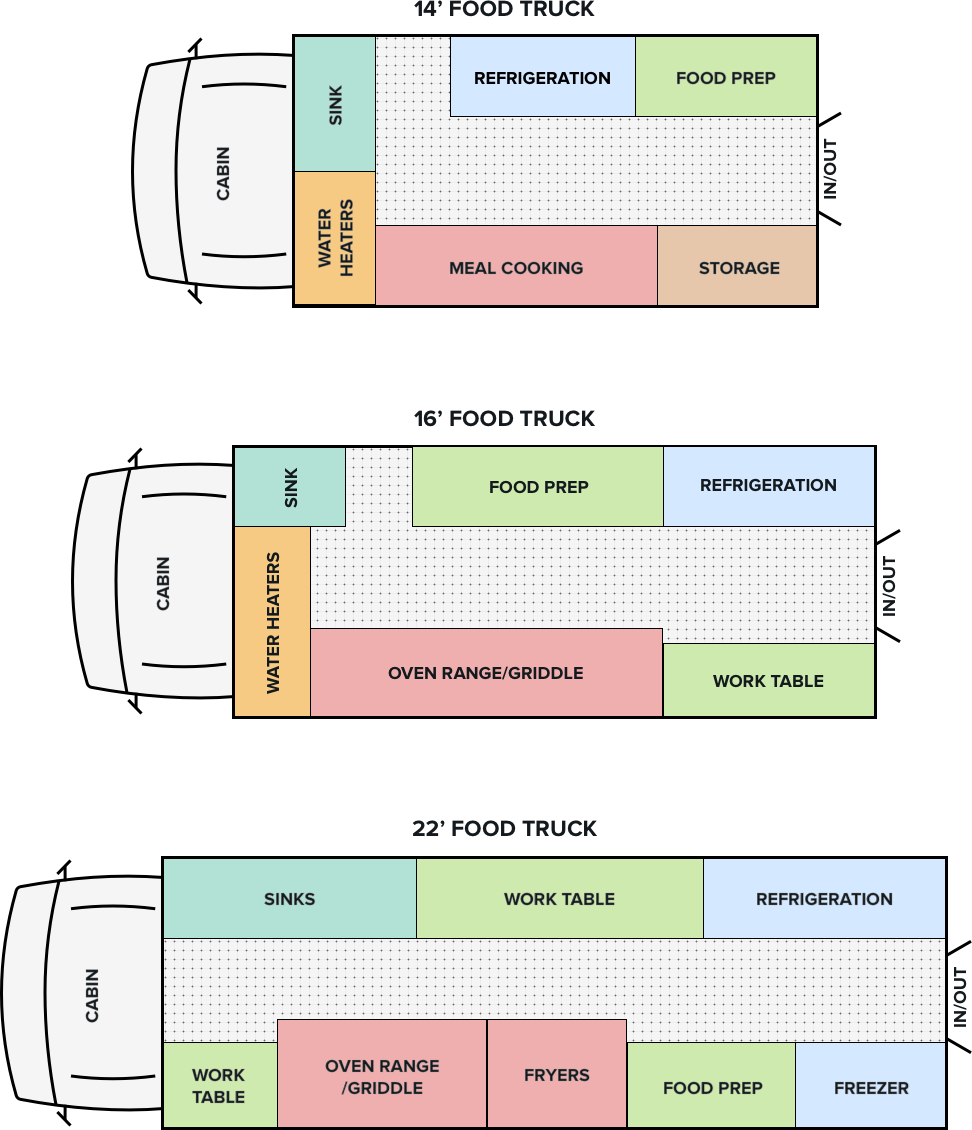 2. Food Truck Interior
If you want to design a food truck floor plan by yourself, first consider the food truck equipment you need to buy. Keep in mind that you can use the vertical space of your food truck by buying combi ovens, shelving, and hanging racks.
Next, physically mark the following areas inside the truck or draw their location on paper:
Refrigeration equipment
Cooking equipment
Prep or work stations
Sink or cleaning area
Warming and holding equipment
Cabinets/storage space
Cash register
Serving space
Ventilation
3. Food Truck Branding
The layout of your food truck also gives you a chance to personalize the customer experience. An example may look like a double serving window where customer payments can be taken at one window, while other customers are being given their food at another. This separates incoming customers and also speeds up employee efficiency.
Other examples of customization may include:
Unique graphics or wraps
Bright paint colors
A television
LED color changing lights
Undercarriage lights for nighttime
Back-lit menu signs
Handwritten menu signs
3D name signs
Awnings
Speaker systems
Enlarged logo
4. Food Truck Details
Wherever you are at the beginning of your food truck journey, there's a few things to consider as you venture out to start a food truck business. Once your food truck idea becomes more of a reality, take into account the following:
Business plans
Health and safety regulations
Proper permits
Truck/Equipment leases
Water holding containers
Cost of equipment
How many employees to hire
Areas to service
Finding the right POS system
Marketing platforms
Additionally, creating a food truck can take more time than expected depending on the availability in your personal schedule to design and renovate. If you are not designing and renovating your own truck, it may take a professional one to three months to design and complete all of the work. Keep these timelines in mind when you first set out to renovate.
Lastly, the average cost of starting a food truck can range from $130,000 for a used truck to $180,000 for a new one, depending on the size and quality. Having a professional design your food truck layout can sometimes reduce the cost by up to $40,000. Knowing these figures and doing research on how professionals can save you time and money is important if you need to get a business loan.
The amount of food truck businesses in cities and at events continues to grow. In order to properly serve your customers, make sure that your food truck has an efficient layout, suits you and your employees as you all work, and is customized to reflect your brand. Use this article as a guide to create your food truck business.