How to Become a Restaurant Manager
Last updated on 5/22/2019
No matter what kind of eatery you run, having a restaurant manager on your team is a necessity. This essential position keeps all other staff members organized and becomes the face of the brand when speaking to customers. Plus, becoming a restaurant manager can open up job opportunities with leadership responsibilities and reliable pay. Below, we detail how to become a restaurant manager and what to expect if you choose this career path.
Restaurant Manager Job Description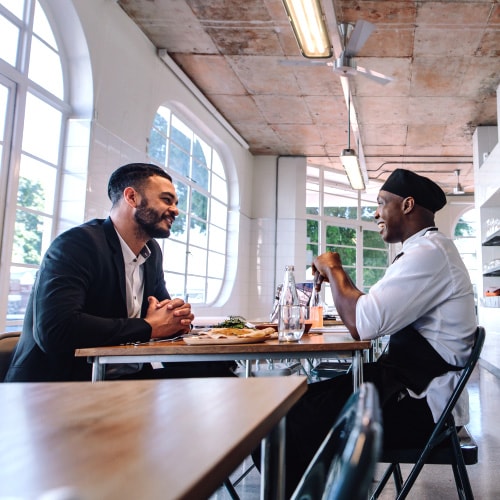 A restaurant manager must be excellent at leading a team and problem solving, while also having strong customer service skills and even budgeting experience.
Restaurant manager duties include:
Hiring and training staff members
Coordinating employee schedules and supervising shifts
Monitoring staff performance, conducting reviews, and letting employees go as needed
Providing superior customer service to ensure guest satisfaction
Planning and updating menus
Ensuring compliance with safety and sanitation standards
Managing inventory and ordering supplies as needed
Keeping financial records and controlling costs
Completing administrative paperwork
Creating and executing marketing strategies and sales promotions
How Much Do Restaurant Managers Make?
The average restaurant manager salary is $40,000-$60,000 per year, depending on the individual's location and the type of establishment they work for. Additionally, managers are not generally included in tip pools, so all income they earn is based on an hourly wage or yearly salary.
How to Write a Restaurant Manager Resume
Include the following information on your restaurant manager resume:
Contact Information: Your name, address, phone number, and email address.
Summary: A brief blurb (1-2 sentences) that summarizes your experience and skills.
Experience: List each of your past positions, their locations, the dates you worked there, and include 2-4 bullet points describing your duties.
Education: List your completed education, including any majors or certifications.
Skills: List any relevant skills that you have (customer service, team leadership, time management, etc.).
Be sure to tailor your resume to the restaurant you're applying to. If you're interested in a position at an upscale steakhouse, highlight your experience with formal dining environments. In the same way, if you're pursuing a job at a fast-paced burger spot, emphasize your ability to work in an efficient setting.
Before you send your resume off to potential employers, check it a few times for spelling errors and grammar mistakes. You may even want to have a friend or family member take a look to see if they find something that you missed.
Restaurant Management Training and Education
While many restaurant managers move into their position starting with entry-level restaurant jobs, there are some educational opportunities for individuals who would like formal training. These resources could potentially help you enter a restaurant at the general manager level, or they can act as supplements to your existing experience in foodservice establishments.
Getting a Restaurant Management Degree
Many colleges and universities offer degrees in hospitality management. These programs teach you business skills, customer service fundamentals, management strategies, and more. If a 4-year degree isn't for you, you can also find restaurant management career diploma programs. These programs offer teaching that is more specialized for the restaurant environment and are generally shorter than a 4-year degree.
Restaurant Management Books
If you'd like to educate yourself on your own terms, try reading some books on restaurant management. Whether you choose reference books with instructions or you'd like to read about the experiences of a celebrity chef or restaurateur, reading can be a helpful resource for enhancing your restaurant management education.
Restaurant Manager Career Path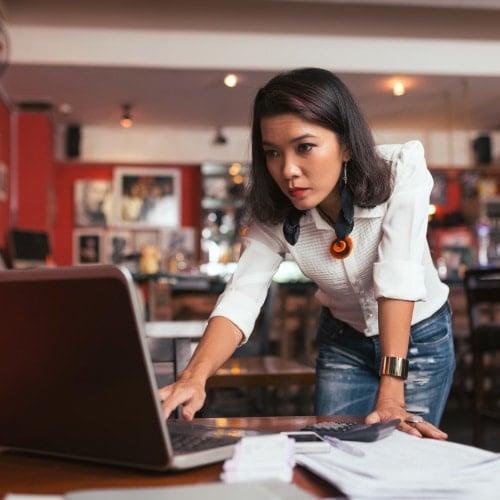 There are many ways to become a restaurant manager, but the most common way is to move up from an entry-level restaurant position. If you'd like to work your way up, here's what the career path looks like for many restaurant managers.
Entry-Level: Dishwasher, busser, prep cook, server, host
Mid-Level: Assistant manager, front of house manager, kitchen manager, bar manager
Upper-Level: General manager, owner
Becoming a restaurant manager doesn't require formal schooling, and it can be the natural career path for experienced foodservice workers. As you move through positions in the restaurant, you can develop management and organizational skills to prepare you for the supervisory and administrative responsibilities of a general manager. Eventually, you could even open your own restaurant.