Restaurant Inventory Management
Taking inventory may be one of your least favorite tasks, but it's crucial to controlling your restaurant's food costs and reducing waste. Scheduling and performing regular inventories can also increase your profits by over 20% each year because it keeps you from over-ordering. Restaurant food inventory management is connected to everything from planning your menu to determining how many guests you can feed, making it essential to the daily operation of any foodservice business. Keep reading to learn more about the benefits of taking regular inventories at your restaurant and different inventory programs.
Why Should You Track Your Restaurant's Inventory?
There are a variety of reasons why you should closely and consistently track your restaurant's inventory. Here are four of the most important tasks taking inventory can help you complete:
Planning Your Menu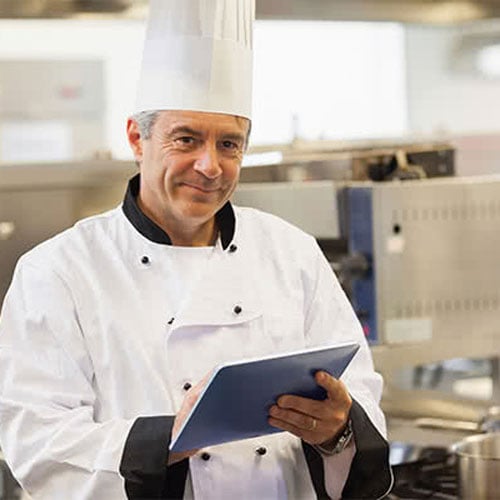 An accurate inventory allows you to determine exactly how much food you have on hand and which meals you can make. Once you know which ingredients are in your pantry and how many meals you can make with those foods, you can plan your menu accordingly. Inventory also helps you avoid food shortages and surpluses. If you do encounter a surplus of a particular ingredient, though, you will know and can incorporate it into your daily specials before it spoils.
Tracking Food Usage
Taking consistent inventory of your consumables and supplies also helps you accurately track your food usage. Ask yourself the following questions:
How much of each ingredient am I using in a given time period?
Am I buying enough of the ingredients I need to make my standard menu items?
Are there particular ingredients I don't really use that I can stop buying or purchase less of?
Ultimately, tracking your business's food usage allows you to identify different trends and helps you anticipate and avoid shortages or other inventory problems in the future.
Calculating COGS
COGS (cost of goods sold) is the specific amount of money you're spending on your inventory. Your COGS gives you an accurate look at profit margins, and it's also helpful when you're budgeting and taking a look at your restaurant's overall financial health. Ideally, you should aim to keep the dollar value of your inventory at 1.5 times your weekly COGS.
Determining Food Costs and Controlling Waste
Finally, taking inventory helps you determine your restaurant's food costs and allows you to control food waste. An accurate inventory helps you keep track of which ingredients are freshest and ensures you always have the items you need.
Additionally, taking inventory makes first-in first-out (FIFO) rotation a breeze. You'll always know which foods are the oldest, so you can pull them to the front of your shelves and make them easily accessible to your prep and line cooks. Consequently, you'll use up more of your inventory and lower your restaurant's waste rate. The average waste rate for full-service eateries is 3.11%, so you'll want to shoot for this number.
How Should You Prepare to Take Restaurant Inventory?
Before taking inventory, consider organizing and cleaning your storage areas. You can complete this yourself or assign the task to one of your staff members. Throw out expired ingredients, and make sure similar foods are grouped on the same shelves. Additionally, make sure you standardize your unit costs beforehand. Are you using cases, boxes, gallons, pounds, or another unit of measure? Finally, decide on the method you'll use to take inventory. Are you doing it by hand with count sheets, using an app on your tablet, or utilizing a computer program? There's no right or wrong choice, but you'll want to make this decision beforehand.
Things to Keep in Mind as You Take Inventory
One of the most important aspects of taking inventory is regularity. Make sure you're performing this task at least once a week, and always do it on the same day at around the same time. Depending upon demand, you may need to take inventory daily or twice a week for some items. Additionally, you should always take care of any inventory-related tasks while your restaurant is closed in order to maximize accuracy. Although it may seem obvious, you also should never take inventory during deliveries.
Have at least one of your staff members assist you as you take inventory. Using another person allows you to count goods separately and compare your numbers, which can help lower the potential for error. You should use the same staff member or group of employees every time, as doing so will help them learn and gradually speed up the process. Additionally, consider incentivizing taking inventory by rewarding employees that help you and do a good job.
How Do You Take a Restaurant Inventory?
Wondering how to take inventory? While there's no one-size-fits-all method for taking inventory of your restaurant's consumables and supplies, the steps below will help you learn how to keep track of inventory:
1. Start by creating five rows on a restaurant inventory sheet or in a customizable inventory management program. Label the rows as follows:
Items
Unit of Measure
Inventory Amount
Unit Price
Total Cost
2. List all of the items you have in your restaurant under the Items column. This should include everything from edible ingredients and cleaning supplies to dinnerware and tabletop items.
3. Add the unit of measurement you'll use to determine the quantity of each item purchased to the Unit of Measure column. This will vary based upon how different foods and supplies are sold. For example, you may purchase tomatoes in pounds, pasta in boxes, and paper towels in cases. Regardless, it's important to have these units documented up front to avoid any confusion or miscalculations.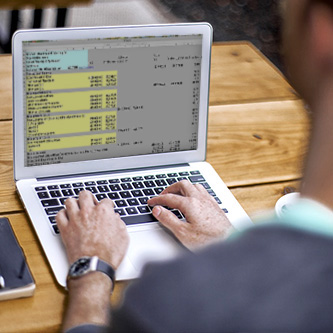 4. Now, determine the number of units you have of each item and add those figures to the Inventory Amount column. Doing it this way allows you to standardize your measurements and makes calculating costs and waste a breeze.
Example: 20 pounds of tomatoes should be written as 20, 6 boxes of pasta as 6, and 25 cases of paper towels as 25.
5. Document all of your unit prices and add them to the Unit Price column for each item. To do so, simply divide the cost of one unit by the amount of that item you have.
Example: If one pound of tomatoes costs $2 a pound and you have 1 pounds in your inventory, the unit cost $2.
6. Finally, calculate your total cost by multiplying the unit price of each item by the amount of that item that you have in your inventory. Once you've calculated the total cost for all of your inventory items, add those numbers to the Total Cost column.
Example: If you have 20 pounds of tomatoes that cost $2 a pound, your total cost is $40.
Calculating Your Average Daily Inventory Cost
Knowing how to calculate your restaurant's average daily inventory cost is another way to help yourself make accurate purchasing decisions. To do so, simply divide your total inventory cost for that purchasing period by the number of days in that period. Your restaurant profit and loss statement should have the figures you need.
Example: If your total inventory cost for 60 days is $120,000, your average daily cost is $2,000.
How Do You Track Your Restaurant's Inventory?
While many foodservice establishments still take inventory by hand, mobile applications and food inventory software are definitely the way of the future. In most cases, automating your inventory process allows you to take stock more quickly and accurately than you could by hand, making it the best way to track inventory. Software also allows you to determine which items you buy, how much you sell of each item, and how much of each item you have left. Additionally, automated programs can calculate the value of the food you have in stock, which comes in handy when determining average daily inventory costs. Depending on how much you're willing to spend, you can also choose software with a variety of special features and detailed reporting capabilities.
Things to Consider When Choosing Restaurant Inventory Management Software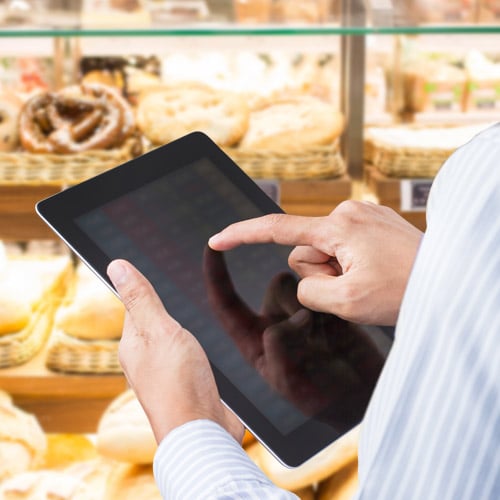 There are a large number of mobile applications and computer programs available for automating restaurant inventory. As you go about choosing the right software for your business, be sure to consider the following factors:
How much you're willing to spend
The software's ease of use
The program's setup time
Your business's existing technology
The features you and your employees need
Popular Restaurant Inventory Software
Here are a handful of the best inventory software programs along with their features and pricing information. These products will teach you more about how to do inventory in order to make the process a breeze.
Key Features: In addition to inventory tools, Aldelo offers point-of-sale (POS) features, seating management, financial tools, and workforce management.
Inventory Capabilities: Aldelo can create automatic purchase orders based upon inventory levels, produce detailed reports designed to increase your bottom line, and offer support for physical inventory counts.
Cost: Unlisted; free trial version available.
Key Features: Features vary depending upon whether you purchase Regular, Pro, or Ultra software. Generally, ChefTec assists you with menu costing and FIFO management, tracks purchases, and prints nutrition labels.
Inventory Capabilities: ChefTec allows you to enter invoices, generate a variety of custom reports, compare vendor prices, and track food costs. Additionally, some versions come pre-loaded with a database of 2,000 ingredients with unlimited capacity for additional custom items.
Cost: $595 (Regular), $995 (Plus), and $2,995 (Ultra); two week free trial version available.
Key Features: CostGuard is dedicated almost entirely to inventory management. As such, it tracks receiving, automates purchasing, and audits vendor pricing.
Inventory Capabilities: You can use CostGuard to enter case or pack units, maintain multiple inventories, create requisitions and transfers, and even count broken or incomplete cases.
Cost: $495 (Choice Suite) and $895 (Prime Suite); free trial version available.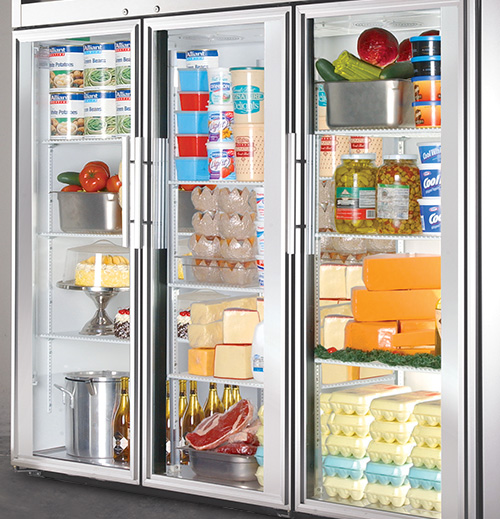 IPro Series 40 Restaurant Inventory, Recipe, and Menu Software
Key Features: In addition to inventory management, IPro allows you to track orders, purchases, and sales and analyze business profits.
Inventory Capabilities: IPro is designed to automate inventory by costing out recipes in order to keep food costs in check.
Cost: $99.95; free demo version available.
EZChef SOFTWARE Restaurant Inventory and Menu Costing Spreadsheets
Key Features: EZChef performs all of the same functions as IPro Series 40, but it is a Microsoft Excel application. This makes it ideal for restaurant owners who already use Excel to track their inventory.
Inventory Capabilities: You can use EZChef to print custom restaurant inventory sheets and easily enter counts. Additionally, it includes a simple recipe unit conversion tool and can create and print a weekly order guide for you to give to vendors. If you use restaurant inventory spreadsheets, EZChef is a great choice.
Cost: $289; free demo version available.
Restaurant Recipe Costing, Inventory, and Menu Profitability Spreadsheet Workbook for Excel
Key Features: This Excel workbook performs all of the same tracking and cost control functions as IPro 40 Series and EZChef, but it comes with workbook templates designed to save time and prevent confusion. If you're looking for recipe cost software, this program is the obvious choice.
Inventory Capabilities: You can use this Excel restaurant inventory spreadsheet to track your items, prices, and period ending totals. It comes pre-loaded with columns for purchasing, recipe, and inventory counting units.
Cost: $129.
Key Features: Restaurant Maid is an affordable automation tool that allows you to track quantities down to the decimal point. Additionally, it offers low stock alerts.
Inventory Capabilities: Along with the aforementioned features, Restaurant Maid can manage inventory in multiple locations. This allows for flexible tax setups if you run businesses in multiple states or countries.
Cost: $99; free trial version available.
Whether you run a large restaurant chain, hospital cafeteria, or upscale bistro, the importance of inventory management is clear. Monitoring your business's consumables and supplies allows you to do everything from planning your menu and tracking food use to calculating your COGS and determining food cost, making it central to your daily operations. With the proper preparation and management software tools, taking inventory at your foodservice establishment can be virtually effortless and will help your bottom line.