How to Hire a Manager For Your Restaurant
Contrary to what the title implies, restaurant owners spend a lot of time away from their business. This kind of structure, known as absentee business, requires managing a restaurant even when the owner is unavailable. That's where a restaurant manager becomes important. This person makes sure all of your operations run smoothly, meaning restaurant manager duties range from equipment delivery to hospitality. General managers are critical to a business's success, and hiring a general manager can be a difficult process. But once you have your hiring process set up, finding the right restaurant general manager only takes a matter of time.
Restaurant Manager Duties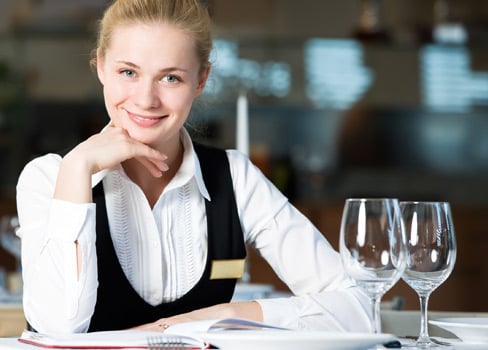 Determining the exact responsibilities of your manager will help you find the right candidate while figuring out which tasks you could carry out yourself. Ultimately, figuring out these responsibilities will also help you figure out your salary range, with the low end representing what you would pay an inexperienced candidate and the high end promising better pay to industry veterans.
Depending on what you're looking for, general managers could do everything from making sure day-to-day operations run according to plan to counting income and tracking expenses. Checking up on customers, training new employees, creating protocols, addressing inappropriate behavior, ordering food, and a wide range of other tasks can all be performed by a general manager. It's up to you how much control you want to maintain and how much you'd like to give to someone representing your interests. Regardless of how much responsibility you divvy to your manager, you are still the ultimate decision-maker of your business, but that also requires you to trust someone who will work in your absence. Sometimes, as with business owners living out of town, this option may not even be available to you — you simply have to give daily control to someone else.
Your Five-Year Projection
Gauging your expected revenue rates for the coming years, it's important to consider how your business may change from the time you hire your general manager. If you expect to have another location by the end of year four, then you can decide whether you want a manager with multi-unit experience, or if you want to hire individual managers for all your locations and have them report to you. In addition, looking at expected growth can also give you an idea of how much you can offer to your manager and employees in terms of raises, particularly those who stick with you for long periods of time.
Finding Candidates
With the Internet, local news sources, personal connections, and headhunters, finding candidates is a snap. Job search engines online, like Monster or Indeed, are some of the easiest ways to get applications, typically through the form of an email resume. If you want to make sure you only get local candidates, using a newspaper in your town is also a good way to get attention. However, the major drawback of both of these methods is that, while you get a large quantity of applicants, the quality can be lackluster. This results in a lot of screening or interview time that would be better spent on good prospects, but instead only takes up time.
Personal connections and recommendations are also great ways to get candidates. These techniques don't result in long lines, but they're better for finding quality applicants. Having a current friend or employee vouch for someone else means that the prospect has impressed at least one person, so it's not too far-fetched to think that he could impress you, too.
Lastly, headhunters are one of the most effective and fast-working recruitment tools available. These firms can actually conduct the early stages of the interview process for you, giving you the time to focus on other urgent tasks until the agency believes they've found someone you should hire. Then you interview the candidate and make your decision. This is a great way to obtain new hires because headhunters will listen to your standards, apply them, and seek out candidates based on those criteria. It may cost extra, but your recruitment firm will filter out any unworthy applicants and only give you the best of the best, saving you time as you make the final decision.
Conducting the Interview
The most critical moment in the hiring process, an interview is your chance to learn everything you want to know about your candidates. It's also their opportunity to learn everything about you and your business. Creating a positive environment for the interview is important, including offers for coffee, a simple "have a seat," and even a smile can go a long way in making applicants feel more comfortable. While you don't want to tread into a casual conversation with them, a comfortable environment will make prospects more willing to talk and discuss their thoughts.
If an interview goes south, don't be afraid to end it at the next opportunity. While it's not courteous to stop people mid-sentence, you can at least wrap things up with a quick "thank you" before showing them the door. If the interview is going well, share that with the applicant at the end of the interview. Telling applicants that you're interested and that they'll hear more when you've made a decision are both great ways to ease them out of an interview and calm their nerves. It also establishes a positive rapport as the interview winds to a close, creating a more professional and encouraging feel.
Hiring the Right Applicant
With all of your interviews completed, selecting your new manager will likely be a difficult decision. Ideally, a combination of a willingness to adapt to changing conditions, previous experience, personality, negotiable salary requirements, and other factors will lead you to the perfect candidate. Striking a balance of those ideas will give your business a multi-faceted second-in-command who will be able to keep things under control without you constantly looking over his shoulder. Great managers should be firm when they need to be firm, understanding when they need to be understanding, and — above all else — fair to their employees. With a manager like that on your side, you can rest assured that you have hired the right candidate for the job.