Restaurant Reservation Systems
From first dates to anniversaries, lunches with friends to dinners with family, and employee interviews to office brunches, the dining table always seems to bring people together! In order for restaurant owners to keep organized, limit the number of open tables, and reduce waiting time for customers, it's important that they develop and maintain a reliable and efficient restaurant reservation system.
How Technology Impacts Reservations
Restaurant reservations first began with managers, hostesses, or other staff taking phone calls and penciling in names and times on paper. This took away a lot of time from hostesses and other staff members who could be clearing tables or helping customers. However, as technology advances, and more and more people have constant access to the internet, companies have developed various restaurant reservation software to make the process quicker and more convenient for both the restaurant staff and customers. This software has allowed for the emergence of online restaurant reservations, which can be made on a restaurant's personal website, or through a third party reservation service. Depending on your venue's location, staff, and traffic, we can help you decide on the best restaurant reservation system for you!
Why Restaurant Reservations are Beneficial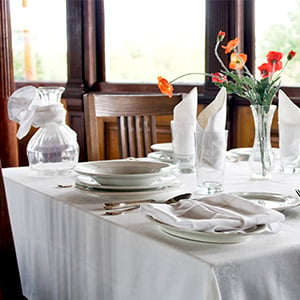 "Open table," a much hated term in the restaurant business, refers to an empty seat in the dining room. Because restaurants pay up front for rent, electric, utilities, and food, any seat left unfilled is a loss of profit, since these bills don't lower depending on how many customers they get per day. In order to help reduce the number of open tables in a restaurant, and to limit the waiting time for paying customers, restaurants began taking reservations. Here are some ways restaurant reservations are beneficial to owners, staff, and customers.

Better idea of how busy a night will be. Whether or not a restaurant will have a dinner rush with open tables is an unknown fact, but taking reservations will give owners a better idea of how busy or quiet their nights will be. And, if in fact, they have a low number of reservations, this will give them enough time to come up with a special to market on social media accounts to encourage customers to come out and spend money.
Prepare chefs for a rush. On the contrary, if the reservation schedule is showing that they're going to be packed, chefs and kitchen staff will have a fair warning to be prepared for an incoming rush at a specific time. Also, hostesses making the reservations, or seating walk-in customers, will also be able to space the seating times out enough so that the kitchen doesn't get slammed all at once.

Reduce waiting time. Not only are restaurant reservations beneficial to owners and kitchen staff, but they help make the dining experience for customers more enjoyable. When a party books a table for 6:00 p.m. on a Friday, they can expect to be seated pretty close to that time, reducing their wait. Remaining on top of reservations and getting guests seated as closely to their time slot as possible will result in happy customers that are sure to return!
Third Party Reservation Sites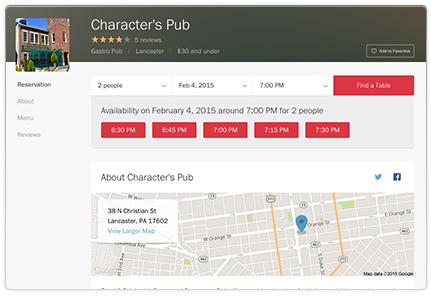 A technique becoming more common across the restaurant industry is the use of outside websites that specialize in restaurant reservation software. These programs are designed to reduce the number of open tables a restaurant has by promoting restaurants on their sites and making the reservations for them. Most sites allow customers to filter restaurants by country, state, city, and restaurant. They can submit the number in their party and request a time all with the click of a mouse or the touch of a screen. One of the most popular sites amongst customers and restaurants today is OpenTable, which works to provide reservation and table management. Other popular sites include ResDiary, Eveve, and Yelp's free SeatMe system. There are many benefits to these third party reservation sites, but they're not for everyone. Every system has its own benefits, so make sure to research every aspect, from installation fees to ongoing fees, before you make a commitment. Make sure to take some of the following considerations into account when choosing a system for your restaurant.

Calendar. The system should be synced with your restaurant's events, hours, etc. Customers will be making reservations outside of your business hours, so having a calender that will prevent double bookings will eliminate headaches down the road.

User-friendly. It's simple, but if users can't easily click their way through making a reservation, they're going to wind up calling anyway, which defeats the purpose of a third party system. Customers should be able to easily filter by country, state, city, and restaurant.

Customer support. Anything that deals with computer software or technology should have its own customer support system. You and your staff are going to run into issues with the system, regardless of how bug-free it is. If you have to pay up front for a system, then see if they offer free customer service.

Mobile app. Does the software program you're looking at offer a functional mobile app so that customers can make reservations right from their smart phones? If not, you may want to look at another service that does, since many people today are always on-the-go and looking for instant results at their fingertips.

Integration into other tools. A reservation software that allows visitors to leave a review or post their booking to Facebook will help you with your overall marketing! The system should also be able to link to an email account that lets customers know if their reservation has been confirmed, or if any issues arise.

Initial costs. While some services, like Yelp's SeatMe, are completely free, others can be quite expensive. From installation rates to monthly fees, is the added convenience of a third party system worth the price? It all depends on the restaurant, its location, and its popularity!

Ongoing fees. Unfortunately, many third party systems, like OpenTable, charge a transaction fee per customer seated. Although their system may offer many other great benefits, you have to consider if your restaurant is able to afford these additional, ongoing fees.

Online Restaurant Reservations
Another option for restaurant owners is to set up their business's website to allow online reservations. There are many benefits to allowing customers to make arrangements online.
For Customers:
Allows convenient 24/7 access, not only during your operating hours
Eliminates the need to make a phone call
Doesn't require them to wait for an employee to answer
Lets them easily read reviews of your restaurant and compare prices online

For Restaurant Owners:

Reduces time devoted to taking calls during operation hours

Gives you the ability to reject or confirm reservations via email
Turns more website visits into reservations
Keeps reservations all in one place

There are a few options you have when setting up your website to take reservations. First, you can simply add on a reservations widget, such as this Guestful reservation manager by WordPress. By placing this widget in your main menu or toolbar, visitors to your website will quickly see it to make their reservations. Widgets like this one usually communicate to the customer via email whether or not their requests are confirmed or rejected.

Another tactful method, if you're using Google Adwords, is to add your menu page as a site link, as seen to the right. This serves as a shortcut and allows customers to see your reservation link as they're scrolling down Google's search results page.


Click-to-Call
If you're looking to advertise your restaurant so that interested customers can easily find your establishment's number on their mobile phones, then adding a click-to-call feature from Google AdWords may be the best route for you. When your add shows up in a Google search, a clickable call button will encourage calls on-the-go and allow for a customer to make a reservation immediately. Check out the great benefits to this feature below:

Easy, on-the-go calling
User-friendly
Right at customers' fingertips
Great for last-minute reservations
Set the call button to only show during operation hours
Can lead to increased clickthrough rates
After budgeting your establishment's spending costs and determining how big an issue open tables are, you can pick the best route for your restaurant. Whether you decide to add your own reservation widget to your website, or you invest in a third party company, it's important to incorporate some type of reservation system for your restaurant!