Food Allergy For School Foodservice
Food allergies are of particular concern in the school foodservice environment. It is important to note two facts: First, children are statistically more susceptible to food allergy reactions in the school setting. And second, meal accommodations must be made for students with food allergies to avoid civil rights suits filed against your institution.
The CDC reports that 16% to 18% of children with food allergies have had allergic reactions to accidental ingestion of food allergens while in school. Often times, children may not even be aware of the food allergy until first exposure to food groups at school. In fact, 25% of food-induced anaphylaxis reactions in schools occur among students without a previous food allergy diagnosis.
Legal Matters
Food allergy management can have legal repercussions in the school setting. Under certain federal laws, it is mandated that appropriate accommodations, substitutions, and services be provided to a child with a life threatening food allergy. If governing laws are not followed, parents can file a civil rights claim on behalf of the student. This is because a life threatening food allergy may be considered a disability under certain federal laws including the Rehabilitation Act of 1973, the Individuals with Disabilities Education Act (IDEA), the Americans with Disabilities Act (ADA), and Americans with Disabilities Act Amendments of 2008 (ADAA).
Food allergy accommodations do not just pertain to elementary and high school educational settings. In late 2012, the Lesley University ruling highlighted the need for college institutions to ensure that students with celiac disease and other food allergies can "fully and equally enjoy the university's meal plan and food services" in compliance with the American Disabilities Act.
How To Ensure Student Safety
The figures and facts mentioned above may seem daunting - but many resources exist to help prepare your foodservice staff for effective food allergy management. To meet the needs of students with known food allergies, start with these three effective steps:
1. Collect proper documentation. This includes a diet prescription form completed by a licensed healthcare provider to help school nutrition staff to make the appropriate accommodations and substitutions.
2. Identify students with allergies, develop a written management plan, and outline medication protocols (storage, access, and administration).
3. It is also important to have a general written management plan for students without known allergies in the event that food-allergy related symptoms arise.
For more facts, figures, and examples of written management plans, view the CDC's Overview of Allergies in Schools and the National School Board Association's Comprehensive Policy Guide For Protecting Students with Life-Threatening Food Allergies.
Avoid Cross-Contact At Your Serving Line and Cafeteria
Cross-contact is a main culprit of many food allergy episodes. Cross-contact is the transfer of an allergen from a food containing the allergen to a food that does not contain the allergen. Keep in mind that this differs from cross-contamination, which is attributed to foodborne illness. Sometimes, even a trace amount of food is enough to trigger an allergic reaction. Check out these methods to avoid common cross-contact incidents in a cafeteria setting. For a more in depth look at cross-contact prevention, view our Allergy Guide for Restaurants.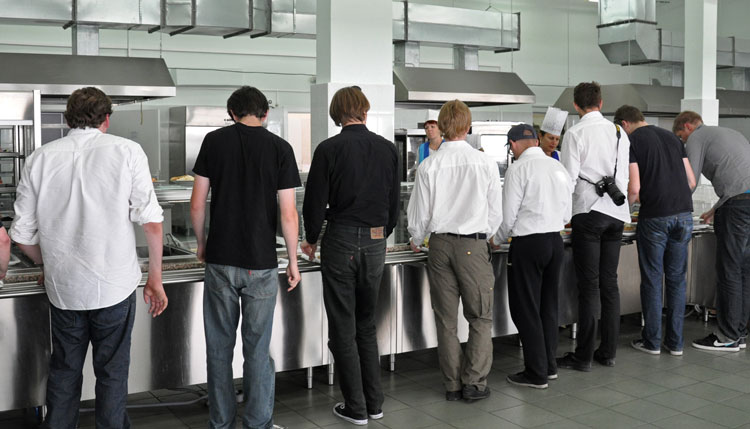 Place nutrition and allergen cards on food shields and sneeze guards.
Use proprietary guards to help eliminate cross-contact.
Don't use the same ladle, pair of tongs, scoop, and other utensils to serve more than one specific dish. Consider using color-coded serving utensils and safety products to designate dishes free of - or containing - the "Big Eight" (milk, fish, soybeans, tree nuts, peanuts, eggs, shellfish, and wheat).