Plant Based Meat Substitutes
Last updated on 8/10/2022
Are you curious about adding more plant-based dishes to your menu? The key to creating a satisfying meatless dish that's loved by omnivores, vegetarians, and vegans is to use plants that pack a lot of protein. Protein gives the feeling of fullness, takes longer to digest, and satiates the appetite. We've made a guide to introduce you to the most popular plant-based proteins with tips on how to incorporate them into the dishes you already make.
Shop All Meat Substitutes
Click below to learn more about plant-based meat alternatives:
Best Meat Alternatives
Our list of the best meat substitutes includes options for every appetite. Not everyone is a tofu-lover, so we've also listed whole food options like grains and beans. With our guide, you don't have to create new vegan recipes, just find the plant-based proteins that work best with your current menu.
1. Tofu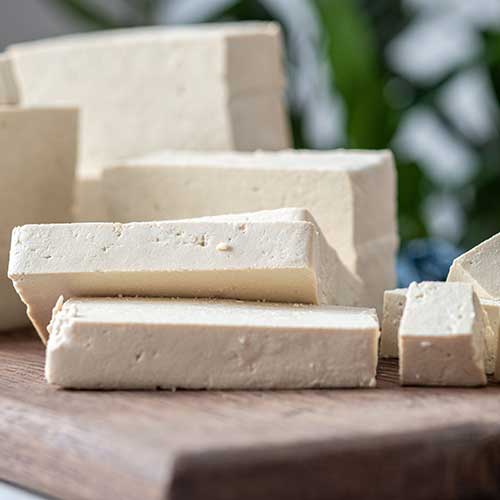 Tofu is becoming a more familiar sight on menus, but it can still be an intimidating ingredient to the uninitiated. It doesn't have to be! Tofu is full of plant-based protein and makes the perfect meat substitute for chicken, pork, or beef in stir-fry dishes. Tuck a marinated tofu plank into a crusty hoagie roll for vegan banh mi or crumble seasoned tofu with herbs and veggies for a satisfying plant-based scramble.
What Does Tofu Taste Like?
Tofu right out of the package has a bland, neutral taste. But when it's prepared correctly, it absorbs the flavor of seasonings and marinades like a sponge. Just make sure to choose firm or extra firm tofu (not silken) and squeeze the liquid out of it first.
See Our Tofu Products
---
2. Seitan
Seitan (pronounced say-tan) is a soy-free protein source that mimics the texture of meat. It's made from vital wheat gluten, a flour-like ingredient comprised of mostly gluten and a small percentage of starch. That means seitan isn't suitable for a gluten-free diet, but it's a useful meat alternative for anyone with a soy allergy.
Seitan is used in many plant-based products like vegan deli slices, holiday roasts, and other fake meats. What sets it apart from soy products is its chewy meat-like texture. It's easy to cook with, and doesn't require the same prep as tofu. Flavor-wise, it absorbs marinades and seasonings very well.
Seitan vs Tofu
Seitan is a wheat-based meat substitute, while tofu is soy-based. Since seitan contains no soy, it's a suitable meat replacement for those with a soy allergy. But for those with a gluten allergy, seitan is not suitable since it's made with wheat gluten. Including both tofu and seitan as meat substitutes on your menu ensures there is an option for all alternative diets and allergies.
How To Cook Seitan
There's no secret to cooking with seitan! You almost can't go wrong. Add chunks or strips of seitan to any recipe where you would use chicken, beef, or pork. You can also make breaded seitan cutlets, seitan bacon, and fried seitan chicken wings. If you want to add seitan to a soup or stew, brown it in a pan first to lock in flavor.
See Our Seitan Products
---
3. Tempeh
Tempeh is a soy product just like tofu, but it has a very different texture and flavor. To make tempeh, whole soybeans are cooked, fermented, and pressed into a cake. Tempeh is dense with a slightly bitter, nutty flavor. It can be cut into cubes, slices, or even crumbled. What sets tempeh apart from other soy products is that it contains healthy probiotics in addition to being a protein source.
Tempeh vs Seitan
The difference between tempeh and seitan is that tempeh is soy-based and seitan is wheat-based. Tempeh is also a fermented food, giving it some extra nutritional value.
How To Prepare Tempeh
Tempeh is versatile and has a meaty texture that works well in a variety of recipes. It performs differently than tofu and doesn't require the same type of preparation. Dry heat cooking methods like grilling, baking, and sauteeing bring out the umami flavor in this meat substitute.
Steam It - Quickly steaming the tempeh for a few seconds in salty water or vegetable broth removes the bitterness.
Crumbled - Tempeh cakes can be crumbled to make a ground meat substitute. Saute the crumbles with olive oil and seasonings to lock in flavor, then add them to any recipe where you use ground beef. Try tempeh tacos and tempeh chili for a popular menu option.
Sliced and Marinated - Thin tempeh slices can be marinated with soy sauce and maple syrup, then pan-fried or baked to make a great bacon substitute.
Cubed - Cut tempeh into cubes, slather them with barbecue sauce, and add them to kabobs for a grilled entree.
See Our Tempeh Products
---
4. Yuba
Yuba is a soy product that's not as well known as tofu or tempeh, but it has a unique texture that sets it apart. Also called tofu skin or bean curd sheet, yuba is made when soy milk is heated and a layer of skin forms on top of the liquid. The thin top layer is removed and packaged in sheets or long strips that look like noodles.
How To Use Tofu Skin
Tofu skin can be purchased fresh or dried. Because of its thin texture, tofu skin can burn quickly with high heat. Use low heat and watch the yuba carefully. Check out our tips for using yuba or tofu skin in your recipes:
Dried Yuba Sheets - Dried yuba sheets have a thin paper-like texture. To make them more pliable, soak them in warm water for three to five minutes. Squeeze out any extra water from the sheets before cutting them into the desired shape. You can use the sheets as a wrapper for spring rolls or dumplings.
Dried Beancurd Sticks - Dried yuba sticks are skins that have been bunched into several layers. Rehydrate the yuba sticks in water for 6-8 hours. After draining the sticks, cut them into bite-size pieces and use them as a meat substitute in braised or stir-fried dishes.
Fresh Yuba - You can also buy fresh yuba sheets that don't need to be rehydrated. Rinse the yuba under water to help separate the sheets. Cut the sheets into noodles for pasta dishes or soups, use them as a wrapper for dumplings, or roll them and fry them for a crispy appetizer.
---
5. Soy Curls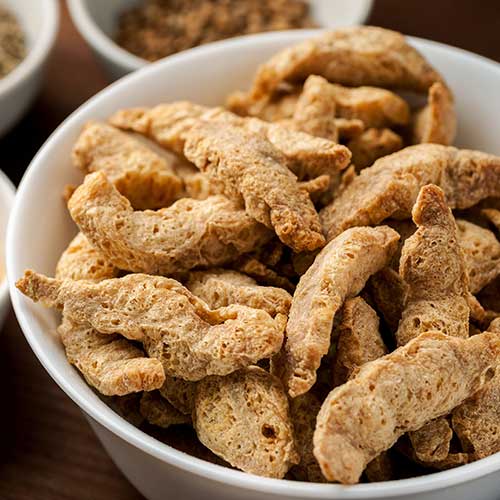 Soy curls are a trademarked meat substitute made exclusively by a company called Butler Foods. These protein-packed strips are different than soy products like tofu and tempeh because they are considered minimally processed. According to Butler Foods, soy curls are made by boiling whole non-GMO soybeans in water. They contain no other additives or preservatives.
Soy Curls vs Tofu
Soy curls and tofu are both made from soy, but they have very different textures. While tofu is pressed into a solid cake form, soy curls are extruded into chunks with a chewy bite.
Where to Buy Soy Curls
Bulk soy curls can be purchased online directly from Butler Foods or other food retailers.
How To Cook Soy Curls
If you are looking for a fake meat option that requires minimal prep and can be added to a variety of recipes, soy curls might be right for your menu. They have a chewy texture and an umami flavor that's enhanced through cooking. Get started by following our tips:
Soak - Soy curls come dehydrated and just need a short soak in warm water before cooking. For extra flavor, soak the curls in a seasoned vegetable broth.
Pat Dry - Squeeze out any extra liquid and pat the soy curls dry before cooking. The drier the better because the curls will brown more easily.
High Heat - The rehydrated soy curls can be pan-fried, air-fried, grilled, baked, or sauteed. They make a great substitute for chicken in stir-fry dishes and curries.
Low and Slow - You can also slow cook soy curls in stews and soups. If you're using this method, there's no need to rehydrate the curls.
---
6. Ground Beef Substitute
Meatless grounds, also called veggie crumbles, are one of the easiest plant-based proteins to cook with! There are many brands of vegan grounds and crumbles on the market, and most are made with protein-filled ingredients like soy, peas, and brown rice. The texture of plant-based crumbles mimics ground beef when used in certain recipes.
How to Cook Veggie Crumbles
Meatless ground is simple to prepare, but you just need to remember one thing. Brown the crumbles well with seasoning first before adding them to any recipes. Just like you wouldn't toss a pound of uncooked ground beef into a pot of pasta sauce, you shouldn't do that with vegan grounds either. Treat the grounds like beef and give them some love in a hot pan. You can achieve a better flavor if you saute them with oil and a little onion and garlic. Try adding plant-based grounds to these comfort-food favorites:
Chili - Season beefless ground with chili seasoning before adding it to chunky tomatoes and kidney beans.
Tacos - Tacos are always a hit. Just swap the ground beef for meatless crumbles and you have an easy plant-based option.
Bolognese Sauce - With a vegan bolognese sauce on hand, you can create a variety of pasta dishes. Make sure to brown the meatless ground well and season it with onions and garlic before adding it to your sauce.
Shepherd's Pie - Replace the ground beef in your shepherd's pie recipe with vegan crumbles and no one will realize the difference.
Empanadas - You can't go wrong with warm golden pockets of meaty fillings. Cook up meatless crumbles with potatoes, onions, peppers, and spices for a satisfying dish.
Pizza - Meatless crumbles make a great pizza topping! Go completely vegan and pair the crumbles with non-dairy cheese.
See Our Meatless Ground Products
---
7. Veggie Burgers
Making your own veggie burgers is more challenging than you would think. Getting the ingredients to bind together without using eggs or dairy-based ingredients can be tricky. You might create a wholesome mixture of beans and veggies, but once the patty goes on the grill, it tends to crumble. Many house-made veggie burgers fall apart and don't have the meaty texture that customers are looking for in a plant-based burger.
Thanks to the veggie burger war between Impossible Foods and Beyond Meat, there are now many high-quality plant-based burger options to choose from! Today's veggie burger is meaty, savory, and cooks up just like a beef burger.
How Long To Cook Veggie Burgers on Grill
If it's your first time cooking a plant-based burger, you might be wondering how long it needs to stay on the grill. The product doesn't contain meat, but it still needs to be cooked to the correct temperature listed on the package. Also, a little char on the veggie burger is always good and gives it more of a grilled-meat flavor. So don't take those burgers off too soon!
Veggie Burger Ideas
Follow these tips for offering the best plant-based burger:
Skip the Cheese - If you want to make your veggie burger menu completely vegan, skip the cheese slices and offer creamy avocado instead. Other flavor enhancers that will make you forget all about cheese are caramelized onions, crispy shallots, or charred scallions.
Housemade Condiments - You can enhance a plant-based burger with tangy housemade condiments like vegan garlic aioli or sriracha ketchup.
Don't Forget About the Bun - Brioche buns are really popular on burger menus, but many contain eggs. Don't forget to provide a plant-based bun to go with your vegan burgers.
See Our Veggie Burgers
---
8. Plant-Based Chicken
Many plant-based food companies are now venturing into the world of chicken alternatives, which means there are more diverse options on the market! The usual faux chicken patties and nuggets are being joined by meatier, tastier options like strips, tenders, and cutlets.
What Is Plant Based Chicken?
Every brand has its own recipe, but most plant-based chicken products are made with ingredients like soy protein or pea protein that mimic the texture of real chicken.
How To Serve Plant-Based Chicken
Check out our ideas for adding chicken alternatives to your menu:
Kid-Friendly Favorites - Parents want plant-based options for their kids too! It's easy to swap the chicken nuggets for a vegan option. Bake, air fry, or cook nuggets in a combi oven to omit the extra oil from deep frying.
Add Some Heat - Buffalo sauce tastes just as good on plant-based chicken. Try tossing faux chicken patties, tenders, or nuggets in spicy buffalo sauce. Offer a cooling non-dairy ranch sauce for dipping.
Wrap it Up - Wrap crispy pieces of vegan fried chicken with avocado, diced tomato, and seitan bacon in a tortilla for a delicious BLT wrap.
Non-Breaded Options - You can also find non-breaded chicken alternatives that can be seared and treated like grilled chicken. Add chunks of faux chicken to pot pie, stirfry, and Caesar salad.
See Our Vegan Chicken Products
---
9. Grains
Believe it or not, grains contain protein too! If you're looking for plant-based dishes that feature minimally processed whole foods instead of fake meats, grains are an excellent choice. As a bonus, they also contain other nutrients like fiber and iron. Oats, wheat, and brown rice are staple ingredients that you probably use already.
These lesser-known grains are ideal for creating plant-based recipes because they contain all of the 9 amino acids that make up a complete protein. They're also considered pseudocereals, which are technically seeds but are used like cereal grains. This means they don't contain gluten and can be used in place of other grains for gluten-free recipes.
Quinoa - Quinoa (pronounced keen-wah) is a powerhouse ingredient that can be used in place of rice in any of your recipes. Use it to make grain salads, harvest bowls, or breakfast bowls.
Buckwheat - Despite its name, buckwheat is not related to wheat at all. Buckwheat seeds are triangular-shaped kernels called groats. One of the most popular ways to use buckwheat is ground into flour and used in pancakes and baked goods. It's also the key ingredient in soba noodles.
Amaranth - Amaranth is a less familiar pseudocereal, similar to quinoa, but with a nuttier flavor. The whole seeds can be simmered just like rice and used in pilafs, porridge, or grain bowls. It can also be ground into flour and used for gluten-free baking.
See Our Bulk Grains
---
10. Nuts and Seeds
Nuts and seeds are great for snacking or adding extra crunch to salads, but did you know they also make convincing meat substitutes? Many nuts and seeds can be used to make a plant-based meat option that's minimally processed. If your customers are looking for a meat alternative that's made from whole foods and doesn't contain wheat or soy, nut-based meats are filling and full of protein.
What Is Walnut Meat?
Walnut meat is a mixture of coarsely chopped walnuts, mushrooms or beans, and seasonings that mimics the look and taste of ground meat. It's simple to whip up a batch of walnut meat in a food processor with just a few ingredients. Pulse the walnuts until they are crumbly, then add them to a hot pan and brown the walnut meat just like ground beef. Add the walnut meat to tacos and nachos or use it to make plant-based meatballs. You can try the same method with almonds or hulled sunflower seeds.
See Our Bulk Nuts and Seeds
---
11. Beans
Beans have been consumed as an affordable protein source for thousands of years. There's a reason for that! Dried beans are economical and shelf-stable. When stored correctly, they can last for years. If you want to try adding more plant-based foods to your menu, but you're hesitant about fake meats and processed soy products, beans are a healthy whole-food protein option.
There are many beans to choose from, but these are our favorites for adding the most protein to your dishes.
Chickpeas - Chickpeas contain all the amino acids needed to form a complete protein, just like meat. Hummus is the dip that probably comes to mind when you think of chickpeas, but there are other delicious ways to use these wholesome legumes. Add chickpeas as a protein option for curry dishes or combine them with vegan mayo, minced celery, and seafood seasoning to create a mock tuna salad sandwich.
Soybeans - Soybeans are the base of many meat alternatives, but they're also tasty in their whole form. Edamame (pronounced eh-duh-mah-may) are young green soybeans in the pod. Serve steamed edamame pods with a light sprinkle of sea salt and other seasonings as a protein-rich appetizer.
Lentils - Lentils are a popular protein source because they cook up quickly from their dried form. They can be used as a ground beef substitute in many recipes. Try cooking lentils and shredded carrots in a tangy barbecue sauce to make a veggie "pulled pork" sandwich.
Lupini Beans - Lupini beans aren't as well known in the US, but they're a popular snack in the Mediterranean. We're including them on our list because they're chock full of complete protein and lower in carbs than other beans. You can serve cooked lupini beans on their own as an appetizer or in place of other beans in salads, wraps, and soups.
Black Beans - Black beans work well as a meat substitute in burritos, tacos, and veggie burgers. For extra protein, combine black beans with rice.
See Our Bulk Beans
---
Plant-Based FAQs
We answer some common questions about plant-based meats below:
Do Plants Have Protein?
Yes, all plants contain protein, but some have more per ounce than others. The plant-based options on our list make the best meat substitutes because they are protein-rich. It's easy to make a meal made entirely from plants, but if it doesn't have protein, it won't be as satisfying. Keep reading to learn about the easiest plant proteins to add to your menu.
What Is a Complete Protein?
A complete protein source is a food that contains all 9 of the amino acids that the human body needs for good health. Many of the plant-based meat alternatives on our list are complete proteins on their own. Foods that don't contain all the amino acids can be combined with other foods to make a complete protein. Nutritionists also say that these foods don't have to be eaten at the same time or even on the same day. The human body will store the necessary amino acids and use them as building blocks when they are needed.
What Is Jackfruit?
Unripe jackfruit is a popular meat substitute because it can be shredded and used in place of pulled pork or chicken. If you want to try this meat alternative, make sure to purchase cans of young jackfruit in water. Jackfruit products that are canned in brine or syrup won't taste right in your recipes. Also, even though jackfruit has a remarkable texture, it doesn't contain a lot of protein. Keep in mind that your customers might be coming back for seconds of your jackfruit dishes because they won't be as filling as other protein-rich foods.
What About Plant-Based Seafood?
Plant-based seafood has been growing in popularity as a sustainable alternative to traditional seafood like chunk tuna, sashimi, and shrimp. You'll also find vegan breaded filets, fish sticks, and crabcakes.
What Is Veganuary?
Veganuary is a charity organization that encourages people to go vegan for the whole month of January. When you make a pledge and sign up on the Veganuary website, you gain access to free cookbooks, meal plans, and nutrition guides. The Veganuary movement has led to a higher demand for plant-based foods in January, so make sure to update your restaurant's menu this year!
What Is Plant Based Meat Made Of?
Plant-based meats are made without the use of any animal products. Instead, they are made with a combination of ingredients that come from plants, like soybeans, peas, and vital wheat gluten.
---
Now that you're familiar with the wide world of meat substitutes, you can create plant-based dishes for your menu with confidence. The secret to pleasing omnivores, flexitarians, and vegans is to focus on the flavors and provide healthy protein options that taste just as good as traditional meat dishes.