Our cookware buying guide walks you through everything you must consider when buying cookware so that you can fearlessly make an educated decision when it comes time for your next purchase!
Choose a material that is appropriate to the cooking technique. Experience has shown, and science has verified, that certain cooking techniques are more successful when used with certain types of cookware. Sauteed foods like pans that transmit heat quickly, braised foods need pans that hold heat well for long periods of time, and you shouldn't cook white sauces or tomato sauces in aluminum pans as it reacts with the metal.
Finally, always use proper handling, cleaning, and storing techniques. Avoid subjecting cookware to extreme temperature changes, and always follow manufacturer's care and handling instructions.
Cookware Types
Maybe you need to fry potatoes or cook soup, but with hundreds of cookware types, how do you know which one is best for you? What, for example, is the difference between a fry pan and a saute pan? Read on to find out!
Curved side walls for easy stirring and sliding food out of the pan
Ideal for frying, scrambling, sauteing or searing
Sloped sides prevent steam from forming in the pan
Wide bottom area for maximum heat conduction
Ideal for sauteing, searing, braising, deglazing, poaching, and stir frying
Straight, high sides help contain food and expose all sides to heat
Feature flat bottoms, or round bottoms for high heat concentration. Round bottom woks require a wok ring to sit on a standard burner
Ideal for stir frying or wok applications
Deep curved sides promote excellent food movement
Mandarin woks feature a single standard handle while Cantonese woks feature two loop handles
Small bottom diameter for less heat exposure
Flared sides allow for good stirring action
Ideal for cooking at lower temperatures for a longer time
Wide bottom area for maximum heat conduction
Ideal for creating and reducing sauces and cooking vegetables
Use with a lid to control evaporation and accelerate cooking
Wide heating surface allows the cooking of meats and vegetables in limited amounts of liquid
Ideal for long, slow cooking which allows the liquid to add juices and flavor
Also used as a hot bath in conjunction with tapered sauce pans for melting butters, heating sauces or for blanching vegetables
Wide bottom area for maximum heat conduction
Ideal for slow cooking stews, sauces, soups, casseroles and roasts while reducing the content
Two loop handles for easier pouring and movement
Thick base for a good slow simmer
Ideal for stocks, soups, pastas, bulk vegetables and seafood
Smaller diameter and taller height of pot preserves liquids longer and forces the liquid to bubble up through the ingredients, maximizing flavor transfer
Steam baskets are often used in stock pots to cook food with steam
Handles allow for easy oven loading and unloading, as well as convenient transportation
Heavy duty construction and large size accommodates roasts, hams, and turkeys
Flat and shallow construction with sloping sides helps paella cook evenly and allows for the toasting of rice in the bottom of the pan
Side handles allow for easy maneuverability
Compatible with all heat sources
Individual cups consistently provide evenly-shaped poached eggs
Models available with 4-15 cups for high volume efficiency
Cast iron heats evenly and consistently with no "hot spots" so foods cook better with less chance of scorching
Long-lasting construction lets it easily go from oven-to-table for fast, efficient service
Ideal for sauteing, searing, frying, and even baking
Bakeware Types
Tubular design with a hollow core allows for even heating
Ideal for angel food cakes and bundt cakes
Straight sides and non-stick surface help the cake rise
Three cooling legs allow the cake to cool upside down as required
---
Deep construction allows for high rising
Perfect for bread, cake, and pudding
Excellent heat conduction permits low temperature baking for optimum results
---
The workhorse of any bakery
Thin sheet ideal for baking cookies, rolls, and other foods that don't produce a lot of liquids
Upturned lips prevent products from sliding off and allow for easy handling
---
Straight side walls for a clean, easy release
Ideal for baking cakes and deep dish pizzas
---
Models available with 6 – 48 cups for high volume efficiency
Ideal for mini, standard, and jumbo sized muffins or cupcakes
---
Angled sides prevent crust from slumping
Wide rim allows for simple fluting
---
Two-piece construction with removable sides for an easy release
Ideal for cheesecake, tortes, quiche, and other dishes that may be difficult to remove from a standard pan
---
Straight, fluted sides for a crisp, presentable crust
Removable bottom permits taking out a tart without damaging its crust
Material
With a thorough understanding of the defining features of each type of cookware, it is now important to consider some of the various construction factors that affect the overall performance of these products.
Cast Iron: Cast iron cookware is a good heat conductor and maintains temperatures well due to the density of the metal. It is durable but heavy, and will rust quickly if not kept conditioned and dried at all times. Cast iron cookware requires seasoning to maintain a non-stick surface.
---
Aluminum: Aluminum cookware is an excellent heat conductor, as well as reasonably durable and lightweight. It is, however, prone to discoloration and can discolor light colored foods and sauces which can make them taste bitter. As a countermeasure, anodized aluminum is coated to prevent such side effects.
---
Copper: The best heat conductor for cookware, copper is also favored because it is visually appealing. However, it is a heavy metal that will bend and dent easily. Another big concern is that it can react chemically with some foods to create poisonous compounds, so copper cookware is often lined with another type of metal.
---
Stainless Steel: Stainless steel has the advantage of being very durable while not reacting with foods or discoloring them. Since it is a poor heat conductor and prone to hot spots and scorching, stainless steel cookware sometimes features a multi-ply construction where a disc of conductive metal is attached to the bottom of the pan to aid in heat conduction and distribution.
It is worth noting that many cookware instruments come with non-stick surfaces that greatly reduce the amount of clinging food. See our fry pans buying guide and stainless steel care buying guide for more information.
Thickness
Beyond material construction, it is always important to consider the thickness of the cookware you're investing in. But how do you know how thick an item is? The thickness of cookware is generally measured in either gauge or mils, but the way you read these numbers is totally different! 1 mil is equal to 1/1000", so you know that the higher the mil, the thicker the metal.
Gauge, however, works in the opposite fashion—the higher the gauge, the thinner the metal. Most of the cookware you find will fall somewhere between a thick 10 gauge construction and a thinner 22 gauge construction.
Download Conversion Chart
Pros and Cons of Thicker Metal
| Pros of thicker metal | Cons of thicker metal |
| --- | --- |
| Sturdier | More expensive |
| Provides more even heating | Heavier |
| More resistant against denting and warping | Takes longer to heat up |
| Holds more heat for better searing | |
Forming Process
While we're talking about the thickness of your cookware, did you know the way in which an item's metal is formed can directly impact its thickness? Cookware is primarily molded through one of two processes known as drawing and spinning.
Drawing is a metal forming process in which sheet metal is "drawn" into a forming die by gradual pressure applied by a mechanical punch.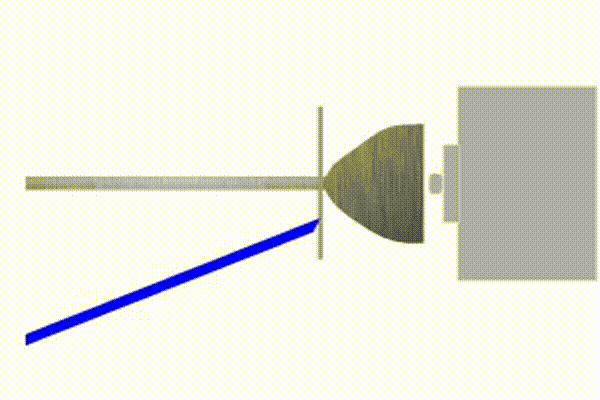 The spinning process starts off with sheet metal placed between a mandrel (used to form the sheet) and a tailstock (holds the sheet in place). The mandrel and tailstock then begin to rotate rapidly, and force is applied to the sheet metal, causing it to flow over the mandrel.
Purchasing Drawn and Spun Cookware
| Drawn Cookware Purchasing Considerations | Spun Cookware Purchasing Considerations |
| --- | --- |
| Drawn cookware is prone to having variations in thickness throughout its construction, which can lead to uneven heat transmission from your stove's burner. | Spun cookware delivers more reliable results. Because of the rapid spinning, the force applied to the sheet metal flows across the surface numerous times to ensure the item's thickness is uniform throughout. |
| Cookware with a drawn construction tends to be more affordably-priced. | Uniform thickness in spun cookware gives it a sturdier construction than drawn cookware and allows for more even heating, which is particularly important with stock pots and sauce pans for simmering soups and sauces. |
Handles
There are also some purchasing considerations that you should keep in mind when looking at the type of handle that is attached to your cookware.
Riveted

Riveted handles are the sturdiest handles available and, because they are permanently attached, they never need to be tightened. However, they do require more thorough cleansing care to prevent bacterial buildup around the rivets.
---
Welded

Welded handles present a uniform construction and allow for a perfectly smooth interior, but they are not as sturdy as riveted handles.
---
Screwed On

Screwed on handles are very easy to replace and allow for a smooth interior, but they are not as sturdy as riveted handles.
Accessories
By now you have likely selected a piece of cookware that is perfect for what you're trying to achieve, and if you really want to get the most out of your new product, your job is almost done! We offer a variety of cookware accessories that are compatible with standard cookware tools to make them more versatile, more efficient, and even more comfortable than their original state.
Filled with pasta and placed into a compatible pot filled with water to cook pasta
Prevents pasta from sticking to bottom of pot and allows for easy draining
Also sold in combination packages with compatible pot & lid
---
Vented ring placed on top of a burner to support a round-bottomed wok
Helps concentrate and direct heat
---
A vented basket that is placed in a stockpot containing a small amount of boiling water
Used to cook foods like vegetables and chicken with steam
---
Fine mesh screen allows your food to breathe but keeps oil and grease from splashing outside of the cookware
Large diameter to fit over top of most sizes of pots and pans
---
Used underneath cookware on gas and electric stoves to evenly distribute heat
Allows you to simmer at lower temperatures
Reduces boil overs
---
Made of silicone to maintain a cool touch
Provides added comfort
Slides off easily for simple cleaning