Find the Best Bun and Sheet Pans for Your Business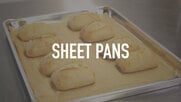 If you own a bakery, restaurant, or cafe, bun and sheet pans are essential baking supplies. We offer jelly roll pans, cookie sheets, and sheet pans, all of which are made from durable materials like aluminum, aluminized steel, and stainless steel. These products are also available in a variety of edge styles, including wire in rim, open bead, curled rim, and rimless to suit your business's every need. We even offer a variety of dishwasher or freezer safe products that make cleanup and advanced food prep a breeze. If you run a color-coded kitchen, some of our sheet pans are purple to help you protect guests with allergies. You can also choose from fully perforated, perforated, and non-perforated pans that allow you to create delicious crispy or doughy baked goods. Some of these pans are even customizable, so you can brand them with your business's name or logo. To learn more about the differences between these products, explore the tabs above and the filters on the left side of the page.
All of these sheet pans are designed to make food prep tasks more convenient for cooks and bakers. A majority of these pans feature non-stick surfaces or silicone glazes to allow easy removal of food products. Each bun pan also boasts an extremely durable construction that will last you years of repeated use in your busy kitchen. To preserve the quality of your pans, be sure to line them with parchment paper and pan liners. You many also want to use turners and oven mitts and gloves for safe handling of hot pans and products. If you're wondering where to buy bun / sheet pans, we have a large selection of bun / sheet pans for sale at the lowest prices.