What Is a Dutch Oven?
When the temperature drops and you're looking to make warm, hearty dishes for your customers, reach for one of your kitchen's best assets for cold-weather meals: the dutch oven. Whether you're making a large pot of creamy risotto, a rich beef stew, or a loaf of comforting bread, dutch ovens are one of the most versatile tools in a busy kitchen.
If you're unfamiliar with this piece of cookware, keep reading to see it in action and learn more about how to use, clean, and maintain a dutch oven.
Check out this delicious dutch oven recipe from our WebstaurantStore kitchen: Moroccan Lamb and Butternut Squash Tagine
A dutch oven is a heavy cooking pot, usually made of cast iron, with a tightly fitting lid. These pots can be used on the stove or in the oven, making them perfect for casseroles. They're also excellent for slowly simmering food and are often used for braising or making soups and stews.
What is a Cocotte Pot?
A cocotte, pronounced "ko-kot" is the French name for a dutch oven. You may see this term in recipes that originated outside of the United States. If your recipe calls for a cocotte, your dutch oven will serve the same purpose.
Caring for Your Dutch Oven
Whether your dutch oven is made of traditional cast iron or has an enamel coating, it is important to understand how to care for this cookware. If you are unsure of how to clean and store your dutch oven, keep reading for some guidelines.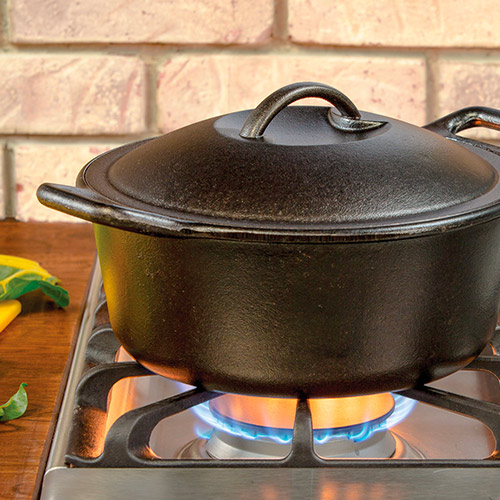 How to Clean a Cast Iron Dutch Oven
Use warm water and a gentle soap to clean your cast iron dutch oven. Avoid hard scrubbing or using steel wool, as this can wear away at its valuable seasoning. It is also best to season your dutch oven after each washing. To do so, simply rub your preferred type of cooking oil over the dutch oven's surfaces with a clean towel. If there is any excess oil, place the dutch oven in your oven at 375 degrees Fahrenheit until the oil bakes off and becomes part of your cookware's coating.
How to Clean an Enamel Dutch Oven
The enamel coating on your cast iron dutch oven is not only beautiful, but it also helps to evenly sear meats and fry vegetables. For this reason, it is important to preserve with the proper dutch oven cleaning process. The first thing to remember when cleaning your enamel dutch oven is to be gentle. That means no hard scrubbing and no citrus juices or citrus-based cleaners. Using abrasive cleaning tools or acidic cleaners can dull or gouge the enamel coating. Therefore, you should never use steel wool on your enamel dutch oven.
If your sauce boils over and bakes onto the side of your dutch oven, make a paste from baking soda and water and use a gentle scouring pad to preserve the glossy surface. Enameled-coated dutch ovens do not need to seasoned like standard cast iron dishes. If your enamel dutch oven has any exposed cast iron edges, you can lightly coat them with a high smoke-point oil.
How to Store a Dutch Oven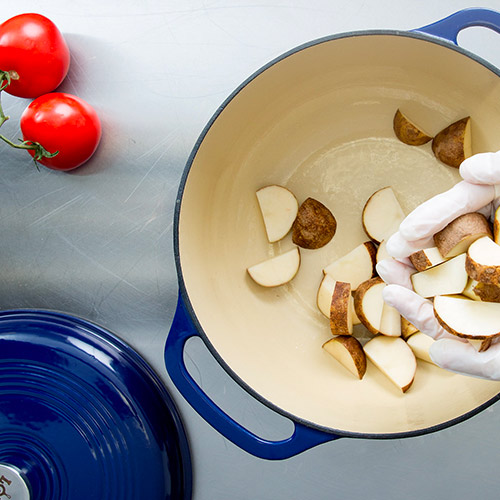 No matter what type of cast iron dutch oven you have, always be sure to dry it completely before storing. Even with an enamel coating, wet iron can rust. Additionally, you can keep your enamel dutch oven's coating looking new as long as possible by avoiding tight storage spaces. Hitting cabinet doors or scraping against other pots could put scratches in its shiny coating quickly. For this reason, you should never stack enamel dutch ovens.
Make sure to keep your dutch oven or cocotte pot ready to use to make a juicy Hanukkah brisket by properly cleaning it and caring for its unique material. Refer to this blog as a guide to provide the proper dutch oven care to this useful piece of cookware.

Posted in:
Product Spotlights
| By Janine Jones