Find the Best Bakery Display Cases for Your Business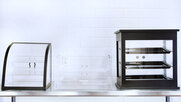 Designed to increase impulse sales at your bakery, diner, or cafe, bakery display cases are designed to show off your delicious creations. We offer these products in several types, including bread and pastry cases, in addition to display bins and kits. You can also choose from several materials, including acrylic, metal, wood, and polycarbonate, all of which are durable and sure to last. We even offer dual, full, and self service models depending on how you want to dispense your tasty treats. Some of our products even feature LED lighting, mirrored doors, or are dishwasher safe for your convenience. If you run an environmentally-friendly business, we also offer a variety of green items that are both sustainable and attractive. To learn more about the differences between these products, explore the tabs above and the filters on the left side of the page.
Present your muffins, donuts, bagels, rolls, and more in a bakery display case that enhances your decor while inviting customers to make impulse purchases. Customers can help themselves with one of our self-service models, while full-service models open only from the back, so your employees can serve your guests. We even offer dual-service bakery display cases that open from both the front and back for a versatile display. For other products for around your bakery, check out our bagel and pastry baskets, parts and accessories for bakery display cases, and bakery pans and cake molds. If you're wondering where to buy bakery display cases, we have a large selection of bakery display cases for sale at the lowest prices.