Five Tips to Improve Your Delivery Service
Your restaurant and business might already have a booming delivery service. But just like any functioning system in a food business, there is always room for improvement. If you are looking to streamline your process for customer delivery orders, here are five tips to improve your delivery services.
1. Create a Delivery Menu
It's nice to give your customers options when they choose to order delivery over dining in. Unfortunately, there is a high chance that not all of your dine-in menu options are suitable for being transported in takeout and delivery containers. To avoid unwanted spills, carefully craft a delivery menu based off of food items you think will travel well. Once your menu is created, add it to your restaurant's website or mobile ordering system.
2. Use Reliable GPS Apps
If your delivery drivers are not familiar with the area that your food business is in or are new to delivery altogether, they are going to need reliable GPS apps to get food to your customer's location in a timely manner. Do your research to find the best GPS apps possible.
There are many free GPS apps like Google Maps or Apple Maps. Sometimes these apps are not reliable depending on service connection. The apps Waze and HERE WeGo are free and also have offline service and a reliable connection. Both apps also offer alternative routes when their systems see that there is traffic coming up.
3. Implement No Contact Delivery Practices
Take extra precaution and institute no contact delivery practices in the prep area where your delivery orders are fulfilled. If you want your employees to be more intentional about not touching the food or the containers for customer orders, try implementing a labeling system to remind workers. To give your customers additional reassurance, use tamper evident containers, which will show whether or not their food was reopened after being sealed.
4. Hire a Third Party Delivery Service to Meet Demand
The restrictions instituted because of coronavirus has driven an increasing demand in delivery and takeout orders. If your restaurant is struggling to keep up with customer deliveries, consider hiring a third party delivery service like DoorDash, Grubhub, or Uber Eats.
A third party delivery service can help in a number of ways, but keep in mind that you want to form a partnership with a delivery service as if it were your own business. Make sure that the company guidelines align with your own, so that you are satisfied with the way they inform their drivers. Try to remember drivers' names and develop a more personal relationship with the ones you see more often.
5. Cross-Train Employees to Fulfill Delivery Orders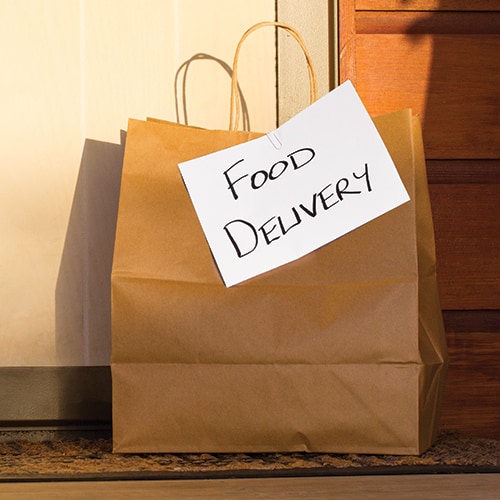 If the amount of available restaurant staff you have is dwindling, make a point to cross-train staff to fulfill delivery orders, man your drive-through window, and take phone orders. This will help increase the efficiency or your working staff and decrease some stress during a time where you may not know how many people will show up for their shift.
Given the uncertainty of how coronavirus is going to affect each business at a micro-level, it is best to prepare your staff to handle multiple roles. Cross-training staff will also help with restaurant training in the future as you hire new employees and restaurants regain a sense of normalcy.
Coronavirus has affected every business in a different way. If your restaurant was able to adapt early and offer takeout and delivery services to your customers, you might be looking for ways to make that service more efficient. We hope these delivery tips can help during this time!
Posted in:
Management & Operation
| By Angalena Malavenda