How to Advertise Your Restaurant For Free
Last updated on 6/20/2018
Opening a restaurant is an expensive investment, and the last thing many restaurateurs think about are ways in which to advertise and market their new ventures. Many believe that, "if they build it, they will come," but that isn't necessarily true in the cut-throat foodservice industry. More times than not, restaurants fail due to insufficient or poor advertising. Business owners then wonder why crowds of hungry people aren't rushing into their establishments, but usually it's because there hasn't been enough marketing involved, or owners ran out of enough money in the first place. By using these tactics and tips, entrepreneurs will be able to advertise their restaurants for free within their communities and on the web.
Determine Your Audience
One of the first ways in which you can start your free restaurant advertising is to determine who you want as a customer. Who do you want to bring into your restaurant? As soon as you figure out who you want to serve, you can then focus on how you'll make them interested in you. Are they senior citizens who will likely be coming in for the early-bird menu? Are they sports enthusiasts who want to watch the 'big game' at your establishment? Or are they young adults in college who are more interested in drink specials? Maybe your restaurant is geared more towards families? Even though you will want to serve everyone, it's important to narrow down a target audience to start.
Create a Website
Four out of five consumers conduct local searches on their smartphones or computers for information on business hours, directions, addresses, and product availability. Making sure your business has an online presence, and is able to answer basic questions like location, hours of operation, and even product availability, is crucial to your success. Luckily, having a personal website doesn't have to cost you much, if anything at all.
There are many free programs that will let users create beautifully and visually appealing websites for free, and some look just the same as paid websites do. Programs like Wix, Weebly, Yola, Zoho, Wordpress and other builders let a business owner customize their website from the ground up. Everything from the theme and colors, to the images and fonts can be simply dragged and dropped with these easy-to-use website makers. When designing your website make sure to include the following:
Menu- Include the prices of your menu items since many times this is why customers will be visiting your website.
About- Include a section with details that tells patrons a little about your business, what you offer, how you got started, how many years you've been in business, if it's family-owned and operated, etc.
Specials and Upcoming Events- Update customers on event happenings in your restaurant so they can be sure to mark it down on their calendars.
Hours of Operation- Inform customers when your business opens and closes.
Map- Include a map of your location, along with directions from highly trafficked interstates and highways that will lead customers to your restaurant. It's also important to mention where customers can park once they arrive. Try implementing the Google Maps widget on your website so customers can click and be instantly directed to your restaurant by Google Maps driving directions.
Reservations- Include a phone number that people can call to make reservations, or link to apps like OpenTable where guests can enjoy the convenience of reserving their table online!
Multimedia- Add pictures and videos of your restaurant, signature dishes, and special events that you've hosted.
Social Media - Link visitors to your social media accounts where they can continue to engage with you.
Establish Your Brand with a Blog
While a website is meant to inform potential customers about your restaurant's hours of operation, menu offerings, and specials, the purpose of a blog is similar to your social media accounts, and they're used to entertain your readers and build your establishment's brand. Having a good restaurant brand is important because it gives your business the opportunity to establish brand loyalty with your customers. Additionally, blogs are ideal for longer posts than social media platforms like Facebook and Instagram, which is ideal when explaining upcoming events or changes within your business.
In addition to building your brand, creating a blog for your restaurant can help in a few other ways. For example, blogs are informal, and they are an excellent opportunity for your business to connect with your customers on a personal level. You can also blog about your new menu items or upcoming events to create buzz among your customer base. Additionally, your restaurant's blog is a platform for your customers to leave comments, reviews, and suggestions, which can be valuable for improving your business.
Online Directories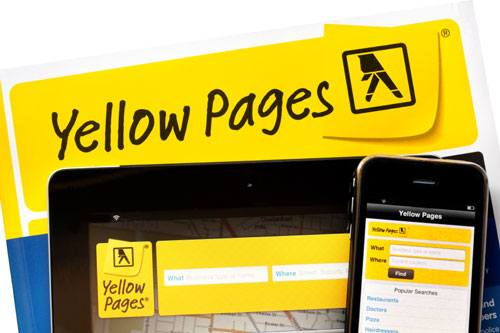 Today, consumers live in a world where information is expected to be delivered instantaneously. Most everything is researched online, and many business directories have switched from the classic Yellow Book, to an online format. Websites like Yelp, Yahoo, Google Places, Yellow Pages, Super Pages, and Switchboard offer free services that business owners can sign up for to create their own page listings. Including information such as contact info and a link to your website will allow customers to find you easier on local search rankings.
Become a Member of Your Chamber of Commerce
Even though it's not entirely free, becoming a member of your chamber of commerce is much cheaper than many other advertising strategies out there. For just a small fee each month, you can pay to join your community's chamber of commerce, which is an organization that recognizes businesses throughout the community.
Why Should You Join?
Increases public perception- Being linked to an elite organization, such as a chamber of commerce, creates credibility for your business.
Raises your visibility in the community- When you join your chamber of commerce your business will then be published in chamber newsletters and highlighted in other publications. This free press helps get your name out into the community. Be mindful that the cost of joining could range from $300-$1000, depending on how many employees your business employs.
Create networking opportunities- This free form of advertising creates a link between you and other business owners, which can build an exchange of information by developing important contacts.
Host Events & Promotions
Another effective way to advertise your business is to host events that patrons will look forward to coming to each week. Trivia nights, karaoke music, happy hour, and special tasting opportunities are free ways that give customers a reason to want to visit your restaurant. You could give away a gift certificate to the winner of trivia nights which instantly creates a reason for them to come back. Promoting contests is another way to spread brand awareness because it entices customers to do something to get what they want. Offer coupons for free desserts or appetizers, since its likely your customers will order an expensive drink to go along, or an entrée to start.
Create Buzz
Will your restaurant be celebrating its grand opening? Or maybe you will be hosting a large event with some of the proceeds going towards an important cause? Pitch these ideas to the press or send out a press release about happenings going on at your restaurant since it may lead to a reporter wanting to cover the story at no cost to you.
Engage Customers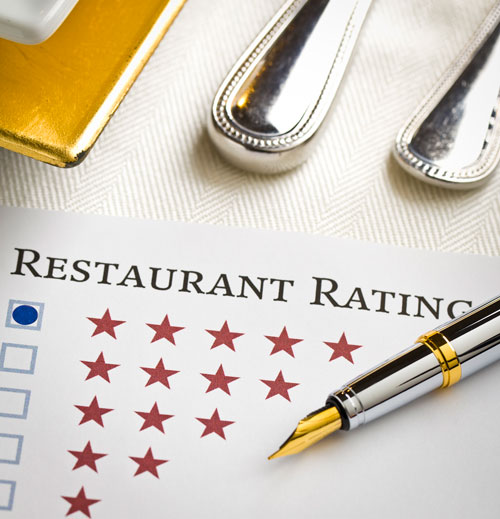 A great form of free advertising is to directly connect with your customers on a personal level, which can be done for free simply by using your computer. Create customer feedback cards as a way to gauge your restaurant's service, while also helping you collect names, email addresses, and birth dates that you can use later to produce an email campaign. Send customers coupons when their birthdays approach, and send out e-mail blasts with announcements and special offers describing events happening at your restaurant. However, make sure to clearly state your intent when collecting information from individuals, like telephone numbers, because you don't want to violate any rules regarding the Telephone Consumer Protection Act.
Build Partnerships
A great way to network and advertise your business is by building relationships with other businesses in the community with whom your products relate to one another. For instance, if you own a smoothie shop, or juice bar, partner up with a local yoga studio or gym that you'll likely share customers with. Offer discounts to promote each other's business as a way of reaching more people in the community.
Get Involved
Customers who see that your business is actively involved with charitable events might benefit you by creating a positive reputation. Have your employees participate in events in the community since they will act as representatives of your business. You could also donate products to a worthy cause because it's likely you will recoup profits by gaining that much back in free advertising.
Though it isn't entirely free, becoming a sponsor to local school clubs and sports teams could create a large opportunity for your restaurant's name to reach groups of people in the community. Elementary, middle, and high school sports teams need the financial support, and in return your logo, brand, and name will be displayed on baseball jerseys, signs, and banners, where crowds of people are likely to turn out.
Social Media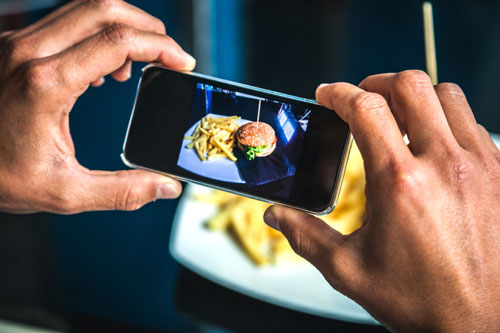 The largest and most widespread way that restaurateurs can advertise their business for free is by participating in social media. It is estimated that one out of every four people uses social media daily, and that 4.2 billion of those users access this information directly from their hand-held devices. Restaurant owners should select just a few social media sites to get started with, and spend their time focusing on quality posts, conversations, and ways in which to foster engagement with customers. Some of the best ways to market your restaurant for free are with the following social media strategies:
Facebook
Known as the largest social network, Facebook accounts for 23.39% of all Internet traffic. It allows anyone, including business owners, to create their own page describing content about themselves, pictures, videos, and updates, as well as being able to generate relationships with other users. Facebook even gives you free analytical information about how well your status updates and links are ranking so you can visually see how well your business is reaching others.
Tip- Design a Facebook page that includes a strong cover image which is the first thing visitors will see upon arrival to your page. Change this image frequently to correspond with holidays, seasons, events, and other promotions that you want your restaurant to show off.
Tip- Create exclusive offers to customers that can only be used if they "do" something for you, such as "liking" your Facebook page, following you, or mentioning you in a post. In return, patrons could be rewarded with a coupon to you restaurant, and each time they log on to Facebook they will be connected with your business.
Twitter
According to the IACP Center for Social Media, there is more than two billion searches on Twitter each day. Make sure your restaurant is next by joining this online community that enables users to post updates with 140 characters or less. Promote your events, menu items, and specials using Twitter since it doesn't take much time for users to read.
Tip- Create a unique hashtag to use on posts that will help customers find you in the future. Ex. #ThePubHouse or #MamasItalianBistro
Tip

- Use Twitter to take advantage of posting visual content since you are capped at a 280 character limit. Post pictures of weekly events, new signature dishes, or flyers promoting specials.

Tip- Strategically send out posts at times of the day when people might be the most hungry. Breakfast, lunch, dinner, and late-night hours are popular times that customers might be looking for something to eat. Don't have the time to dedicate to this? Programs such as Hootsuite and Tweetdeck allow you to schedule and monitor tweets ahead of time, saving you time to work on other projects!
Pinterest
Much like a corkboard, Pinterest lets users "pin" their favorite findings on the web through the use of links and images. It's not surprising that food is the top-ranked category on Pinterest since many users go here to find recipes and culinary inspiration.
Tip- Search Engine Optimization is essential when gaining a presence in social media. The more descriptive your pins, titles, and descriptions are, the more likely they will be found when users search for you.
Tip- Share links and images that are industry-related to your restaurant. If your business specializes in farm-to-table ingredients, post pins that link to local farmer's markets.
Tip- It's also helpful to create boards that break down the categories on your menu, such as appetizers, signature salads, and entrées. Take pictures of each of these items so future customers will be able to see exactly what you have to offer.
Instagram
If a picture is worth a thousand words then Instagram would be a library. This mobile photo app instantly lets you share filtered and enhanced images with followers. 90% of users 35 and younger participate in Instagram daily, which is a great campaign opportunity to use if your target market is within that demographic.
Tip- Motivate followers with photo contests that they can easily enter just by tagging your restaurant in their Instagram posts. Tempt customers with prize packages they could win by taking a picture of themselves with items that you want to promote the most!
Tip- Include a link in your Instagram profile to your website and other social media accounts you use.
Lead customers into your restaurant with these free marketing and advertising strategies that are sure to increase your presence in the community and on the web. Try tactics like hosting events, joining your local chamber of commerce, and engaging with customers which are all great ways to publicize your restaurant. Since 46% of Internet users depend on social media to influence their decision when making a purchase, it's now more important than ever to become involved with this free form of PR.
---