How to Start a Donut Shop
Last updated on 9/23/2020
Donut shops are a staple of many people's morning routine and can be found in towns across the world. Whether you're stopping in for a midday snack or grabbing your morning coffee, donut shops are a quick and convenient way to grab food and drinks on the go. Studies have shown that of all the treats we buy, donuts are the most popular baked good in the United States.

Shop All Donut Shop Equipment
Continue reading to learn all about the process of opening your donut shop.
Click any of the tips below to read the section that interests you:
How Much Does it Cost to Open a Donut Shop?
The cost of opening your own donut shop can vary depending on many factors, fees, and expenses. In general, it's reported that an initial investment in a donut shop can range from $10,000 to $15,000. However, this number only accounts for equipment, supplies, and initial rent. You'll also have to account for hiring staff and other additional expenses.
How Much Can a Donut Shop Make?
It's reported that the average bakery makes $577 per day. A small location in a popular location can make up to $150,000 in profit annually. Furthermore, it's important to keep in mind that sales can fluctuate seasonally. Sales start slow in January as people try to stick to their New Year's resolutions and avoid sweets, then slowly increase as summer approaches. Then, they'll likely stagnate or stay at a relatively fixed rate until the fall and winter months roll around, where you're likely to see a sharp increase in profits.
---
How to Open a Donut Shop
If you're considering opening a donut shop, we've created a comprehensive guide that walks you through the steps required to establish your shop so that you can make an informed decision on how to get started.
1. Create a Business Plan
Your first step should be to write up a donut shop business plan. Business plans are important not just for keeping track of what tasks you need to complete, but for showing potential financiers or banks that you are worth their investment. Along with summarizing your company and understanding of the market, you'll want to clearly lay out your ownership structure, marketing strategy, and financial projections.
For additional information on how to write a business plan, check out our piece on how to write a bakery business plan.
2. Investigate Buying a Donut Shop Franchise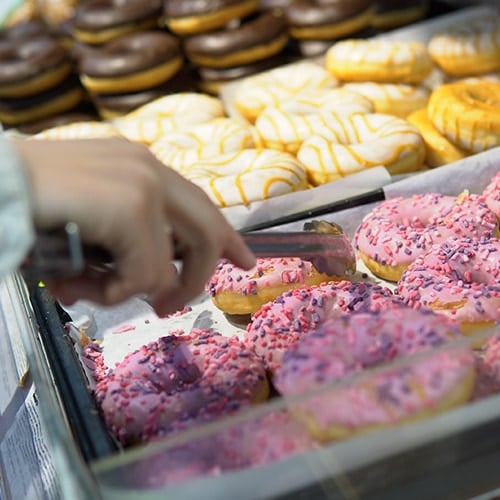 Franchises are regionally or nationally recognized brands that operate many stores across the globe. A franchise store is created when a person, known as a franchisee, is given permission to use the franchise's name and business model. They'll have to pay a monthly or annual franchise fee in addition to other expenses. However, they'll benefit from the company's brand recognition.
Krispy Kreme Franchise Cost: The cost of opening a Krispy Kreme franchise is valued at anywhere from $275,000 to $1,900,000. Every potential franchisee is expected to have $300,000 of liquid capital available and must pay a franchise fee of $25,000.
Dunkin' Franchise Cost: The cost of opening a Dunkin' can range from as low as $109,700 to as high as $1,637,700, and your chances of getting your own franchise are dependent on your market, experience, passion, and resources. Dunkin's five-step process for becoming a franchisee includes submitting an application, presenting a business plan, a financial review, approval, and finally a grand opening. Furthermore, they require that every store be 1,200 to 2,600 square feet, have a drive thru, contain 3 parking spots for every three seats, and feature high visibility from major arteries.
Duck Donuts Franchise Cost: Duck Donuts' initial franchise fee is $40,000, though it's possible to get a discount when purchasing multi-unit options. It's estimated that you'll pay between $353,350 to $573,000 in costs while opening a Duck Donuts franchise. This includes the cost of construction, equipment, signage, and initial advertising. They also require a minimum of $150,000 in liquid funds and $500,000 net worth to financially support opening a franchise.
3. Determine the Cost of Opening a Donut Shop
The cost of opening a donut shop is dependent on several factors. When calculating how much money you'll need, it's important to take into account what kind of donut shop you want to open, how much space you'll need, where you want to open the shop, and how to start getting customers in the door. Consider the following factors before you decide on how you spend your money.
Renting a Retail Space: When deciding on a space to rent, keep your needs in mind. Ask yourself important questions such as if you'll need a drive-thru, how much seating you'll need, what your preferred kitchen size is, and if you'll need access to parking.
Cost of Rent: The cost of renting a commercial property is typically measured by square foot. This can range from as low as $10 per square foot or as high as $30 per square foot depending on the location.
Cost of Equipment: The average cost of purchasing equipment for a donut shop is estimated at $15,000.
4. Obtain Funding for Your Donut Shop
Once you've created a business plan and determined what kind of donut shop you want to open, it's time to acquire financial capital. Unless you're fortunate enough to have a few hundred thousand dollars lying around, chances are you'll need to find outside sources of income. Your options for financing aren't limited, and there are plenty of options for a variety of different situations.
Traditional Bank Loans: Traditional bank loans involve taking out a set amount of money and paying it back over a fixed period of time.
Business Line of Credit: A business line of credit functions like a hybrid between a loan and a credit card. You'll have access to a large amount of money that can be used towards expenses such as repairing equipment and advertising campaigns.
Small Business Loan: Small business loans are loans available through the U.S. Small Business Administration for the purpose of helping entrepreneurs establish and grow their businesses successfully.
Crowdfunding: Finding funding through sites like GoFundMe can be an effective tool for new business owners. Supporters can donate money towards your cause and help you quickly and efficiently get the funds you need.
Equipment Loans: Equipment loans can be useful for getting quick money to repair or upgrade the equipment in your donut shop.
Business Credit Card: Business credit cards are similar to personal credit cards, but they aren't for personal use. Not only can they help you increase your credit score, but they're effective for paying off smaller expenses rather than taking out a larger loan.
5. Invest in Donut Making Equipment
One of the most important parts of operating a donut shop is having the necessary equipment and supplies. How much equipment you'll need depends on your projected business volume and available kitchen space, but there are a few necessities that every donut shop must have.
Donut Shop Equipment
Ovens: An oven is one of the most essential parts of any kitchen. You'll need one to bake donuts in your kitchen.
Fryers: Most traditional donuts are prepared in a fryer, which helps to keep them stay crisp on the outside and fluffy on the inside.
Mixers: Invest in a mixer to efficiently blend all the ingredients you need for your donut batter
Proofers: Using a proofer allows the dough you prepare to release carbon dioxide, which helps to create air bubbles and a fluffy texture. Underproofed dough will deflate, which negatively affects its texture and taste!
Donut Making Tools: Donut making tools are essential for forming and decorating your donuts. Some popular donut making tools include donut cutters, fondant cutters, and dough scorers.
Cooling Racks: Cooling racks are helpful for giving your donuts a place to cool off once they're removed from the oven.
Refrigerators: The refrigerator is one of the most essential parts of any kitchen. It keeps your ingredients fresh and helps to prevent certain foods from spoiling.
Front End Equipment
Cash Register
Bakery Display Cases
Menu Boards
Restaurant Signs
6. Create a Donut Shop Menu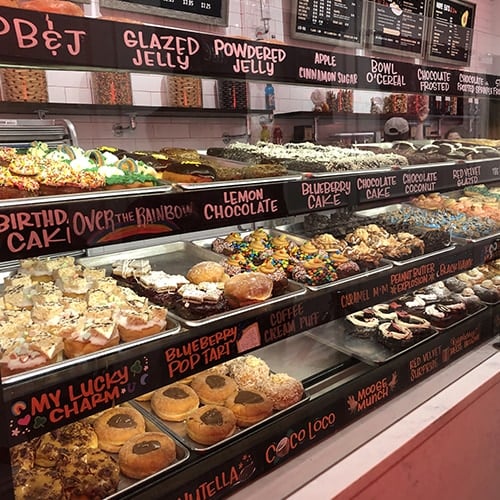 Creating a menu is important and can be a difficult task. An effective menu allows guests to easily find what they want, while a bad menu might confuse them and drive away sales. Consider featuring some of these donut shop favorites on your next menu:
Donuts
Donut Holes
Muffins
Bagels
Breakfast Sandwiches
Donut Shop coffee
Tea
Smoothies
What Is Donut Shop Coffee?
Donut shop blend coffee is a light roast coffee that shares similar traits with other breakfast blends. It's a light roast coffee made from the Arabica bean, and its mild taste is perfect to blend with other flavors. Donut shop coffee is highly caffeinated, making it the perfect pick-me-up to go along with a light breakfast before starting the day.
7. Start Advertising Your Donut Shop
You won't be running a successful donut shop if you can't get customers in the door. Advertising can let potential customers know there's a new shop opening near them and start to generate excitement for your grand opening.
Marketing costs can vary depending on what methods you decide to use, what your goal is, and what kind of business you run. The average small business spends roughly 1-2% of its revenue income on advertising. Specifically, specialty food stores paid 1.88% of their annual income, while restaurants and other eating places paid 1.93% of their annual income.
For additional information, take a look at our article on bakery marketing strategies.
8. Hire and Train Your Staff
Once you've established what your donut shop is going to be and how it will operate, it's time to start hiring staff. The right staff can help your shop operate efficiently and create a positive environment for anyone who visits. As an employer, you won't just be responsible for paying your employees, but for training them and keeping track of important records. Below, we've listed some factors that might influence how you go about the hiring process.
Know How Many Employees You'll Need: This can vary depending on the size of your shop and the volume of customers you see. Having too few employees can make it difficult to quickly and efficiently fill orders, while having too many employees can be costly and increase the amount of disorganization in your shop.
Keep Training in Mind: Each employee is going to have different work experience from the next, so it's important to come up with a strong training plan that prepares each staff member for their position. A successful training program also improves your employee retention rate. Make sure each employee is trained to work the cash register, both in the shop and at your drive-thru, as the point of sale is one of the most important parts of any business. Try keeping a strong focus on customer service and how to handle money. Furthermore, develop a training for donut making techniques, such as how to prepare dough, what goes into cutting donuts, and how to keep each donut looking uniform with the others. Additionally, you'll want to train your staff on how to operate the equipment in your kitchen, including the oven and fryer.
Keep Track of Records: As an employer, it's your responsibility to stay organized and keep records of every employee's information. Maintaining accurate tax records is essential for tax season, as each employee will have to receive a W-2 form. Furthermore, it's important to keep track of key dates so that you never fall behind on deadlines.
9. Host a Soft Opening
Now that all the hard work is done, your finances are accounted for, and you've found a place to call your own, it's time for the final step in the process. Before your grand opening, you'll want to host a soft opening for your new donut shop. For those who might be unfamiliar with the concept of a soft opening or why it's important, here's why they are essential for every new small business.
Create Awareness: A soft opening might only be limited to a small number of people, but it can create word-of-mouth buzz surrounding your new shop. You won't have to serve your entire menu, but featuring some highlights of the best you have to offer can generate excitement for your grand opening.
Consider it a Dry Run: Hosting a soft opening can give your employees a taste of what their day-to-day work life is going to be like. They'll work as they would in a normal setting, only with fewer people to tend to. Additionally, you'll be able to find out what's working and what isn't ahead of the big day.
Create Repeat Customers: If you can impress the people invited to your soft opening, there's a strong chance they'll want to come back once you're fully open for operations.
Opening a donut shop might seem like a monumental task due to the financial and operational obligations. However, if you follow the steps we've listed above, you can guide yourself through the process and successfully open up your dream location!
---