Types of Donuts
Last updated on 1/27/2021
Before you can start a donut shop, you must choose the types of donuts you want to offer. By definition, donuts are small, fried, sweetened dough cakes, typically shaped into a ring or ball. You can classify the many cultural and regional donut varieties within one of 10 distinct types. We've created a guide to help you understand each donut category and expose you to the varieties they contain. From international delicacies to standard donut shop fare, feast your eyes on a wide selection of donuts. We've also provided a printable donut infographic below for easy reference.
Shop All Donut Shop Equipment
Donut or Doughnut?
Doughnut is the original spelling used to describe America's favorite baked good, whereas donut is an abbreviation. Most modern dictionaries include both doughnut and its shortened variant, donut. The term doughnut was first published in 1809 in Washington Irving's History of New York. As legend has it, the first doughnuts were balls of fried dough with nuts in the middle, granting them their very literal namesake. The simplification of doughnut to 'donut' became popular in the mid-20th century. The abbreviated term 'donut' is easier to market, list on menus, and fit onto signage, making it the preferred spelling for commercial donut shop branding.
Click any of the types of donuts below to read the section that interests you:
1. Yeast Donuts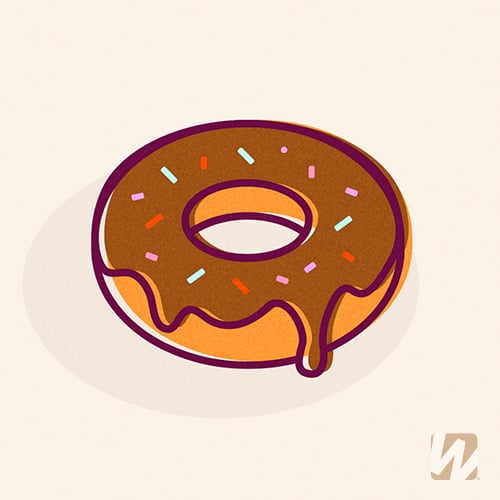 Yeast donuts are fried dough products, distinguished from chemically leavened donuts by their use of yeast leavening agents. They're known for their porous structures and melt-in-your-mouth consistencies — produced by the yeast and the air incorporated when they're mixed.
Characteristics of Yeast Donuts
Yeast-leavened
Porous crumb structures
Airy consistencies make them the ideal filling donuts
How to Make Yeast Donuts
You can make yeast donuts using either the straight dough or sponge dough system. To follow the simple straight dough method, mix all your ingredients together in one mixing session, and then allow the dough to rest/ferment for at least one hour.
After your yeast dough has fermented, heat your frying oil within the range of 375-385 degrees Fahrenheit. While your oil is heating, cut your dough into the shape you prefer, and then partially submerge each piece in your frying oil. Because they have an airy structure, the donuts will float.
Once cooked, remove your yeast-raised donuts and add the topping and/or filling of your choice. You can apply glazes to your yeast donuts while they're still hot, but wait to apply thicker icings or inject fillings until after they've cooled.
Types of Yeast Donuts
From international varieties to donut chain favorites, discover the many interpretations of yeast-raised donuts below.
Glazed Donut - A yeast-raised, ring-shaped donut coated in a powdered sugar glaze is the most popular type of glazed donut and is what customers will expect to receive if you list 'glazed donut' on your menu. However, countless leavening agents, shapes, and glazes can make a glazed donut. So, if you forgo the classic, make sure you choose a descriptive name for your glazed donut.
Malasadas - Portuguese Malasadas are small, round yeast donuts that use evaporated milk to achieve rich and pillowy textures. Coat them in granulated sugar or a cinnamon-sugar mix before serving. Malasadas are the treat of choice for Fat Tuesday in Hawaii, where local bakers fill them with haupia (Hawaiian coconut pudding), guava, and lilikoi (yellow passion fruit).
Honey Buns - Honey buns are made from honey-cinnamon, yeast-raised dough. Bakers form honey bun dough into the same swirled shape as a cinnamon roll before frying and topping their honey buns with a glaze or icing.
Tiger Tail Donut - Tiger tail donuts are composed of two yeast dough strips: one of chocolate and one of vanilla. Bakers twist the strips together, fry them, and coat the resulting donut in a honey glaze.
Chocolate Yeast Donut - A yeast-leavened chocolate donut provides the same airy chew as a vanilla/plain yeast donut with the added richness of the chocolate.
Back to Top
---
2. Cake Donuts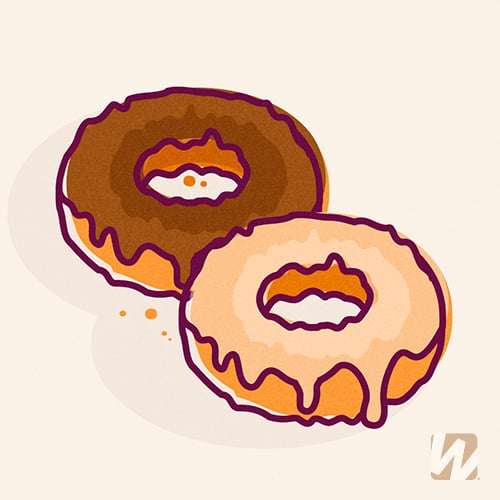 Donut shops make cake donuts from sweet dough leavened by a chemical leavening agent such as baking powder or baking soda. Cake donuts have moist, crumbly interiors that are dense like Bundt cake or airy like a wedding cake. A cake donut's sturdier crumb structure (as compared to a yeast donut) makes it the ideal vessel for heavy frostings and gourmet toppings.
Characteristics of Cake Donuts
Leavened by a chemical leavening agent
Dense, moist, crumbly interior
Sturdy crumb structure, ideal for heavy frostings/toppings
How to Make Cake Donuts
There are two methods for making cake donuts: piping and rolling. We explain each cake donut-making method below.
How to Make Cake Donuts by Piping:
You can make cake donuts from loose, chemically leavened batters by piping the batter into a round or donut mold. Usually, you will cook piped cake donuts by baking them. However, you can also pipe your cake donut batter directly into frying oil.
How to Make Cake Donuts by Rolling:
You can make cake donuts from firm, chemically leavened dough by rolling your dough out, cutting it into donut shapes, and then either baking or frying them.
Types of Cake Donuts
Cake donuts are a nostalgic, Americana breakfast item. Discover the most timeless types of cake donuts below.
Old Fashioned Donut - An old fashioned donut is a type of cake donut made through the piping method; it comes from a loose cake batter pipped into hot oil. American's identify them by their irregular shapes and crispy outer layers.
Apple Cider Donuts - Apple cider donuts are a type of cake donut that incorporates generous quantities of apple cider, cinnamon, and (occasionally) applesauce into their dough, making them the quintessential Fall treat.
Sour Cream Donut - Sour cream donuts are a type of piped cake donuts with sour cream mixed into their batter. Donut shops often top their sour cream donuts with a vanilla-flavored glaze.
Mahua Cinnamon-Sugar Twists - Mahua, also known as fried dough twists, are braided strips of chemically raised-, honey-infused-, peanut oil fried dough. Mahua is a classic Chinese donut with origins tracing back for thousands of years. They are one of the signature foods of the northern Chinese city, Tianjin.
Blueberry Cake Donut - A blueberry cake donut is a type of rolled cake donut loaded with fresh blueberries. Typical blueberry cake donut toppings include buttermilk glazes, sugar glazes, and confectioners' sugar.
Red Velvet Donuts - Red velvet donuts are piped cake donuts modeled after the beloved layered cake. Donut shops use food coloring to dye their red velvet cake donut batter red and use ingredients such as cocoa powder, vanilla, and buttermilk. Once fried/baked, they're topped with cream cheese frosting.
Devil's Food Donut - Devil's food donuts are a type of piped cake donut that uses cocoa powder to create a chocolaty confection. Donut shops coat their traditional Devil's food donuts in a powdered sugar glaze. They double the decadence of classic varieties by topping them with Devil's food cake crumbles, creating "Devil's food crumb donuts".
Back to Top
---
3. Donut Holes
Donut holes are bite-sized, round donuts. Americans make donut holes from the discarded dough of ring-shaped donuts. At first, selling donut holes was an effortless way for American donut shops to reduce food waste and enhance their profits. However, donut holes are so beloved, some bakeries create them outright. Other cultures have their own fried, bite-size round donuts that fall under the donut hole category but hardly resemble American varieties.
Characteristics of Donut Holes
Bite-size
Round
Cake or yeasted
How to Make Donut Holes
You can make the type of donut holes sold at American donut shops by forming small, yeast-raised dough balls (usually made from the discarded center of a ring-shaped donut), frying them, and adding the desired glazing/topping. Because of their reduced size, you only need to fry donut holes for approximately 3 1/2 minutes. Follow this same practice to make cake donut holes from the discarded centers of ring-shaped cake donuts.
Types of Donut Holes
Discover the world's best bite-size, round donuts below.
Zeppole - Zeppole are Italian fried dough balls topped with powdered sugar, measuring approximately 4 inches across. Some bakers fill their Zeppole with a cannoli-style pastry cream, jelly, honey butter, or custard.
Loukoumades - Loukoumades are Greek bite-size, fried dough delicacies characterized by their crispy, golden exteriors and soft, airy interiors. Soak your deep-fried Loukoumades in hot honey syrup, sprinkle chopped walnuts on top, and garnish with cinnamon before serving.
Nun's Puffs - Nun's Puffs are small French donuts made of rich, rummy choux dough measuring 1 1/2 inches across. Nun's puffs are rolled in sugar (and sometimes, cinnamon) before they're served. While they're eaten year-round, Nun's Puffs are the treat of choice during Mardi Gras in France, making them the predecessor of the New Orleans beignet.
Back to Top
---
4. Long John Donut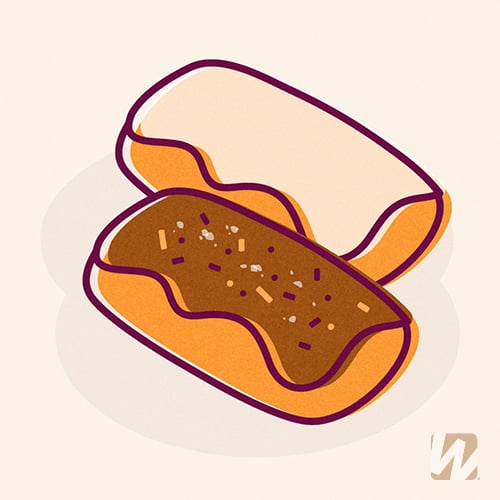 A Long John donut, affectionately nicknamed "longie", is a yeast donut characterized by its oblong shape. Long Johns are coated in a glaze or icing, and you can fill them with custard, pudding, or creme. 'Long John' is the most popular name for unfilled oblong donuts in the Midwestern United States and Canada, where they usually call filled varieties "cream sticks". However, other regions have their own preferred titles. Donut shops in the Mid-Atlantic/Southern US often market oblong donuts as donut eclairs (or just eclairs). The Western region classifies them by the name of their icing/filling plus the word bar (ex. chocolate bar, maple filled bar, etc.).
Characteristics of Long Johns
Yeasted dough
Oblong shaped
Filled or unfilled
Types of Long John Donuts
No matter what you call oblong donuts in your neck of the woods, these are the fillings and flavors best suited to these plus-sized fried treats.
Maple Bar - Maple bars are oblong, yeast donuts with a maple glaze. The term maple bar is most popular on the American West Coast. The American Midwest markets these donuts as maple Long Johns.
Chocolate Long John - Chocolate Long Johns are oblong yeast donuts with a chocolate glaze. They are often called chocolate bars in the western parts of the US.
Cream-Filled Long John - Cream-filled Long Johns are oblong yeast donuts infused with cream, custard, or pudding. Most often, donut shops top cream-filled Long Johns with a chocolate glaze, but they can also have a maple glaze. The American Mid-Atlantic and South often market cream-filled Long Johns as eclair donuts, because of their resemblance to the French pastry.
Maple Bacon Bar - Sweet and salty at its finest, a maple bacon bar is just as it sounds: a sweet maple Long John topped with bacon crumbles. Popularized by Voodoo Donuts in Portland, Oregon, maple bacon bars have become a donut shop menu staple across the United States.
How Many Calories in a Long John Donut?
Because they are larger than their round donut counterparts, Long John donuts are also higher in calories. On average, an unfilled maple Long John donut will ring up 320 calories, and a chocolate cream stick will come to 460 calories. To put this into perspective, round maple glazed donuts come to 240 calories, and chocolate iced/custard-filled, round donuts average at 300 calories.
Back to Top
---
5. Spudnuts aka Potato Donuts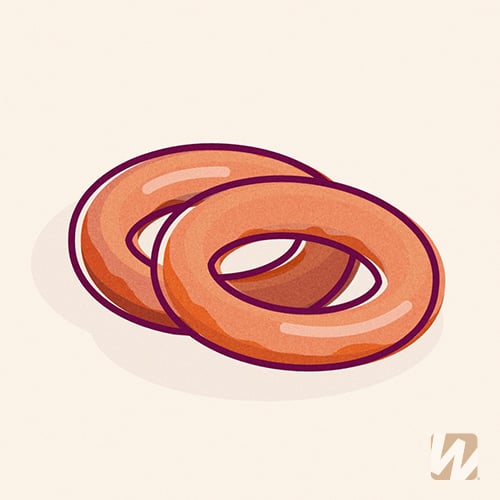 'Spudnuts' is an affectionate nickname for donuts that have their flour content reduced by mashed potatoes or potato starch. Spudnuts are typically yeast-raised, and they are a moist, fluffy alternative to chewy, all-flour donuts. From Southeast Asia to South America, potato donuts have captured hearts worldwide.
Characteristics of Spudnuts
Replaces/partially replaces flour with potato
Typically yeasted
Moist, fluffy, melt-in-your mouth consistency
Types of Spudnuts
Discover the most exotic and beloved spudnut varieties below.
Picarones - Picarones are Peruvian donuts made from sweet potatoes and pumpkin. Traditional picarones are infused with Pisco (Peruvian brandy) and served with warm Chancaca, a sweet sugarcane sauce flavored with orange peel and cinnamon.
Fastnachts - Fastnachts are heavy, yeast-raised potato doughnuts shaped into squares or triangles. Fastnachts are an Easter tradition in Pennsylvania Dutch country prepared on Fat Tuesday before the start of the Lenten season.
Kuih Keria - Malaysian Kuih Keria are vegan-friendly, sweet potato donuts. Kuih Keria's three-ingredient dough is formed into rings, deep-fried, and topped with a flaky sugar glaze.
Maine Potato Donuts - Maine potato donuts' dough has a creamy, tangy flavor produced by mashed Yukon Gold potatoes, freshly grated nutmeg, and buttermilk. Maine potato donuts are cut into rings, fried, and tossed in cinnamon sugar. They're beloved throughout New England and best served hot.
Graffe Napoletane - Graffe Napoletane, a Neapolitan Carnevale staple food, are yeast donuts with creamy mashed potatoes and zesty citrus in their dough. Some Graffe Napoletane recipes incorporate limoncello into their dough, and all recipes call for caster sugar coatings.
Back to Top
---
6. Cruller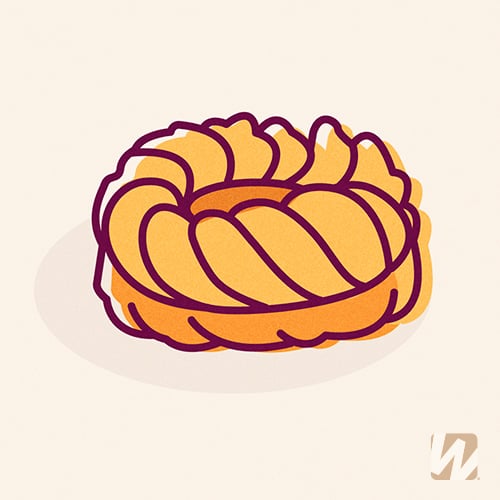 Crullers are characterized by their twisted/fluted shapes achieved by piping rich batter into a fluted mold or hand twisting sweetened dough strips together. Crullers exist in many forms throughout the world, and US regions reinterpret them in unique ways. Technically, the most renowned version of the cruller, the French cruller, is a fried pastry. However, there are cruller traditions from China, Denmark, and Germany as well. Dutch and German settlers brought their cruller recipes to America, where they have since grown and developed into US regional delights and donut shop favorites.
Characteristics of Crullers
Most crullers feature twisted/curled/fluted shapes
Midwestern crullers are bar-shaped
Egg-heavy, custard taste, and smooth, buttery consistency
How to Pronounce Cruller
The phonetic pronunciation of cruller is "kruhl-er".
Types of Crullers
We clarify the niches and distinctions between cruller varieties below.
Cruller Donuts - Cruller donuts found throughout the US and sold at popular donut chains are typically dense cake donuts formed in a ridged/fluted mold.
French Cruller - Technically, French crullers are not donuts. French crullers are pastries made from stiff choux dough piped into circles, fried, and glazed. It's common for American donut shops to create their own cruller donut varieties or label French crullers as donuts.
Youtiao - Youtiao, also known as Chinese fried dough or Chinese crullers, are long strips of golden fried dough twisted together so patrons can easily tear them lengthwise into two pieces. Youtiao are lightly salted and served for breakfast in China and other East and Southeast Asia countries.
Dutch Kruller - Pennsylvania Dutch immigrants brought their kruller recipes to America in the late 1700s. The Dutch krullers you'll find in modern New England and Canada are made by cutting the dough into rectangles, slicing the rectangles down the middle, and braiding the pieces to create a twisted pastry. A Boston reporter once described a New England kruller as "a small, braided torpedo."
Milwaukee Cruller - In the 1800s, Milwaukee received an influx of German immigrants who brought their cruller recipes with them. Unlike airy French crullers, German crullers are made with buttermilk and are dense, rectangular donuts with doughy, melt-in-your-mouth consistencies.
Back to Top
---
7. Gourmet Donuts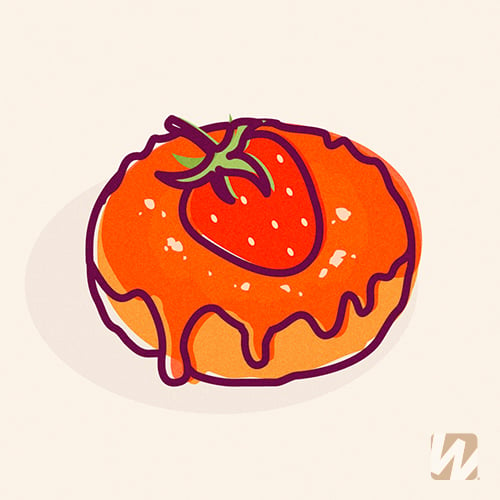 Gourmet donuts are unique, complex, and artful donuts that subvert expectations and attract social media attention. Times and taste buds have changed since the army sent donuts to soldiers on the Western Front of WWI because they were an ingredient-efficient, quick-to-consume snack. Modern patrons will pay extra for fusion donuts that merge their favorite desserts into one, offer elaborate presentations, and deliver complex flavors.
Characteristics of Gourmet Donuts
Fuses donuts with another dessert
Uses gourmet ingredients
Complex consistencies
Types of Gourmet Donuts
Discover the gourmet donuts that will set your donut shop apart.
Beignet - Made famous by New Orleans, beignets are deep-fried, pate a choux dough squares served hot — after they're sprinkled with a generous amount of powdered sugar. Pate a choux dough puffs when it's fried, yielding pillowy, melt-in-your-mouth donut pockets.
Cronut - A cronut is a cross between a croissant and a donut. Cronuts have buttery, laminated dough layers like croissants and are fried like donuts. They can be sugar-tossed, glazed, or filled.
Apple Fritter - Apple fritters are a batter-based donut loaded with fresh apple pieces and cinnamon. Bakers often coat their apple fritters in a simple sugar glaze, but some choose to roll them in cinnamon sugar instead. You can create gourmet fritters such as banana fritters, elderflower fritters, and peach fritters using the same preparation.
Mochi Donut - Mochi donuts, nicknamed "Pon de Ring", are made with sweet, glutinous rice flour and have stretchy, chewy textures. Before deep-frying the mochi donuts, bakers form the dough into eight dough balls and connect them in a ring. We suggest borrowing ideas from bubble tea shop menus and creating gourmet icing flavors such as matcha, honeydew, coconut, Thai tea, mango, or taro.
Sourdough Donuts - Sourdough donuts are leavened with a sourdough starter, yielding donuts with delicate crusts, fluffy chews, and a zippy tang. Any topping or icing can grace a sourdough donut, but we suggest choosing a simple cinnamon-sugar coating or powdered sugar glaze that will add sweetness without distracting from the sourdough leavening agent's flavor.
Brioche Donuts - Bakers make brioche donuts with buttery brioche dough, and the donut's fluffy texture balances its richness. Brioche donuts preserve the melt-in-your-mouth goodness of traditional yeast donuts while borrowing the tender chew typically offered by cake donuts. Fill, top, and coat brioche donuts with ingredients that befit their decadence.
Back to Top
---
8. Healthy Donuts
As the public grows increasingly health-conscious, the foodservice industry has shifted towards wholesome ingredients, plant-based alternatives, and lightened versions of classic comfort foods. To remain relevant and competitive, donut shops should offer healthy donut options that accommodate dietary restrictions.
Characteristics of Healthy Donuts
Accommodates dietary restrictions
Uses organic ingredients
Reduces calories contents
Types of Healthy Donuts
Bakers make these popular healthy donuts by reducing calorie contents, using organic ingredients, and eliminating common allergens and/or animal products.
Back to Top
---
9. Filled Donuts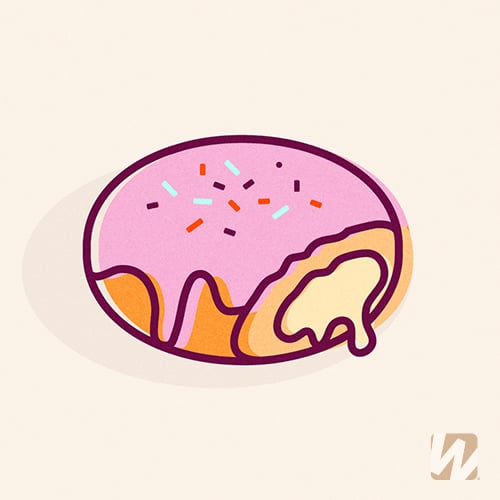 In most cases, filled donuts are yeast-raised donuts injected with cream, curd, or jelly. The airy nature of yeast donuts provides space for fillings to occupy, and their light consistencies nicely contrast thick custards and sugary fruit fillings. You can fill chemically leavened donuts, but it's far more labor-intensive. Because of their density, chemically leavened donuts must have their filling layered into their dough/batter before they're cooked; a process that mirrors the steps you would take to stuff a brownie.
Characteristics of Filled Donuts
Typically yeast-raised
Round shaped with no hole
Injected with creams and fruit preserves
Types of Filled Donuts
Eaten year-round or to celebrate specific occasions, discover scrumptious filled donuts from across the globe.
Paczki - Paczki are Polish, filled donuts served on Paczki Day (Fat Tuesday) as a rich indulgence before Lent begins. Paczki's extremely rich yeast dough is heavy on eggs and butter and usually incorporates grain alcohol. Bakers typically fill Paczki with fruit preserves such as plum, raspberry, apricot, and rosehip. However, you can also fill them with sweet cheese or cream. To uphold tradition, roll your Paczki in powdered sugar after they're fried.
Boston Cream Donut - A Boston cream donut is a yeast-leavened, round donut filled with vanilla custard (egg yolk, cream, and sugar) and frosted with chocolate. The Boston cream donut is the descendent of the now-famous Boston Cream Pie (circa 1881), which was originally served with a brush of rum syrup. To honor its namesake, brush your Boston cream donuts with rum syrup.
Berliner - A Berliner is a filled yeast donut made with generous amounts of eggs, milk, and butter. Named after its regional origin of Berlin, Germany, this donut's classical variety, Berliner Pfannkuchen, is deep-fried in lard and filled with jam. Berliners' toppings coordinate with their fillings: brush plum-filled Berliners with butter and powdered sugar, roll raspberry, strawberry, and cherry-filled Berliners in caster sugar, and glaze all others with a rum-flavored powdered sugar icing. In modern times, people eat Berliners year-round, but they were first eaten in celebration of New Year's Eve, Rosenmontag, and Fat Tuesday.
Bavarian Cream Donut - A Bavarian Cream donut has a yeast donut shell filled with a mixture of vanilla bean, egg yolk, heavy cream, gelatin, whipped cream, and sugar, i.e., Bavarian Cream. In South America and Australia, it's typical to slice the donut in half and sandwich generous amounts of Bavarian Cream inside. However, we inject most Bavarian Cream donuts made in the US. Bakers either roll Bavarian Cream donuts in caster sugar or sprinkled them with powdered sugar after they're filled.
Sufganiyah - Sufganiyah are a traditional Hanukkah food, eaten in remembrance of the Miracle of Oil. They are round, jam/jelly-filled donuts topped with powdered sugar. Sufganiyah do not require a particular fruit filling, and many modern varieties swap fruit fillings for custards, puddings, and even Nutella.
Back to Top
---
10. Drop Doughnuts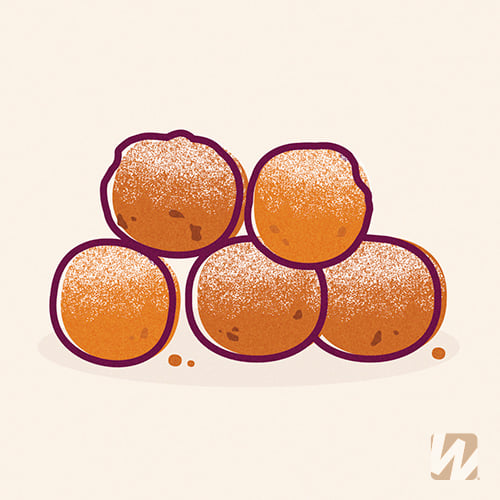 Drop doughnuts are made from a loose batter that is "dropped" from a spoon into hot oil and fried to golden, yielding a dense doughnut ball with a crispy outer layer and doughy interior. You can make drop doughnut batter with either a chemical or natural leavening agent, however, chemical yeast substitutes are more common.
Characteristics of Drop Donuts
Made from a loose batter
Golden, crispy outer layer and doughy interior
Typically chemically leavened
Types of Drop Doughnuts
While their ingredients may vary, drop doughnuts' singular dense and doughy textures created by dropping loose batters into hot oil make them the biscuits of the donut world. Get these scrumptious drop doughnuts while they're hot.
Oliebollen - Oliebollen, which literally translates to oil balls, are Dutch drop doughnuts eaten during New Year's celebrations in Holland. Bakers load oliebollen's batter with currants, raisins, and apple pieces, use a spoon to form the batter into balls, and then drop the balls in hot oil. Once they're golden brown, bakers remove their oliebollen from the oil, dust them in confectioners' sugar, and serve them to guests while they're still hot.
African Donuts - African donuts' nutmeg and orange-infused batter is scooped with a spoon and dropped into hot oil, where it cooks to a golden brown. You can roll African donuts in powdered or caster sugar, but they're delicious ungarnished. Texturally complex, African donuts are crunchy on the outside and tender on the inside.
Buttermilk Drop Donuts - Less known than the beignet but locally beloved, New Orleans' buttermilk drop donuts are the descendants of African donuts. They use nutmeg, vanilla, and (of course) buttermilk as key ingredients in their loose, sweet batter, which is dropped from a spoon into hot oil. Once the batter forms into golden brown balls, remove the buttermilk drop donuts. You can either coat them in a powdered sugar glaze or toss them in cinnamon sugar.
Back to Top
---
After learning about the ten distinct types of donuts and the many varieties each type contains, we hope you're inspired to design a creative and authentic donut shop menu. If you're ready to start making donuts, check out our Commercial Deep Fryer Guide to discover the right equipment for your needs.
---
Printable Version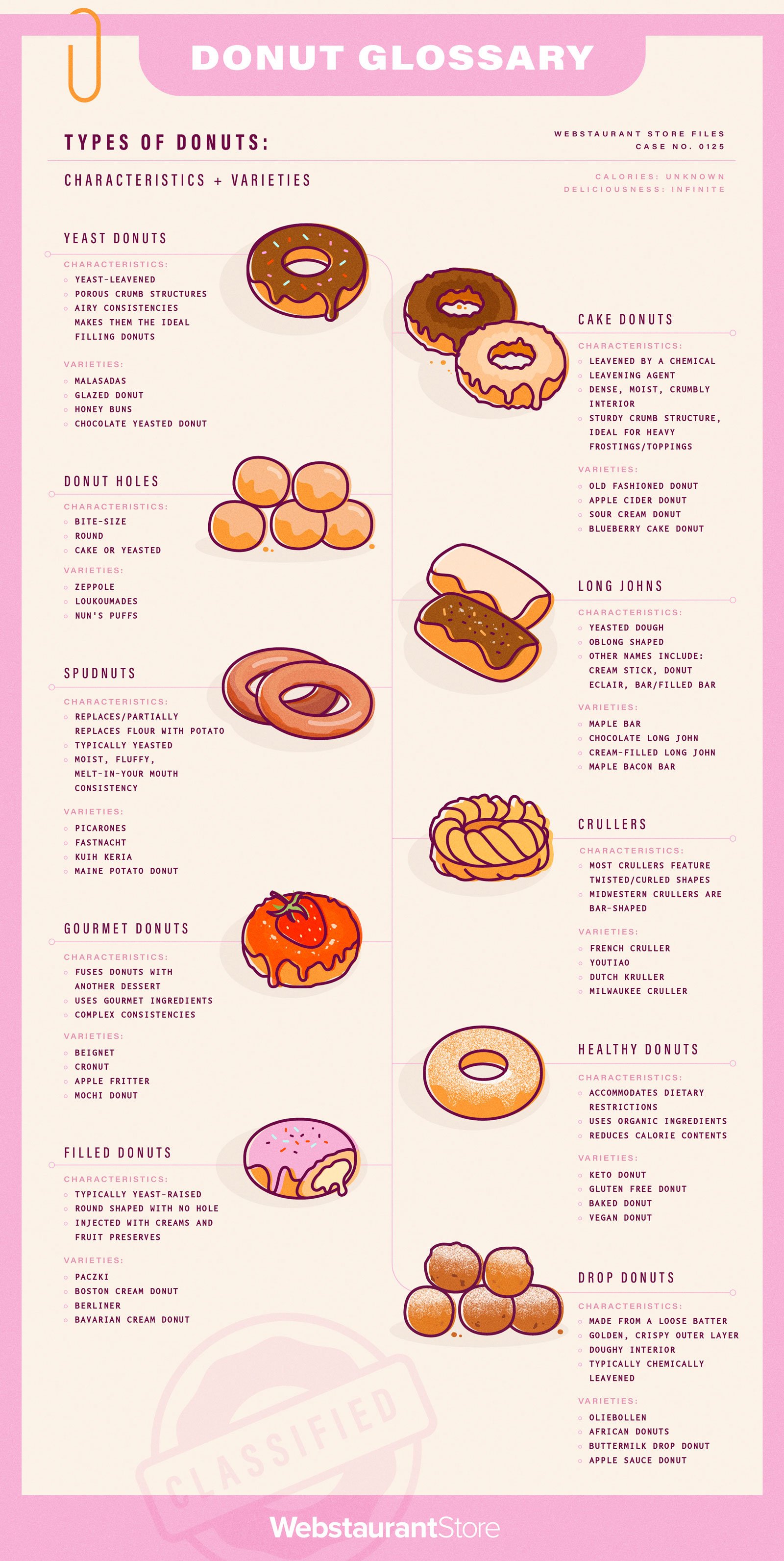 ---