How Much Does it Cost to Open a Bar?
Last updated on 8/22/2019
The cost of starting a bar varies greatly depending on your location and the type of bar you're opening, but averages show that bar startup costs are between $125,000 on the low end and $850,000 on the high end. We'll explain the reasons for this wide range and break down the individual costs to help you begin planning. If opening a bar is your dream, examining the financial aspect is the first place you should start.
Shop All Bar Supplies, Accessories, & Equipment
Cost to Open a Bar
Your total startup costs will depend heavily on whether you choose to lease or buy your space. Purchasing an existing bar is the most affordable option. These are the average startup costs for all three:
Renting or leasing - $125,000 - $550,000
Mortgage - $175,000 - $850,000
Purchase an existing bar - $25,000
Bar Startup Costs
Leasing is the most common route taken with new bar ownership. Below we break down all bar startup costs if you lease your commercial space for a small to average size bar:
Initial rent payment and building prep - $110,000
Liquor license - $4,500
Permits and insurance - $5,000
Inventory - $6,000
1. Renting Your Space
For an average sized bar, the cost of renting your space is is generally around $110,000. This includes the initial rent payments and any remodeling required. A lease agreement requires much less capital than buying a location outright and provides more freedom to play with your concept than buying an existing bar. In the unfortunate case that your business doesn't thrive, renting provides an easier exit strategy.
2. Liquor Licenses
In order to legally sell alcohol, you'll need to acquire a liquor license. The average cost of a liquor license is $4,500, but this will vary from state to state and even from county to county. For the most up to date information on the cost of a liquor license in your area, visit the website for your state's Alcoholic Beverage Control agency.
3. Permits and Insurance
Just as with opening a restaurant, you'll be required to obtain the correct licenses and permits when you open a bar. The average cost for permits is $5,000 but this will vary depending on what types of permits you need. Some permits are location specific and others are considered a standard requirement. These are examples of typical permits you'll need to open your bar:
Business License
Certificate of Occupancy
Building Health Permit
Entertainment and Music License
4. Inventory
The startup inventory for your bar will cost an average of $6,000. In addition to purchasing beer, wine, and liquor, you'll also need other bar essentials like mixers and blending equipment. This number could be much higher depending on the type of bar you choose to operate:
Brewpub - If you choose to brew your own beer, make sure to include the cost of brewing equipment in your calculations.
Sports Bar - An important component of a sports bar is the audio and visual equipment you'll need to broadcast sports games for your guests.
Nightclub/Lounge - You'll need to budget for promotions, DJ equipment, as well as a dance floor and and any special lighting.
Bar and Grill - If you plan to serve bar food, you'll also need to account for food cost in your initial inventory expenses.
Operating Costs and Overhead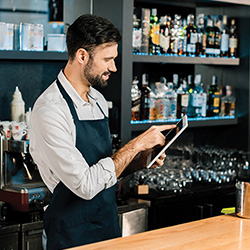 An important component of opening a bar is considering the operating costs and overhead that will be needed in addition to the startup costs. A major reason that bars fail is because they use up all their capital on startup costs and don't account for the expenses that come later. You won't start making a profit right away, so you have to make sure you have enough money tucked away to carry you through the time period when you're in the red. During every month, the average bar will incur about $20,000 in operating costs:
Staff - $13,000
Rent - $6,000
Inventory replenishment - $1,000
Total Average Monthly Costs - $20,000
How to Make a Profit
With all these expenses, how do bars make a profit? The average monthly earnings for a bar are $25,000. If you remove operating costs of $20,000 from your earnings, you're left with a monthly profit of $5,000. Take your total startup cost and divide it by your monthly earnings to see how many months it will take to get out of the red and start making a profit:
Start Up Cost ($125,000) / Monthly Profit ($5,000) = 25 Months
Just remember that you will have bad months and good months. Some months you might not make enough to cover your monthly expenses, which is why it's so important to account for your future operating costs. Exploring the financials of opening your bar is going to provide you with some key information to include in your business plan. Not only will it help you to prepare for every possible expense, it will help you to reach out to possible investors.
---