What Is a Beer Garden?
A beer garden is defined as an outdoor area where alcohol and food are served and consumed. Unlike other outdoor spaces that serve alcohol, beer gardens are surrounded by trees and other forms of greenery. Whether you're just starting a bar or are trying to convert your establishment's existing patio space into something new, opening a beer garden offers many new opportunities to your business. Beer gardens give your patrons a chance to enjoy drinking outdoors in a fun new environment, allowing your establishment to create a social and community atmosphere.
What Is a Biergarten?
In some places, you may see the word biergarten (pronounced bee-uh-gah-ten) being used to describe outdoor drinking areas. The words beer garden and biergarten are used interchangeably because biergarten is the German pronunciation of beer garden. Any mention of a biergarten is referring to a traditional German beer garden.
Origin of Beer Gardens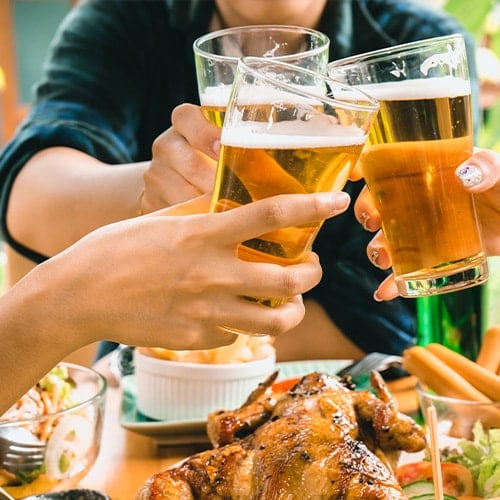 The concept of beer gardens originated in the Bavarian region of Germany during the 19th century. Local law forbade breweries from making beer during the summer months because it was seen as a major fire hazard. To deal with the new regulations, breweries expanded their cellars to hold more beer and have enough supply to last through the summer months.
To keep the temperature cooler around these beer cellars, gardens and trees were planted above ground so the shade would keep colder temperatures. Owners realized the potential of the gardens and expanded their seating to include these locations. Patrons would get beer from the cellar and enjoy it in the brewery's new garden, giving birth to the modern concept of beer gardens.
Beer Gardens in the U.S.
Later in the nineteenth century, a large wave of German immigrants brought the concept of beer gardens to the United States. Beer gardens became popular fast in the United States because they offered a stark contrast to the traditional locations of saloons, taverns, and bars one would find at the time. Rather than drinking in a dark and dreary location, beer gardens provided a much more bright and cheery spot to drink and enjoy entertainment.
Why Open a Beer Garden?
Opening a beer garden is an attractive prospect for those looking to offer something new. Establishing a beer garden at your bar or brewery opens up new seating options and results in an increased capacity. Beer gardens are also a fantastic way to establish a new identity for your venue, offering patrons an alternative to traditional bar seating.
During the COVID-19 pandemic, beer gardens were one of the top new bar trends and were vital to keeping bars and breweries open. Strict social distancing regulations meant that for some bars, beer gardens and other forms of outdoor seating were the only way to serve customers alcohol. Without opening a beer garden, many bars and restaurants would have struggled even more during the COVID-19 pandemic.
How to Open a Beer Garden
You may think that opening a beer garden is as simple as setting up some tables outside of your bar, but that isn't the case at all. To properly start a beer garden, you need to have a specific type of location and layout to promote social interaction and good times.
Beer Garden Locations
To establish a true beer garden, a particular type of location is required. A beer garden needs to be set up in a shaded area with a lot of greenery. Since the COVID-19 pandemic, many bars and restaurants have opened street seating and dubbed them "beer gardens", but these are not traditional beer garden locations.
Beer Garden Tables
The tables used in beer gardens are standard picnic tables with benches on either side. These tables are designed to be open to large groups of people, helping to promote the social environment that beer gardens look to foster. Some beer gardens may also utilize bar-height tables and chairs to seat smaller parties and fill in space.
Beer garden tables are placed close together to promote social interaction among different parties. A beer garden is supposed to be a social environment with lots of mingling, and the compact setup is a great way to cultivate that atmosphere. Communal seating at beer gardens is common, which encourages different parties of people to interact and socialize while enjoying the space.
Beer Garden Menu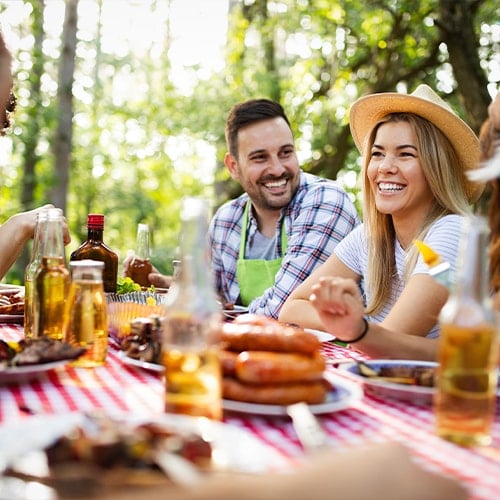 Just as important as a beer garden's location and layout are the beverages and foods that are being served. Creating a solid menu for your beer garden is vital to ensure that patrons get the maximum enjoyment out of their experience. Good food and quality alcohol can ensure that patrons frequent your beer garden and become recurring customers.
Beer Garden Beverages
To no one's surprise, the main beverage served at a beer garden is beer. Beer gardens serve specific types of beer, including local craft beer and international lagers. Patrons expect a diverse selection of beers and it's common for beer gardens to include styles with higher ABVs. Like most bars, beer gardens may also serve other alcohol like hard seltzer, wine, liquor, or hard cider, but the star of the menu is almost always the garden's selection of beer.
Beer Garden Food
When beer gardens were first started in 19th century Germany, food was not sold on the premises. Instead, patrons would bring their own food to the beer garden to enjoy with their alcohol. Although many modern beer gardens have done away with this practice, some traditional beer gardens may still allow you to bring your own food.
Today, most beer gardens serve a smattering of standard bar foods that pair nicely with beer. Some of the most common beer garden foods you'll find are snack items and fast finger foods like pretzels and nachos. However, some beer gardens may serve traditional German dishes such as knockwurst (sausage), hendl (chicken), and sauerkraut.
Indoor Beer Garden
Beer gardens are defined as outdoor spaces that serve alcohol, so by definition, an indoor beer garden cannot exist. Although an indoor establishment that serves alcohol and has a German or Bavarian theme may claim to be a beer garden, it is not truly a beer garden and is instead referred to as a beer hall. For a location to be a beer garden, it must be outside and surrounded by trees and other greenery.
---
A beer garden is a fantastic addition to just about any bar or restaurant. Not only does a beer garden allow you to expand capacity and host patrons in a new environment, but it also creates a social and community environment for all to enjoy. The trend's popularity was accelerated into prominence because of the COVID-19 pandemic, and with so many overwhelming positives, it has staying power.

Posted in:
Management & Operation
|
Bars & Breweries
| By Kevin Singhel