Designed to quench the thirst of dozens of customers, beer dispensers are excellent additions to restaurants, bars, catered events, and more. Their simple design makes them easy to use, and they have the capacity to serve dozens before needing a refill. Just like any other type of equipment, these systems require routine maintenance. In this guide, learn how to select the right dispenser for you, how to set it up, and find recommendations for upkeep and cleaning.
Shop All
Types of Beer Dispensers
Beer dispensers in general can be broken into three categories: kegerators, jockey boxes, and outdoor kegerators. Each type has unique benefits and is suitable for particular environments. Before you choose your beer dispenser, consider the following factors:
Where will you be serving beer?
How many people will you be serving?
How much space will you have?
Knowing the answers to these questions will help you to choose the right dispenser for your needs. Read more about each type and its characteristics below.
Beer Dispensers Features Breakdown
Each form of beer dispenser has its own set of features. From the method in which they are cooled, to the style of tap that they require, be sure your dispenser matches your needs prior to purchase.
| | Kegerators | Outdoor Kegerators | Jockey Boxes |
| --- | --- | --- | --- |
| Electrically Cooled | | | |
| Ice Cooled | | | |
| Outdoor Use | | | |
| Vertical Tap | | | |
| Horizontal Tap | | | |
What is a Kegerator?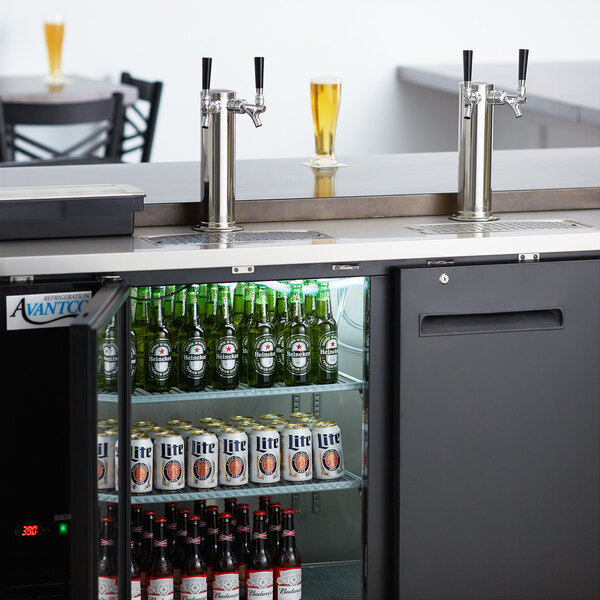 Kegerators are refrigerated beer dispensers that are designed to hold a keg or multiple kegs of beer. The term "kegerator" comes from the combination of the words "keg" and "refrigerator."
How to Set Up a Kegerator
Setting up a new kegerator will require assembling the following key components: the casters, beer dispenser, tap tower(s), faucet, regulator, CO2 cylinder, coupler, and tubing lines.
For safety, follow your kegerator's manufacturer's instructions for assembly. It's important to familiarize yourself with tap towers, faucets, and other tap system components before beginning. Generally, the process will be similar to the following steps:
Install casters on the bottom of your unit if applicable.
Secure the tap tower(s) onto your beer dispenser.
Mount the faucet to each tap tower.
Connect the gas line tubing to your CO2 regulator while the shut off valve is closed for safety.
Attach the regulator to your closed CO2 cylinder, securing with a tool if necessary.
Locate your unit's tank mount and secure your cylinder inside it.
Tap each keg by connecting its coupler, gas line tubing, and beer line according to manufacturer's instructions.
Place the keg(s) inside your unit and you are ready to serve.
How Long Does a Keg Last in a Kegerator?
A keg typically lasts 6-8 weeks in a kegerator, but this time depends on several factors including how long the beer was in the keg before tapping, if the beer has been pasteurized, and the beer style. Remember that proper storage temperatures and pasteurization can often extend the life of your beer. There are many variables that can negatively impact the quality of beer you are dispensing from your kegerator. Be sure you are well informed on how to maintain a commercial beer tap system so you can offer up only the highest quality beer to your customers.
What is a Jockey Box?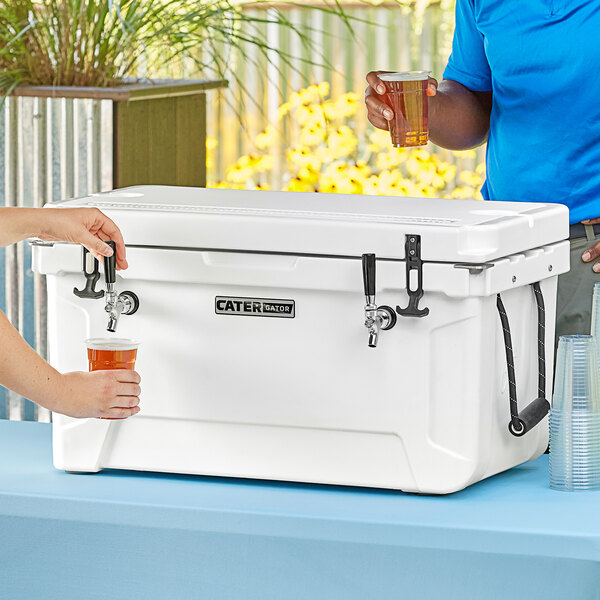 A jockey box, also called a coil box, is a portable solution for serving beer. These boxes look like coolers and generally contain 1-4 taps to connect to your kegs for serving.
How Does a Jockey Box Work?
A jockey box works by pushing beer through a series of coils inside the box and out through a faucet on the outside of the box. A beer line connects the keg to a shank at the back of the box. The beer is then forced through the coils, which are surrounded in an ice bath in order to chill the beer. These coils are attached to another shank and a faucet on the front of the box from which beer is served.
How to Set Up a Jockey Box
Setting up a new jockey box will require assembling the following key components: the box itself, beer line, coils, two shanks for each tap (one for each side of the box), a faucet for each set of shanks, and a CO2 cylinder and its regulator.
For safety, follow your jockey box's manufacturer's instructions for assembly. Generally, the process will be similar to the following steps:
Close your faucet(s) to prevent spillage while setting up.
If you have a jockey box kit, your box's coils and shanks may already be installed onto the box. If they are not pre-assembled, place the coils inside your box and attach the shanks according to the manufacturer's instructions.
Attach the beer line to the shank in the back of the box and then to your keg coupler.
Attach your keg coupler to your keg, pull and twist to tap it, and then attach the coupler to your CO2 tank. Be sure to adjust your tank's pressure to the proper setting for a jockey box (typically around 25 psi).
Fill the jockey box about 2/3 of the way with ice, and then top with water until the ice bath reaches the top of the coils.
Open your faucet(s) and you are ready to serve.
What is an Outdoor Kegerator?
Outdoor kegerators are perfect for serving beer at outdoor events or patio bars. They resemble traditional kegerators, but they typically have a heavy-duty exterior that is built to withstand outdoor conditions better than indoor kegerators.
Outdoor Kegerator Setup
Outdoor kegerators are usually set up similarly to indoor kegerators. Refer to the steps above and your kegerator's manufacturer's instructions for the proper setup.
Beer Dispenser Accessories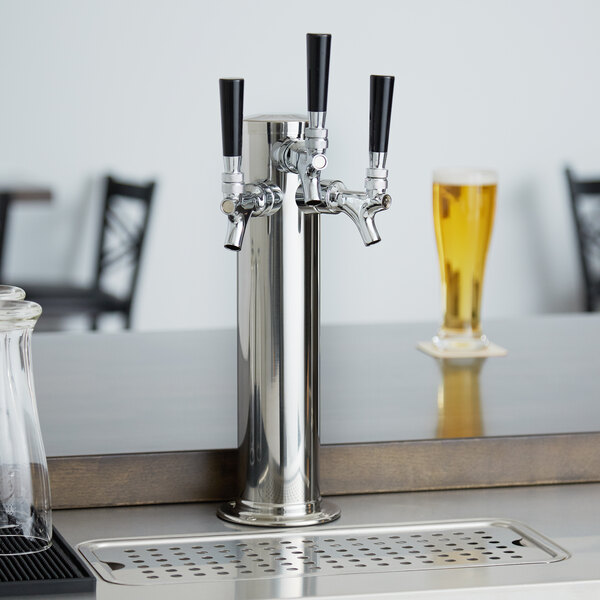 A wide variety of accessories are available to help you get the most out of your beer dispenser. Here are some popular options for you to add to your setup: