WebstaurantStore / Food Service Resources / Blog
Eco-Friendly Barn Wedding Ideas
Many engaged couples are searching for inventive new ways to make their dream wedding both do-it-yourself and eco-friendly. Whether you're a caterer, own a wedding venue, or are planning your own wedding, you're sure to have noticed the "going green" and "buy local" phenomenon is sweeping the country. One way to combine DIY and going green is to plan an autumn wedding at a restored barn in your area. If you or your customers are interested in eco-friendly nuptials, check out our barn party supplies and suggestions for creative wedding invitations, favors, food, drinks, and more.
Create Eco-Friendly Table Top Decorations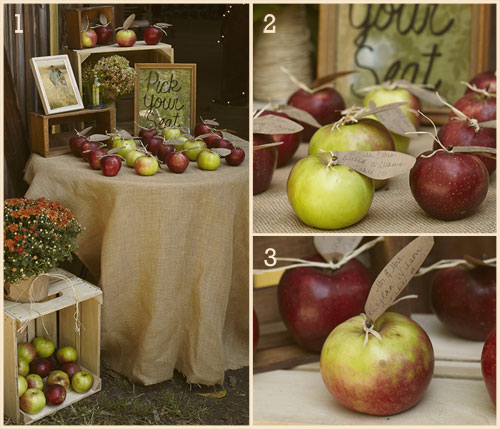 1. Use Antique Picture Frames for Your "Something Old"
If you're having trouble deciding on your wedding's "something old," consider reusing old picture frames to add a personal touch to your tables. Write on the frame's glass with dry erase markers to help guests find their escort cards (also known as place cards).
2. Get Into the Fall Spirit With Kraft Crafts
You can also spice up your place cards by cutting recycled Kraft paper into simple leaf shapes and writing your guests' names and table numbers on them with an eco-friendly pen. You can also use these tags to make your apple name cards (shown in Picture 3).
3. Use Apples as Your Escort Cards
Punch a small hole in one end of each Kraft paper leaf (shown in Picture 2) and thread a piece of natural raffia ribbon through to tie the tag to the stem. Each component of these apple escort cards are either recyclable, edible, or biodegradable, making them the perfect choice for any environmentally-conscious wedding.
When searching for apples to use for your place cards, make sure to buy locally grown produce. Shopping local also cuts down on gas emissions from transporting produce to other regions and supports your local economy.
Offer Delicious, Locally-Sourced Apple Cider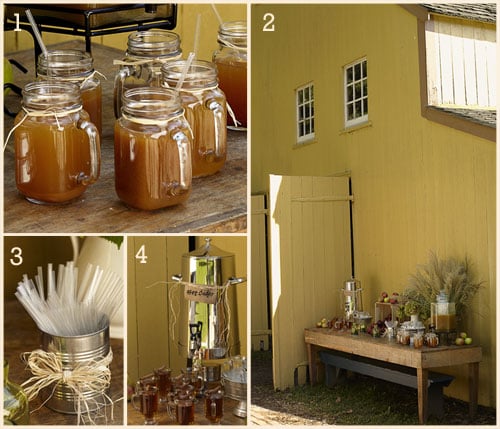 1. Use Mason Jars as Your "Something New"
If you're stumped on your "something new," try serving beverages in mason jars, which have the rustic appeal your fall wedding theme is going for. Fill the mason jars with local apple cider (hard or virgin) and accent each glass with a strand of natural raffia ribbon for a look that will literally tie your theme together.
2. Setting Up a Cider Station
Similarly, setting up a cider station outside of your venue (preferably near the entrance) provides a classic autumn beverage for guests to enjoy while mingling prior to the reception. Tie in elements from the outdoors with a bouquet of fresh-cut wheat and an array of locally-grown apples. A glass beverage dispenser also brings modern style to the table and will contrast nicely with your rustic decorations.
3. One Couple's Trash is Another Couple's Treasure
Upcycle an empty aluminum can by wrapping a generous amount of natural raffia ribbon around it and tying it into a bow in the front for eco-friendly wedding decorations. Then, fill this decorative container with biodegradable straws for guests to drink their cider.
4. Serve Delicious and Locally-Sourced Hot Apple Cider
A glass of hot apple cider will keep guests warm and toasty on a chilly fall day. To keep your green theme going, accent a traditional metal hot coffee urn with natural raffia ribbon and a recycled and biodegradable paper nameplate. Keep the cider hot with green chafer fuel and serve it in Irish coffee mugs. Finally, provide cinnamon sticks for the ultimate flavor of fall.
Serve Delicious DIY Desserts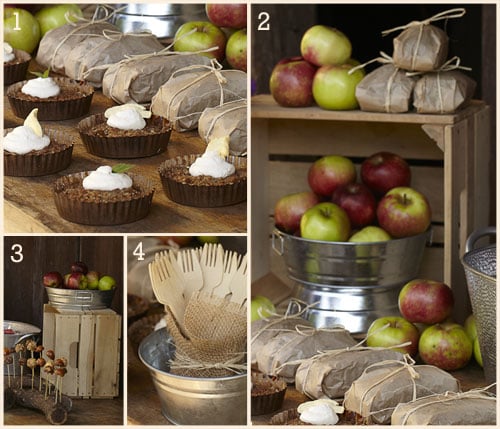 1. Traditional Wedding Cake Alternatives
Instead of a traditional multi-layered wedding cake, opt for a unique dessert table that gives your guests plenty of variety and will not sacrifice your green theme. Take your DIY wedding to the next level with individual apple crisps baked in Kraft bake cups. If you'd like to give your guests the option to take their dessert with them, bake apple bread and wrap it in EcoCraft deli paper made from soy-blended eco-wax. Secure each package of bread with a natural raffia ribbon to keep the paper in place.
2. Take Your Dessert Table to the Next Level
Add dimension to your dessert table by stacking galvanized metal tubs on top of one another to create an attractive display piece for fresh, locally-grown apples.
3. Add Logs and Caramel Apples to Your Dessert Table
For a twist on the traditional cake pop, try caramel apple pops. Start by using a melon baller to scoop out nice, round pieces from an apple, which are now your mini apples. Next, attach each mini apple to a bamboo skewer, dip it in caramel apple dip, and sprinkle with granulated peanuts.
For fall wedding decorations that really bring the outdoors in, try drilling small holes into mesquite wood logs and placing the bamboo skewer end of your caramel apple pops into the holes. Reuse the wood later for wood burning ovens or smokehouses.
4. Use Compostable Cutlery as Your "Something Borrowed"
Borrow your cutlery from Mother Nature by incorporating biodegradable and compostable wooden forks as the cutlery of choice at your dessert table. These eco-friendly products will eventually break down and degrade back into the earth after use.
Choose Autumn-Themed Table and Place Settings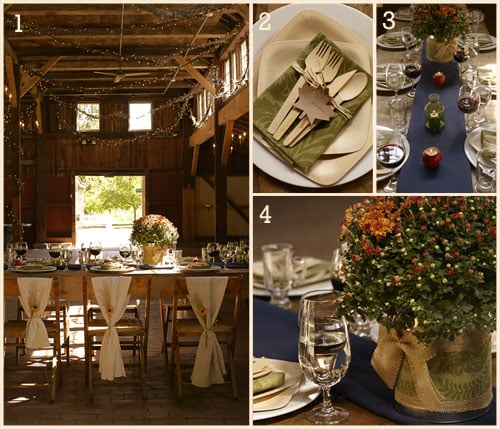 1. Go With a Local Wedding Venue
Holding your wedding at a local venue is a great way to go green, especially if many of your guests already live in the area. The closer they are, the less gas emissions they'll produce from travelling. Once you have the location set, decor is everything. Go green by re-purposing old linens into chair covers and draping them over the back of your chairs, adding a local seasonal flower, and securing with natural raffia ribbon.
2. Designing Your Wedding's Table Setting
Combining the convenience of disposability with the green nature of bamboo, choose a place setting that puts bamboo plates and biodegradable cutlery at center stage.
Serve your local food with a napkin made of natural and biodegradable materials. Our selection of barn party supplies also includes recycled Kraft paper plates, which can be cut into fall leaf shapes for the perfect place card when attached to your napkin with natural raffia ribbon. To make it more formal, place a white china plate beneath each place setting for an elegant, upscale look.
3. Use Recycled Fabric for Your "Something Blue"
When it comes to your "something blue," consider folding a poly-spun fabric table cover in half several times to serve as a runner for guest tables. Then, add a few green table lamps and homemade apple candles with tea light inserts for a unique lighting setup. To create these apple candles, simply drill a hole into fresh apples that is equal to the diameter and height of your tea light. These candles will even float in water.
4. Create a Beautiful Wedding Centerpiece
To make a unique fall wedding centerpiece, upcycle a metal can by wrapping it in any material, adding a festive bow, or spray painting the can with eco-friendly paint. Then, fill it with potted plants (rather than fresh cut flowers) so guests can take their centerpieces home and enjoy the plants all season long.
These fall wedding ideas, suggestions, and tips are perfect for helping you plan and execute the autumn barn wedding of your dreams. To learn more, check out this behind-the-scenes footage of our photo shoot at the beautiful Landis Valley Village and Farm Museum:

Posted in:
Eco-Friendly Tips
|
Seasonal
| By Nora Fulmer