WebstaurantStore / Food Service Resources / Blog
How to Make Your Restaurant Menu Stand Out on Google
One of the best ways to draw new and returning customers to your restaurant is by posting your menu online. Studies show that over 75% of guests look at menus before choosing a restaurant, clearly illustrating that making your menu available online gives you an edge over the competition. Check out the tips below to learn how to effectively market your restaurant's menu via your webpage or a third-party site.
Submit Your Menu to Third-Party Sites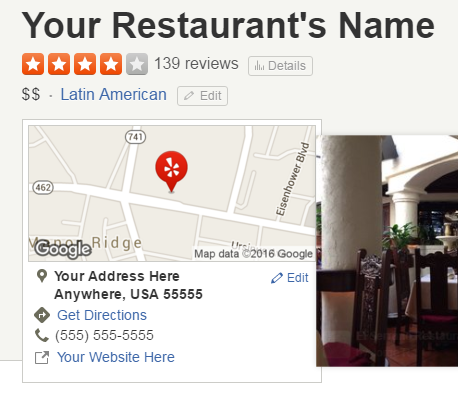 If your website is new or doesn't receive much traffic, uploading your menu to websites like AllMenus or MenuPages goes a long way towards bringing your business more publicity. These sites are often on the first page of search results when customers Google "restaurant websites" or "restaurant search sites." Doing so helps you connect with guests who are specifically searching for your menu and others who might bump into it when searching for similar restaurants in your area. Posting your menu to a site like this will also help improve Google search results for your business.
Don't Make Customers Download Your Menu
Every restaurant's website should feature an updated version of their menu that is easy to read and posted in a prominent location. If your menu is currently only available as a PDF, you should consider taking pictures or screenshots of the menu or typing it into a text box. Some users may have trouble downloading PDFs or are uncomfortable with downloading unknown files to their computer, and others may have trouble viewing the menu on their smartphone.
Create a Free Listing on Google My Business
Creating a free listing on Google My Business (formerly Google Places) is another great way to keep customers up to date on your hours, address, and phone number. Google My Business also drops a location pin for your restaurant on Google Maps, which can attract patrons that may not have heard of your business but are looking for a place to eat in your area. Google My Business also allows you to update and maintain your restaurant's profile and hours of operation in Google search results.
Film an Indoor Google Street View of Your Restaurant
Another way to increase your restaurant's visibility is to add an indoor Street View of your restaurant to Google Search results and Google Maps. Doing so not only gives potential patrons a virtual tour of your restaurant, but also allows them to visualize themselves in your space and anticipate their dining experience. Because the photo shoot is conducted and posted by a third party, you'll also build consumer trust. According to Google, customers who view a business listing with a virtual tour are twice as likely to book a reservation. Finally, because most businesses haven't taken advantage of Google indoor Street View yet, you'll be one of the first restaurants to do so.
Improve Your Existing Website
If your restaurant doesn't already have a website, now is the perfect time to build one. If your business has an existing website, making these easy search engine-friendly changes can help drive more traffic to your site.
Avoid using Flash on your website, as it isn't always search engine compatible and is not supported by all mobile devices.
Add specific phrases that will help you stand out from local competitors. For example, you might brand your restaurant as having the "best burgers" or the "cheapest happy hour specials."
Make a quick description of your restaurant, your menu and prices, and your location and phone number immediately available when customers visit your site.
Include the same information on your social media platforms, such as Facebook, Twitter, Instagram, Yelp, and TripAdvisor. Be sure to also include a link to your website on all of these pages to help customers find your restaurant's main website.
Incorporate Menu Psychology
Menu psychology refers to the ways restaurant owners specifically engineer their menus to draw customers in or lead them to more expensive dishes. Here are a few strategic moves you can employ to help your menu stand out on Google.
Try placing best-sellers or more expensive items towards the top of their menu category.
Use relative pricing (i.e. placing a $30 meal next to a $20 meal) to make more costly meals seem less expensive.
You can also place your most popular or expensive items in the top right corner of the menu. Help these dishes stand out even further by placing a box around them or employing other eye-catching graphics.
Making your menu stand out on Google is a great way to draw new customers to your restaurant while also answering basic questions potential patrons may have about your business. As you build your restaurant's web presence, be sure to post an updated version of your menu to as many places as possible and spruce up your existing website to distinguish yourself from the competition.

Posted in:
Advertising & Marketing
|
Menu Tips
| By Nora Fulmer