How to Start a Vacation Rental Business
Last updated on 2/10/2021
Every year, millions of people across the globe choose to go on vacation. No matter where they travel or how long their trip is, chances are they'll need to find a place to stay. Vacation rental properties can offer a convenient and affordable option to travelers as they plan their vacation, and they have inspired many to consider opening their own vacation rental business. Below, we'll investigate what this kind of business is and outline the steps necessary for you to start your own.
Shop All Vacation Rental Supplies
What Is a Vacation Rental?
A vacation rental business allows travelers to rent private properties for a short amount of time. These rental properties are often located in vacation destinations and feature more benefits and greater flexibility than staying in a hotel. In many cases, a vacation rental property is listed on popular services such as Airbnb, Vrbo, or HomeAway.
---
Use the links below to navigate the steps of starting your own vacation rental business:
Click any of the tips below to read the section that interests you:
---
1. Write a Vacation Rental Business Plan
Before advancing with any plans to start your vacation rental business, it's important to write a business plan. A business plan is a roadmap that guides you through the process of starting your business and can be a valuable tool for securing funding and gaining support. A successful business plan should include information on your business concept, the market you'll be operating in, the structure of your business, and detailed information on your financials.
To learn more about how to write a plan of your own, check out our article on how to write a restaurant business plan.
2. Research the Cost of Starting a Vacation Rental Business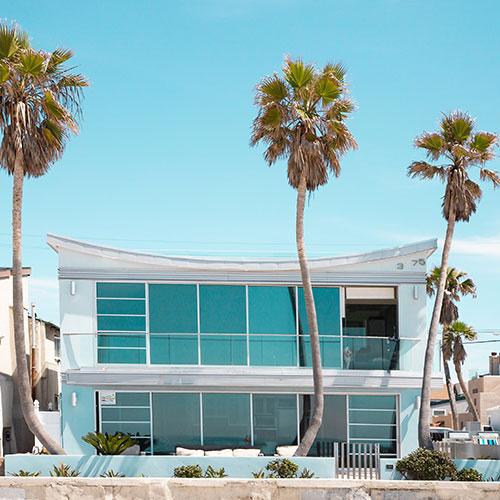 As is the case with most businesses, the cost of starting a vacation rental business is dependent on a variety of factors. However, where a vacation rental differs from a traditional business is the fact that you don't need to hire staff, invest in kitchen or dining equipment, or budget for operations. Instead, rental property owners have to budget for maintenance, upkeep, and other similar expenses. Among the expenses and fees associated with owning and operating a rental property, you can expect to find:
Insurance costs: Chances are, if you own a vacation property, you're located near a beach, lake, or other typical destination. As beautiful as these destinations can be, their locations often put them at greater risk. For example, a property at the beach is more likely to sustain damage from hurricanes or tropical storms. It's important to make sure your property is insured before you establish yourself in the vacation rental industry.
Property taxes: If you're renting out a home that you own, you'll be responsible for paying taxes associated with the property. The amount you pay is dependent on the local government in the area you live.
Utility costs: Another cost associated with operating a vacation rental is the cost of utilities such as electricity, gas, water, and internet. Without these services, you won't be able to maximize your guests' experience during their stay, which can reflect poorly on you as a business owner.
Marketing fees: If you don't raise awareness for your rental property, you won't find guests to rent it. Vacation rentals have become increasingly popular in recent years, resulting in a competitive market. To give yourself an edge over the competition, be sure to invest heavily in marketing by using a variety of channels such as print, internet, and social media.
3. Find and Buy a Property
If you don't already own a vacation rental property, your next step should be to start searching for one. Start by identifying a location and determining how much you are willing to pay. Not only is the location essential to your potential guests, but it will have a significant effect on the amount you pay in taxes and fees.
Next, you'll want to conduct market analysis to gain a better understanding of how you'll operate. As you conduct your research, keep the following questions in mind:
How much does it cost to rent other similar properties?
What are the busiest tourist times of the year for that area?
Are there any notable attractions or destinations nearby?
Will there be enough demand to make your investment worth it?
Once you've identified a property that fits your preferences, it's time to negotiate a purchase. Remember that it's important to find a property that will help you achieve your long-term goals of starting a vacation rental business.
4. Consider Financing Options
With your expense calculated, your next priority should be to fund your business. Whether your goal is to purchase a new property to rent out or rent a property you already own, there are a number of expenses you'll have to pay off. Thankfully, there are a variety of options available to you in order to finance your business.
Cash-out refinancing: Cash-out refinancing allows you to replace your existing mortgage with a new home loan at a higher value than you currently owe. The difference between what you owed and the new value goes directly to you, giving you more money to spend. It's important to note that cash-out refinancing will likely raise your interest rate, and the amount you can cash out is dependant on your home's equity.
Reverse mortgage: A reverse mortgage lets homeowners borrow money using their home as security. Similar to a traditional mortgage, the title of your home remains in your name. However, the key difference between the two is that you don't start making payments on the loan until you no longer own the home.
Home equity line of credit: A home equity line of credit, also known as a HELOC, is a revolving line of credit that you can use for large expenses. HELOCs often have a lower interest rate than other financing options and are a great option if you need fast access to funds.
Business line of credit: A business line of credit acts as a hybrid between a loan and a credit card. Similar to home equity loans, they give you quick access to money to pay for immediate expenses.
Traditional bank loans: Traditional loans, such as a mortgage, allow you to borrow a set amount of money. These loans are paid back, along with interest, over a set period of time at a fixed rate.
401(k) loans: 401(k) loans allow you to borrow money from your retirement savings account. The amount you can borrow depends on which plan your employer offers, with some allowing you to borrow as much as half the amount.
5. Furnish Your Vacation Rental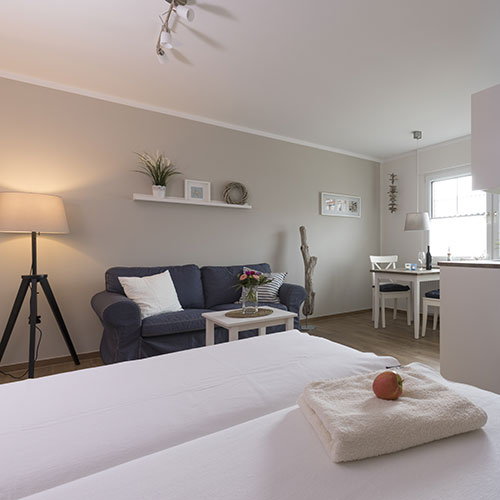 When it comes to furnishing your rental property, there are countless options available to you. The types of furniture you choose to decorate the property with will depend on your needs, budget, target guests, and personal preferences. As you choose what furniture you want to buy, keep the following factors in mind:
Take stock of what you have. Before setting out to purchase new furniture, take a look at the furniture you already own and determine if it can be used in your rental property. By doing so, you can avoid making unnecessary purchases.
Focus on lighting. It's easy to overlook the effect that lighting can have on a room. Lighting is essential for determining the mood, ambiance, and functionality of your business. Not only does additional lighting make it easier for guests to see, but it can create a more enjoyable environment.
Don't forget storage. From dressers to shelving, you must provide ample storage options for your guests. This will help them to keep their belongings organized during their stay and can help to make them feel at home.
Remove personal items. As you prepare your rental property for guests, it's important to remember that it isn't your personal living space. Be sure to remove any personal items such as jewelry, family photos, personal documents, or other personal items that you wouldn't want to keep unsupervised. Not only does this reduce the risk of lost items, but it can help to ensure that they don't accidentally take one of your own.
Buy furniture that is built to last. As a vacation rental business, you can expect to have multiple guests staying at your property. Because of the number of people that will come and go, it's important to make sure you have furniture that is built to withstand wear and tear. Investing in dependable, sturdy furniture ensures that you won't have to worry about buying replacements often, and reduces the risk of furniture breaking during someone's stay.
6. Invest in Vacation Rental Supplies
As a vacation rental owner, it's essential to stock your property with anything a guest could need. Making sure you have all the essential vacation rental supplies is an easy way to make their stay convenient and more enjoyable. Consider offering guests the following products to ensure they have everything they need:
For additional tips on how to make your rental property stand out to guests, check out our Airbnb host checklist.
7. Find a Cleaning Service
Whether you live near your rental property or across the country, it's important to hire a professional cleaning service in-between guests to make sure their experience is as pleasant as possible. While it's safe to assume most renters won't leave your property in shambles, you should schedule regular cleanings nonetheless. In addition to regularly cleaning your property, be sure to wash any towels or bed linens before your next guests arrive. Ignoring housekeeping can result in dirt, trash, and damage accumulating over time, and failure to stay on top of it can lead to negative reviews and less guest satisfaction.
8. List Your Property
Once you're prepared to host guests, it's time to list your rental property. There are a variety of platforms and services that allow you to list your property, and it's best to take advantage of as many as you can to ensure prospective guests see it. Below, we'll investigate listing methods that allow you to get the most attention for your property:
Vacation Rental Platforms
One of the most accessible ways of listing your property is by using a vacation rental service such as Airbnb or VRBO. These services allow users to filter through properties based on their preferences to find the one that best fits their needs and wants.
Social Media
Listing your property on social media platforms such as Instagram and Facebook is a cost-effective and easy way to market your property. You'll be able to post updates, pictures, and other relevant information about your vacation rental business through them.
Create a Website
Starting your own website gives you full control over how you market your business. Not only can you market your properties, but you can also allow guests to manually book their own stay rather than going through a service.
Starting your own vacation rental business can seem like a daunting task to many prospective business owners. Buying and renting a property represents an enormous investment for an individual, which is why it's important to do everything you can to prepare and go about the process right. By adhering to the information above, you'll be able to put yourself in a position to succeed once you start renting out your new vacation property.
---