Portion Control Tools For Restaurants
Last updated on 4/25/2023
Whether you operate a casual eatery or fine dining restaurant, consistent and accurate food portions are a key part of your business. Thankfully, there are several different portion control tools your establishment can utilize to ensure you control how much food goes on each plate. Portion control tools help you maintain consistency throughout your dishes, making it easier to manage food inventory and keep track of profit margins. We'll discuss some of the most effective portion control tools your restaurant can utilize, as well as some of the ways portion control tools help improve your business.
Restaurant Portion Control Tools
Restaurant portion control tools come in many shapes and sizes. Some of the most common tools include portion scales, food dishers, spoodles, and other types of spoons. Even everyday kitchen supplies, like measuring cups and ladles, are great tools for controlling portions. Single-serving packets of condiments (like ketchup or soy sauce) are also a great example of restaurant portion control. Below, we cover some of the most important food portioning tools used by restaurants, and how each tool can be used to properly portion your ingredients.
Portion Scales - Scales provide accurate weight measurements, making it easy to have exact weight portions when serving food. If a recipe calls for 4 oz. of a specific ingredient, simply weigh your ingredient on a portion scale to ensure you don't add too much or too little. These measurements help eliminate food waste and keep recipes consistent.


Food Dishers - Dishers provide an easy way to scoop and measure soft foods such as batter, yogurt, and mashed potatoes. Simply scoop the disher full of your desired food before releasing the lever or handle for serving. The simplicity and quickness of food dishers make them perfect for high-volume environments like cafeterias.


Spoodles - Spoodles are a fantastic portion control tool, combining the simplicity of a serving spoon with the accurate portion control of a ladle. When portioning out sauces or other liquid-based foods, spoodles ensure consistent portion sizes across all dishes. Additionally, the simplicity of spoodles makes them a great option when providing meal service in a high-traffic environment.


Measuring Cups and Spoons - Measuring cups and spoons ensure you correctly measure ingredients during cooking and baking. Recipes call for exact measurements, and measuring cups and spoons make it easy to portion out your ingredients and accurately follow recipes.


Shop the most popular portion control tools below:
Restaurant Portion Control Video
Learn more about the most useful portion control tools your restaurant can employ by watching the video below:
What Is Restaurant Portion Control?
Portion control not only refers to the amount of food on a plate, but it can also refer to the ratio of ingredients in a particular dish. For example, if you own a burrito shop, you probably want your staff to include a consistent ratio of meat and rice in each burrito. That way, customers know what to expect and can return again to enjoy the product they love.
Why Is Portion Control Important?
The No. 1 reason why portion control is important is to manage customer expectations and provide a consistent product. Another important reason to pay attention to your food portions is to reduce costs in your restaurant. Not only will portion control help you track how much of each ingredient you're using, but it can also reduce food waste. Customers will be less likely to throw food away if you offer appropriate portion sizes.
How To Measure Food Portions?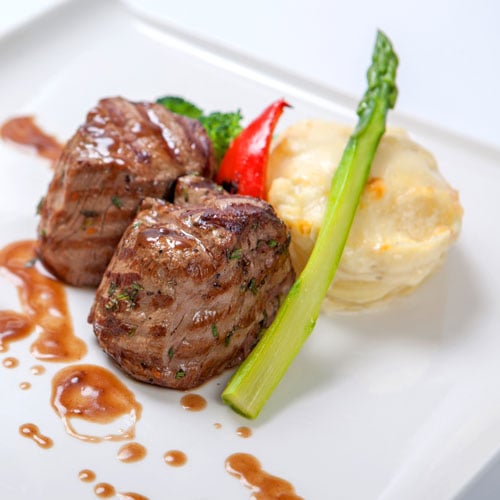 The way you measure portions depends on what specific tool you're using, but typically, food is measured in one of two ways: by weight or by sight. If you're dealing with an expensive ingredient (like black truffle or caviar), it may be a good idea to measure it on a scale before plating. This approach not only ensures that you're not putting more money on the plate than necessary, but it also keeps flavors consistent for each guest. Portioning by sight is fine for most other applications from cafeterias to fine dining.
Portion spoons and dishers are extremely common in fast casual environments for portioning foods like mashed potatoes and corn, while white tablecloth establishments are more likely to use food molds to shape rice or even salads. However, the same basic principle applies to both.
Do All Restaurants Use Portion Control Tools?
While portion control should be an important part of all restaurant operations, there are a few situations where portion control tools are especially useful. For franchised locations, portion control is vital as customers expect food to be consistent across all locations. A major part of this consistency is portion size, as uneven portion sizes can greatly alter the taste of a dish. Ensure that staff is well trained and understands each menu item's portion sizes, leading to a consistent experience for customers to enjoy.
When Do You Need Portion Control Tools?
Although all restaurants can benefit from utilizing portion control tools, there are a few surefire signs your restaurant is struggling with portion sizes. If you notice customers frequently do not finish particular dishes, then you may want to use portion control tools to lower the dish's portion size. Another sign your restaurant could benefit from portion control tools is a high degree of variance in ingredient usage. If you notice that ingredients used in similar dishes are running out at different times, then you would likely benefit from portion control tools. Uneven ingredient portions in recipes can lead to imbalanced flavors and excessive food waste, two things that restaurants want to avoid.
---
Regardless of what type of restaurant you operate, portion control tools have the potential to be an integral part of your business. Portion control eliminates unnecessary food waste, allowing you to better manage your food costs. These tools will also provide customers with a consistent experience, meaning they can expect your food to be made with the same consistent quality.
---