Whether it's used to serve a big or small scoop of ice cream, cookie dough, or mashed potatoes, every foodservice establishment needs a scoop, disher, or even both. These essential kitchen tools help with portion control to reduce food waste, while also providing an easy way to serve food without sacrificing presentation.
Types of Scoops
In the same way a fork isn't an appropriate utensil for eating soup, a disher isn't the right tool for serving ice cream. So then why are scoops, dishers, and spades always grouped together? They generally perform the same role, but in different capacities. For the longevity of your product, it is important to understand these differences.
Utensil

Uses

Extremely versatile tool; works well as a measuring scoop for softer foods such as vegetables, rice, or meat
Common uses include: cookie dough scoop, cupcake batter scoop, or mash potato scoop
Great for high volume environments
Ideal for portion control thanks to the large variety of sizes offered, ranging from 2 teaspoons - 1 cup
Stainless steel bowl and shaft allow the disher to better maintain functionality, even with frequent use
Comes in two types:

Thumb Press: A practical design that allows the user to dispense product quickly and easily by simply pushing down on the side press with their thumb.
Squeeze Handle: This design allows the user to use their whole hand to activate the blade which minimizes hand fatigue. Comfortable for both left and right-handed users.

Generally used for hard ice cream
Creates the classic ice cream scoop shape
Easy-to-clean one-piece construction eliminates moving parts and minimizes the chance of malfunctioning
Many scoop / dipper handles include a non-toxic defrosting fluid that's good for two things:

Enabling easier and faster dipping
Helping to prevent ice crystals from forming and mixing with the ice cream, otherwise known as tub leveling

Generally used for gelato and creamier ice creams
Great for heavy-duty or commercial use
Designed with better leverage than scoops and dishers, making it an ideal tool for scraping down ice cream bins filled with hard ice cream
Helps minimize wasted product and maintain your establishment's bottom line
Scoop & Disher Sizes
Dishers are commonly categorized by their size, which is based off of the approximate amount of servings it takes per quart or the number of ounces it holds. To make these sizes both easier to identify in a busy kitchen setting and to prevent cross-contamination between foods, specific handle colors are assigned to each size. Check out our
disher size chart
to better understand the variety of sizes on the market!
This chart includes common industry standards, but each brand may have slight variations so keep that in mind as you shop for the perfect dishers for your establishment, and use this chart as a general guide.
Disher Size Chart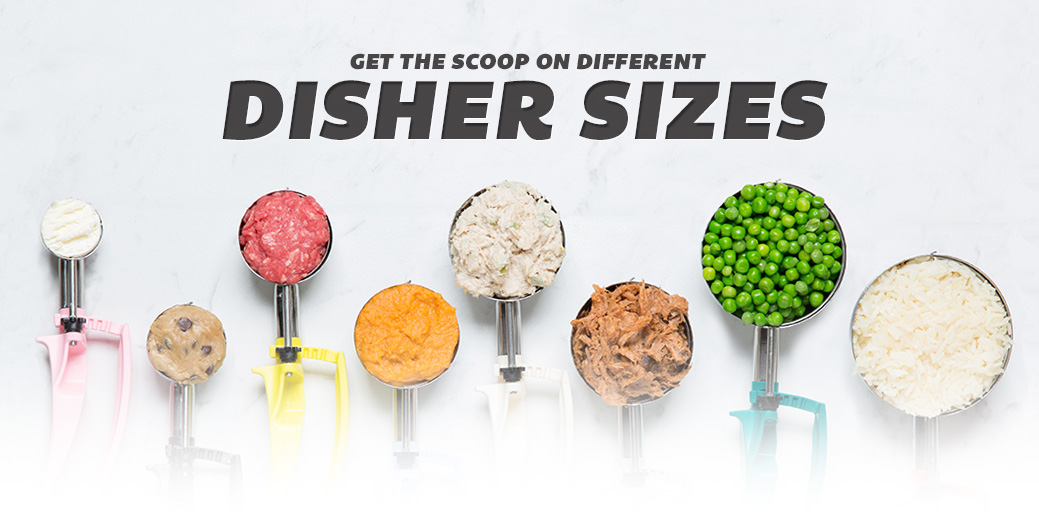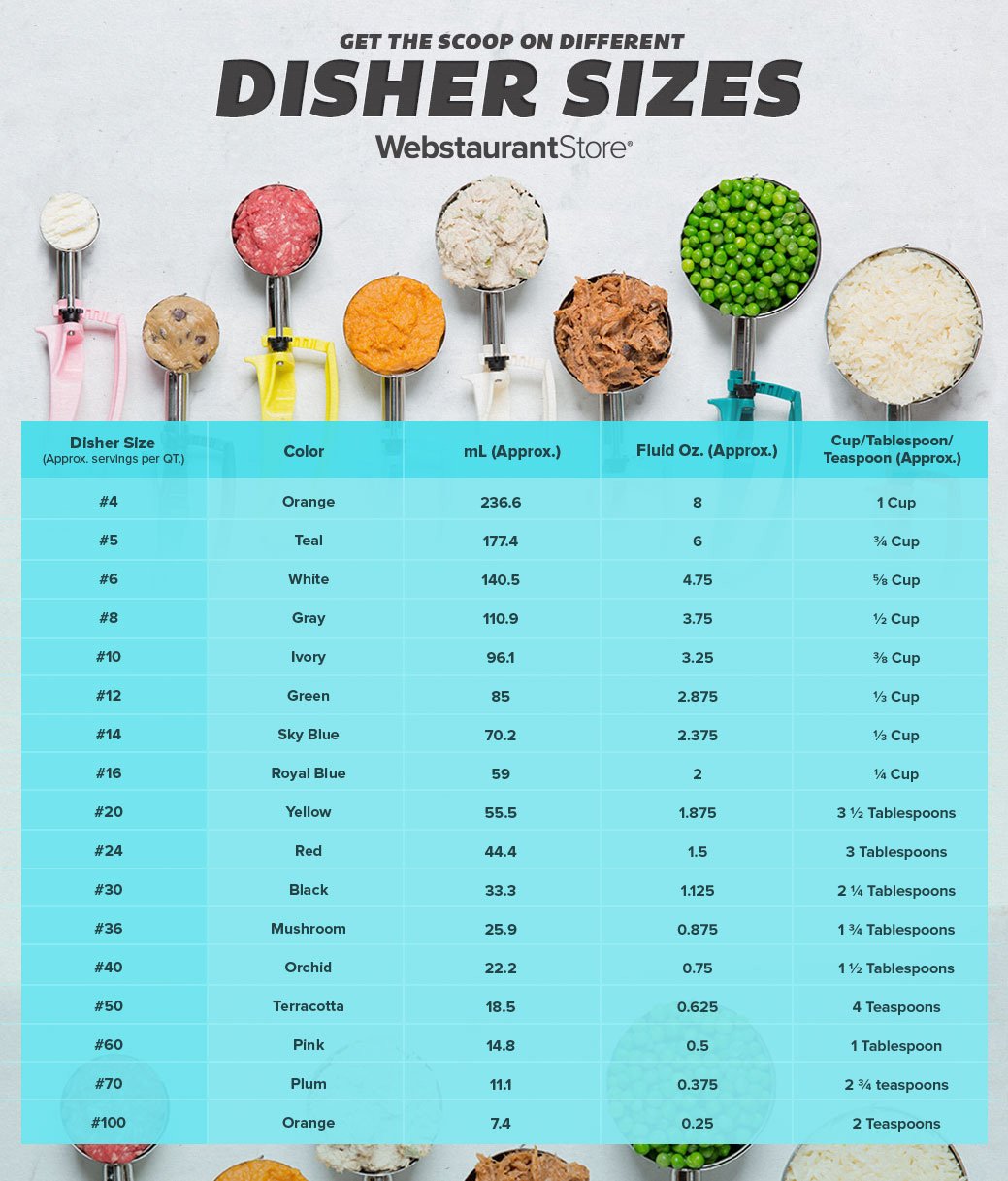 | Disher Size (Approx. servings per QT.) | Color | mL (Approx.) | Fluid Oz. (Approx.) | Cup/Tablespoon/Teaspoon (Approx.) |
| --- | --- | --- | --- | --- |
| #4 | Orange | 236.6 mL | 8 oz. | 1 Cup |
| #5 | Teal | 177.4 mL | 6 oz. | 3/4 Cup |
| #6 | White | 140.5 mL | 4.75 oz. | 5/8 Cup |
| #8 | Gray | 110.9 mL | 3.75 oz. | 1/2 Cup |
| #10 | Ivory | 96.1 mL | 3.25 oz. | 3/8 Cup |
| #12 | Green | 85 mL | 2.875 oz. | 1/3 Cup |
| #14 | Sky Blue | 70.2 mL | 2.375 oz. | 1/3 Cup |
| #16 | Royal Blue | 59 mL | 2 oz. | 1/4 Cup |
| #20 | Yellow | 55.5 mL | 1.875 oz. | 3 1/2 Tablespoons |
| #24 | Red | 44.4 mL | 1.5 oz. | 3 Tablespoons |
| #30 | Black | 33.3 mL | 1.125 oz. | 2 1/4 Tablespoons |
| #36 | Mushroom | 25.9 mL | 0.875 oz. | 1 3/4 Tablespoons |
| #40 | Orchid | 22.2 mL | 0.75 oz. | 1 1/2 Tablespoons |
| #50 | Terracotta | 18.5 mL | 0.625 oz. | 4 Teaspoons |
| #60 | Pink | 14.8 mL | 0.5 oz. | 1 Tablespoon |
| #70 | Plum | 11.1 mL | 0.375 oz. | 2 3/4 Teaspoons |
| #100 | Orange | 7.4 mL | 0.25 oz. | 2 Teaspoons |
Featured Disher Styles
Certain dishers come in unique styles to better suit the creative needs or desires of the user. Commonly used for foods like hummus, butter, or soft cheeses, these
specialty food dishers
boast an ambidextrous handle for ease of use, along with a stainless steel construction for durability.
These featured dishers are ideal for fine dining restaurants, bakeries, candy shops, and other places where presentation is of high importance.
Scoop and Spade Materials
While dishers are primarily made of stainless steel, scoops and spades can be constructed from one of a few different materials. However, you may notice not many seem to be made of plastic. That's because plastic tends to be less durable for the types of jobs these products are used for and may even chip off into your food if overextended.
Material

Benefits

Utensil

Corrosion resistant
Light weight
Can be both chilled or heated
Attractive for front of the house use
Low maintenance

Easy to clean
Consistent size with each scoop
Allows for faster service
Limits the need for gloves or other utensils to help with release

Extremely durable
Corrosion resistant
Can be chilled to help keep colder products from melting or heated to 250 degrees Fahrenheit to help dish out hard or even frozen foods
Easy to clean
Attractive for front of the house use
Low maintenance

Trademarked material by Zeroll, made of one-piece aluminum alloy with an anodized Teflon�® finish
Eliminates compression to create the appearance of a bigger scoop
Saves on product by allowing for 20 percent more scoops per gallon
Protected from hard or highly chlorinated water
Cleaning Guidelines
Some food dishers and scoops are dishwasher safe, but many need to be hand washed to maintain their appearance and functionality. For example, any antifreeze ice cream scoop cannot be used in the dishwasher because the conductive fluid within the handle will solidify and lose its ability to warm to the user's touch.
Look for the following certifications on product pages to identify the appropriate way of cleaning each item:

Hand Wash Only

Dishwasher Safe