Essential Pastry Bag Parts and Accessories
There are several products that are essential for decorating with pastry bags and piping tips. We detail the products you need to get started and what they're used for below.
Types of Reusable Pastry Bags
Reusable piping bags
are a great way to reduce your establishment's environmental impact! There are six types of reusable piping bags: polyester (polyurethane-lined), thermoplastic polyurethane, canvas, plastic-coated canvas, polyurethane-lined cotton, and nylon.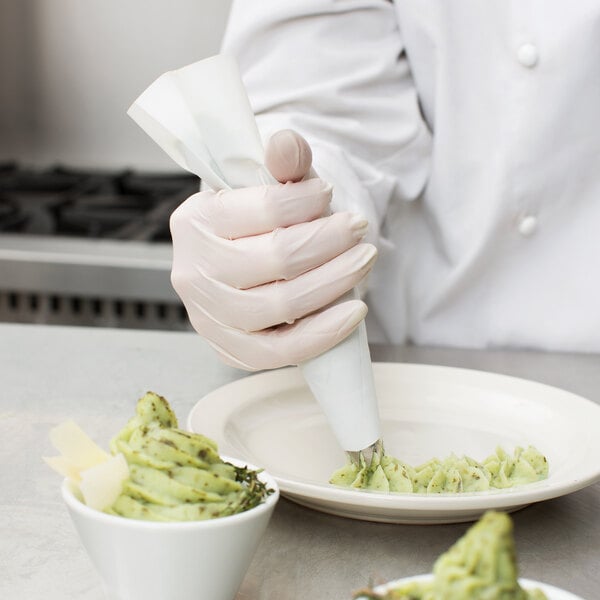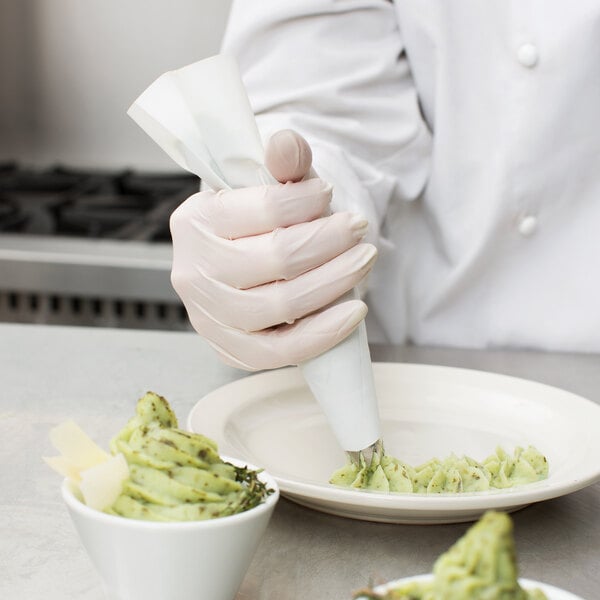 Polyester (Polyurethane-Lined)
Pros
Versatile, all-purpose
Strong and pliable for heavy-duty use
Easy to clean
Leakproof
Microwave safe
Cons
Can be slippery
Hand wash only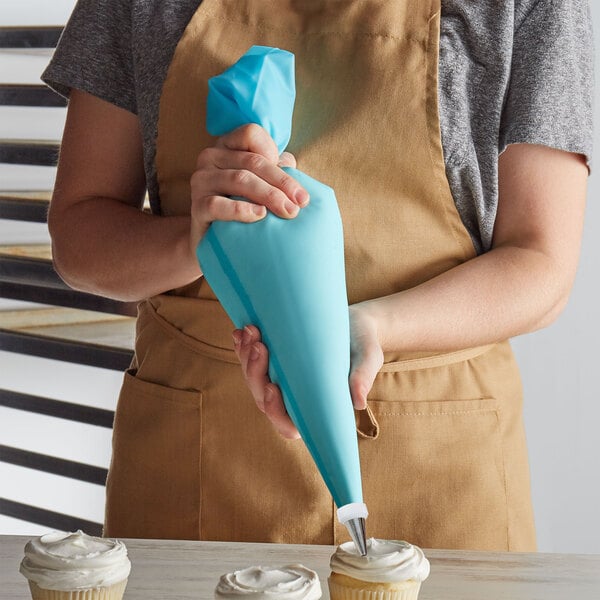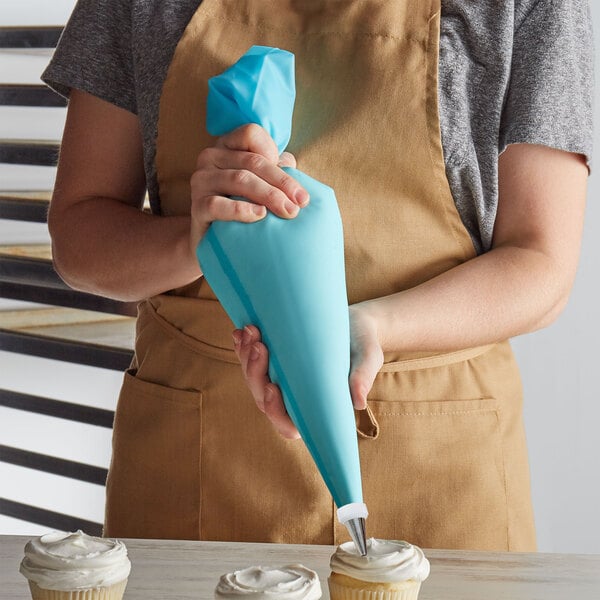 Thermoplastic Polyurethane
Pros
Flexible like silicone but doesn't stretch or balloon
Versatile, all-purpose
Thicker material makes it better for hot applications
Stain- and odor-resistant
Hanging loop for drying or storage
Microwave safe
Cons
Tips are not reinforced
Hand wash only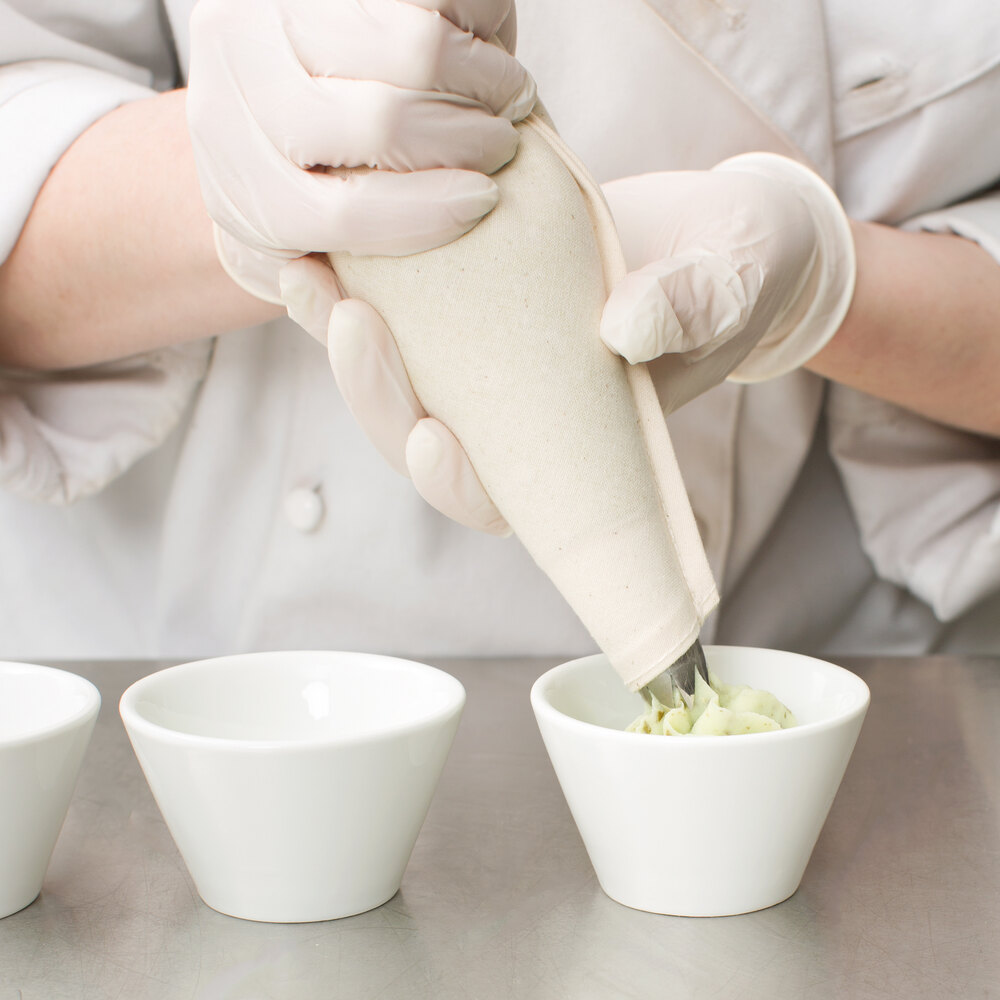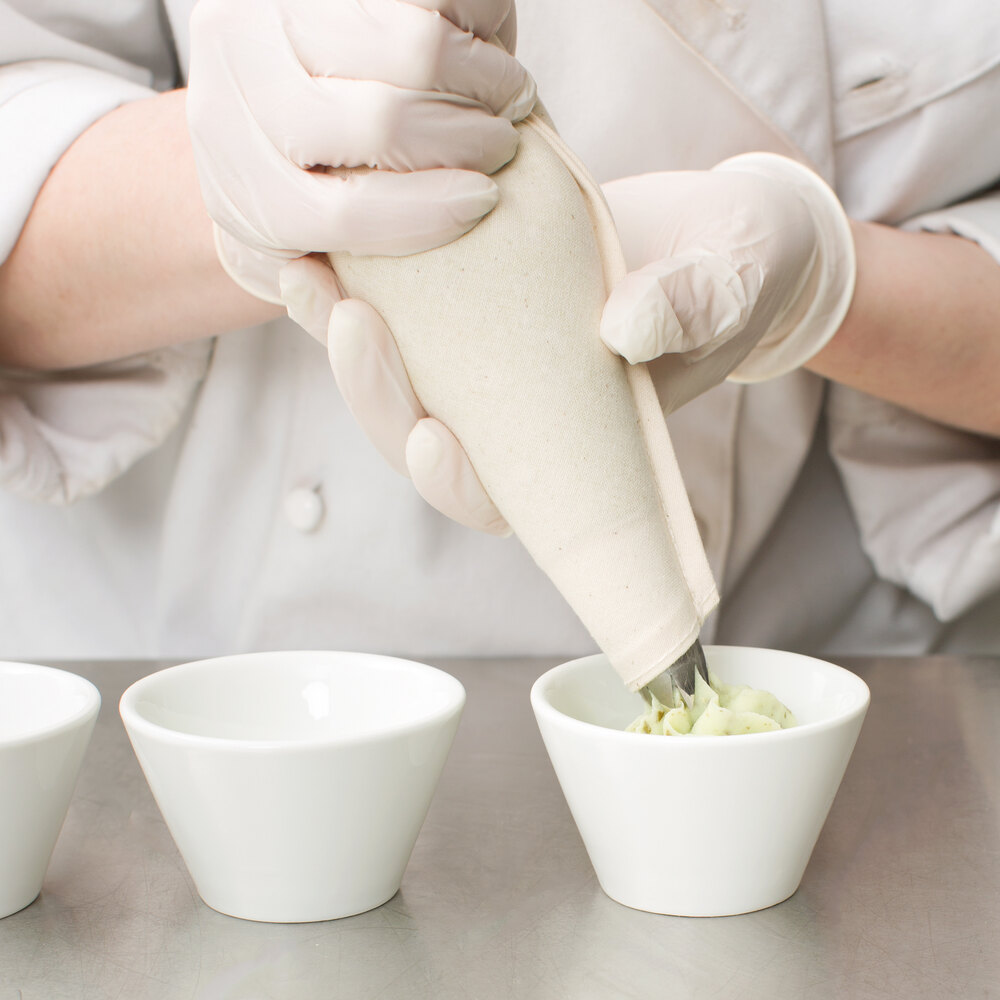 Pros
Best for piping thicker foods like dough, thick frosting, mashed potatoes, and other non-greasy foods
Thick material makes it great for hot foods
Great grip and very durable
Cons
Fatty / oily foods may leak through
Harder to clean than other reusable options
Can accumulate stains
Cannot trim the tip
Not microwave safe
Hand wash only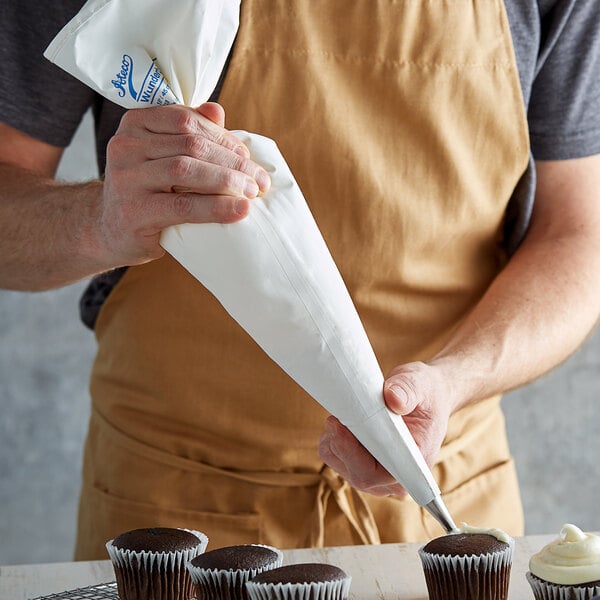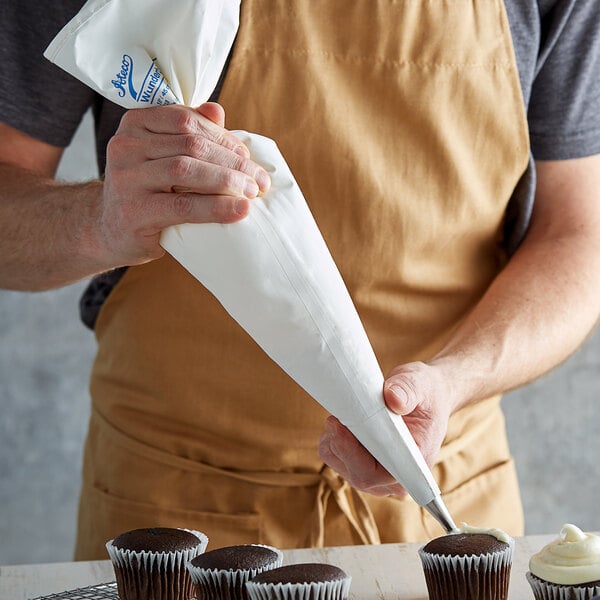 Polyurethane-Lined Cotton
Pros
Heavy-duty for extended use
For the professional baker and pastry chef
Easier to clean than canvas bags
Thick, heavyweight coated cotton is great for hot foods and prevents contents in bag from seeping through
Double reinforced tip and hemmed top with hanging loop
Microwave safe
Cons
Pricier than other reusable options
Hand wash only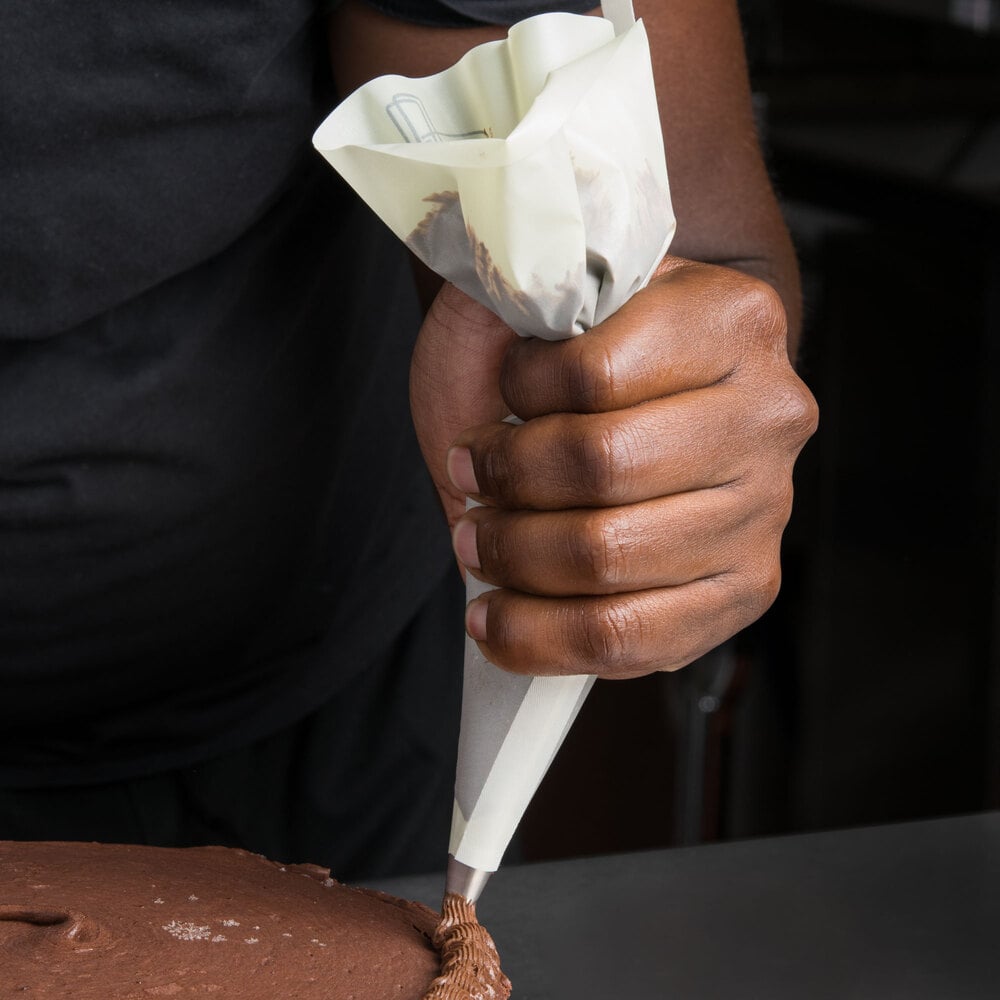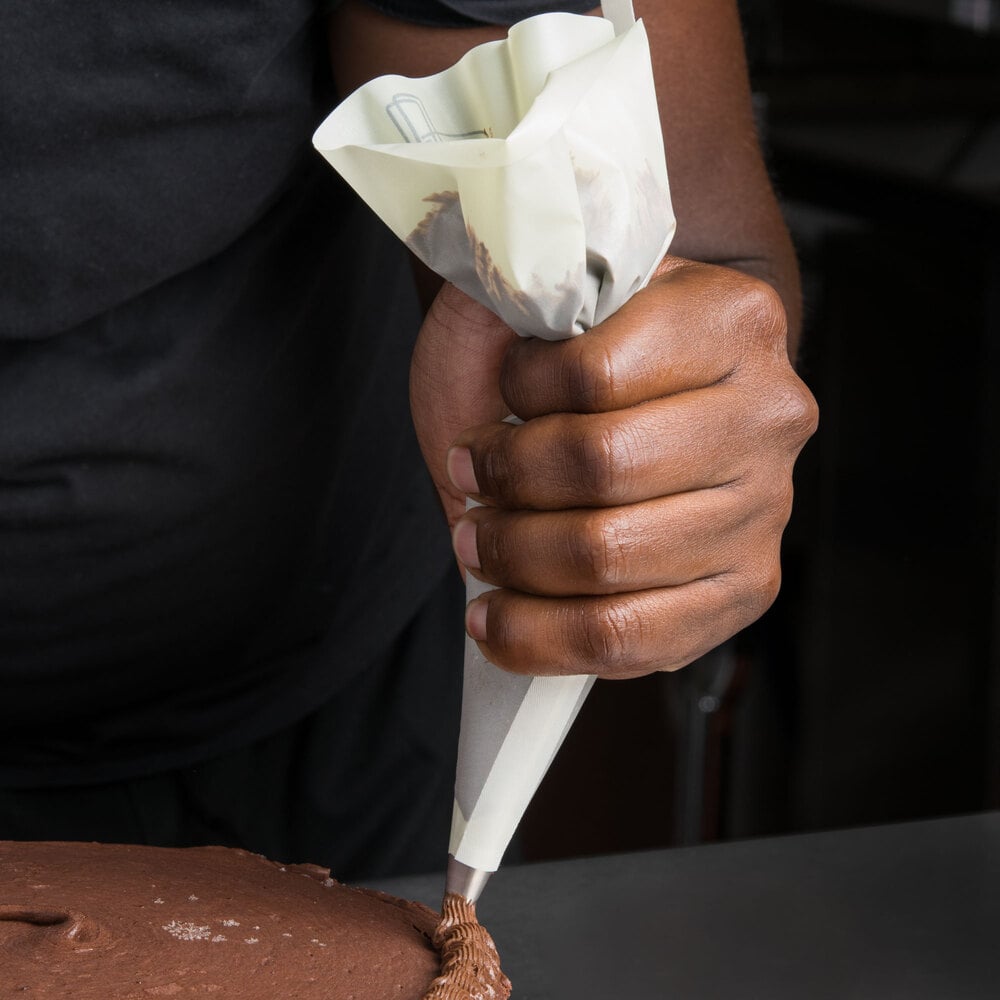 Pros
Great for piping thick foods like dough, mashed potatoes, and other non-greasy foods
Extra flexible construction and durability
Microwave safe
Cons
Fatty / oily foods may leak through
Hand wash only
Types of Piping Tips
Having the right decorating tips is essential for any type of bakery, grocery store, or catering company because it gives you options when decorating baked goods. Piping tips come either individually or in sets, so you can order exactly the tip you need or a kit for getting started with decorating.
Piping bag tips are made of durable materials like stainless steel or nickel-plated steel to make them long lasting. But, they need to be hand washed and dried immediately after to prevent rust from forming. Additionally, you should never wash your decorating tips in the dishwasher.
Piping tips are also classified into different families based on the size and shape of their openings, and different families are used for different purposes. Below we list some common piping tip types and what they're used for.
| Piping Tip Type | Most Common Uses |
| --- | --- |
| Plain Piping Tips | Outlining details, writing, adding dots, filling in flower centers, and completing complicated lattice and lace work |
| Leaf Piping Tips | Making plain, ruffled, or stand-up leaves |
| Drop Flower Piping Tips | Making one-squeeze flowers (the number of cuts on the tip determines the number of petals on the flower) |
| Flower Piping Tips | Making roses, ruffled flowers, cake borders, and more |
| Petal Piping Tips | Designing flower petals, curved decorations, and borders |
| Grass Piping Tips | Adding grass to cakes |
| Ruffle Piping Tips | Creating ribbons, ruffles, swags, bows, scallops, and edges |
| Basketweave Piping Tips | Adding shells, stars, rosettes, and flowers to baked goods |
| Open Star Piping Tips | Adding shells, stars, rosettes, and flowers to baked goods |
| French Star Piping Tips | Creating shells, stars, flowers, and scalloped designs, as well as adding frosting on top of cupcakes |
| Closed Star Piping Tips | Frosting cupcakes and designing stars, fleurs-de-lis, and flowers |
| Swirl Piping Tips | Producing borders and outlines |
| St. Honore Piping Tips | Creating St. Honore cakes |
| Russian Piping Tips | Adding delicate and intricate flowers to cakes and cupcakes |
| Cake Icers | Quickly icing the sides of cakes |
| Bismark Piping Tips | Filling donuts, cream puffs, and other pastries |
Pastry Tip Sizes and Shapes
Decorating tips are assigned different numbers based on the shape and size of their openings. Below is a graphic that shows some of the most common pastry tip numbers and what the result of using them is.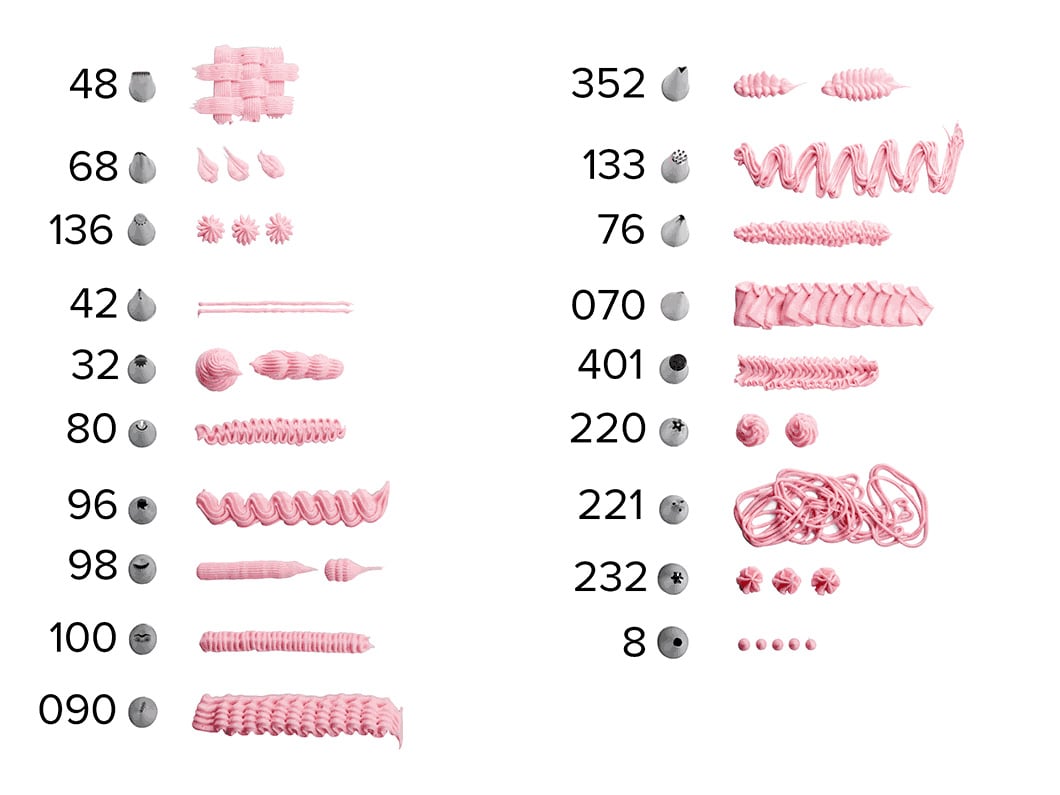 Cake Decorating Bags and Piping Tips FAQs
Whether you're a master cake decorator or culinary student, you may run into some issues when using cake decorating products. We compiled some common questions cake decorators have about using pastry bags and piping tips and answered them so you can easily find the solution to your problem.
How to Hold a Pastry Bag
To hold a pastry bag properly, grip the bag with your dominant hand a few inches behind the coupler firmly. Holding the bag this close to the tip gives you excellent control, which is ideal when doing detailed decorating work. Then, with your non-dominant hand, hold the bag up and keep it closed and out of the way.
How to Clean Pastry Bags
To wash dishwasher-safe bags, simply turn them inside out and attach them to your dishwasher rack with a clothespin.
To clean non-dishwasher-safe bags, turn the bags inside out and wash them by hand with hot, soapy water. Then, rinse the bags thoroughly. Once clean, stuff the bag loosely with paper towels and allow it to stand up on the counter until it dries completely.
How to Fill Pastry Bags by Yourself
It can be difficult to hold your piping bag and fill it with product at the same time. To keep the bag stable, insert the bag into a tall glass with the tip facing down and fold the sides over the edge of the glass. Then, you can proceed to fill your pastry bag with ease.
How to Use Multiple Colors of Icing When Decorating
A frosting plug is a great way to use multiple colors of icing with only one pastry bag. Here are the steps you need to follow to use a frosting plug:
Take a sheet of plastic wrap and lay it flat on your counter.
Add some frosting and then wrap the plastic around it.
Spread the frosting evenly throughout the plastic wrap and then twist both ends to form a sausage shape.
Insert a coupler into your pastry bag and feed the plug into the bag until the end of the plastic wrap comes out of the coupler.
Cut off the end of the plastic wrap, add your piping tip, and screw on the ring.
Repeat this process for all of the colors and types of icing you have.
Then you can simply remove the plastic wrap when changing colors and wash out the coupler and tip.