Gifts for Bakers
With so many types of baking tools and products, finding a gift for the baker in your life can be daunting. Whether they are just showing interest in their journey or are a full-on pastry chef, there is a perfect gift that suits their skill level and your budget. This holiday season, show your favorite baker (even if that's you!) how much you care with one of these baking gifts. Plus, if the baker you know has culinary school aspirations, encourage them to apply to WebstaurantStore's foodservice and hospitality scholarship.
Baking Gifts
Below are baking gift ideas sectioned off by experience level so you can make sure you're purchasing a gift that's in your baker's skill level:
Gifts for Beginner Bakers:
If the baker in your life is just starting out or is thinking of becoming a pastry chef, then these beginner baking gifts are great options: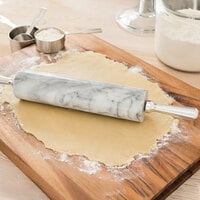 1. Marble Rolling Pin
What may seem like just a fancy rolling pin is actually a well-designed kitchen tool. Because marble is naturally cold, it will keep dough chilled while rolling out. It's perfect for working with pie, biscuit, puff pastry, and so many other doughs that benefit from staying as cold as possible. This baking gift idea is not only beautiful but functional and useful!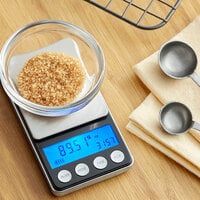 2. Ingredient Scale
Since baking comes down to an exact science, ingredient accuracy is imperative. Scales provide the precision that measuring spoons and cups simply cannot. Plus, most countries rely on scales to weigh ingredients, so your baker can use them to broaden their baking repertoire with international recipes! We recommend this baking gift for beginner bakers so they can take on any recipe they want to make or create!
3. High-Quality Extracts
It's obvious when bakers use quality ingredients in their work, especially when comparing flavors. Extracts and flavorings are all about taste enhancement for batters, cocktails and drinks, and different frostings. Buying high-quality extracts can help set their recipes apart from the competition and boost sales if they sell baked goods from home or elsewhere. Buy a bottle of each to set up your baker with a nice kit. If you can only afford one, you can never go wrong with a vanilla paste.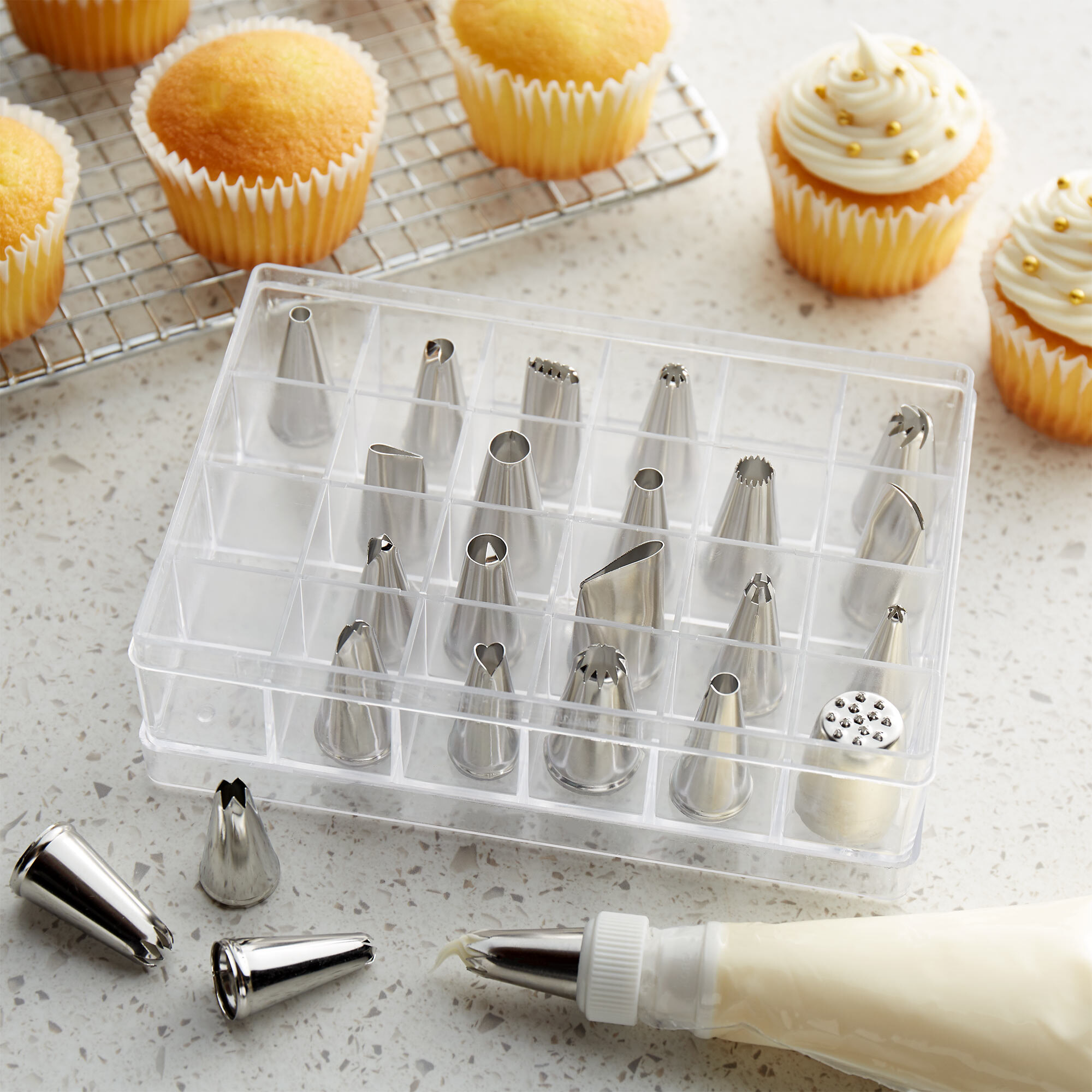 4. Piping Tip Set
Some of the best gifts for bakers are tools that teach new baking techniques, and being skilled at piping is among the top qualities a baker can have. With so many different types of piping tips to use, they take decorating cakes, cupcakes, French pastries, and sugar cookies to new levels. To round out the baking gift, consider giving them some piping bags to use with the tips and a pastry tip drying rack to assist with cleanup.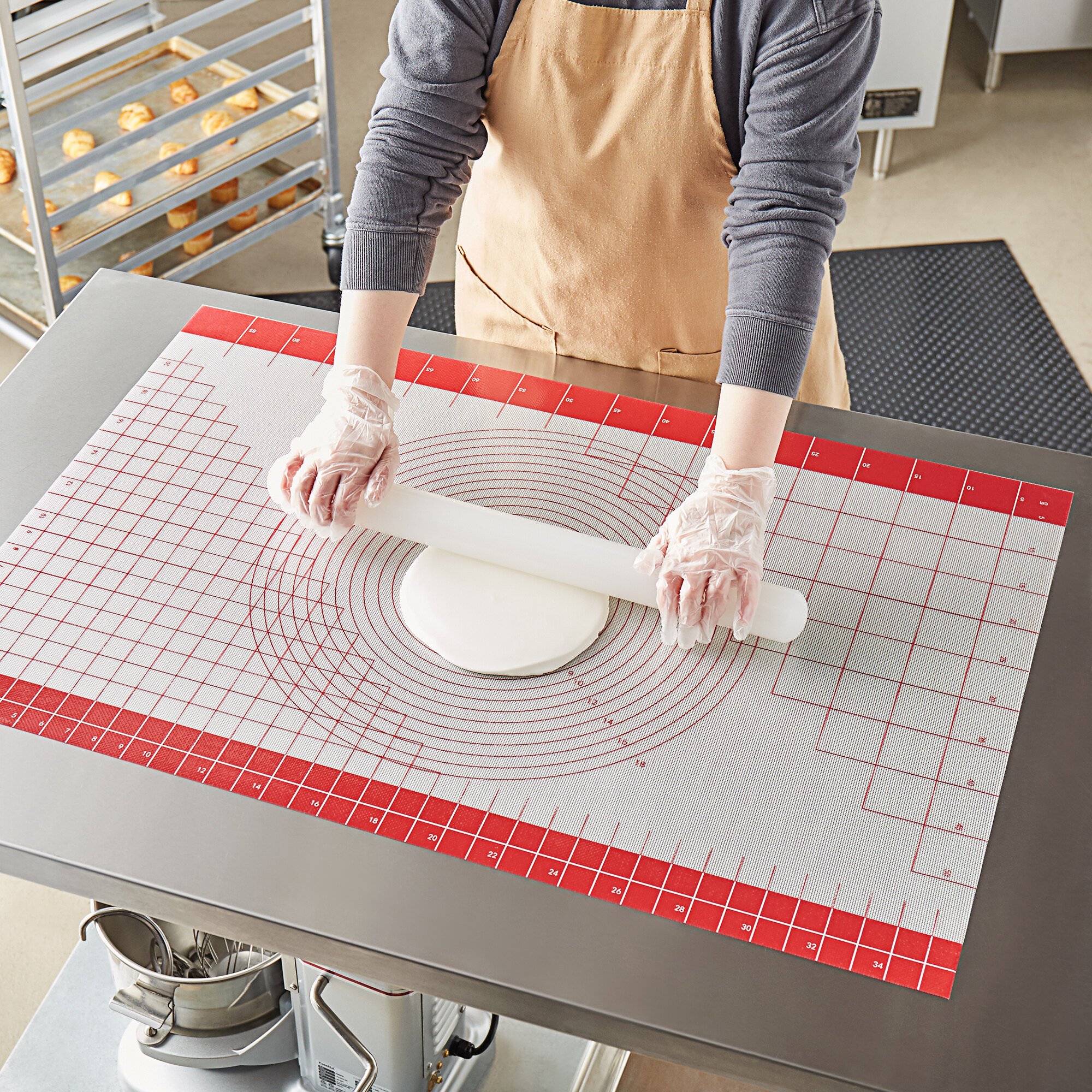 5. Baking Work Mat
For a new baker, helpful guides and learning tools make all the difference in their baking development. These workstation mats come with diameter and ruler grids to teach visual learners how big certain measurements should be, or simply ensure the baker that they're rolling and measuring to the size they want. They're best when working with doughs, fondant, and gum pastes, plus the mat cleans very well and stores easily!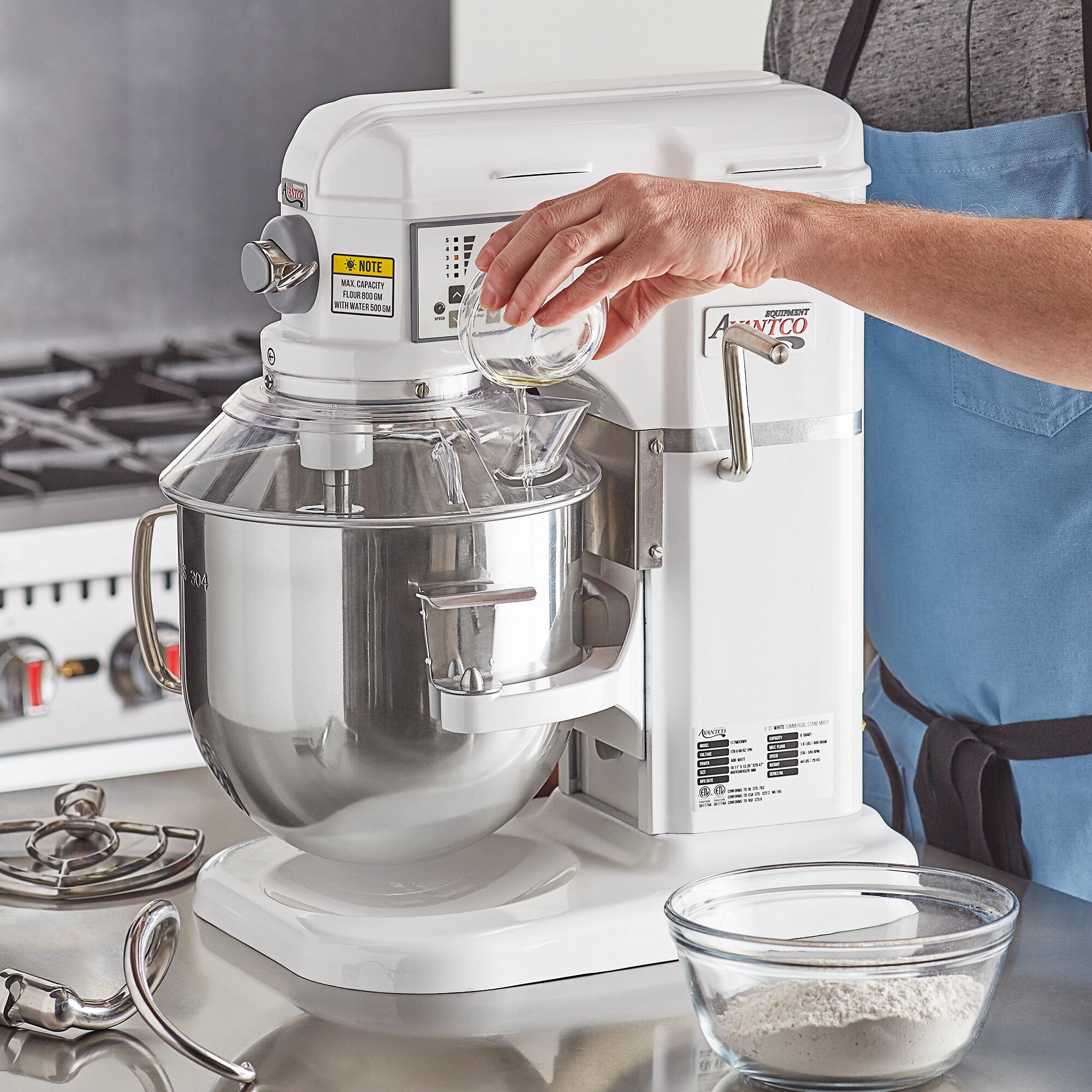 6. Countertop Mixer
A countertop mixer is an extremely special gift for bakers. It makes mixing doughs and batters faster, cleaner, and less labor-intensive. Plus, it's every baker's dream to own one. Because this can be an expensive item, save this gift for baking lovers that you know do not already own one.
---
Gifts for Intermediate Bakers:
If the baker in your life already knows how to frost a cake, boil pastry cream, and blind bake a pie crust, then they're probably ready to learn new skills to level up their baking prowess. The below baking gifts make great presents for a well-seasoned baker:
1. Ice Cream Maker
Ice cream seems difficult and unattainable to make at first. In reality, it boils down to learning to temper simmering milk into eggs at just the right time, or getting the Brix level of a sorbet just so. After that point, churning in an ice cream maker is effortless and provides an instant treat. From ice cream and sorbet to custard and gelato, the different types of frozen desserts and flavors are endless.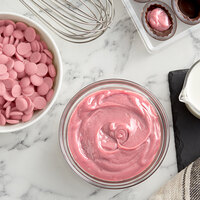 2. Ruby Chocolate
Ruby chocolate is made from ruby cacao beans, a new cacao bean produced by Callebaut. Although it may look artificially pigmented, ruby chocolate's red-pink hue is a natural food color and is desired by pastry chefs all around the world. It's best used in cheesecakes, cookies, pastry cream, ice cream, and gelato applications. More advanced bakers can temper ruby chocolate for their truffles, chocolate bars, and other chocolate work.
3. Proofing Baskets
Not every baker wants to decorate cakes. Some lean more on the bread baking side of the pastry arts, like making sourdoughs, layering croissants, or braiding challah. A proofing basket will help shape the perfect loaf during proofing, as well as give the dough a desirable woven design before baking. To really round out the gift, consider adding bread lames and loaf pans for a complete bread-baking set.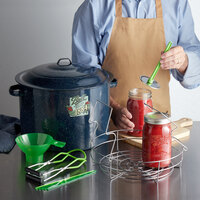 4. Canning Set
A canning set makes a great gift for bakers that want to learn how to make jams and canned fruits! These homemade delicacies can then be used for other ingredients like flavoring frostings, used as a filling for cakes, or featured with other accompaniments on a charcuterie board. Bonus: the baker can use the jars to pickle and ferment vegetables and fruits, too!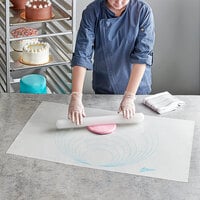 5. Fondant Tools
Fondant is a type of pliable icing that is used to coat cakes or sculpt three-dimensional decorations. Fondant tools are almost essential when working with fondant, and the more tools available, the more your baker can let their creative side shine. Gift a baker a collection of fondant tools so they can take their decorating work to a professional level!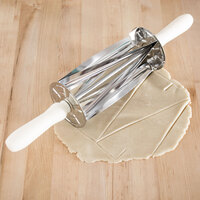 6. Croissant Cutter
Buttery, flaky, and delicious croissants don't come easy. There is a lot of prep work, time, and labor involved in making these coveted French pastries look and taste the way they do. Besides making croissant dough, forming a butter block, and layering the butter and dough together over and over, there's also the shaping, proofing, baking, and the most meticulous part: cutting.
Every incision into the layered dough is carefully calculated to ensure an even croissant triangle is made. These croissant cutters do the hard work of measuring and cutting in one simple, easy-to-use tool, alleviating one time-consuming task of making croissants!
---
Gifts for Experienced Bakers:
If the baker you're gifting went to culinary school, is a pastry chef, or owns their own bakery, then they're probably ready for these baking gifts: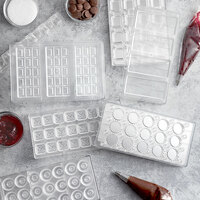 1. Chocolate Mold
Most chocolate work requires the baker to temper chocolate, but tempering chocolate is a tricky baking skill to master. But when taught correctly, it opens up a whole world of chocolate work like truffles, candy bars, and large chocolate sculptures. If the baker in your life already knows how to temper chocolate or wants to learn, then they most likely already have chocolate molds on their holiday gift list!
2. Cooking Torch
From crystallizing sugar on a creme brulee recipe to toasting meringues on Baked Alaska's, having a cooking torch in the kitchen allows the baker to add a heated element to their desserts. Not only is it a cool kitchen gadget, but it's very easy to store away. Because cooking torches have open flames, save this baking gift for a very experienced baker. If you're just getting the torch head, don't forget to buy the butane canister, too so they can use it ASAP!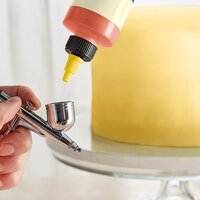 3. Airbrush Tools
If the baker in your life loves to work with cakes, then an airbrush set will help complete their collection of cake decorating tools. Airbrushing allows the baker to apply a whole new way to add color and texture to fondant figurines, gum paste flowers, or perfectly frosted cakes. It takes time and a steady hand to master this practice, but the final results are worth it! This is the ideal gift for bakers who have mastered their cake recipes and are ready to elevate their presentations. From a nice ombre pattern to detailing a gum paste peony flower, an airbrush set will help maximize color potential with cake decorations. Don't forget about airbrush-compatible food coloring so they can get started right away!
4. Sugar Blowing Pump
Has the baker in your life tried the art of sugar blowing yet? Tricky in practice but with beautiful results, sugar blowing can create simple shapes or detailed sculptures to decorate desserts. A sugar-blowing pump quickly pushes air into melted sugar to manipulate it into the desired shape before the sugar hardens. Working with melted sugar can be dangerous for those that are not properly trained, so save this for an experienced baker. If your baker isn't quite ready for this yet, working with isomalt to create sugar art is a great introduction to sugar work.
5. Wedding Cake Frame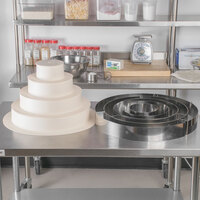 Help the baker in your life build tiered cakes with a wedding cake frame! This cake frame's patented system consists of superimposed inserts and stainless steel frames that design beautiful and sturdy tiered cakes. The superimposed insert is the inner structure, while the stainless steel frames cut out sponge cake into shapes that help your baker easily and accurately build the outer layers of the cake. You can also purchase just the superimposed frame if your baker already has all the cutouts needed to complete the wedding cake!
6. Croquembouche Cone Mold
One of the hardest, most time-consuming, and multi-step desserts a baker can make is a croquembouche. A croquembouche (pronounced "kroh-kehm-boosh") is a French dessert made up of choux pastry puffs filled with pastry cream and arranged into a cone shape held together by crystallized caramel. The cone shape is done by strategically arranging the filled choux puffs into a cone, but gifting a croquembouche cone mold alleviates this, eliminating one of the many stressful aspects of putting one of these desserts together.
---
Before purchasing any of these baking gifts, think of your baker's skill set and where they are with their journey. Buying above their skill level can discourage their new hobby with something they are not ready for yet while buying below their skill level means you're probably gifting them something they already have. But don't fret, at the end of the day, you really can't go wrong with any of these unique baking gifts!