The Right Knife for the Job
The following descriptions should serve as a basic guide for some of the most common types of knives.
Though there are many meat cutting knives, a meat carving knife is used to slice thin cuts of meat, including poultry, roasts, hams, and other large cooked meats. Carving knives are much thinner than a chef's knives, enabling them to carve thinner, more precise slices. Additionally, the pointed tip is perfect for cutting along a board, and it can be utilized in more ways than rounded blades.
---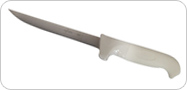 Boning knives, another type of meat knife, are available with flexible, semi-fleixble (semi-stiff), or stiff blades ranging from 3" to 8" in length and are used to separate meat from bone. Flexible blades are great for shaping, denuding, and seaming and are typically used by experienced butchers for boning roasts, whole hams, lamb legs, veal legs, and filleting fish. Semi-flexible or semi-stiff blades allow for enough bend to keep the edge close to the bone or table and are great for jointing. Stiff blades are perfect for making precise, straight cuts without fear of wandering and are also great for jointing.
---
Bread knives are available in a variety of sizes from 7" to 10". Some feature an offset handle design to prevent the users' knuckles from hitting the cutting board. Bread knives may have a straight or slightly curved blade with a serrated edge that's ideal for bread and hard rind fruits.
---
Butcher knives usually have heavy, wide, and slightly curved blades that are useful for cutting, sectioning, and trimming large pieces of meat.
---
Breaking knives are similar to butcher knives and are primarily used to break down large pieces of meat into smaller cuts. Their blades are usually around 10" and are curved to create leverage to break through tough skin, cartilage, and small bones. They are also excellent knives for trimming fat off of meat.
---
A chef's knife, or "cook's knife" is one of the most commonly used knives in a commercial kitchen. Available in sizes ranging from 6" to 14" (8" to 12" is most popular), the chef's knife features a wide blade with symmetrical sides that taper to a point. It is suitable for a wide range of tasks such as chopping, slicing, and mincing.
---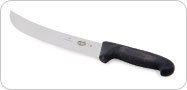 A cimeter (or scimitar) knife is a cousin of the classic butcher knife. Its upward curving blade makes it well suited for cutting and trimming steaks.
---
A cleaver features a long, wide blade that is used to chop and cut through thick meat and bone. Cleavers are also ideal for opening lobsters.
---
Often used as a light to medium duty cleaver, the Deba knife is ideal for cutting fish, meat, and hard vegetables, as well as for chopping.
---
Flank and Shoulder Knife
Flank and shoulder knives are a type of boning knife that are excellent for creating flank steaks. Their straight, stiff blades are perfect for generating precise cuts while boning, trimming, and jointing.
---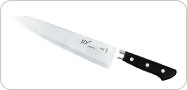 Similar to a chef's knife, the Gyuto knife is a multi-purpose blade. However, there are several key differences between a Gyuto knife and western-style chef knife: A Gyuto knife is lighter and thinner than a western-style chef knife and also has a much flatter edge. This allows the knife to have faster push-cutting abilities and makes it easier to handle.
---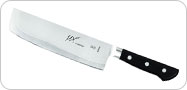 Nakiri knives enable you to cut vegetables paper-thin in just seconds! Its razor sharp taper edges are best for seedless vegetables.
---
Oyster Knives are used to shuck the oysters. These knives can be used for opening the oyster as well as removing the oyster from the shell. There are several common styles of oyster knives:
New Haven: The New Haven oyster knife features a comfortable, pear-shaped handle and a short wide blade with a curved tip. It is ideal for use on small to medium sized oysters for half shell consumption. The unique, curved tip offers two major advantages:
It provides excellent leverage for opening the oysters
The curved tip tends to travel high inside the oyster, above and away from the tender meat of the oyster, which avoids damaging the oyster meat. This allows you to easily spoon the oyster out of its shell to remove as much meat as possible.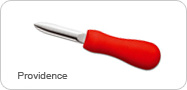 Providence: Features a shorter, wide, straight blade. This serves the same function as the New Haven style, but does not have a curved tip. Thanks to its blade's edge, the style is great for shucking any sized oyster from its shell, though is ideal for removing medium oysters. Plus, the contoured handle features an easy-to-hold design, as the end is thicker than the front.
Boston: The Boston style oyster knife features a long, narrow blade and is extremely versatile and very effective at opening just about any type or size of oyster with a variety of shucking methods. Narrowing to a rounded, flat tip, the blade is moderately sharp, but perfectly effective.

It features a comfortable handle shaped like a pear with a narrow front and a wide, round backend. Topped-off with a small, front bulge, the handle promotes a secure, stable grip while also providing a convenient resting surface for the hand's palm.
Galveston: With its long, wide blade that narrows to a point, the Galveston style oyster knife is excellent for commercial use. This style is often used in processing medium and large Eastern oysters for meat gain and features the Boston handle for optimal comfort and maneuverability.
Frenchman: The Frenchman features a short, wide blade that utilizes a sharp edge that is perfect for finding the crease between oyster shells.
---
Paring knives rate second in versatility after a chef's knife in a commercial kitchen. There are several common styles: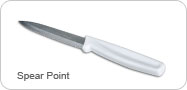 Spear point paring knives are great for removing corn from the cob, breaking up heads of lettuce, peeling fruits and vegetables, cutting beans, and other similar tasks.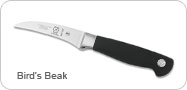 Bird's beak or curved paring knives, also referred to as tourne knives, feature a downward arching blade that makes peeling round fruit and garnishing a breeze.
Sheep's foot paring knives feature a rounded tip with a straight edge. These knives are perfect for chopping and julienning fruits and vegetables on a cutting board.
---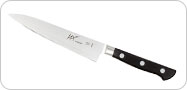 Comparable to a utility knife, the petty knife's thin, light construction allows for ultimate precision while dicing, slicing, or cutting small items, particularly softer fruits and vegetables.
---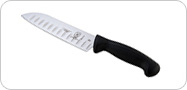 A Santoku knife is an all purpose knife best suited for slicing, dicing, and mincing. This knife can be used for the same functions as a chef knife.
---
Equivalent to a western slicer, the Sashimi knife is perfect for everyday slicing and for cutting large pieces of fish.
---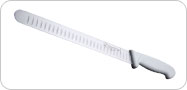 The meat slicing knife features a long, straight blade that's designed for slicing cooked meats, sushi, and sashimi, as well as, breaking down large fish. Slicers are generally longer than a carving knife and often feature a Granton Edge and a round blunt tip. Ham slicers feature a narrower, more flexible blade that makes cutting cold meat more efficient. A slicer should be long enough to permit smooth slicing action.
---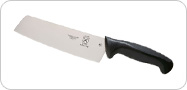 This knife is designed to quickly slice produce paper-thin, especially vegetables without hard seeds. Try a produce knife for similar peeling and cutting tasks.
---
Utility knives often have a scalloped edge, and can be considered a cross between a paring knife and a slicing knife. A sharp utility knife is very efficient for slicing softer fruits and vegetables, such as tomatoes or squash. Utility knives are also great for cutting large melon rings, cutting heads of lettuce into wedges, preparing cabbage for shredding, and halving citrus fruits.