Parts of a Knife
Understanding the parts of a knife is integral to learning about the various types of kitchen knives and how they're different. The graphic below shows the parts of a knife to help you identify them on your own kitchen knives.

Here's an explanation of the different parts of a knife:
Bolster: The bolder is only found on forged knives. It is a thick band of steel between the heel and the handle that helps balance the weight of the knife and prevents the user's hand from slipping.
Butt: The butt is the end of the knife's handle.
Edge: The edge is the sharpened side of the knife's blade that you use to cut. Keeping your knife's edge sharp prevents accidents while cutting.
Handle: The handle is the section where the user holds the knife. This part of the knife may also be referred to as the scales.
Heel: The heel is the rear portion of the blade, and it's most often used for cutting tasks that require a lot of force, such as cutting meat or dense vegetables.
Point: The point is the tip of the knife. It is often used for piercing through products.
Spine: This is the unsharpened side of the knife blade that is opposite the edge.
Tang: The tang is the part of the blade that extends into the handle to provide balance. Full tang blades are considered superior in balance and durability. A sub tang or half tang knife is less durable but more economical.
Tip: The tip is the front quarter of the blade that does most of the cutting and separating. Point tips are ideal for piercing and cutting small portions whereas rounded tips are ideal for cutting or slicing thin portions.
Types of Knives
There are many different types of knives that are used for various tasks, and it can be difficult to know which knives are essential for your kitchen. We broke down the knife types into two lists, common types and specialty types, and provided explanations of each type and what they're used for.
Common Types of Knives
Here are some of the most common types of cooking knives that you'll find in most commercial kitchens:
Bread knives are designed for slicing different types of bread, and they feature serrated blades that can cut through crispy crusts. Most bread knives feature offset handles, which are designed to prevent the user's knuckles from hitting the cutting board. Additionally, you can usually find bread knives between 7-10" long.
---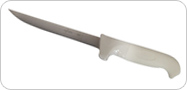 Featuring flexible, semi-flexible, or stiff options, boning knives allow users to separate meat from bones while reducing the amount of wasted meat. Boning knives come in a variety of sizes and knife styles, so you can find the perfect option for the type of meat you're working with.
---
Used for breaking down cuts of meat or trimming fat, butcher knives are typically found in butcher shops and restaurants. This type of knife has a slight curve, which helps with cutting through meat. Many types of butcher knives also feature granton edges, which allow you to easily slice through meat without tearing or shredding the product.
---
You can find chef knives in every commercial kitchen, and they are versatile tools that can be used for most cutting tasks. Chef knives have a wide blade that tapers to a point, and it's suitable for a number of prep tasks, such as chopping, mincing, and slicing. Additionally, chef knives can come in several different sizes, although the most popular sizes are between 8-12".
---
With a wide and long blade, cleavers are some of the largest knives a chef will have in their cutlery kit. Despite their size, cleavers feature thin and lightweight blades that can be used for a number of tasks, such as crushing garlic, chopping vegetables, and slicing meat. Cleavers can also be found in many Asian restaurant kitchens.
---
This extremely versatile type of knife can be used for many food prep tasks from peeling vegetables and chopping fruits to deveining shrimp and slicing cheese. Paring knives typically have blades that range between 2 ¼" and 4 ½", and there are a number of different styles of paring knives. Here are three of the most popular types of paring knives:
---
Spear Point: The top and bottom of the blades on these knives are curved like a spear. Spear point paring knives are designed for small, precise tasks.



Bird's Beak: This type of paring knife, often referred to as a curved paring knife or tourne knife, has a blade that curves downward, mimicking the shape of a bird's beak. Bird's beak paring knives are designed for peeling rounded fruits and creating garnishes.



Sheep's Foot: Sheep's foot knives feature a rounded tip with a straight edge, which make them perfect for chopping and julienning fruits and vegetables.
---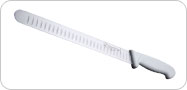 Featuring long, straight blades, slicing knives are designed for slicing cooked meats like smoked hams, roasted turkeys, or sirloin steaks. These knives typically have a long blade with a rounded tip. Many meat slicing knives also feature granton edges, which prevents the meat from tearing while cutting.
---
Utility knives are a mix between slicing and paring knives. They feature scalloped edges and blades that are slightly longer than standard paring knives. A sharp utility knife is very efficient for slicing fruits and vegetables, and they're an ideal tool for food prep.
Types of Specialty Knives
There are other types of cooking knives that are less common than these options and that you will only find in specific types of foodservice settings.
Breaking knives are a type of butcher knife that are used for cutting large sections of meat into smaller cuts.These types of butcher knives feature curved blades, which gives the user additional leverage when cutting through tough skin, cartilage, and small bones. Additionally, breaking knives are ideal for trimming fat from cuts of meat.
---
Cheese knives are specially designed to cut through dense, sticky, and hard cheeses, and they're the perfect tool for restaurants that offer charcuterie boards. Cheese knives come in a variety of designs that match with specific types of cheeses.
---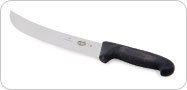 Cimeter, or scimitar, knives are a type of butcher knife that are used for prepping and cutting meat. Their long, curved blades are ideal for trimming fat off ribs or breaking down a large cut of beef.
---
Typically found in sushi restaurants and Asian-style operations, deba knives are often used as a light- or medium-duty cleaver. These knives have medium-length blades, and they can be used for a variety of tasks, such as preparing cuts of fish, chopping vegetables, or cubing meat.
---
Flank and shoulder knives are a variation of boning knife with longer blades that are designed specifically for cutting flank steaks. Their straight, stiff blades are perfect for generating precise cuts while boning, trimming, and jointing.
---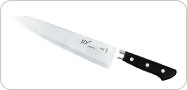 Gyuto knives are similar in use and shape to chef's knives. However, there are several key differences between a gyuto knife and a chef knife. Gyuto knives are lighter and thinner than chef knives, and they have a flatter edge. This allows the knife to have faster push-cutting abilities and makes it easier to handle.
---
With long blades, meat carving knives are the ideal choice for slicing cooked meats like smoked ham, roasted chicken, or deep fried turkey. Carving knives are much thinner than chef knives, enabling them to carve thinner, more precise slices.
---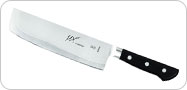 Nakiri knives have razor-sharp edges and thin blades that are perfect for cutting vegetables and fish into thin slices.
---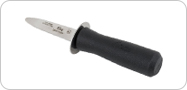 Essential for any restaurant or diner that serves fresh shellfish, oyster knives are used to open oyster shells and then remove the meat from the shell. There are several types of oyster knives that are used for different sizes and preparations of oysters.
Boston Style: Boston-style oyster knives have long, narrow blades that are effective at opening oyster shells regardless of their size.
Frenchman Style: Frenchman oyster knives have a short, wide blade featuring a sharp edge that is perfect for finding the crease on oyster shells.
Galveston Style: Galveston-style oyster knives have longer blades that narrow to a point, and they're often used for processing medium and large Eastern oysters.
New Haven Style: The short and wide blade on New Haven-style oyster knives is designed for small and medium oysters. They're also designed for serving oysters on the half shell. Additionally, New Haven-style oyster knives point upward, which avoids damaging the oyster meat inside.
Providence Style: These knives are similar to New Haven-style knives, but they do not have a curved tip. They're ideal for shucking medium-sized oysters.
---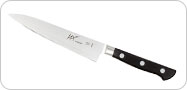 Petty knives are known for their quality and balance, and they're excellent utility knives to have in your repertoire. Similar in size and shape to utility knives, petty knives have a few key differences. They are slightly longer than utility knives but shorter than chef knives, which allow you to use them as either a chef knife or utility knife.
---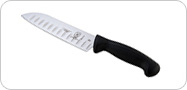 Santoku knives have a similar shape and construction as chef knives. Additionally, they can be used for a variety of cooking tasks, such as chopping, slicing, and dicing, like chef knives.
---
Essential for any sushi restaurant, sashimi knives feature long and thin blades that allow chefs to cut thin and precise cuts of raw fish without tearing the meat. Due to their length, sashimi knives can also be used for breaking down large cuts of fish.
Forged vs. Stamped Knives
Every piece of commercial cutlery is constructed using one of two methods: forging or stamping.
What Is a Forged Knife?
Forged knives are made when a heated bar of steel is roughly shaped under a drop hammer, which compresses the steel with immense pressure. After the basic knife shape is forged, the blade goes through a grinding and honing process to form its final shape and edge.
Here is some additional information about forged knives:
Due to the length of the process of forging a knife, they're more expensive than stamped knives.
Forged knives have a bolster between the handle and the heel.
They're stronger than stamped knives.
Knives that are forged have full tangs, which provides better balance.
Forged knives are thicker and heavier than stamped knives.
---
What Is a Stamped Knife?
Stamped knives are formed when a hydraulic press or die cuts the blade shape out of a sheet of steel. This process creates the basic shape of the blade, called a blade blank, which is then ground and honed to give it an edge.
Here is some additional information about stamped knives:
Stamped knives are thinner and lighter than forged options.
These knives do not have a bolster between the heel and handle.
They're less expensive than forged knives.
Some stamped knives have smaller tangs, which can make the knife feel less balanced than forged options.
---
Stamped vs. Forged Knives
If you're trying to decide between stamped and forged knives, it will depend on how you're planning on using the blade, your budget, and your level of expertise.
For example, if you're looking to outfit new employees in your kitchen with affordable and versatile knives, stamped knives are probably the best option. On the other hand, if you're an experienced chef that is willing to spend more for a quality blade, forged knives are the best option.
Additionally, if you're going to be using your cooking knives regularly throughout your shift, the balance and durability of forged knives will pay off in the long run.
Knife Handle Materials
From stylish wood and metal handles to durable plastic and nylon handles, there are a number of types of knife handles that you can choose from. Here are some of the most popular options as well as some benefits to each type:
Wood Handles
Wood handled knives used to be very common, but they have fallen out of favor due to food safety concerns. While they are attractive and comfortable to use, wood handles are not as durable as other options and can trap bacteria.
Pakkawood is an alternative to traditional wood. It is a composite material that looks and feels like wood, but has added benefits, like moisture and warp resistance.
Stainless Steel Handles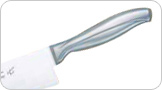 Stainless steel handles are virtually maintenance free, and they're very durable and easy to clean. Additionally, stainless steel handles provide balance for knives with long blades. On the other hand, though, stainless steel handles can become slippery when wet.
Plastic Handles
Plastic handles are the most popular type of knife handles because they're very easy to clean and durable. While plastic is durable, if plastic handles are exposed to extreme temperature changes over time they may start to crack.
There are also different types of plastics that you can choose for your knife's handle. Here are some popular options:
Fibrox - RH Forschner Fibrox handled knives are NSF Listed, dishwasher-safe, and slip-resistant.
Nylon - nylon knife handles are durable, easy to clean, and economical.
Proflex - Proflex poly resin handles provide a safe, no-slip grip, and are NSF Listed.
Resin - Resin handles are lightweight and comfortable to hold.
Styrene - Lightweight, sturdy, and comfortable styrene handles are ideal for most kitchens.
Polypropylene - Knives with polypropylene handles usually have a textured grip and are easy to clean. They are typically an economical option and usually stand out by their white coloring.
Riveted POM (Polyoxyethylene) - POM handles are more durable than polypropylene. They also are more resistant to high heat and water absorption than other types of plastic handles.
Dexter-Russell V-Lo - Dexter-Russell V-Lo handles are durable, easy to clean, and feature an incredibly comfortable, "soft-touch" grip.
Mercer Millennia Santoprene - Mercer Millennia santoprene handles are a blend of santoprene and polypropylene. Not only do they provide a non-slip, comfortable grip during use, but they also will not break down when exposed to kitchen oils, hot environments, or cold temperatures.
Types of Knife Materials
There are numerous types of stainless steel, and several that are commonly used for making knives. Here are some of the common types of stainless steel used to make kitchen knives and their benefits:
VG-10 Stainless Steel
VG-10 steel is a type of Japanese steel that is commonly used to make professional-grade cutlery. While this type of steel was originally intended for Japanese markets, it's excellent edge retention, sharpness, and durability made it popular in international kitchens as well. But, due to its excellent craftsmanship, durability, and quality, VG-10 stainless steel knives can be more expensive than other options.
San Mai Stainless Steel
San Mai isn't a type of stainless steel, instead it's a process of forging and laminating the metal to create a durable blade. This Japanese process involves sandwiching a hard high-carbon steel core with lower carbon and more flexible steel. The result is a blade with excellent edge retention and sharpness, flexibility, and durability.
German Stainless Steel
German steel comprises several types of steel, and it's characterized by a high-carbon stainless steel construction that is sharp, durable, and excellent at resisting stains and corrosion. These types of stainless steel are common in many types of western knives, especially forged knives. Some common types of German steel include 420, 420HC, 420JC, and 440C, among others.
Knife Care and Sharpening
Dull knifes are the single most common cause of injuries in commercial kitchens. Because properly sharpened knives cut more easily than dull ones, workers can complete their tasks more quickly. Additionally, the product being cut can be returned to temperature-controlled storage faster for better food safety.
Knife Care Tips
Here are a few tips to maintaining your cutlery:
Regularly wash knives with warm, soapy water and dry them thoroughly.
Wash your knives by hand rather than running them through the dishwasher.
Hone knives regularly with a sharpening steel.
Regularly sharpen your knives with a sharpening stone or knife sharpener.
Allow knives to air dry completely before storing them.
Knife Sharpening Savings Calculator
Some chefs take their kitchen cutlery to a professional to have them sharpened, but it is much more cost effective to invest in a sharpening stone or knife sharpener and do it yourself. You can use our calculator below to learn just how much money your business can save by sharpening your knives yourself:
Hiring a Knife Sharpening Service
Purchasing an Electric Knife Sharpener
Savings in First Year
Knife Storage and Transportation
Proper knife storage and transportation are essential for the care of your knives and to prevent any accidents.
Knife Storage
To prevent bacteria from growing and spreading, you want to make sure that your kitchen knives can air dry properly. To ensure that you're storing your knives sanitarily, we suggest using a magnetic knife holder or knife rack.
Knife Transportation
Knife bags are a convenient way to store and transport your knives. While primarily used for knives, some knife cases and rolls can also fit other kitchen tools like turners, spoons, whisks, and more.
Additionally, many knife bags, cases, and rolls have additional features like holders for business cards, pens, and IDs. There are a few differences between the styles of knife transportation, and choosing between styles comes down to general preference and which bag can accommodate all of your knives and tools. Here's a general breakdown of the main types of knife bags:
Knife Cases: Cases feature a hard lining that holds its shape when the case is folded or closed. This lining can be water resistant, which adds another layer of protection to your knives.
Knife Rolls: Rolls don't have a lining under the canvas exterior, which takes away that protective layer, but makes them more flexible. When rolled up, they take the shape of whatever knives or tools are inside, which helps them take up less space than cases.
Different knife types are designed for various tasks, and it's important to have the right knife for each job. Learning about the types of kitchen knives is also essential for new chefs or restaurant managers that are looking to outfit their kitchen with the right selection of cutlery.