Choose the Best Knife Bags, Rolls, and Cases for Your Business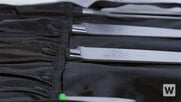 Keeping your knives secure is essential to kitchen safety and the longevity of your blades. With knife cases, rolls, and bags, you can easily store your knives in one convenient location and protect them from damage. By covering your knives when they're not in use, you can also reduce the risk of accidental cuts or injuries. These knife cases and rolls are made to hold various knives and hand tools in appropriately-sized pockets, and they feature buckles, ties, and zippers for safe handling and portability. Because all of these products are constructed of durable materials like nylon, canvas, polyester, and polypropylene, you can rest assured that they'll be able to stand up to frequent use. Some of these bags, rolls, and cases even have shoulder straps, zippered compartments, and business card holders for the ultimate in comfort and convenience. Whether you're a chef on-the-go or you're looking for a safe way to store your cutlery in the kitchen, these knife cases will keep your tools protected and secure. To learn more about the differences between these products, explore the tabs above and the filters on the left side of the page.
Use a knife case to keep your cutlery sanitary as you store it in your kitchen and to prevent the blades from getting damaged during transport. These bags come as rolls with tie fasteners, cases with zippers and buckles, or even as backpacks to suit any volume of knives you need for your cooking tasks. For more cutlery supplies and accessories, be sure to check out our knife sanitizing systems, knife sharpeners, and knife racks and holders. If you're wondering where to buy knife bags, rolls, and cases, we have a large selection of knife bags, rolls, and cases for sale at the lowest prices.