Find the Best Paring Knives for Your Business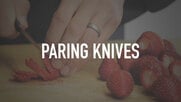 Perfect for peeling and slicing fruit, chopping vegetables, and scoring bread, paring knives are a must-have in any commercial kitchen. We offer these products with a variety of blade types, including bird's beak, sheep's foot, spear point, and straight, so you'll have no trouble finding the perfect item for you. Depending upon what you'll be cutting, you can also choose between serrated and smooth edge styles. Some of these products are also dishwasher safe and NSF Listed, which means they're easy to clean after use. If you're searching for a particular type of handle material, we even sell items with handles made from substances like polypropylene, Santoprene, nylon, and rosewood. Whether you own a farmer's market, fruit stand, or food truck, paring knives are an excellent addition to your business's collection of smallwares. To learn more about the differences between these products, explore the tabs above and the filters on the left side of the page.
We carry professional paring knives with a variety of blade lengths and handle styles for all of your kitchen prep tasks. Choose from colored handles for a color coding system, and pick a forged or stamped style to meet your kitchen cutlery needs. With so many options available, it's easy to find the perfect paring knife for your foodservice operation. For other products to help with cutting vegetables, meat, and more, check out our produce cutters, tomato slicers, and mandolines. If you're wondering where to buy paring knives, we have a large selection of paring knives for sale at the lowest prices.