Knife Safety Tips
Walk into any commercial kitchen, and you'll see a variety of knives in use. Professional-grade cutlery is essential to every operation, but also poses an obvious personal safety risk. Making sure your staff is trained to correctly use and safely handle knives can help minimize that risk. Read on for some helpful knife safety tips!
1. A sharp knife is a safer knife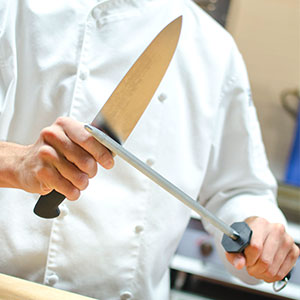 Keeping your knives properly sharpened is one of the easiest ways to lower the risk of cuts. Why? A dull knife needs more force to cut, and is more likely to slip. It's easy and inexpensive to keep your kitchen's knives razor-sharp with a sharpening stone or knife sharpener. A sharpening steel is a great way to "touch up" the blade between full sharpenings.
Most knife blades have an approximately 20-degree angle on each side of the cutting edge, as this strikes a good balance between sharpness and durability. You can sharpen to a lower angle if you cut a lot of soft materials, but of course the trade-off would be a knife that requires more frequent sharpening, and lower overall durability.
2. The right knife for the job
Commercial cutlery is available in a dizzying array of styles, shapes, and sizes. Don't use a big chef knife to peel an apple or a potato; likewise don't use a paring knife to cut up a melon or pineapple! Using the right knife is more efficient, too. And remember, a knife is not a can opener, screwdriver, box cutter, or ice pick!
3. Keep them clean
It's always a good idea to clean your knife as soon as you're done using it. Not to mention lessening the chance of a slippery handle, you'll also be minimizing the chance of cross-contamination. Don't leave it in a sink-full of soapy water where someone could grab the blade.
Certain handle materials offer a less slippery grip and you can take this into consideration when purchasing knives for your kitchen.
4. Store correctly
Knives should always be stored on a knife rack or block, or even a knife roll when not in use. Don't leave them lying around, or in a drawer with other tools. Someone might reach into the door and cut his or her hand on the blade.
5. Proper holding and cutting techniques
Never hold what you're trying to cut in your hand, always use a cutting board. If you're not sure about the correct way to hold the knife or use it for the task at hand, ask a more experienced kitchen worker to demonstrate the proper knife safety techniques for you.
For example, holding onto the blade with your pointer finger and thumb, as illustrated below, gives you more control while cutting, than simply grasping the handle. Also, notice how the chef's fingers are curved back and away from the blade, as he holds the tomato.
If you drop the knife, your natural instinct might be to grab for it—just let it fall!
6. Pay attention
It may sound obvious, but always give the knife and your task your full attention. A commercial kitchen can be a hectic place. If you're distracted, stop what you're doing and deal with the distraction before returning to cutting.