Restaurant Accounting Tips
You have the best food, the drive to be successful, and you're ready to get started! But running a restaurant involves much more than a talent for cooking and a passion for hospitality. A business strategy, organization, and the willpower to keep accurate accounting records are also important factors in whether or not your restaurant will get off the ground. To better understand restaurant accounting, read these restaurant accounting tips and suggestions, and get on the way to being as successful as you imagined.
Restaurant Accounting Tips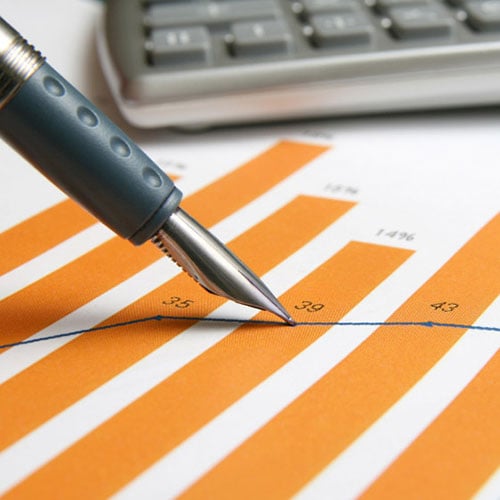 Restaurant bookkeeping is one of the most important aspects of running a restaurant, but it can be overwhelming to think of managing your own books and records at first. Even if you don't have a knack for numbers, the concept of restaurant accounting is fairly simple if you commit to being organized and accurate. The point is to know where you're spending your money, how much you're spending, where your revenue is coming from, and how much money you need to earn to make a profit. Below are some restaurant accounting tips that offer basic advice for accurate bookkeeping so you can have all of this information about your business readily available.
1. Ask Around
Ask other chefs how they handle their accounting records. Knowing how a colleague or other industry professionals approach restaurant bookkeeping may provide insight as to how you should address your own books and records.
2. Be Accurate
The only way to know if you're in the red or the black is to keep an accurate account of all money coming and going from your restaurant. This may sound like common sense, but many financial anxieties come from a lack of dedication to accurate bookkeeping. Record precise amounts of money for every expense and all revenue. Don't round! Those few cents or dollars will add up over the course of a week or a month and could seriously affect your bottom line and accounting records.
3. Keep Track of Expenses
Your expenses include your inventory, labor costs, occupancy expenses, restaurant insurance cost, and other operational expenditures. Know your inventory, how much you purchase each week, and your cost of goods sold. Keep records of how much you pay your workers, and document all of your operational expenses so you know how much money you need to earn each week to break even or earn a profit.
4. Keep Track of Revenue
Keeping track of your revenue is equally important to restaurant bookkeeping as knowing your expenses. To track your revenue, you should have accounting records of how much you earn from food sales, merchandise sales, or catering jobs. If you underestimate your weekly income, your business may look like it's losing money when it's not. On the other hand, if you overestimate your income, you could unintentionally exceed your spending limit because you didn't have an accurate budget. The only way to avoid either issue is to record exact amounts of revenue.
5. Create a P&L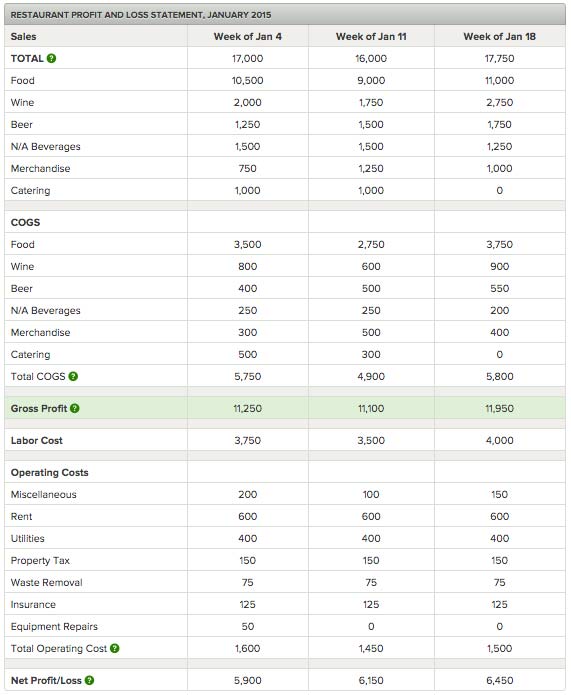 A restaurant profit and loss statement is one way to keep track of your revenue, food costs, labor costs, and operating expenses. A P&L keeps all restaurant accounting information organized in one concise document that you can customize to suit your needs. If this is the method with which you choose to organize your books and records, it's advisable that you provide a detailed breakdown of all your costs and revenue for ease of understanding. Though it's best to be detailed and use them on a weekly basis, you can generate monthly or yearly P&L's to your liking and include as much or as little detail as you think is necessary.
6. Use Restaurant Accounting Software
Restaurant accounting software, including financial software and point of sale (POS) systems, helps to organize your inventory counts and transactions quickly and accurately. Depending on your software, you can also manage payroll, sales reports, and methods of payment.
7. Hire an Accountant
If these tips sound confusing or your accounting needs are too complex for you to manage on your own, consider hiring an accountant. There are many independent accountants and accounting firms that specialize in services for restaurants, including bookkeeping, financial consultations, business projections, payroll management, and more. Many firms let you request certain services independently if you need assistance in only one or two areas, or you can purchase weekly, all-encompassing services.
Restaurant Accounting Software
Though some restaurant accounting companies will offer to do the dirty work for you, certain restaurant accounting software can help you to manage your books and records yourself and may save you money in the long run.
Financial Software
All restaurant accounting software is designed to make restaurant bookkeeping simpler and more efficient for you as the business owner. There are many financial software programs available, but the following programs are some of the more popular software systems on the market today: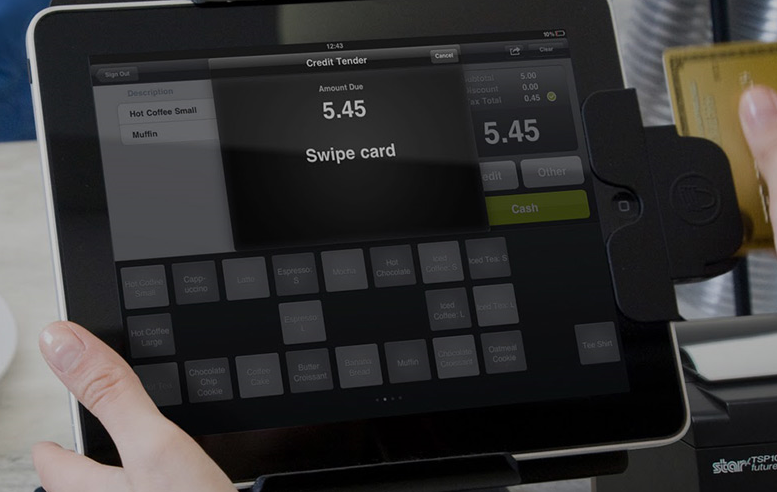 Point of Sale Systems
Point of sale (POS) systems are computer systems used to record orders and complete payment transactions. When it comes to managing your books and records, some POS systems allow you to track inventory counts, labor costs, and methods of payment as well as run sales reports. Some POS systems include Quickbooks, Toast, ShopKeep, and Square, but there are many other systems available. Shop around and invest time in understanding which software has the capabilities to meet your needs.
With these restaurant accounting tips, you can begin to organize your accounting records and have a better understanding of your financial picture. In the end, organization and accuracy are the keys to effective restaurant bookkeeping.