WebstaurantStore / Food Service Resources / Blog
Celebrate Hanukkah with these 5 Classic Jewish Recipes
While many Americans are still feeling stuffed from their bountiful Thanksgiving dinner, around 5 million people are preparing their stomachs for another holiday filled with delicious homemade meals. No it's not Christmas, but Hanukkah! This eight day holiday is celebrated in honor of a menorah that only had enough oil to burn for one day, but miraculously lasted for eight days. Because of this, many Hanukkah recipes are deep fried with oil as a symbol of the miracle oil. From crispy potato latkes to sweet, jelly filled sufganiyot, there's an abundance of delicious dishes that you can add to your menu this Hanukkah.
1. Chopped Liver Spread Recipe
This creamy and rich appetizer is a signature dish at any Jewish holiday. While most families traditionally spread it over matzo, you can serve it in your restaurant with rye crackers or slices of baguette. Chopped liver spread is quick and easy to make and consists of just four simple ingredients: schmaltz (also known as chicken fat), beef or chicken livers, onion, and hard boiled eggs. For extra flavor, sprinkle in some garlic, thyme, or bay-leaves. Another traditional option is to include gribenes, which is crispy chicken or duck skin mixed with onions. Check out this this classic recipe from Tori Avey.
Ingredients:
1 1/2 lb chicken liver
1/4 cup schmaltz, divided
1 large onion, coarsely chopped
5 hardboiled eggs, peeled and diced (divided)
1/2 cup gribenes (optional)
2 tbsp. minced fresh parsley for garnish (optional)
Equipment You Will Need: Food processor, Skillet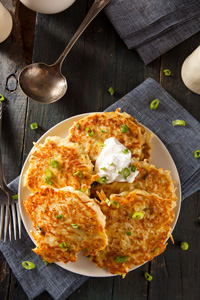 2. Latkes Recipe
Latkes, also commonly known as potato pancakes, are shallow-fried, shredded potatoes. Think hash browns, but much crispier! While these little pancakes are typically made from grated potatoes, they can also be made from mashed potatoes and various other vegetables. Latkes make for a great breakfast option or can be used as a side dish. Serve them up plain, topped with sour cream, or with a side of apple sauce. This recipe from Food Renegade includes tips to make the perfect latkes.
Ingredients:
4 cups prepared mashed potatoes
5 tbsp. onion, grated
2 eggs, lightly beaten
2 tbsp. flour
2 tsp. sea salt, plus more to taste
1/2 tsp. pepper
3 tbsp. your preferred fat for pan frying
Equipment You Will Need:Large mixing bowl, Turner
3. Brisket Recipe
Juicy and flavorful brisket is typically served as the main entree at Hanukkah dinners. Since this cut of meat is served very tender, it does take a few hours to cook, so you'll want to have this dish prepped in advance. Brisket is usually cooked and served with a variety of stewed vegetables like carrots and potatoes. However, you're free to add your own signature twist to it, like in this recipe from What Jew Wanna Eat.
Ingredients:
1 3- to 4-pound brisket, not trimmed
1 tbsp. salt, plus more to taste
1 tbsp. fresh cracked black pepper
2 tsp. dried thyme
1 tbsp. paprika
2 tbsp. olive oil or grapeseed oil
2 medium yellow onions, sliced thin
2 garlic cloves, smashed
1 14-ounce can crushed tomatoes
1/3 cup brown sugar
3 cups beef broth
12 red potatoes, quartered
6 peeled carrots cut into 2-inch pieces
Minced parsley for garnish
Equipment You Will Need:Dutch oven, Tongs
4. Sufganiyot Recipe
There's a chance your mouth may be fumbling over the pronunciation of this sugary Hanukkah treat, (pronounced SOOF-gone-ee-OAT) but don't worry. The recipe is much simpler than the name. Just like latkes, these sugar-coated, jelly-filled donuts are a culinary symbol of the holiday since they're fried in oil. Also commonly known as Israeli or Hanukkah jelly donuts, these fluffy delights are a perfect fit for any Hanukkah-themed menu in restaurants, cafes, and bakeries. Make your guests' mouths water with this sufganiyot recipe from My Name is Yeh.
Ingredients:
One roll of biscuit dough
Canola oil for frying
A small bowl of sugar
About 1/2 cup jam
Equipment You Will Need:Rolling pin, Cookie cutter, Squeeze bottle
5. Kugel Recipe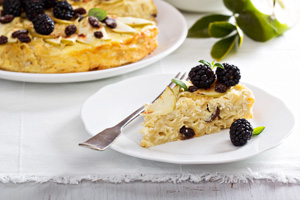 Kugel is a traditional Jewish noodle casserole that is commonly served as a dessert or side dish. Pasta for dessert? While it may sound crazy, this delicious dish has the sweet flavors of cream cheese, sugar, and cinnamon and is baked with egg noodles until they turn slightly crispy. However, kugel is a diverse dish that can also be transformed into a savory meal if you swap out the sweet ingredients for cheese, vegetables, and various spices. Check out this recipe from Food 52 to find out ways to make kugel savory, sweet, or a little bit of both.
Ingredients:
2 tbsp. butter
4 cups chopped leeks
1 bunch swiss chard
1 cup golden raisins
1 tbsp. cinnamon
2 lemons (zest)
8 ounces egg noodles
4 eggs
2 cups high-quality, whole milk ricotta
Splash of milk
Salt and pepper to taste
Equipment You Will Need:Colander, Glass baking dish
These dishes represent the long history of Jewish families and friends coming together to share their recipes and be around the ones they love, which is really what the holiday season is all about. This year, incorporate some of these Jewish recipes into your menu to celebrate with guests of all cultural backgrounds in your restaurant, cafe, or bakery.

Posted in:
Holidays
|
Recipes
| By Jessica Wieser