Traditional Hanukkah Food
Hanukkah is an eight-day holiday that celebrates the endurance of the Jewish religion and culture in the second century BCE. It typically falls in early November or late December, marking the 25th day of the month of Kislev in the Hebrew calendar.
Known as the Festival of Lights, Hanukkah is a time when friends and family gather to rejoice, exchange gifts, and enjoy an assortment of traditional Hanukkah foods. From hearty potato latkes to sweet, crispy kugel, read below to learn more about traditional Hanukkah recipes.
Hanukkah Food List
Hanukkah 2022
This year, Hanukkah starts on Sunday, December 18th and ends on Monday, December 26th.
Hanukkah Foods
Traditional Hanukkah food is composed of fried foods, savory meats, and sweet desserts. Below we go through five essential Hanukkah foods that are rooted in tradition, making them a meaningful part of your celebration.
1. Brisket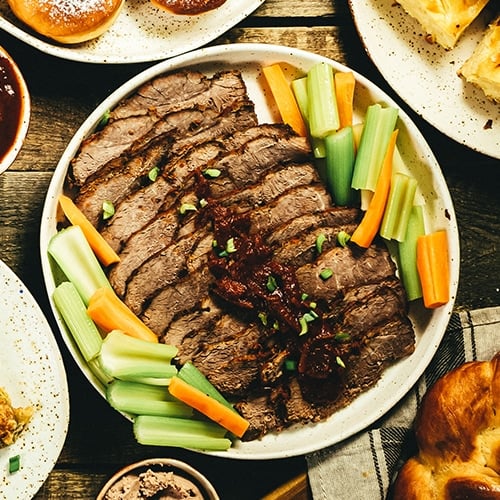 Brisket is enjoyed during many Jewish holidays besides Hanukkah, such as Rosh Hashanah and Passover. As you prepare this meal in a dutch oven or roasting pan, be sure to include a combination of flavor-enhancing seasonings. Below are some seasoning and recipe ideas for your Hanukkah brisket:
When done right, brisket is irresistibly juicy and flavorful. Since this cut of meat is served very tender, it takes a few hours to cook.
Is Brisket a Jewish Food?
Brisket became a Jewish food tradition because Kosher practices make it easier to slice brisket meat cuts, and it was historically one of the more affordable meat cuts.
2. Latkes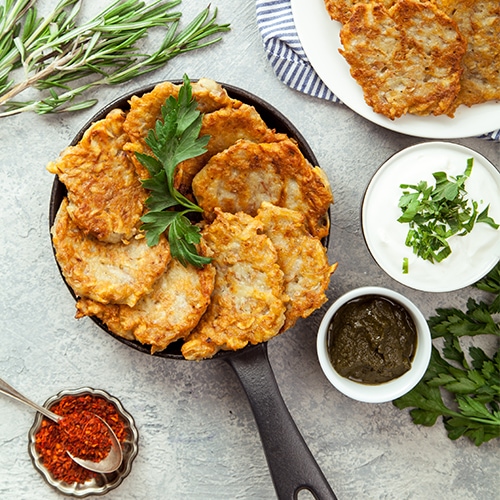 Latkes, also known as potato pancakes, are made from shallow-fried shredded or mashed potatoes. While latkes are a quintessential traditional Hanukkah food, there is still plenty of room for creativity. Here are a few ways to add a twist to this classic recipe.
What to Serve with Potato Latkes
Traditionally, Latkes are served with applesauce and sour cream. For a creative twist that remains traditional, serve your potato latkes with popular Israeli spreads such as charoset, tahini, or hummus. You can even turn your latkes into a meal by serving them with hearty toppings such as smoked salmon or baharat-spiced tofu for a vegan Hanukkah menu option.
3. Kugel
Kugel is a traditional Jewish egg noodle casserole and is commonly served as a side dish. Kugel can be transformed from sweet to savory by swapping out sugar and specialty cinnamon for vegetables and spices. Consider adding a unique and tasty touch to your Kugel with the following spices, dried fruit, nuts, and other ingredients.
Kugel is a traditional Ashkenazi Jewish dish. Some interpretations credit kugel with mystical, spiritual qualities.
4. Sufganiyot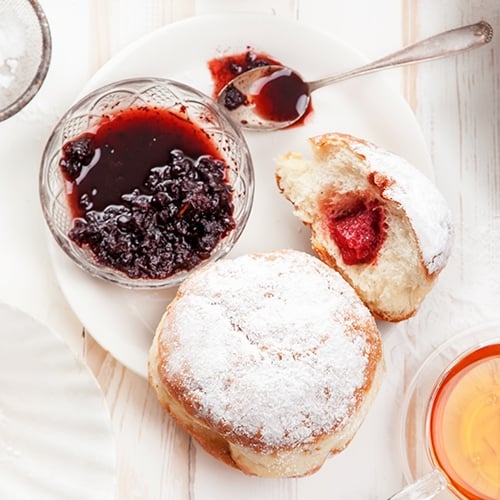 Sufganiyot are round, deep-fried yeast dough filled with jam and sprinkled with powdered sugar, similar to paczki. The Hebrew word sufganiyot is pronounced "soof-gah-nee" and is derived from the Greek word sufan, which means "spongy" or "fried". To Western guests, sufganiyot can be understood as a cross between a beignet and a jelly doughnut. Sufganiyot are essential Hanukkah food. Below are suggestions for serving unique sufganiyot recipes this year.
Why Are Fried Foods Eaten for Hanukkah?
Fried foods are an important part of the traditional Hanukkah dinner because they represent the small amount of oil that miraculously burned for 8 days instead of just one when the Jews rededicated the Temple after overcoming oppression. As guests enjoy their meal, the oil used to fry the foods reminds them of the miracle their ancestors experienced centuries ago.
5. Hanukkah Gelt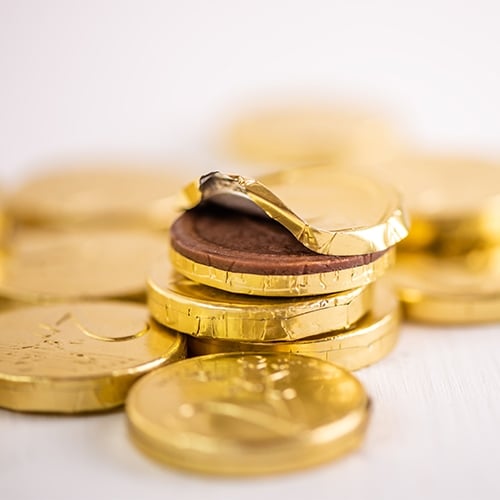 Traditionally, Hanukkah gelt was money given as a present during the Jewish festival of Hanukkah. In most modern celebrations, Hanukkah gelt takes the form of a chocolate coin covered in gold foil. Whether scattered on kitchen and dining room tables during your Hanukkah celebration, reserved for prizes during games or given as a token or gift, chocolate Hanukkah gelt is a part of many Hanukkah celebrations today.
Why Is Chocolate Hanukkah Gelt Given on Hanukkah?
Since the 17th century, giving money (gelt) on Hanukkah has been a tradition. It began with parents giving gelt to teachers and eventually expanded to families giving gelt to their children as gifts or rewards for Torah study. Over time, chocolate manufacturers used the concept to make chocolate gelt wrapped in gold or silver foil in small pouches that look like money bags. This act of gratitude is also recognized as a commemoration and celebration of the miracle of the oil.
---
Other than these customary Hanukkah foods, it's typical to include a range of other sides, like challah, large salads, Brussels sprouts, or seasonal recipes, such as fried okra and late-harvest zucchini. These dishes represent the long history of Jewish families and friends coming together and celebrating the holiday season through food. Incorporate this blend of traditional and modern flavors into your favorite Jewish recipes to provide guests with a memorable Hanukkah meal.