WebstaurantStore / Food Service Resources / Blog
Celebrate Hanukkah with these 5 Classic Jewish Recipes
Hanukkah is an eight day holiday enjoyed by over 5 million people in the United States every year. Known as the Festival of Light, this holiday is celebrated in honor of a menorah that only had enough oil to burn for one day, but miraculously lasted for eight days. From hearty potato latkes to sweet, crispy kugel, read below to learn more about traditional Hanukkah dishes and how they're enjoyed today.
What Types of Food Are Included in Traditional Hanukkah Meals?
To create a well-rounded menu this Hanukkah, be sure to include a selection of fried foods, meats, vegetables, dairy, and dessert. The foods below represent some of the most popular dishes from each category.
1.) Latkes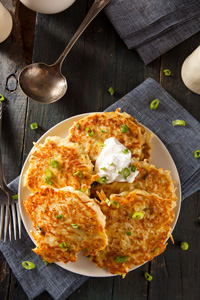 Latkes, commonly known as potato pancakes, are made from shallow-fried shredded or mashed potatoes. This traditional Jewish food for Hanukkah leaves plenty of room for creativity, making them the perfect start to your holiday meal. Here are a few ways to add a modern twist to this classic recipe.
Substitute traditional potatoes with sweet potatoes
Incorporate unusual spices such as ginger, curry, or Cajun seasoning
Go sweet by topping with toasted marshmallows, coconut, fruit compote, or applesauce
Include savory ingredients or toppings such as parsnips, brisket, pesto, cheese, or scallions
Why Are Fried Foods Eaten for Hanukkah?
Fried foods are a large part of traditional Hanukkah cuisine because they represent the oil that burned for 8 days. As guests enjoy their meal, the oil used to fry the foods is meant to remind them of the miracle their ancestors experienced centuries ago. Another traditional fried food eaten at Hanukkah is deep fried jelly-filled doughnuts called sufganiyot.
2.) Brisket
Since Hanukkah is a winter tradition, it makes sense that those celebrating will want to enjoy a hearty comfort food such as brisket. When done right, brisket is irresistibly juicy and flavorful. Since this cut of meat is served very tender, it does take a few hours to cook.
As you prepare this meal in a dutch oven or roasting pan, be sure to include flavor-enhancing seasonings such as fresh cracked black pepper, paprika, salt, thyme, and parsley. For a more modern twist, include flavorful gravy or barbeque sauces with sweet flavors such as mango or peach to balance out your brisket's savory spices.
Can You Eat Meat on Hanukkah?
Yes. Because pork and shellfish are not considered kosher, beef and poultry are the most popular dishes during the holiday. In addition, some families observe the practice of not serving meat and dairy during the same meal.
3.) Slaw
To cut the saltiness of your brisket, include a side of sweet and acidic slaw. Guests will appreciate the crunchy, flavorful addition to their hearty meal. Here are a few ways to spruce up your slaw for Hanukkah.
Use granny smith apples to incorporate a tart, fresh flavor
Include cranberries with apple slaw to create a vibrant, red color
Combine colorful vegetables such as purple cabbage, carrots, bell peppers, and snow peas
Along with vinegar, incorporate other fresh flavors including toasted sesame oil, horseradish, ginger, and soy sauce
4.) Blintz
There are many ways to incorporate cheese and dairy into your Jewish recipes for Hanukkah including goat cheese in salads, cheesecakes, and savory cheese pies. However, this Hungarian dish stands out because it works well with a variety of flavors.
Blintzes feature a thinly rolled pancake that's filled with cheese, fruit, or nuts that can then be fried or baked. Here are a few ideas for fillings and toppings used to create irresistibly sweet and savory blintz.
Blueberry sauce
Cherry sauce
Currants or raisins soaked in rum
Blackberries
Mushroom and mozzarella
Spinach and goat cheese
Carmelized apples with cheese
Strawberry rhubarb with ricotta
Lemon and ricotta
Lox, chives, and cream cheese
Why are Dairy Foods Eaten for Hanukkah?
A relatively recent addition to Hanukkah food traditions, dairy foods have been consumed in honor of Jewish heroine Judith since the Middle Ages. It's said that Judith assisted in a vital military victory by enticing the opposing army with homemade cheese and wine.
5.) Kugel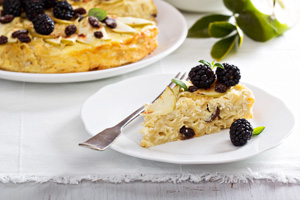 Kugel is a traditional Jewish noodle casserole that is commonly served as a dessert or side dish. While pasta for dessert may sound strange to some, this dish can feature sweet flavors including cream cheese and sugar. These ingredients contrast the satisfyingly crispy texture of the baked egg noodles to bring the dish together.
Kugel is a diverse dish that can be transformed from sweet to savory by swapping out sugar and cinnamon for vegetables and spices. Consider ending your traditional Hanukkah meal with these sweet kugel varieties. The following are recommended additions to traditional kugel ingredients including cottage cheese, cream cheese, butter, eggs, sour cream, and egg noodles.
Cinnamon
Dried fruits such as raisins, craisins, pineapple, or apricots
Apples and honey
Pumpkin puree with cloves and maple syrup
Cranberries and pecans
Cornflakes and golden raisins
These dishes represent the long history of Jewish families and friends coming together and celebrating the holiday season through food. Incorporate this blend of traditional and modern flavors into your favorite recipes to provide guests with a memorable Hanukkah meal.

Posted in:
Holidays
|
Recipes
| By Rachel Jenkins