Concession Stand Food Ideas
Selling concessions is a growing industry. People set up food trucks and other mobile eateries at sporting events, competitions, fairs, college campuses, and more. These vendors range from the traditional snack shacks to actual gourmet stands that sell some seriously unique, delicious food! Concession stands can be a great way to make money for a low start-up cost if you develop the right menu. Whether you're looking to revamp your existing food stand or open a new one, we've got some concession stand menu ideas that will help you develop the perfect mix of flavor and profit!

Pre-Cooked/Store-Bought Concessions
If you want to follow a business model that allows you to serve the largest number of people at the lowest prices, you may want to consider designing your menu around pre-cooked and store-bought foods. These products are ready to serve immediately, so you can save prep time on-site and minimize your customers' wait. Pre-cooking also reduces the amount of equipment that you will need at your stand. If your space is limited, preparing your food elsewhere ahead of time can be advantageous. Less prep time also means that you'll be able to sell your products at a higher volume than if you cook to order.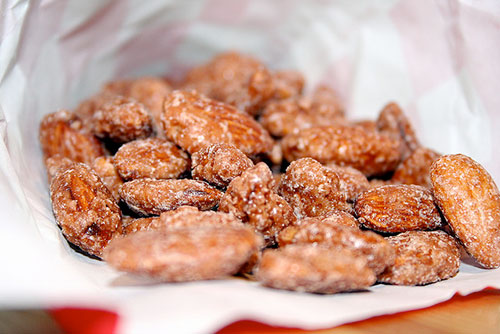 Pre-Cooked Food Ideas
These simple crowd-pleasers are sure to sell. When choosing the menu for your concession stand, consider your location and try to anticipate the specific needs of your customers. For example, if you are set up at a sporting event, you may want to focus on the snack items, like popcorn and roasted nuts. Your customers may be in a hurry to get back to their seats and might not want the hassle of eating a full meal on their laps in the bleachers.
Tip: Soft pretzels are a highly profitable item. Check out this profit calculator in our Soft Pretzel buying guide.
Some of these food options could require equipment depending on how you want to serve them. If you need them to be hot, plan on cooking them on-site. However, if temperature isn't your concern, you might as well pop corn at offsite and box it up for later sale. You could also have the best of both worlds if you invest in a food warmer, which would allow you to keep your pre-cooked food hot and ready to serve.
Tip: Consider buying salt packets and cheese cups / cheese dispenser to enhance your customers' eating experience and keep them coming back!


Store-Bought Menu Ideas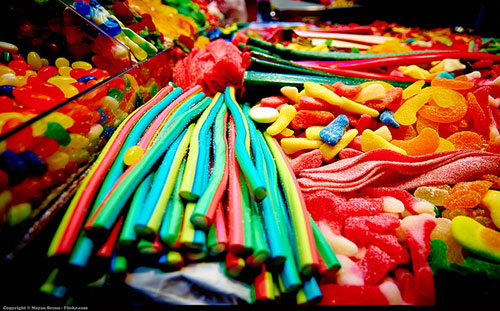 Candy bars

Sour candy

Lollipops

Beef jerky

Soda (cans)

Iced tea / Lemonade
These store-bought items will be especially popular among children and other generally picky eaters as well as those who are in a hurry. Providing options that customers are comfortable with can be an effective business strategy, and all you have to do is pull these items off the shelf and hand them to your customers. What could be simpler?
Food for Thought
Although pre-cooked food saves time on-site, it also involves some risk. You'll have to estimate how much of each product you think you can sell before setting up shop for the day / evening. This gamble could result in overproduction and waste if you're unfamiliar with your customers' needs.
Tip: Try introducing a new pre-cooked item like brownies or soft pretzels and see how it sells. When you learn what your customers like to buy—and how much—you can pre-cook with more confidence. Running out of product early is preferable to having too much, and at least you'll learn for next time!

Cooking to Order
If your passion is cooking, and/or you have a great recipe that you want to share with the world, cooking to order may be more appealing to you than preparing your menu creations off-site. Selling made-to-order food is very different from selling pre-cooked food. The added degree of freshness and authenticity will allow you to charge more for your products, and you're more likely to have return customers if you have something unique to offer. Additionally, you won't have to worry about having extra, unsold food if you're cooking to order.
Cooked to Order Menu Ideas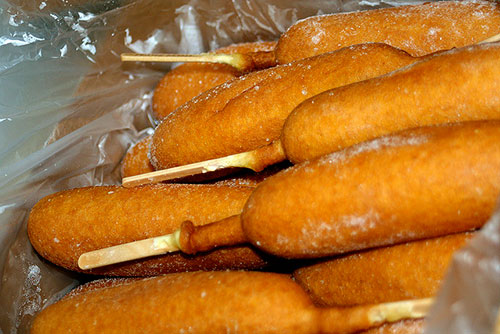 Burgers

Corn dogs

Grilled cheese

Brisket sandwiches

Chicken wings
The tantalizing aroma of these menu delights will have customers flocking to your stand for a taste. Provide your clientele with a convenient, delicious meal by serving favorites like hot dogs, burgers, nachos, and—if you're up for a slightly bigger challenge—mouth-watering brisket sandwiches. You could also try dressing up these basic menu options a little bit to help set them apart. Invest in a variety of toppings to create specialty hot dogs, pizzas, and choose-your-own-topping funnel cakes! This type of menu will increase prep time, but a loyal customer base and higher prices should more than counteract the lower volume at which you'll be selling your food.
Rapid Cook Ovens
If you want to significantly cut down on your prep time and expand your menu in the process, rapid cook ovens are the way to go! These little dynamos can cook a pizza in less than 4 minutes, perfectly crisp paninis in seconds, and even roast a chicken breast in under 7 minutes. They take up significantly less space than traditional ovens, making them ideal for concession stands. Depending on your menu, this could be the only piece of equipment you'll need!
Food for Thought
There isn't a lot of risk in selling food to order, but doing so means that you'll likely sell at a lower volume because of the added prep time. Also, the added expense of purchasing equipment lowers your profit margin. The work of keeping up with customer orders is sometimes difficult to handle alone, so many vendors choose to hire a small staff or work with a partner. Take these factors into account when deciding on your menu.
Tip: Find something that you do very well and make that the focal point of your menu. It's important to set yourself apart from your competition, so design a menu that reflects your unique skill set! Give your customers a good reason to frequent your stand and then look to expand.
When you're developing your menu, remember that the menu possibilities are endless. Try to offer a unique menu, but also be sure to meet the demands of the customers at the venue or event at which you choose to set up. Focus on highly profitable options when determining the pre-cooked foods that you want to sell, and try customizing your made-to-order menu by offering delicious specialty and regional items to make your stand the place to be. Look into the different concession stand equipment that's available on our site to maximize your efficiency and make life easier for yourself. Above all, make it your own and keep tinkering until you find the perfect menu!