Apron Types
How an apron is best worn also depends on the apron's type and length. The table below describes the most common apron types.
Apron Style
Apron Image
Apron Length
Apron Description
Server Apron

Mid-Thigh

Ties around the waist
Protects skirts and the tops of pants

Bib Apron

Full-Length

Covers the front chest area and top of the legs
More complete coverage

Bistro Apron

Knee-Length

Ties around the waist
Provides greater coverage for pants

Cobbler Apron

Mid-Thigh

Covers the front and back of the body
Adjustable side ties

Tuxedo Apron

Full-Length

Similar length as the bib apron
Has a more upscale appearance

Dishwasher Apron

Knee-Length

Coverage from the upper body to below the knees
Water resistant
Apron Definition and Benefits
Derived from the French word "naperon," meaning "napkin," an apron functions to protect clothes from becoming dirty. Although they can be found in many different types of occupations, aprons serve the following purposes within the food service industry:
Look Sharp: Our restaurant aprons will help maintain a professional dress code in both the front and back of the house. Select one color for a uniform appearance, or use more than one color to easily identify different teams in your kitchen. For example, one color can be designated for use in the dish washing area only, whereas another color can be designated for prepping ingredients.
Stay Sanitary: In addition to their professional look, aprons improve sanitation and cleanliness. With aprons, chefs and servers will be able to keep their clothes free from spills, stains, and messes.
One Size Fits Most: These versatile aprons are designed so that they should fit most people. They include long, adjustable drawstrings to help ensure a proper fit and accommodate people of different sizes.
How to Tie an Apron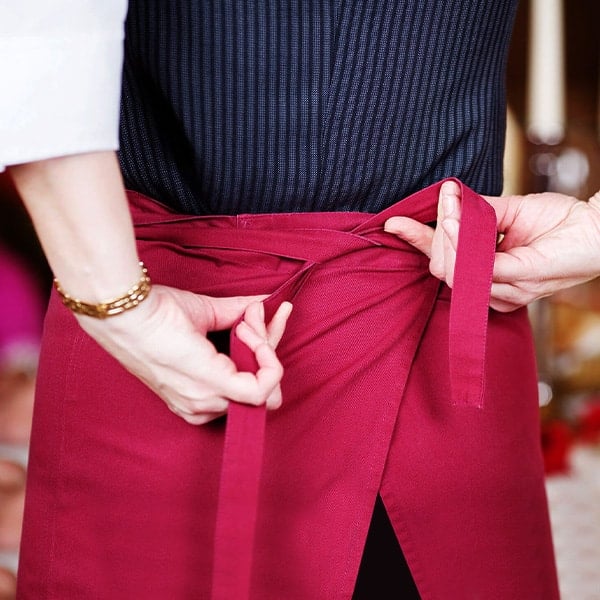 How should aprons be worn in the food service industry to make sure they stay tied correctly? The basic steps below illustrate how to put on an apron.

Put on apron so that the front surface is covering the front of the body. Some styles feature a neck strap that loops around the head.
Make a simple overhand knot around the waist.
You can also tie the drawstring around twice to form a double overhand knot. This extra twist provides more grip and won't come undone.
Make a loop by holding the drawstring with your left hand thumb and pointer finger.
Overlap the loops and add a twist to tie the knot.
Pull snug to ensure the apron stays in place.
Bib Aprons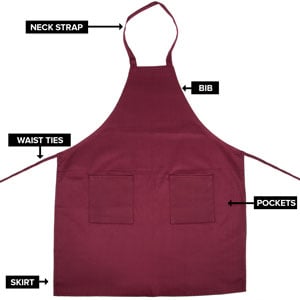 This traditional-style full apron ties around the back of the waist and has a loose loop that fits over the head. Bib aprons are available in a variety of materials, including cotton, polyester, and poly-cotton blends. Cotton offers comfort whereas poly-cotton blends offer durability. Polyester is wrinkle-resistant and helps maintain a professional appearance.
Who Should Buy Bib Aprons: A bib apron, also called a chef apron, provides space for chefs and servers to wipe their hands. This apron features full body coverage that also protects cooks from spills and backsplash.
How to Clean Bib Aprons: This apron is machine washable. Before the first use, it is recommended to wash the apron in cold water to reduce the chance of fading or bleeding. If the color does bleed, we recommend running through the wash a few more times and washing with items of like coloring to reduce any color transfer.
Tuxedo Aprons
Your staff is sure to look their best in a tuxedo apron. It's perfect for pairing with a white button down shirt and bow tie for a crisp, clean look. This distinctive apron style is a more upscale version of the standard bib apron. Although it features the same length as a bib apron and also ties at the waist, the distinguishing v-neck cut of the tuxedo apron has a more stylish look. It is ideal for front-of-the-house restaurant waiters and waitresses since it helps enhance the image of your elegant dining area. They're also great for banquets and catered events.
Pockets let staff carry order pads, guest checks, or handy kitchen utensils with them as they're working. When used in the back of the house, they can hold handy thermometers for checking food temperatures. In the front of the house, pockets may even save servers an extra trip back to the kitchen if guests need an extra straw or pen. Not only do they provide easy access to everyday necessities, but the pockets leave your staff's hands free to carry trays or wipe down tables. This way, you'll be able to ensure fast and efficient service for your patrons.
Cobbler Aprons
Also known as smock aprons, cobbler aprons are similar to bib aprons, but they offer both front and back coverage. The side ties are adjustable so you can make the apron more snug or loose. They're great for keeping employees shirts clean underneath, but they end around the waist or mid-thigh.
Who Should Buy Cobbler Aprons: Due to this apron's versatility and comfortable fit, it can be used in bakeries, schools, hospitals, or nursing homes.
How to Clean Cobbler Aprons: We offer poly-cotton cobbler aprons that can be washed with like colors in cold water in your commercial washing machine. It is recommended to dry the aprons on a low-heat setting.
Dishwasher Aprons
These waterproof aprons come in full-length designs that extend past the knees. This is particularly helpful for the dishroom, as your staff is more prone to encounter large splashes. They are made of water-resistant materials and some are heat-resistant, fire retardant, and cut-resistant. These aprons will help protect clothing and skin when exposed to build-up on pots, equipment dirt and debris, grease, and chemicals.
Who Should Buy Dishwasher Aprons: As the name suggests, dishwasher aprons are specially-designed to help your dish washers stay dry as they clean high volumes of dishes in your restaurant, hotel, cafeteria, or assisted living community.
Disposable Aprons
We offer disposable aprons with a full length design that ties around the back of the waist. The one piece-design easily fits around the neck.
Who Should Buy Disposable Aprons: There is certainly a time and a place for disposable aprons. Some of these instances include; working with raw meat and fish, slicing deli products, and cleaning with harsh chemicals. Dishwashers and bussers cleaning tables can also benefit from these non-porous, waterproof aprons.
How to Clean Disposable Aprons: Made of water-resistant polyethylene, these plastic aprons can simply be thrown away when you're done using them. This also reduces the chances of cross-contamination when reusing aprons for different tasks.
Waterproof Apron Comparison
| | Polyethylene | Vinyl | Neoprene |
| --- | --- | --- | --- |
| Cost: | $ | $$ | $$$ |
| Strength: | Designed for one-time use; disposable | Stronger than polyethylene, but not quite as durable as neoprene | Heavy-duty neoprene is thick enough to withstand tough jobs |
| Added Benefits: | Reduces the amount of linens you need to wash | Resistant to chemicals, oils, and greases | Offers excellent chemical resistance and protect against snags and punctures |
Server Aprons and Waist Aprons
Unlike the other apron types presented so far, these half aprons do not provide upper body coverage. Their shorter length, however, does provide the most comfort as servers are walking throughout your facility. Most include pockets so your waitstaff is able to have pens, guest checks, and beverage straws close at hand.
Who Should Buy Server Aprons: Front-of-the-house servers, bussers, and head waitresses or waiters are best suited for these styles.
How to Clean Server Aprons: Like bib aprons, most server aprons and waist aprons are made of a poly-cotton blend. It is recommended to wash them with like colors in cold water, and then dry on a low-heat setting. Before the first use, it is suggested to wash this apron in cold water to reduce fading and bleeding. If the color does bleed, we recommend running through the wash a few more times and washing with items of like coloring to reduce any color transfer.
4-way waist aprons are the perfect choice if your staff will need to use their apron multiple times before they're able to wash it. They have 4 layers, so if the topmost layer becomes soiled, the wearer can simply switch it around to the next clean surface. Easy to use, these aprons will also save laundering costs since your staff won't need to change aprons quite as often. Generally worn by chefs, these aprons can be easily tied around the waist. The chef can wipe his or her hands, and reverse the aprons to the other 3 sides as it gets dirty.
Bistro Aprons
Just like waist aprons and 4-way aprons, bistro aprons do not provide upper body coverage. One major difference, however, is that they are knee-length so they provide more coverage for pants. Generally worn by servers, bistro aprons often contain pockets in the front so servers can easily access pens and notepads when they take down orders. Since they're longer and protect pants from stains, they're also great for completing messy jobs like wiping down tables.