Server Sidework Checklist for Your Restaurant
Last updated on 10/06/2021
If you operate a restaurant, you know that it's important to train your servers well. They should be able to take orders, deliver meals, and sort the bill with professionalism and efficiency. However, there is a whole slew of sidework in a restaurant that must be accomplished to keep the establishment running smoothly. It's important to maintain a balance for your servers between sidework duties and tip-producing tasks so they can be compensated appropriately at the end of the day. According to the "Tip Regulations Under the Fair Labor Standards Act" that was put into effect on Dec. 28, 2021, tipped employees should not be performing non-tip producing labor for longer than 30 minutes.
Keep reading to learn how to create a side work task list to ensure that all of the duties in your restaurant are accounted for. We've also created a printable server side work checklist template that you can use in your restaurant.
Click below for our downloadable restaurant side work checklist template:
Printable Server Sidework Checklist Template
What Is Side Work in the Restaurant?
The definition of side work is any chore-like task that servers accomplish before the end of their shift outside of the main task of serving customers. These tasks may include front-of-house and back-of-house responsibilities that keep a restaurant dining room looking presentable for customers and improve the flow of the kitchen. Whether it's cleaning, restocking, or organizing, servers perform an array of daily side work tasks that are essential to the success of a restaurant.
---
How to Make a Server Sidework Checklist
A server sidework checklist can help your staff understand what needs to get done and help them pace their day. This prevents tasks from being overlooked, which can lead to pricey mistakes. We'll teach you how to create a server checklist to fully utilize your staff and keep your restaurant labor costs down.
1. Identify All Sidework Tasks
The first step to preparing a server side work checklist for your restaurant is to identify all of the tasks that need to get done. Walk through each area of the restaurant and jot down every task you can think of, it does not need to be in a particular order at this time. You'll want to be as specific and thorough as possible with your list so nothing gets neglected along the way. It may be helpful to complete this task with the shift managers to ensure nothing is forgotten.
2. Assign Sidework Tasks into Stations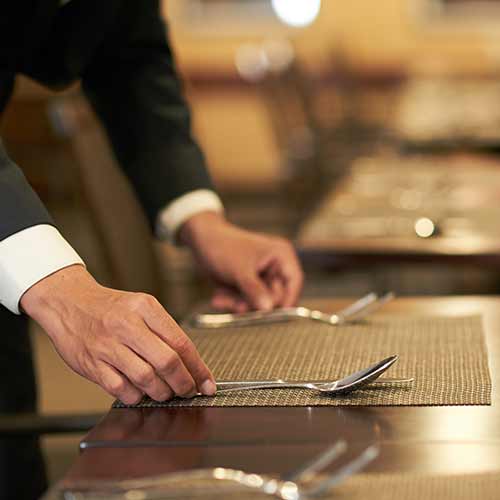 Once you have a completed list of tasks, you'll then want to divvy them up to the stations for your staff. This will ensure that servers can focus on one station and accomplish the assigned responsibilities with the most efficiency. You can separate the tasks to the following stations:
Carryout Station - cleaning and stocking
Flatware Station - polishing and rolling
Wine Glass Station - polishing and stocking
Highchairs and Booster - cleaning and stacking
Salad Bar - prepping and restocking
Drink Stations - stocking glasses, straws, and garnishes
Ice Bins - refilling through shift
Dessert Case - restocking and cleaning
Iced Tea and Coffee Station - brewing coffee, tea, and prepping drinks
Outdoor Dining - setting tables, prepping caddies, and handling umbrellas
Provide each station with the supplies your servers need to accomplish the responsibilities assigned to them.
3. Separate Station Tasks into Shifts
With the server tasks divvied up, it's time to prioritize them into shifts so they get done at the appropriate time. Create a server opening and closing checklist, along with an end-of-shift task list so your staff knows exactly what they need to accomplish and when. You can also find resources for your bar with our bar open and closing checklists.
Opening Tasks
Your server opening checklist should include responsibilities for your staff to complete as soon as they get into the restaurant before customers arrive. It usually takes servers approximately 30 minutes to an hour to accomplish opening tasks. The following are just some opening server tasks:
Unstack chairs from tables
Wipe down surfaces
Clean windows
Check table condiments and/or condiment station
Check drink station for cups, lids, and straws
Prep bar garnishes like lemon and lime wedges
Make coffee and iced teas
Light table candles and votives
The more your opening serving staff can accomplish, the smoother the day will go.
End of Shift Tasks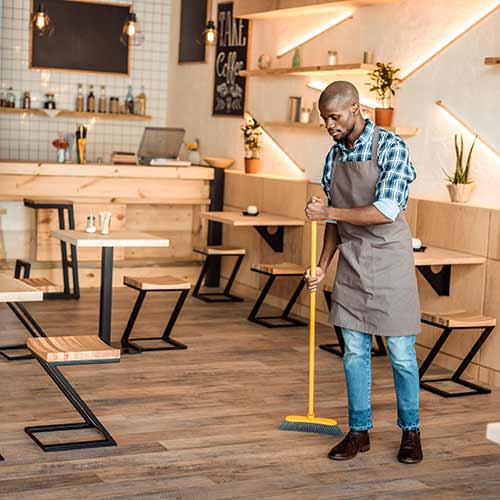 Before your servers clock out for the day, there are a few responsibilities they can accomplish to lighten the load of those coming to relieve them. This will reduce lags between shift changes and keep your dining room operating like a well-oiled machine. Here are some of the tasks to put on your end of shift checklist:
Clean tables in their section
Sweep floors under their tables and booths
Push in chairs
Clean crumb catchers
Ask manager/shift leader to approve the cleanliness of their section
Restock low condiments and napkins
Put away clean dishes
Load dishwasher with dirty dishes
You'll want to add tasks to this list that can be slightly delayed by not placing them on the opening list but should be done before closing.
Closing Tasks
Your closing staff will be responsible for most of the cleanup tasks in your restaurant so it's important to provide them with a clear list of responsibilities. The work they accomplish after the guests have gone for the day can set the tone for the success of the following day. Below are some jobs you may want to include on your restaurant closing checklist:
Wipe down tables, chairs, and booths
Stack chairs on tables
Sweep and vacuum the floor
Label and refrigerate any remaining prep ingredients
Empty and wash coffee and iced tea carafes
Clean dessert and salad stations
Reconcile the register with POS system
Load dishwasher
Close windows
Turn off the lights
Set alarm system
Lock up restaurant
4. Identify Running Sidework Duties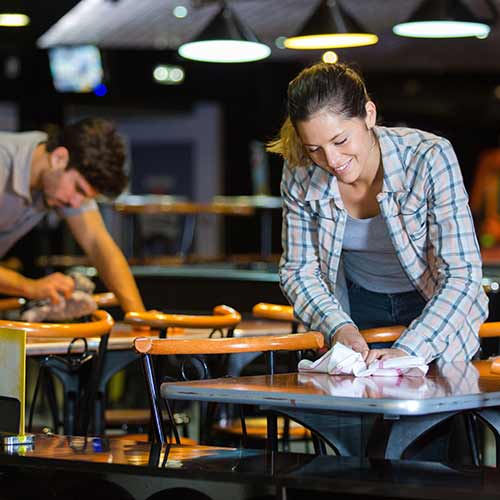 There will be some tasks on your restaurant sidework list that will have to be performed regularly throughout the day. These are considered running sidework tasks and are to be done whenever your servers have a spare moment. These are some running server side work tasks to include on your checklist:
Wipe down tables after each guest
Clean highchairs and boosters
Push in chairs
Set tables for the next guest
Tidy up menus
Wipe down counters to remove cup rings and spills
Replenish table condiments, sweeteners, and salt and pepper shakers
Restock napkin dispensers
Restock drink stations
Refill ice stations
Take inventory and alert management when products run low
Running side work tasks are vital for keeping your dining room operating smoothly. They are the details your customers will notice if missed, which can lead to a bad experience in your restaurant and negative reviews.
---
Types of Side Work for Restaurant Servers
To ensure that your restaurant is properly cared for, there are 4 types of server side work tasks you'll want to consider while creating your checklist: cleaning, restocking, organizing, and safety duties. Using these categories, you'll be able to draft a cohesive list and account for all of the necessary areas of your business.
1. Cleaning Duties For Servers
Many cleaning tasks must be performed throughout the day by your staff to ensure that your restaurant is presentable, even if you hired a cleaning service or custodial team that comes through at the end of the night. Some cleaning responsibilities include the following:
Sanitizing surfaces
Sweeping and vacuuming
Wiping handprints off windows and doors
Dusting ceiling fans
Cleaning beverage stations
Sanitizing TV remotes
Wiping off menus
Cleaning booster seats
Checking restroom cleanliness
You can also use our restaurant cleaning checklist to identify cleaning duties that you may want to add to your sidework checklist.
2. Restocking Duties For Servers
In a busy restaurant, it's important to stay on top of your supply levels. With servers performing most of the refilling and restocking tasks, they'll be the first to know if something is running low. These are a few of the restocking duties your serving staff can perform during their shift:
Refilling salt and pepper shakers
Replenishing cups, straws, lids, and syrups are drink stations
Restocking salad and dessert bars
Refilling the receipt paper on POS machines
Brewing fresh coffee and iced tea
Filling soap and sanitizer dispensers
Cutting additional bar garnishes
Restocking napkin dispensers
Servers should be trained to notify management if they notice that a product is running out so that more can be ordered in time.
3. Organizing Duties For Servers
The first impression your customer will have of your restaurant is from the appearance of your dining room. Since your serving staff spends the most time in the dining room, they are the best equipped to carry out the organizational and tidying tasks required to keep the space looking presentable. Here are a couple of organizing side work tasks to assign to your staff:
Setting tables with fresh tablecloths, plates, cups, and flatware
Light table votives and candles (relight them if they go out)
Push in chairs between parties
Set up outdoor tables
Open patio umbrellas on sunny days
Wipe off outdoor chairs after it rains
4. Safety Duties For Servers
Safety is one of the top priorities for any business but it can get lost in the shuffle on a busy day. Have your servers keep an eye out for the safety of your customers and your business as they navigate through the dining room. Add some of the following safety tasks to your server checklist:
Check the integrity of tables and chairs, and set aside anything that looks unstable
Ensure that emergency exits remain clear
Reconcile the cash in the register
Lock up liquor bottles at the end of the day
Lock windows at the end of the day
Set the alarm before leaving
Lock the doors when leaving (or know who is responsible for locking up)
You'll want to make sure all of your servers are aware of the location of your emergency supplies and are familiar with emergency procedures in the event of an incident.
---
Use our restaurant side work template as your guide to developing your own server checklist. With a cohesive checklist, your staff can focus on their tasks for their workday and keep the restaurant operating smoothly.