Features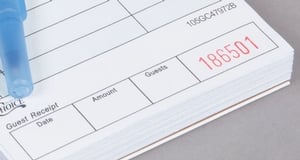 Receipt Stub - Located at either the bottom or the top of the guest check, receipt stubs feature perforations that allow them to be easily and quickly torn off. These stubs often include spaces to put the date, the total amount, and the number of guests. The check number is often also included.
Guest checks with receipt stubs are great for establishments that do not have a set seating chart and where customers can sit wherever they'd like. Servers can then match up the orders coming out of the kitchen with the customers holding the stub with the correct check number.
Menu Prompts - Menu prompts are abbreviations for courses that usually appear at the top of a guest check. These abbreviations may include:
APPT - Appetizer
VEG/POT - Vegetable / Potato
BEV - Beverage
Menu prompts help remind waitstaff to ask guests if they'd like to order appetizers, sides, etc., and of the correct order they need to enter items into the POS. However, it also helps the kitchen.
If the kitchen can see what customers have ordered for the various courses, then they can time themselves so that the dishes come out spaced perfectly.
Your waitstaff will appreciate not having to worry about getting dishes out late, and your customers will certainly be impressed with your impeccable meal service!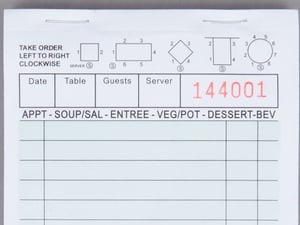 Table Diagrams - Some guest checks feature table diagrams in the upper portion of the page, portraying square, rectangular, and round tables. These diagrams also show numbers surrounding the tables which are called "pivot points."
Pivot points are used to match the guests' orders with the seats they're sitting in. With this handy feature, there is no need to interrupt your guests' dinner conversation. Your waitstaff can easily and efficiently serve their meals without disturbing them, enhancing customer satisfaction.
Beverage Backer - Rather than crowding the front page of your guest check with drink orders, appetizer orders, side orders, etc., some guest checks offer a beverage backer. This is located on the reverse side of the guest check and is specifically for listing beverages.
Beverage backers typically include numbered lines, so you can match a guest's drink with their seat number, making serving hassle free. This feature will help to keep your servers organized. It will also help you save money and paper, since you're using one piece instead of two!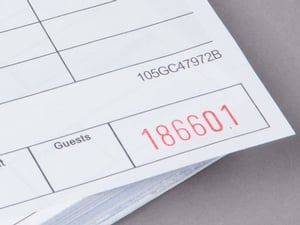 Check Numbers - Most guest checks contain check numbers somewhere on them. These are good for a variety of reasons:
Check numbers help you to keep track of guest orders, thereby keeping your meal service organized.
They help to keep track of inventory, so you know exactly how much of a certain dish you have left and when you have to pull it from the menu.
They keep track of cash flow, so you can be sure that everything is adding up by the end of the day.
Tips
A Check for Every Plate - Make sure that whatever food leaves your kitchen has a guest check accompanying it. This will guarantee satisfactory customer service, ensuring that your waitstaff knows exactly what table to go to, and exactly who ordered what. It will also help you to reduce food waste. If meals are delivered to the correct table rather than the incorrect table, then less meals will be sent back having to be thrown away.
Use abbreviations - If you have a fairly standard menu that doesn't change very often, using abbreviations can increase the efficiency of your establishment. Your waiters and waitresses won't have to spend so much time fully writing out every order. Also, chefs will be able to quickly assess an order and immediately begin making it without having to tediously read through lines of writing. Examples of abbreviations include:
Chx Parm = Chicken Parmesan
Mush Ench = Mushroom Enchiladas
Stk Sal = Steak Salad