Tips for Effective Floor Cleaning and Maintenance
Sweeping and dusting is a highly effective way to keep your floors free of dirt and grime, but consider adding these additional steps to your routine for even more effective cleaning!
Take care of spills and messes immediately. If left untreated, they can become a safety hazard and will be much harder to clean later.
Place floor mats in high traffic areas, especially spaces which see increased exposure to outdoor elements. These offer great protection to preserve your floor surfaces.
Diluting acetone-based fingernail polish remover can be very effective for removing difficult stains on tile or laminate flooring.
Using a vacuum cleaner for larger messes can be a huge time saver. Be sure to check out this Commercial Vacuum Cleaners Buying Guide to choose the right one for your establishment.
How to Clean Your Floors
Tools To Clean Your Floors
The first step to maintaining attractive floors is keeping a daily cleaning routine. A thorough stripping should be done only after a period of time that sees a large amount of foot traffic causing excessive wear and tear. However, using the following products on a daily basis, as well as right before stripping your floors, is a great way to get rid of daily dirt, dust, and outside contaminants.
Scrubber Type and Features
For heavy duty cleaning power, consider using a
floor scrubber
. Designed for commercial and industrial use, scrubbers cover an impressive amount of surface area with efficiency, speed, and power. Consider the following factors when choosing a scrubber to keep your establishment clean.
Scrubber Battery Types
Lead-acid batteries are versatile and easy to replace. They come with a low initial cost and can accommodate the high current required for large motors. However, they do require maintenance and emit corrosive gases if not properly cared for.
An Absorbed Glass Mat (AGM) battery is a special type of lead acid battery that doesn't degrade as easily as other lead-acid battery types. One of the safest lead acid batteries available, it provides a more efficient discharge and recharge cycle. However, they do come at a higher cost.
Types of Scrubbers
Orbital Scrubbers: Offering the highest down pressure available, orbital scrubbers are able to provide unmatched cleaning and finish-removal capabilities. The pad is rectangular, making it perfect for cleaning in tight spaces or alongside a wall or curb.
Disc Scrubbers: Disc scrubbers allow for easier and more efficient cleaning in open areas. A true round design will provide users with great maneuverability to meet the toughest cleaning challenges in rooms of all shapes and sizes.
Brush Scrubbers: A brush scrubber includes a series of small brushes intended to clean your floor surfaces without spreading around dirt and debris. Its smaller design makes it ideal for tight spaces and businesses on a budget.
Scrubber Drive Types
A transaxle, or traction drive, will propel the unit forward for increased efficiency and ease-of-use. This feature allows every member of your cleaning staff to use these machines with ease.
Units with pad assist drives require the help of the pad to keep the machine moving along. While this may make the machine more difficult to push, it can ensure a more thorough clean, as the pad touches every part of the cleaning path as it moves forward.
Cleaning Chemical Comparison
Stripping Floors Overview
After giving your floors a thorough cleaning, you may notice deep scratches, stuck on dirt, or other worn down areas. Stripping the floor removes worn down, deep scratches or embedded dirt and creates the foundation for a fresh, new layer. Once stripped, wax your floors for a brilliant shine and protection against every day wear and tear.
How to Strip a Floor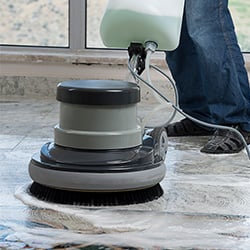 1.) Choose a floor stripping chemical that's appropriate for your floor type. Follow your floor manufacturer's suggestions in regards to cleaning chemicals. Often using the same brand as the last floor wax you used will yield desirable results. Refer to the chart below for more information on matching the right chemical to your floor type.
2.) Ensure proper ventilation in the area you are working in. It is important to wear protective clothing and start by testing your stripper in a small corner.
3.) Determine how you'll divide the floor and in which direction you'll be moving. This is important to decide before you've started so as to avoid letting the finisher harden or trapping yourself away from the exit. Work farthest from the exit, and plan on stripping about 100 foot sections at a time using your floor scrubber.
4.) Line three buckets or small trash cans with trash can liners. Fill one with the water and stripper solution, another with clean water, and the third with your tools including scrubbers and scrapers. Be sure to stock up on safety apparel for you and your employees including gloves, safety glasses/goggles, dust masks, and protective coats.
5.) Use a mop to apply stripper in small sections. Thoroughly coat the floor, but be sure not to saturate or flood the area. Its important to test new products in a small, not immediately visible area first to ensure they work well and won't cause permanent damage to your floors.
6.) Use your floor stripper according to the instructions. This will scrape away wax build up. Use any other scrapers or brushes you've stored in your bucket for hard to reach areas including corners and up against baseboards if necessary.
7.) Remove the wax buildup and stripper solution. Use a wet-dry vacuum, squeegee, or a squeegee attachment on your floor scrubber.
8.) Repeat these steps in sections to let the stripper soak in before scrubbing. If necessary, repeat over sections of flooring that have more build up.
9.) Mop the floors with clean water and allow to dry. This ensures all stripper and wax residue is removed from the floor surface.
Stripping Chemical Comparison
| Chemical Name | Image | Ideal for | Light/Normal Stripping | Heavy-Duty Stripping | Floor Machine Stripping |
| --- | --- | --- | --- | --- | --- |
| | | Vinyl tile, vinyl asbestos, asphalt tile, linoleum, rubber tile, concrete, flagstone, terrazzo, and ceramic tile | | | |
| Sierra by Noble Chemical Instant Floor Finish Emulsifier | | Vinyl tile, vinyl asbestos, asphalt tile, linoleum, rubber tile, concrete, flagstone, terrazzo, and ceramic tile | | | |
| Diversey Floor Science Non-Ammonia Floor Stripper | | Vinyl tile, vinyl asbestos, asphalt tile, linoleum, rubber tile, concrete, flagstone, terrazzo, and ceramic tile | | | |
Overview of Sealing and Finishing Floors
The last step to complete your floors is sealing and finishing them. For this, it is highly recommended to use a rotary floor machine to effectively remove the stripping solution. Plus, it will buff, scrub, clean, and polish your floors for a bright, shiny visual appeal.
Shop for Rotary Floor Machines
Floor machine considerations
When choosing which floor machine is best for you, take the following factors into consideration:
Size: Depending on the size of the areas you wish to polish, you'll want to get a machine that will create the right size cleaning path. The larger the area, the larger the cleaning path you'll want. This ensures efficient and timely removal of the stripping solution. This is especially important to ensure the stripper won't harden or cause corrosive damage to your floor or supplies.
Horsepower: Look to horsepower for determining speed, efficiency, and power. The lower the horsepower, the more economically-friendly the machine will be. Typically, the higher the horsepower, the more rotations per minute (RPM) you'll get out of your machine. However, some machines include dual speed capabilities, giving more versatility and options when it comes to buffing and polishing floors.
RPM: Your machine's rotation per minute capabilities are a determining factor in what you're able to accomplish while finishing your floors. RPM considerations include what type of floor you have, what you want to do, and what pad you plan on using with the machine. Again, look to the How to Choose Floor Pads guide for pad, floor, and RPM compatibility information.
Shop for Floor Machines
How to Wax a Floor
Finish your floors for a protective, glossy shine sure to impress guests and create an inviting, clean atmosphere. Follow these steps for the best results when waxing your floors.
1.) Read all instructions found on your floor wax or finisher. Depending on the product and its ingredients, procedures and dry times may vary.
2.) Use a brand new mop head. Using a new mop head each time you wax is important for not setting dirt and grime back into your floors.
3.) Ensure proper air flow. Most finishes do not contain as many harsh chemicals as floor stripper. However, it's good to avoid inhaling too many fumes by allowing fresh air to circulate the room.
4.) Line a bucket or small trash can with a trash can liner and fill with wax. This makes the wax more accessible as you mop the floors. When you're done using it, simply dispose of the wax-filled liner for easy clean-up.
5.) Dip your mop in the bucket and apply a thin coat of wax to the floor. Avoid soaking the mop and use a wringer to get rid of excess wax if necessary before making contact with the floor. Work toward the exit to avoid becoming trapped.
6.) Allow time for wax to dry completely. How long it takes the wax to dry will depend on the temperature and humidity level in the room. The wax should be completely dry before moving on to the next step to ensure it has been properly attached to the floor.
7.) Repeat the application process as necessary. Most floors will require 2 to 5 layers of wax. However, be sure each layer is completely dry before beginning the next. This will avoid any unsightly wax buildup.
8.) Buff and polish using a floor machine to obtain a brilliant, glossy shine.

Once you've determined what machine would work best for you, be sure to find a compatible floor pad. They also play a role in ensuring the overall cleanliness of your floor. Also check out this guide on How to Choose Floor Pads for more information.


Rotary floor machines can accommodate pads, discs, and bonnets that are both up to 1" larger and smaller than the "standard" pad size. For example, if a machine lists its pad size as 12", it is compatible will all 11" and 13" pads as well.
Restorer / Finish Chemical Comparison
Chemical Name

Image
Use With
Instructions
Sierra by Noble Chemical Spray Buff Restorer





Vinyl tile / vinyl asbestos

Asphalt tile

Linoleum

Rubber tile

Terrazzo

Sealed wood

Quarry Tile

Marble



Spray a fine mist of concentrate onto the floor just prior to buffing.
Use a spray buff pad and buff to a high shine.
Turn pad over or replace as necessary.
For best results, do not overwet.

Sierra by Noble Chemical Anti-Slip & Gloss Restorer





Vinyl tile / vinyl asbestos

Asphalt tile

Linoleum

Rubber tile

Terrazzo

Sealed wood

Quarry Tile

Marble




Mop-On Restoring:

Dilute with water and apply an even coat with a clean mop
Allow to dry thoroughly
Buff or burnish for a wet look shine

Automatic Scrubbers

Dilute with water and apply with a medium flow
Allow to dry thoroughly
Buff or burnish for a wet look shine

Sierra by Noble Chemical Acrylic Floor Finish



Vinyl tile / vinyl asbestos

Asphalt tile

Linoleum

Rubber tile

Concrete

Flagstone

Terrazzo

Ceramic Tile




Spread a liberal coat of finish evenly across the floor with a clean mop or applicator
Allow each coat to dry 30 minutes
Apply two or three coats depending on gloss desired

Sierra by Noble Chemical Fast Drying Floor Finish


Vinyl tile / vinyl asbestos

Asphalt tile

Linoleum

Rubber tile

Terrazzo

Sealed wood

Quarry Tile



Spread a liberal coat of finish evenly across the floor with a clean mop or applicator
Allow each coat to dry 45 minutes
Apply two or three coats depending on gloss desired

Sierra by Noble Chemical High Performance Extended Wear Finish


Vinyl tile / vinyl asbestos

Asphalt tile

Linoleum

Rubber tile

Terrazzo

Sealed wood

Quarry Tile



Spread a liberal coat of finish evenly across the floor with a clean mop or applicator
Allow each coat to dry 1 hour
Apply two or three coats depending on gloss desired

Rejuvenator Grout Restorer & Stain Remover


Ceramic Tile

Grout



Apply solution directly onto floor and spread with a mop or deck brush
Let sit for 5 minutes
Agitate the solution using a low speed floor machine or deck brush
Recover dirty solution with a squeegee or wet-vac
Rinse floor using clean water and allow to dry

Diversey Floor Science Floor Finish


Vinyl / Vinyl Composition / Vinyl Asbestos

Asphalt

Rubber

Terrazzo

Marble

Slate

Unglazed ceramic and quarry tile

Brick

Granite



Strip floor according to label directions
Apply 2–3 uniform medium coats using a clean mop
Allow each coat to dry 30-45 minutes
Additional coats will provide higher gloss in ultra high speed applications
Buff, spray buff or burnish as desired

Diversey Floor Science Spray Buff Floor Restorer


Vinyl / Vinyl Composition / Vinyl Asbestos

Asphalt

Rubber

Terrazzo

Marble

Slate

Unglazed ceramic and quarry tile

Brick

Granite



Remove gross soil such as heavy tar, paper, gum, etc., and then dust mop
Fill spray bottle with product and lightly spray a 4 x 6 ft. area
Using a spray buffing pad, make one pass with machine to spread product
Make two passes to buff to a high gloss
Do not overwet