Types of Wet Mops
Cut End Mops
Cut end heads are the basic mop style. Generally the least expensive type of mop head, they are often considered disposable because they have such a low pricetag and can't be laundered. They're typically more absorbent than looped end mops, but they cover a smaller surface area.
Purchasing considerations:
Ideal for soaking up spills
Economically priced
Cannot be laundered
Shop for Cut End Mops
---
Looped End Mops
Compared to cut end mops, looped mops provide extra surface area, which lets janitors clean larger areas more quickly. Because of their moderate price and durability, looped end mops have become the most common type of mop head.
Purchasing considerations:
More durable than cut end mops
Looped ends prevent unraveling
Machine washable, except for cotton and poly-cotton blends
Shop for Looped End Mops
---
Microfiber Mops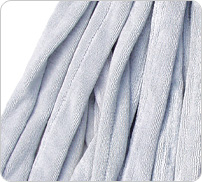 Microfiber mops are made from a combination of polyester and polyamide that easily collects and traps dirt until it is washed. These types of wet mops are the most sanitary of any mop head.
Purchasing considerations:
Absorbs up to seven times its weight in liquid
Can be washed 500+ times without degrading
Hypoallergenic and non-abrasive
Eco-friendly and requires fewer chemicals
For more information on microfiber, read this handy guide.
Shop for Microfiber Mops
Mop Characteristics
Yarn Ply:
Yarn ply indicates the number of fibers twisted together to make a single yarn strand in a mop. More plies mean more strength, though a higher ply count doesn't necessarily mean a better quality fabric. Additional strands in adds durability, but it also decreases absorbency. However, it is much more efficient and cost effective to choose a low ply, higher quality yarn than a high ply, low quality yarn.
Sizes:
When looking at mops, it's important to consider the job it'll be doing — and the wringer with which it will be used — for the best results. Additionally, both looped and cut-end mops are sized and measured in ounces ("oz."). On this scale, the higher the ounce rating a mop has, the larger its head will be.
Antimicrobial:
In some mops, there are fibers locked into the yarn that contain an antimicrobial additive. This additive helps protect the mop head from deteriorating by preventing growth bacteria, mold, mildew, and yeast in the mop head.
Headbands:
Mop headbands come in two sizes: narrow and wide. Narrow headbands are 6 1/4" long, and they're typically used with stirrup-type handles. These headbands are useful on finishing-type mops such as this
Continental finishing mop.
Wide headbands are also 6 1/4" long, but 5" wide so they can be better used with clamp and stirrup-type handles. When it comes to material, mesh bands provide a non-abrasive scrubbing surface and allow the mop to dry quickly to prevent mildew growth.
Absorbency:
A mop's absorbency is not directly related to its material — it has more to do with the size of the mop head.
Small mop heads typically hold 8 - 10 oz. of liquid
Medium mop heads typically hold 16 - 20 oz. of liquid
Large mop heads typically hold 24 - 32 oz. of liquid
Extra-Large mop heads typically hold 32 - 40 oz. of liquid
Wet Mop Care and Mop Storage
Proper care and maintenance of your wet mop can help it last up to five times longer. Plus, the mop will more effectively clean if it's regularly maintained.
Clean the mop's head thoroughly in warm water before mopping to make sure that any leftover chemicals are rinsed out. This will help reduce the risk of cross contamination.
Don't twist the mop head when it's in the mop wringer to prevent the strands from loosening.
Soak the mop head in hot water for up to 10 minutes after you are finished mopping, and then rinse. This helps keep the mop head clean while preventing cross contamination.
Never leave a mop in dirty mop water overnight. This can create a breeding ground for bacteria, mold, and mildew, and it may also weaken the mop fibers.
When storing mops, hang them with the head up after it has dried to prevent mold formation.
Machine launder applicable mop heads on a regular basis, as this will help prevent them from breaking down. It is not recommended to wash cut end mops, as they are likely to tangle in the wash.
Do not use bleach when washing your microfiber wet mops as this will break down the fibers. Use a mild disinfectant.

Suggestion: Designate a different mop head for each different mop job that you are doing, especially if you are using more than one type of floor cleaner.
Wet Mop Accessories
To ensure safety, organization, and convenience, these mop accessories are great add-ons that help keep your business clean.