ARY VacMaster VP112S Chamber Vacuum Sealer
$679.00/Each
This product is no longer available. We've left this page up for reference only.
Features a maintenance-free dry pump
12" sealing bar
Cycle time is a rapid 30-60 seconds
Electronic control panel can adjust vacuum power and seal time
Marinating cycle for infusing meats with deep flavor
Includes 40 assorted bags
110V, 660W
Other Products from this Line
Increase food's shelf life with this ARY VacMaster VP112S chamber vacuum packaging machine.
Perfect for vacuum sealing soups, stews, marinades, and other foods for sous vide cooking applications, the VacMaster VP112S vacuum packaging machine seals by taking all the air out of the chamber at once and makes a stronger seal than external vacuum packaging machines. This means that you can use this machine to seal liquids in bags for more efficient storage.
5-15P

This unit comes with a NEMA 5-15P plug.
"Very impressed with this product. I was looking for a chamber vacuum sealer for sous vide and bought this when it went on sale. Not only does it work well for sous vide items that include liquid, it allows me to make large portions and store them in my freezer. Easy to use."
Read More Reviews
Simple Digital Controls
The vacuum power and the seal time on this VacMaster vacuum sealer can be adjusted by the electronic control panel located above the motor. For preparing meats and sous vide food, the marinating cycle is ideal for for infusing deep flavor.
See-Through Lid
The see-through lid lets you keep an eye on the products you are sealing to avoid crushing.
Powerful Pump
This unit has a powerful pump to remove air from the chamber - plus, the dry pump style is designed to be maintenance free.
Small Footprint
The perfect size for use on a countertop, this unit measures only 16" wide by 24" deep and 9" high. Plus, it weighs only about 50 lb. so that it can be moved more easily than larger units for cleaning or when you need to reorganize your kitchen.
Rapid Cycle Time
The quick cycle time of this machine, 30-60 seconds, allows you to quickly seal portions of food for freezing or sous vide cooking.
Bag Clamp
A clamp holds the pouch in place during the vacuum cycle, resulting in less product movement for a more consistent seal.
Bags Included
This unit comes with (10) 6" x 12" bags, (10) 8" x 10" bags, (10) 10" x 13" bags, and (10) 12" x 14" bags.
Customer Q&A Ask a Question
How do high altitudes affect the vacuum sealing process?
A vacuum sealer's performance varies with respect to location. At higher altitudes, where air pressure is less dense, vacuum sealers are unable to remove as much air from the sealing process. High-pressure conditions are an important factor in the proper functioning of the sealer's compressor, and without enough pressure, you may notice a weaker vacuum.
Can this machine be used for retort or mylar packaging?
These vacuum packaging machines are not recommended for use with retort or mylar packaging; instead, we suggest choosing from our wide selection of
vacuum packaging bags
for best results! Retort and mylar packaging requires special plastic and foil laminated pouches to seal food safely.
How do I determine if a vacuum machine bag will work on my machine?
If you have a chamber-type machine: Buy a chamber-type bag (mesh-less design). The open end of the vacuum bag must be shorter than the seal bar on your machine, and the bag must also fit inside your machine's chamber.
If you have an external-type machine: You must buy an external-type, or "out of chamber" bag (mesh design). The open end of the vacuum bag must be shorter than the seal bar on your machine.
All of our vacuum machine bags list how large the open end is, and whether you can use them with external or chamber machines, in the content.
Can I put mason jars in my vacuum packaging machine?
Yes, if the mason jar fits, you can put it in your machine. However, it is not a substitute for canning.
Compare to Other Products
Overall Dimensions:
Width:

16 Inches

Depth:

24 Inches

Height:

9 Inches

Seal Bar Length:

12 Inches
Chamber Dimensions:
Width:

11 Inches

Depth:

12 Inches

Height:

5 Inches
Resources and Downloads for
VacMaster VP112S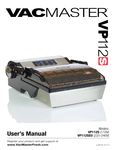 Manual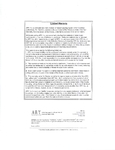 Warranty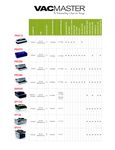 Comparison
A PDF viewer is required to view this product's information. Download Adobe Acrobat software
Customer Reviews
People Talk About:

vacuum

machine

sealer

seal

bags

unit

great

VacMaster

more

VP112S

2

out

of 2 found this

review

helpful

I ordered an ARY VacMaster VP112S Vacuum Sealer from Webstaurant Store Dec 2017 for a gift and it did not work right out of the box. It appears to be a nice unit but malfunctioned. Talking with tech support, it needed parts replaced for an issue they knew about. It may be a nice unit but I am not impressed in a positive way at this point. Webstaurant Store said they could not send me one that works to replace the one I have that was not built right. Imagine spending this much on a new unit that you have to fix before using with no recourse.

We appreciate your review, Richard Lueck. We wish this ARY VacMaster VP112S Chamber Vacuum Sealer would have worked out for you. Our Customer Solutions team has provided you with the warranty information for this item.

1

out

of 1 found this

review

helpful

ary vacmaster works great at our bakery. i seal my cinnamon rolls this machine no issues. i had this vacmaster for quite sometime now. this is only brand i buy vacuum sealer.

1

out

of 1 found this

review

helpful

This sealer worked well for about 2 years then just stopped pulling a vacuum, The lid was always a little fussy to get sealed. I just ordered the VP210 as a replacement. A friend has a VP210 which seems much more straigtforword to use.

1

out

of 1 found this

review

helpful

I watch videos of the vic Master 112 s wasn't sure I was going to buy one but then I did quite pleased with the product right out of the box quick customer service and understanding of my needs this is my new toy unbelievable I started stealing everything as I am a prepper wow out of a thousand bags I've gone through 200 will be ordering more sealer bags I have friends coming over but like everyone else I just had to seal a bag of water unreal so excited my friends all want one I'm going to buy a second one this time one with the seal chamber and one with a FoodSaver all in one I can't wait love this new toy a little heavy maybe a little more fun then my atv I am sealed meat of all kinds I can't wait to seal more I would advise everyone that's a prepper or a non prepper to purchase a vicmaster 112s

1

out

of 1 found this

review

helpful

I waited until I've used the unit for around a month before I did the review. This way, I get to know it's strengths and weaknesses. First of all, I am very satisfied with the unit. However, I can not give top marks to THE SPECIFIC UNIT I GOT due to the following: 1. The gasket around the unit is somewhat loose (see pics and video) and this sometimes results in failed operations, likely because a vacuum is not being created. I want to glue the gasket to keep it in place, but I'm a little concerned that I might not be able to take it out when it needs to be replaced. I also don't know if gluing the gasket will void the warranty.?? I did not notice this right away, and the repeated failures almost made me return the unit.?? This loose gasket is my biggest disappointment with the unit.

Every other point I mention below are minor compared to this.? 2. VacMaster could improve the documentation. Page 5, item #4 of the VP112S user manual - http://bit.ly/VP112S_user_manual - refers to a unit of measure called hg. A quick google search suggests that this refers to "units of mercury". The manual then gives maximum and minimum settings in hg and says "minimum setting of 23.5hg to a maximum of 29.3hg". This is quite straight-forward. HOWEVER, the unit itself does NOT show hg. ?? The unit displays a minimum of 20 and a maximum of 70. It does not indicate what this is, but it seems to be seconds.?? Another documentation failure is the mention of an included filler plate in one of the videos. This video from VacMaster - http://bit.ly/VP112S_filler_plate - says at around the 38 second mark that "it comes with a filler plate" but no filler plate was included. I would have bought it without a filler plate anyway, but it would be nice to have some consistency among all of VacMaster's documentation (user manual, spec sheet, videos, etc).? 3. Regarding the vacuum failure mentioned in (1), page 7 item #10 of the manual says "Press and hold down the lid until the vacuum engages". It would be nice if a sticker is placed in the lid to serve as a visual reminder, similar to the sticker that says "lift by the side handles".?? Also, detecting when "the vacuum engages" just BY SOUND is kind of lame. It may work for some people, especially when they are already used to it… but what if the user is hearing impaired? It would be much better to put in a vacuum gauge - that way, there is definite confirmation that the vacuum has engaged. These (and more) are all discussed in the video review. Read Less Read More

Worked great for the first year (other than the lid --- You need to push down every time to get the vacuum) then it stopped pulling a tight vacuum. Called the company with no help. Ordered new gasket and seal bar. Simply will not hold a vacuum any longer, even ground beef will not seal tight. Will purchase a different bard. Customer support is lacking... WebRestrants was great but VacMaster NOT so much!!!

Thank you for your feedback! We are sorry your ARY VacMaster VP112S Chamber Vacuum Sealer was defective. Please reach out to our Customer Solutions team as soon as you notice an issue with your order, so we can help you in the best way possible.

After flying through non-commercial vacuum sealers on average of every 2 years... I finally realized I could own this baby which provided me far greater versatility, and for less than I had already spent on replacing sealers. As I own an Organic veggie/herb farm, I am constantly processing food and freeze huge amounts yearly. This chamber sealer has been my workhorse. On average, I process 200-300 various sized bags from solids to liquids, all with equal ease and convenience every couple months. The cost savings alone on bags is amazing, not to mention the huge variety to choose from. Yes... this sealer takes up far more geography on a counter top, and yes... it weighs as much as I do... but remember... it is designed for commercial use, not residential, and is still extremely compact for a quality chamber sealer. So, that being said... my review: Quality - 5 star.

Versatility - 5 star. Ease of use - 5 star. Value - 5 star. Customer Support - (I would give VacMaster a 10++ rating for customer support if I could... they are simply AMAZING!) - 5 star. Would I recommend this product? ABSOLUTELY! ... and I have, repeatedly. Read Less Read More

worked fine for a while but then just stopped sealing bags. spoke to tech support numerous times & even ordered a new gasket but nothing worked. bought a different machine with a different style instead.

Thank you for your review, bryan! We are sorry this ARY VacMaster VP112S Chamber Vacuum Sealer has not worked well for you. A Customer Solutions Representative will contact you soon!

This vacuum sealer has been a work horse. Sealed several various items without issue. I also have other ARY products and they are all top quality.

The machine does exactly what it is intended to do and I've had ZERO ISSUES! Initially, I didn't notice that the top gasket had not been installed just yet when I set it up and had to put it in place but it was easy. Overall, I love it! When I got it setup I put it through the paces right off the bat. Used it to seal and freeze 30 bags of some soup that we had made and it was FANTASTIC! Extremely happy that I purchased this and look forward to having it for a very long time!

This machine has worked great for me. It's a light duty machine IMO because it does get pretty hot when using repeatedly. I also dislike the need to apply pressure to the lid in order to initiate the vacuum. It seals strong and is extremely simple to use. Overall I'm extremely happy with my purchase.

I love this vacuum sealer! I've had several external vacuum sealers over the last 20-25 years, and although I love the fact that they preserve my food from freezer burn, or from spoiling as fast, etc, I never loved that I had to pre-freeze anything that has any kind of liquid or moisture. I've had to take all my bulk meats out of the store packaging, and instead of vacuum sealing right away, I always had to get out a sheet pan, line it with a piece of plastic, add the meat, then find a level space in my freezer to lay it until frozen. Then I had to remove it from the freezer (avoiding freezer burn from the sheet pan by using oven mitts) and finally vacuum seal. If it's soups or stews, etc, I always had to put them in containers, freeze, run water over the bottom to

release the frozen chunk, wash my hands after each one to get the food off them from placing it in a new bag, and then vacuum seal in strange and different space-wasting shapes. This sealer eliminates all that hassle! I just made ice packs for my up-coming knee surgery with this sealer. Instead of putting the liquid into a zipper bag, freezing it and then putting that bag into a vacuum bag and sealing it, I could just add the liquid to a bag and vacuum! And no annoying irritation from the pointy zipper top inside the vacuum bag. This was a great purchase, and I expect many years of use from it. Read Less Read More

Works very well the only thing I do not like is that the bottom rubber piece seems to move and not stay in place and can sometimes mess up the seal

We have been using the VP112s since December last year and have had 0 issues and love using this machine for our business and will look into larger machine in the near future

The vac pack machine has been put through the ringer at my shop. I run about 60 cycles per day and use the marinated feature for 4+hrs a day. This machine has been good to me. It is however time to upgrade to a machine that has 2 sealer bars.

I absolutely love this product! Vac Master VP112s is a real bargain. You get what you pay for and more! I love to cook with my sou vide and this is the right partner for it. No more extra trips to the groceries. i can buy in bulks and save!

Wow this thing works great, we mainly use it for packaging game birds on the game farm, but when we had to butcher a beef what a game changer (sure beats freezer paper)

I bought this mainly because I was tired of dealing with failed seals on juicy fresh meats. I was very surprised at all of the other things you can do with this vacuum sealer. One of my favorite things to make is flash pickles, the pickles come out juicy, crisp and full of flavor.

One of my best investments for me during deer season. I make lots of sausage and process my own meat. I have one of the external bag type sealer where it sucks the air out. Lots of liquids fill up the tray in that machine when I'm sealing my roast and stew meat bags. I don't have that problem with this machine. WE LOVE IT!!

The Ary VacMaster VP112S is a residential unit with commercial qualities. For the price it is the best unit on the market, I highly recommend it.
Leave a review of this product!
If you've used this product, log in and leave a review to tell us and other customers what you thought about it.
Login or Register